A Breach of Contract in Colorado—What You Should Pay Attention To
A breach of contract can be a true nuisance. You have made a business deal with someone who promised to deliver their end of the job, and for some reason, they have decided not to.
As all states have different laws, this article shows you what you can do in case of a breach of contract in Colorado. While starting a lawsuit might seem like an obvious choice in this case, DoNotPay presents some other options for you to consider.
Colorado Breach of Contract Elements
If you decide to sue for breach of contract in Colorado, you will need to prove the following four elements:
The existence of the contract—Both oral and written agreements are valid
The breaching party's failure to perform their obligations under the agreement
Your:

Performance of contractual commitments
Justification for nonperformance

Losses you have suffered as a result of a breach of contract
While you must prove all of the above-listed elements if you file a lawsuit, you should also provide evidence for each when preparing a breach of contract demand letter.
Keep in mind that if one contractual party acts in bad faith, they could also be in breach of contract because Colorado law recognizes the implied obligation to show good faith and fair dealing.
Damages for Colorado Breach of Contract
You can receive damages necessary to place you in the position you would have been in if the breaching party had fulfilled their contractual obligations.
Aside from recovering from your losses, you could also be entitled to other remedies, such as the specific performance of the contract. A judge could order this type of remedy if they believe monetary damages are insufficient compensation for the loss you have suffered.
Possible Legal Defenses to a Colorado Breach of Contract
If you would like to prepare yourself well for the proceedings, you need to keep in mind that the other party might present the following defenses to your breach of contract claim:
Possible Defenses
Explanation
Fraudulent inducement
The breaching party claims that they have entered into the agreement because you have used:

Lies
Concealments
Misrepresentations

If the defendant wins, they can choose to:

Rescind the whole contract to restore the pre-agreement conditions
Affirm the contract and recover the difference between the value of:

The received benefits and
The benefits that the defendant would have received if you had not misrepresented them

Duress
With this type of defense, the defendant claims that they had to enter into the contract because you have threatened them in a certain way (e.g., to blacklist them)
Mental incapacity
The breaching party can argue that they have been temporarily incapacitated when they signed the contract. In this case, the defendant must show that they did not understand the contractual terms and conditions because they:

Were not of sound mind
Could not act rationally
Keep in mind that the Colorado statute of limitations bars breach of contract claims after three years.
Try To Settle the Dispute Before Filing a Lawsuit
Since litigation can be a complex, expensive, and time-consuming process, you should try to resolve the problem out of court by sending a demand letter to the other party.
This notice should contain:
Reminder of breach of contract—While it might seem logical that the other party is aware they are in breach, you might be wrong. You should write the demand letter to:

Notify them of the breach
Use it as evidence in court to show you had tried to resolve the issue before starting the lawsuit

Evidence—You should collect and list everything that proves the breach has occurred. It will let the breaching party know that you are serious and can use all the presented evidence for a lawsuit
Proposed solution—While you can ask the other party to meet and discuss the issue, it might be a good idea to suggest a particular solution (e.g., a new deadline for delivery of services or goods)
Prepare a Rock-Solid Demand Letter With DoNotPay
Regardless of whether it is a material, anticipatory, or some other type of breach, our AI-powered app can help you create an airtight demand letter that will:
Comply with your state laws
Cover the specifics of your case
You do not have to waste any time inspecting numerous online templates since some might not suit your particular case and the legal requirements of your state. Hiring an attorney to prepare a demand letter for you is also not necessary since our robot lawyer can do that automatically and more affordably.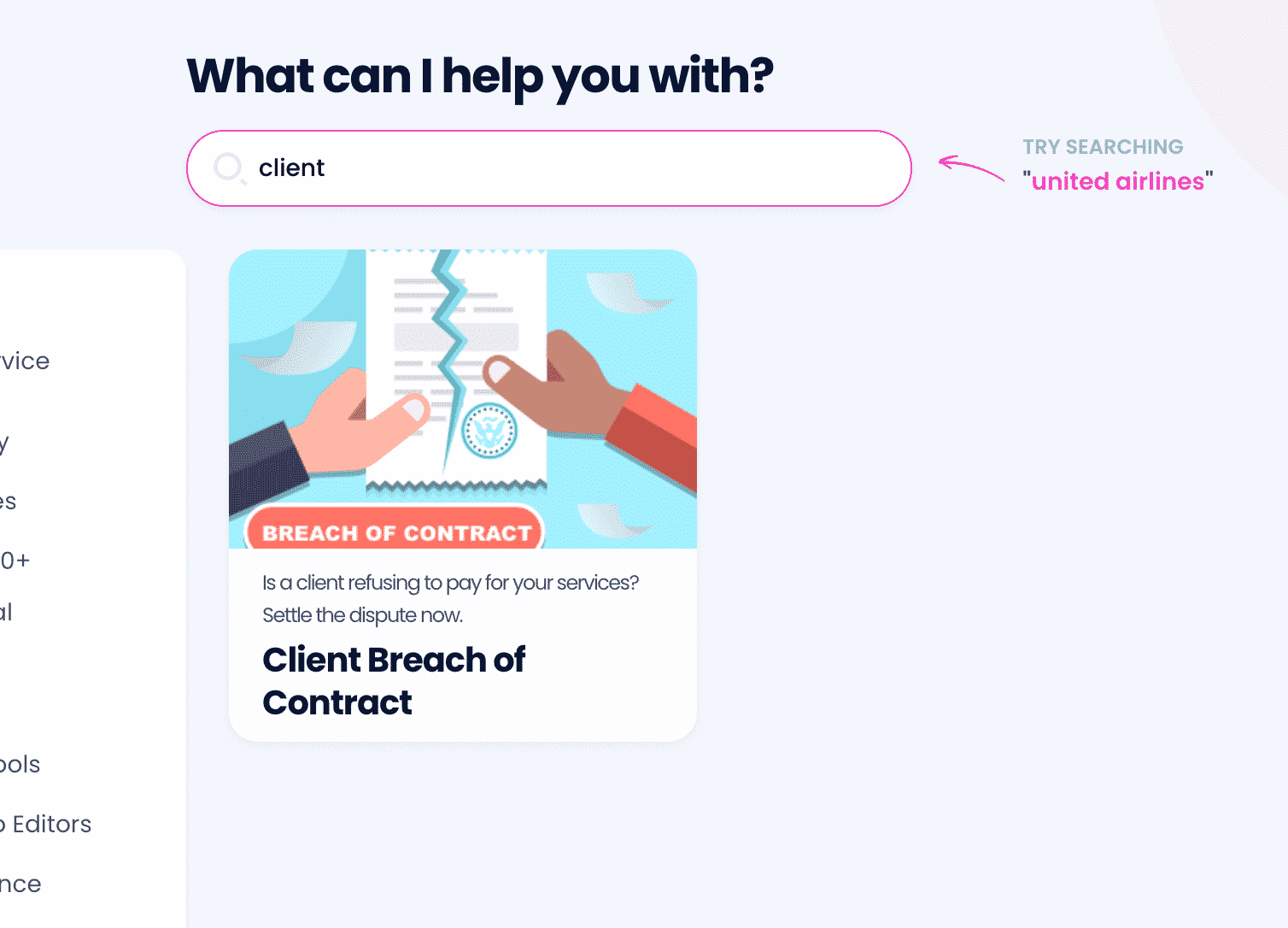 Open the Client Breach of Contract product
Answer the chatbot's questions regarding your agreement and the other contractual party
Indicate a new deadline for payment or delivery
Describe the implemented services
Provide photographs to support your claim (if available)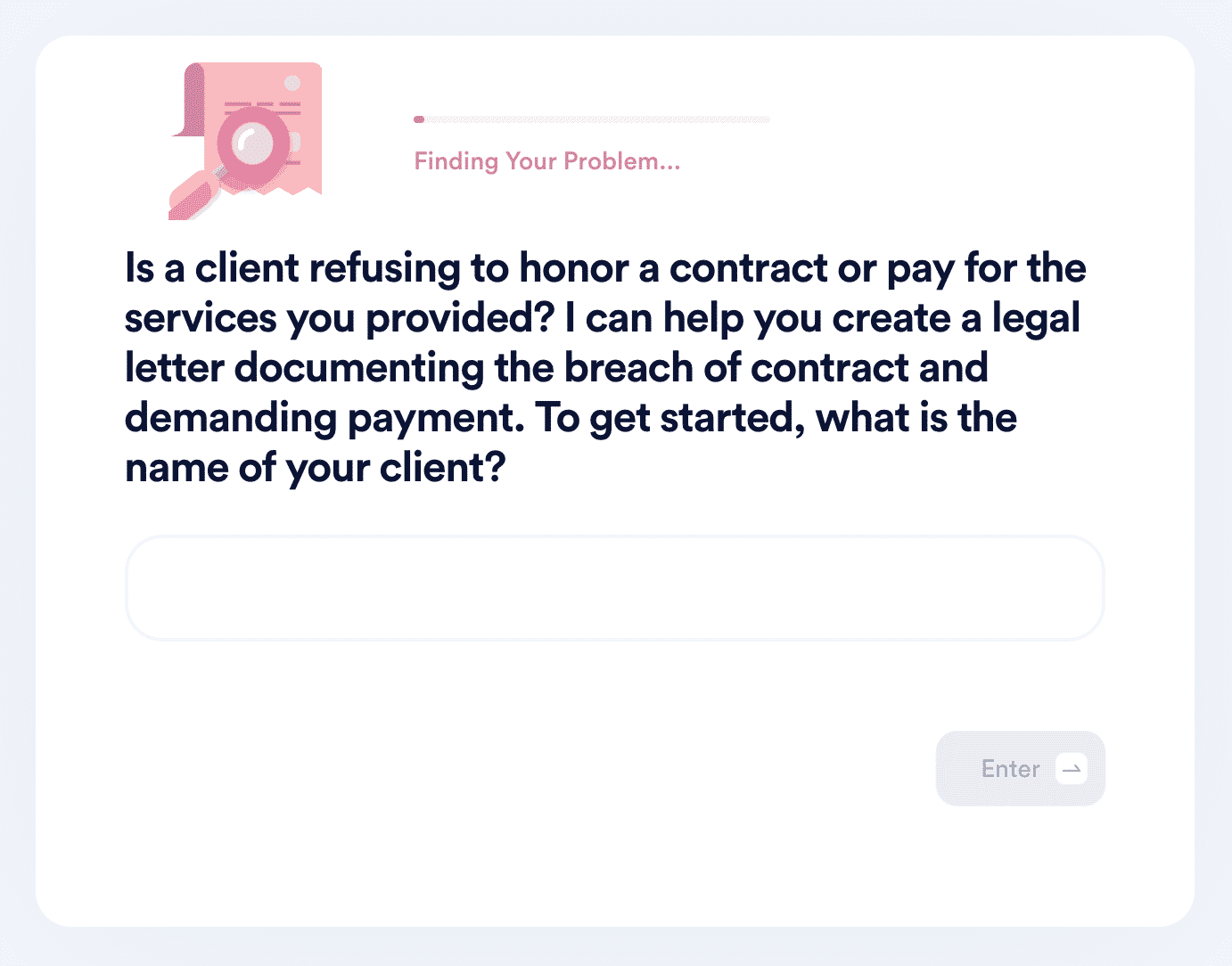 Once you have entered the required information, DoNotPay generates your demand letter in a matter of minutes.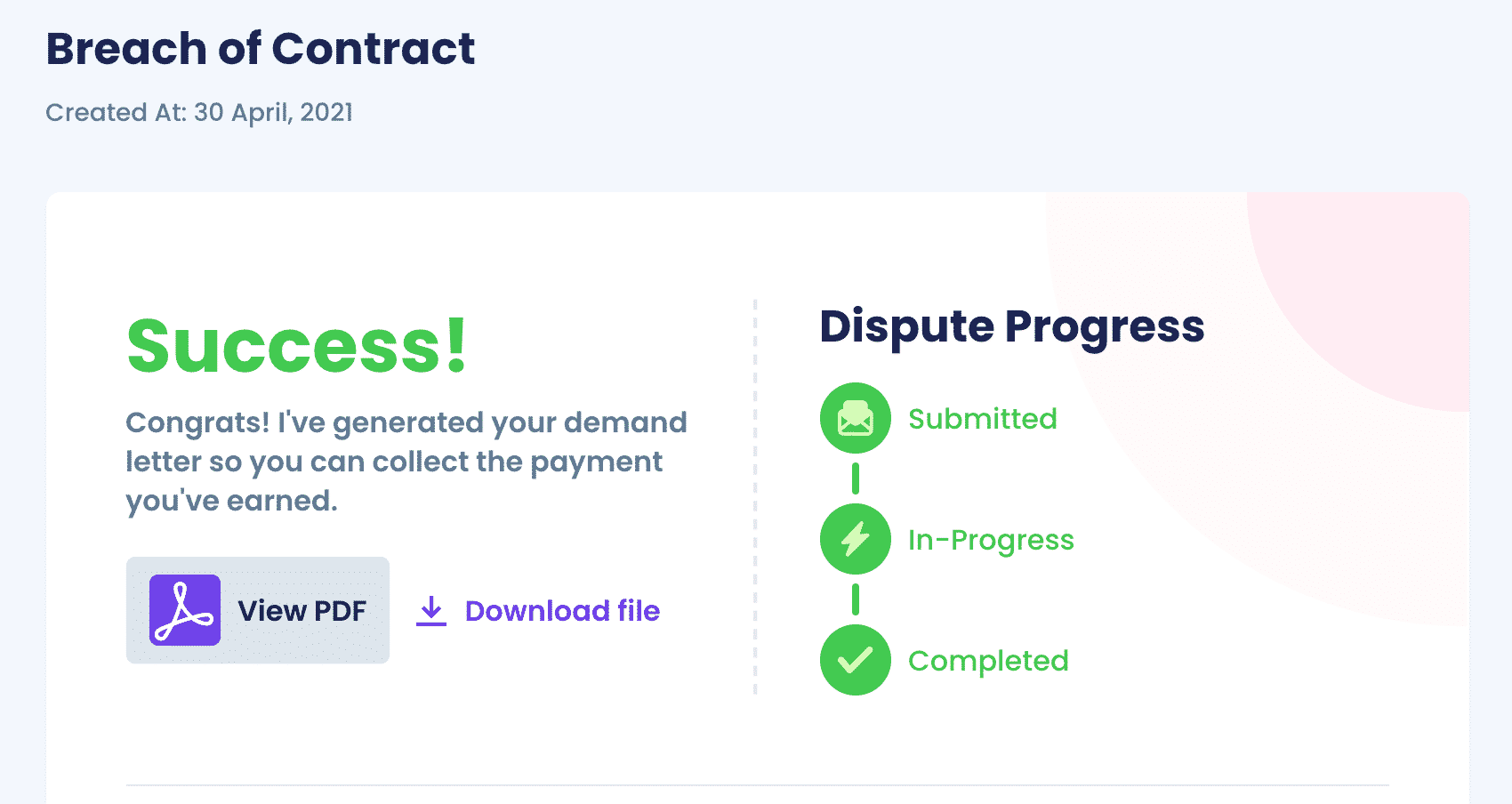 What else can we help you with? If the breaching party does not send a response, we can help you sue them in small claims court.
Get Down to Business With DoNotPay
If your to-do list is getting longer by the day, we offer numerous solutions. You can focus on growing your business while we handle the endless administrative tasks.
Here are some of DoNotPay's products and services that will assist your company tremendously:
DoNotPay Feature
Our App Will
Trademark Registration

Complete your company name, logo, or slogan registration application
Submit the application in your stead

Trademark Protection

Perform monthly checks
Notify you in case there is any trademark infringement
Help you file cease and desist letters

EIN Registration

Fill out and file your Employer Identification Number (EIN) application
Notify you of your new EIN

Register a DMCA Agent

Complete the DMCA agent registration process
Register the designated agent with the U.S. Copyright Office
There Is Even More We Can Do for You
Navigating the business world can be overwhelming. If your paperwork is piling up and disputes keep emerging, start using our app and declutter your workday from numerous chores.
The world's first robot lawyer can help you deal with the following:
Chargeback scams
Business loan applications
Faxing and mailing
Negative online reviews
83(b) election forms
Self-certification with the Privacy Shield program