The Ins and Outs of a Breach of Contract in California
Having a client fail to complete their part of the deal as stated in the contract is not uncommon, so you should know how to react promptly. Requirements for filing a breach-of-contract lawsuit are state-specific, so you must be familiar with local laws.
DoNotPay is here to help you understand what constitutes a breach of contract in California and what you can do about it. We also offer help with creating a demand letter and taking the defendant to small claims court should the situation escalate.
What Is Considered a Breach of Contract in California?
Under California law, a breach of contract occurs when the terms of a binding agreement have been violated by one of the signing parties. This can involve:
Services for failure to make payment
The breach of complex secured lending instruments and investment securities agreements
California Breach-of-Contract Law—Does the Agreement Need To Be in Writing To Be Valid?
The contract you create does not need to be in writing—an oral agreement is also enforceable. It is still better to have written agreements whenever possible because the breach will be easier to prove.
What Are the Elements of a Contractual Breach in California?
To take action against the breaching party, you will need to prove specific breach-of-contract elements. Refer to the following table for additional information about the required elements in the Golden State:
Elements
Brief Explanation
Existence of a valid contract

The plaintiff must provide evidence the agreement exists to demonstrate that a breach occurred
You must also prove that a contract is valid by showing that both parties agreed to the same terms

Plaintiff's performance or excuse for non-performance

The plaintiff must prove that they fulfilled their obligations and respected all terms of the contract that they were required to perform
If you were unable to perform because the defendant prevented you from doing so, you must state the excuse for non-performance

Defendant's breach of contract

You must offer evidence that the other party failed to complete their part of the agreement, perpetrating a material breach of contract in California
The breach can be the result of the defendant's:

Specific acts or conduct
Negligent performance
Failure to act or perform

Consequential damage to the plaintiff

If a breach caused you measurable losses, you have the right to compensatory damages
You need to prove that the breaching party's actions led to you suffering those losses
What Is a Demand Letter and How Can It Help Your Case?
When facing a breach of contract, the first step toward solving the dispute is to create a demand letter. This legal document informs the defendant that they have breached the contract and what you suggest they do about the situation. It is important to compose the letter properly to get the best results, and DoNotPay can help you do it!
Create a Letter of Demand Using DoNotPay
When creating legal documents, it is best to avoid doing the task independently if you lack the required knowledge. You can avoid hiring a lawyer and save money by using DoNotPay. We will make sure to generate a legal document specifically tailored to your needs, unlike iffy free templates available online.
To get an airtight breach-of-contract demand letter, you should:
Choose our Client Breach of Contract product
Answer requisite questions from our chatbot about the client and the agreement you had
Add a payment deadline for the client
Include photographic evidence (if you have any)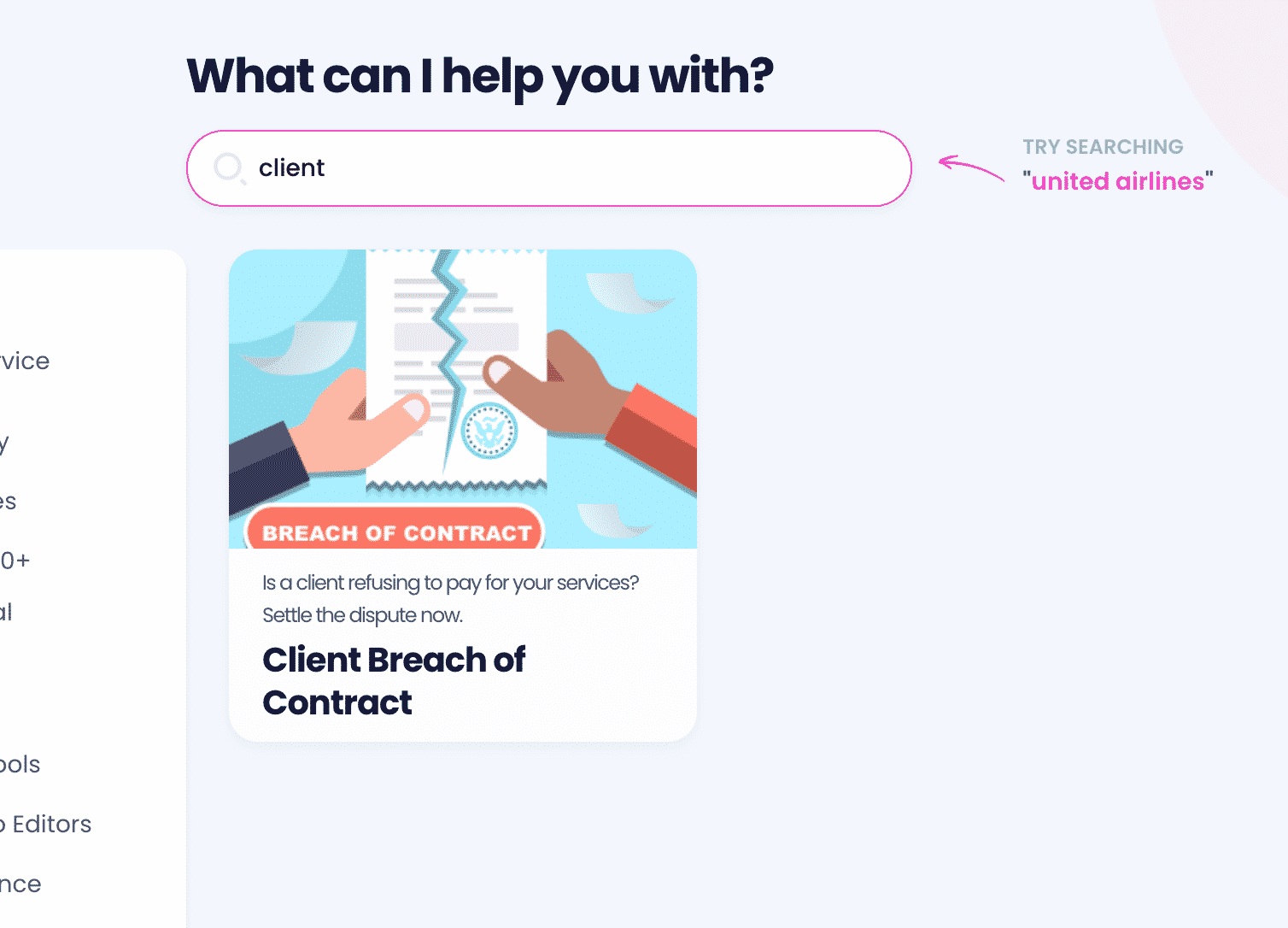 The Client Is Not Responding to Your Demand? Take Them to Small Claims Court With DoNotPay
In case further legal action is needed, you can count on DoNotPay to help you take the breaching party to small claims court. Our app has the highest qualifications for fighting unreliable businesses and clients since we received the Louis M. Brown Award for Legal Access in 2020. We can help you:
Collect the necessary paperwork
Complete the required court forms
Draft a script with persuasive arguments to use in court
File the complaint in your stead
DoNotPay can also tell you everything you should know about the affirmative defenses to breach-of-contract to be adequately prepared for the case.
How Long Is the Statute of Limitations for Breach of Contract in California?
After successfully proving the breach-of-contract elements, you can file a lawsuit but only during a specific period. If you miss the deadline, the case will be dismissed. The period is called a statute of limitations, and the rules and deadlines are state-specific. In California, the statute of limitations is four years for written and two years for oral agreements.
Breach-of-Contract Remedies Available in California
Once you win the lawsuit, you can benefit from a breach-of-contract remedy based on the contract terms. The available remedies in California include:
Compensatory damages
Restoration
Rescission
Specific performance
Injunction
DoNotPay Helps You Do Everything by the Book!
Are you confused by the numerous business-related laws and procedures? If you cannot seem to get the hang of all of the processes, you should rely on DoNotPay. Allow your robot lawyer to help you take care of Employer Identification Number (EIN) and DMCA agent registration in a matter of minutes!
Once you handle those tasks, you should consider using DoNotPay to register your business slogan, name, or logo as a trademark and protect your brand by allowing us to check for trademark violations regularly.
Not sure how to handle 83(b) election forms? Automate the entire process and have your employees fill out and submit the forms in a few clicks! We can even help you protect the privacy of your clients by filing a self-certification request with the Privacy Shield program on your behalf so your website complies with data protection requirements.
Running a Business Is Smooth Sailing With DoNotPay
DoNotPay has a solution for any business issue. We can help you:
Draw up a professional and convincing small business loan request letter and get the necessary funds for your business
Report unjustified negative reviews that could damage your brand until they are taken down
Request payment from clients who break the contract
Dispute chargeback requests when they are unfair
Send letters or paperwork without going to the post office