The Ins and Outs of the Brazoria County Divorce Process
Experiencing the breakdown of a marriage is stressful and emotionally draining. The longer it takes, the more exhausting it becomes. That's why you should do all you can to make the process as simple as possible, and DoNotPay can help you with that!
We'll give you the rundown on the Brazoria County divorce and help you finalize it! All you need to do is register for DoNotPay, and we'll draw up a divorce settlement agreement without delay.
Legal Grounds for a Divorce in Brazoria County, TX
Texas recognizes two types of legal reasons for a divorce:
No-fault
Fault-based
Here's an overview of the grounds for divorce in Brazoria County based on the type:
No-Fault Grounds for a Divorce
Fault-Based Grounds for a Divorce

Insupportability
Living separately (for at least three years)
Confinement in a mental institution for a minimum of three years

Adultery
Cruelty or violence
Abandonment (desertion)
Felony conviction, which includes:

Being convicted of a felony
Being imprisoned for at least one year
Not yet being pardoned

Uncommon grounds, including:

Infertility or impotence
Alcohol or substance abuse
Homosexuality (married heterosexual couples)
Cultural or religious differences
Financial backing
What Are the Requirements for Filing for Brazoria County Divorce?
To file for divorce in Texas and its counties, you have to meet certain residency requirements. According to the Texas Family Code, either you or your spouse have to have:
Been a resident of Brazoria County for at least 90 days prior to petitioning
Been in the state for six months before filing the petition
If you or your spouse has been absent for a certain period while performing public service (such as military service), the time you spent away counts as residence in Texas and Brazoria county.
How Much Does a Divorce Cost in Brazoria County?
Are you wondering how much a divorce costs in Brazoria County? Not every divorce costs the same. The average cost of a divorce in Texas is $15,600, but this amount can change depending on various factors, such as:
To file for divorce in Brazoria County, the plaintiff (petitioner) has to pay a court filing fee of approximately $300.
Can I Get an Uncontested Divorce in Brazoria County?
There are several types of simplified divorce processes in Texas. Here's why an uncontested divorce is better than traditional:
It's cheaper
The process is not as time-consuming
It's less stressful and demanding
To qualify for an uncontested divorce in Brazoria County, you have to meet all of the following criteria:
Both of you agree on the no-fault grounds for a divorce of insupportability or living apart
At least one party meets the residency requirements
You and your spouse both agree to terminate your marriage
You don't have minor children (if you do, you should choose an agreed divorce process)
Neither you nor your spouse has an ongoing bankruptcy case
You and your spouse don't:

Own property together
Have retirement benefits to divide

Neither of you is seeking spousal support
A Step-by-Step Guide to Filing for a Brazoria County Divorce
If you meet the residency requirements and qualify for an uncontested divorce, you can start preparing for the process. Here's how to file for divorce in Brazoria County, Texas:
Collect the required paperwork—You can find the petition and other necessary divorce-filing papers online at the Brazoria County official government website. After downloading the forms, you should fill them out and make at least two copies of each
File the documents with the court—Pay the court filing fees and submit the uncontested divorce papers at your local county clerk's office
Serve divorce forms—Once you file your petition with the court, you should deliver the papers to your spouse. The best way to do that is via certified mail or by hiring a private process server. Your spouse has less than 30 days to respond before the court enters a "default" and continues the trial without them
Draw up a divorce settlement agreement—When you reach an agreement with your spouse regarding the most important matters, you should put it in writing. Having a written settlement agreement serves as a guarantee there won't be any disputes between you and your spouse in the future
Draft a Divorce Settlement Agreement Hastily With DoNotPay
There are several methods of drafting divorce settlement agreements—hiring an attorney to prepare it, downloading a template, or using DoNotPay. Here's why you should opt for the world's best AI assistant to create this important document:
The process is fast and straightforward
We use the most comprehensive divorce laws database
Our service is budget-friendly
The product is reliable and mistake-free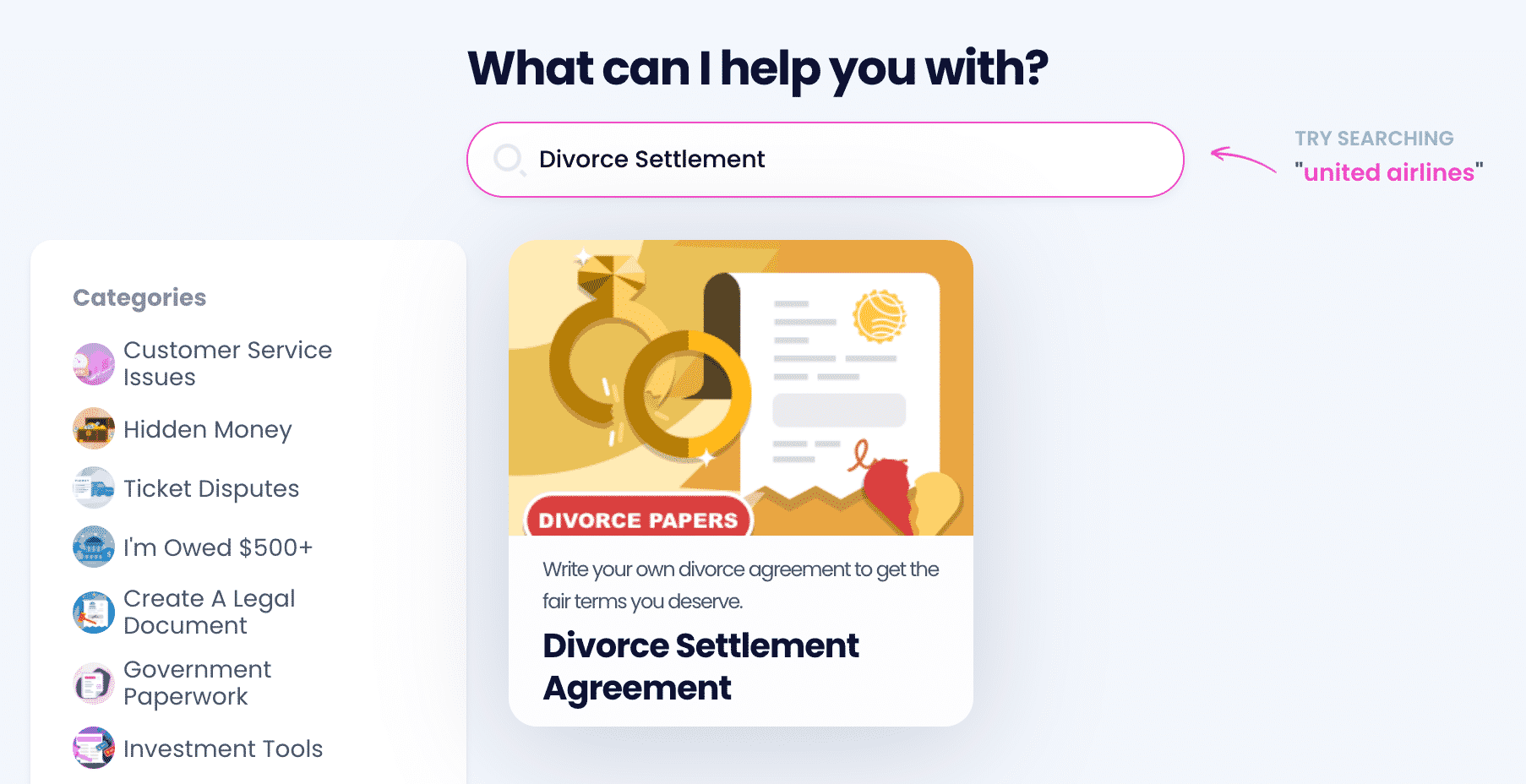 Everything you need to do is access DoNotPay and complete the following steps:
Open the Divorce Settlement Agreement feature
Provide information about your assets, spouse, and children (if any)
Inform us if you'd like us to connect you with a notary
We will create a rock-solid divorce settlement agreement promptly! If you choose our service to get the document notarized, DoNotPay will help you schedule an online meeting with a notary public.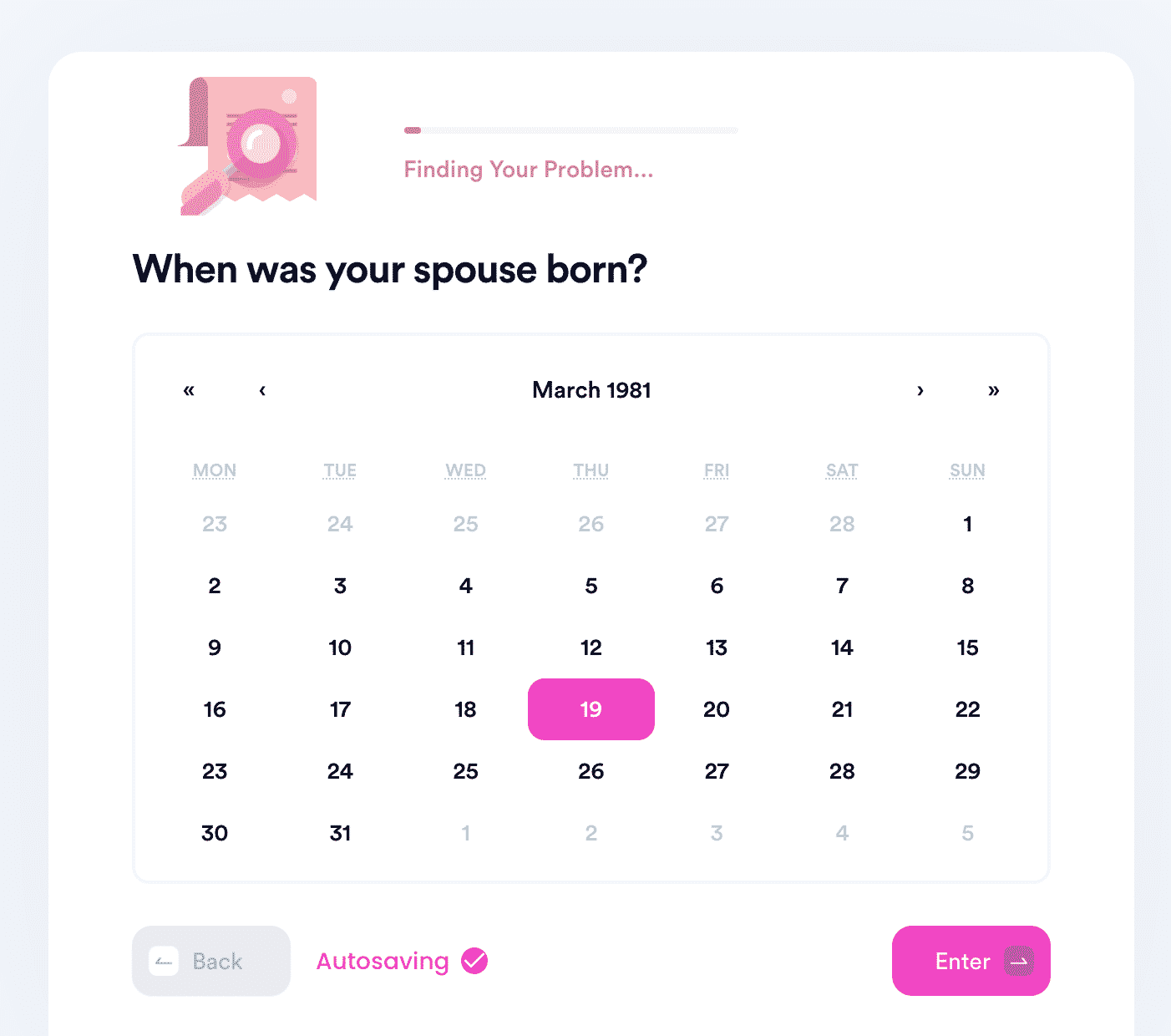 DoNotPay can do so much more! We have answers to other divorce-related questions, both general and state-specific:
DoNotPay Can Help You With Almost Anything
DoNotPay's goal is to have a multitude of features that can be useful to you with handling various issues. Whether you want to apply for clinical trials, prepare for government tests, or even get in touch with your locked-up friends or family—DoNotPay has got you covered!
For a small yearly fee, our AI-based app will help you:
Want To Save and Earn Money at Once? Subscribe to DoNotPay
DoNotPay can help you earn and save a buck or two. We'll assist you in reducing your property taxes, canceling any unused subscriptions, and signing up for free trials with our virtual credit card.
As if that wasn't enough, we'll save you money and spare you from a headache if you receive any faulty deliveries by filing a refund or an item return request in your stead! This is just the tip of the iceberg of features that DoNotPay has in store for you.