Get Acquainted With the Brazil Tourist Visa Requirements
If you're looking forward to visiting the land of carnivals, rainforests, and the Samba, you don't wait until the last minute to check out the Brazil tourist visa requirements and cost!
Not to worry, because, with DoNotPay, you can secure everything for your vacation!
What Do the Brazil Tourist Visa Requirements Entail?
According to the Brazil tourist visa requirements, U.S. citizens don't have to apply for a Brazil tourist visa if they are not seeking residence in the country but are visiting it for the following reasons:
Transit
Business
Artistic activities
Tourism
Sport activities
Tourists from visa-exempt countries can stay in Brazil for up to 90 days per entry and can extend their stay under special circumstances for up to 90 more days. To extend your stay, you will have to contact a Federal Police office and show that you can afford to stay in Brazil longer. The annual stay limit for tourists coming from visa-exempt countries is 180 days.
If a Tourist Visa for Brazil Is Not Necessary To Enter the Country, What Is?
Regardless of whether travelers need a tourist visa for Brazil, they need to provide the following:
A U.S. passport that's valid for at least six months after your arrival and has a minimum of two blank pages to accommodate the entry and departure stamps
Proof of financial sustainability during your stay
Details regarding your accommodation
The reason for your visit to Brazil
Proof that you will leave the country before your allowed stay time runs out, for example, a return ticket
The following requirements apply to minors:
If they are traveling with one parent, they must have a minor travel consent letter signed by the other parent
If they are traveling alone, they need two minor travel consent letters, one for each parent
COVID-19 Restrictions in Brazil
Due to the ongoing pandemic, the Brazilian government requires all tourists to provide the following upon arrival:
A negative result of an RT-PCR test performed no longer than 72 hours before arrival
Keep in mind that all land borders are closed, and the only way to enter Brazil is by plane.
Children between two and 12 years old must also provide a negative test result if they are traveling alone.
The following categories of tourists are exempt from the testing requirements:
Children under the age of two
Minors younger than 12 who are traveling with a companion
The Brazilian government does not impose self-isolation time or movement restrictions at the time of writing this article.
To check on any updates on the COVID-19 restrictions, visit the COVID-19 Information page on the website of the Embassy of the U.S. in Brazil.
Brazil Tourist Visa and Entry Requirements—Who To Call for Questions
If you have any concerns about your upcoming trip to Brazil, you can use the information from the table below to reach a Brazilian diplomatic mission in the United States:
DoNotPay Provides Information About Any Country's Entry Requirements in a Flash!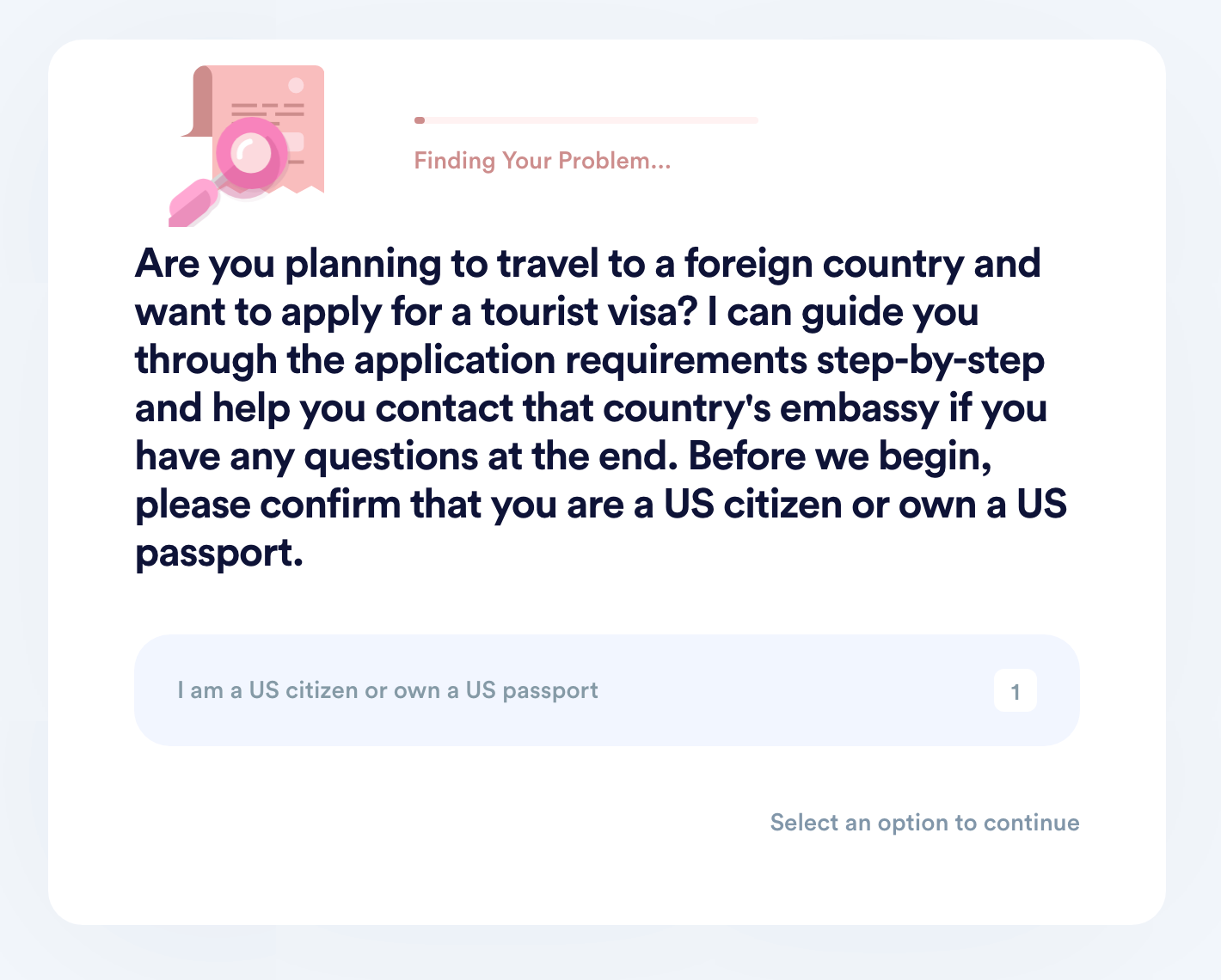 Despite not needing a Brazil tourist visa, DoNotPay can remind you of your allowed stay and also:
Check:

Whether any other country you want to visit next requires a tourist visa
What documents do you need to apply for one, if necessary
Whether the country offers an online application form

Contact the country's embassy to inquire about remote application methods
Create a PDF guide for you that explains how to complete and submit your tourist visa application
Follow these steps to access tourist visa requirements for any country in the world at any moment:
Access the Tourist Visa Guide product
Provide answers to our chatbot's questions
With our help, you will be able to submit your tourist visa applications in time and prepare for all of your future vacations in a jiffy!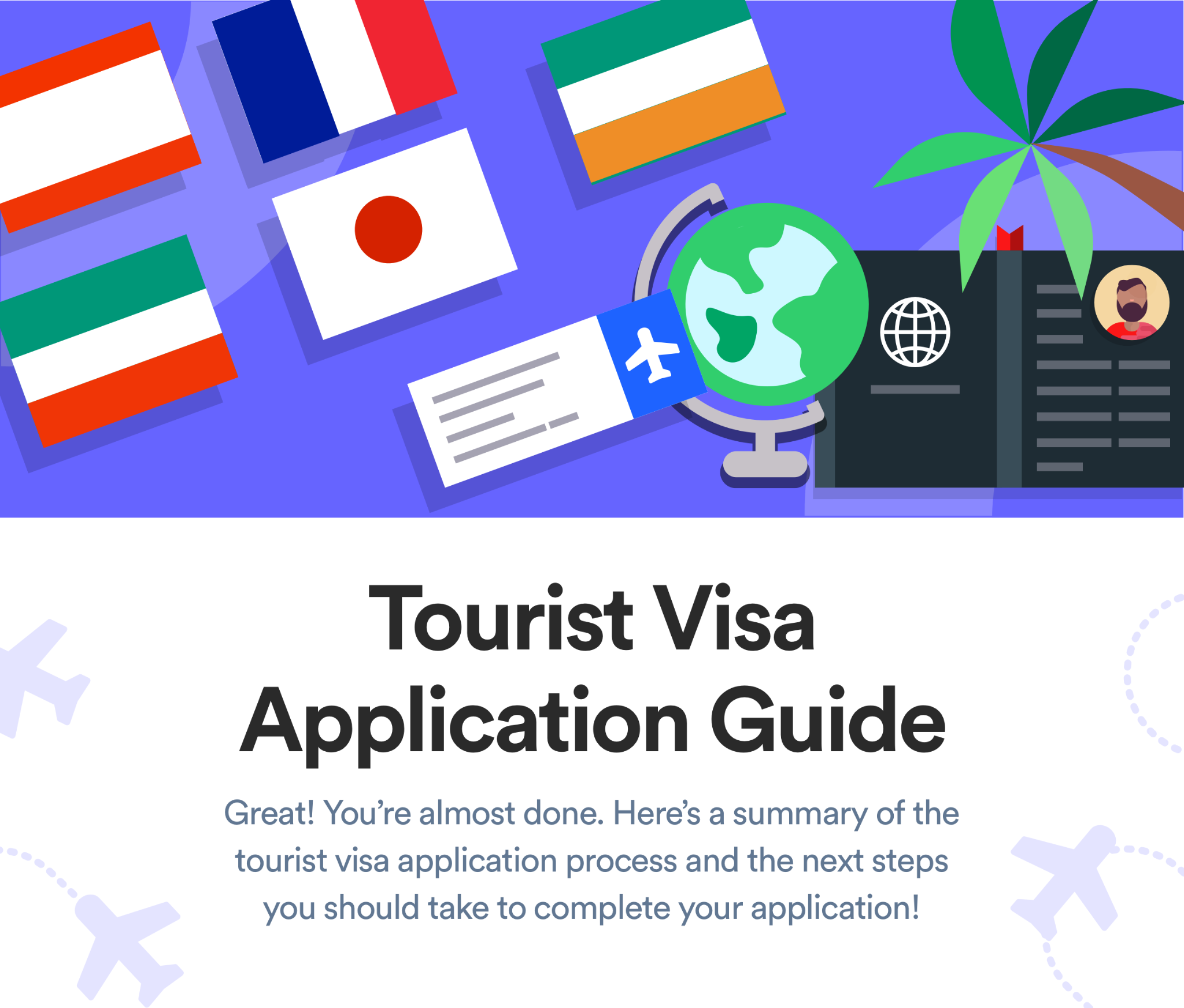 Apply for Any Latin American Tourist Visa Easily
If you got a taste of Latin America in Brazil and want to discover more, subscribe to DoNotPay to find out whether you need a tourist visa for: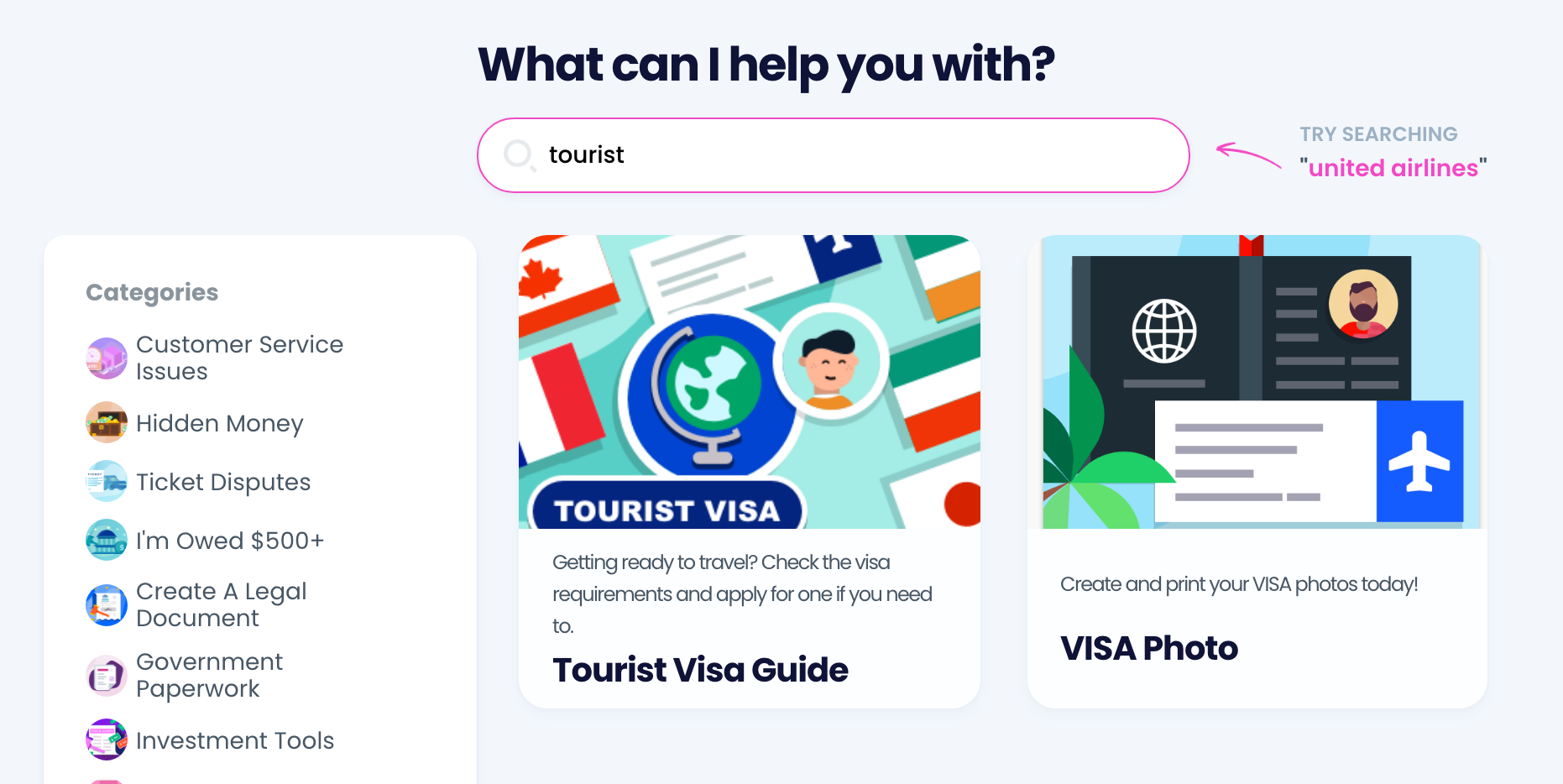 Brazil Travel Recommendations
If you want to experience everything Brazil has to offer, but don't know where to start, check the following table for ideas:
Tourist Attractions
National Dishes

Cristo Redentor and Corcovado, Rio de Janeiro
Ipanema
Copacabana, Rio de Janeiro
Iguaçu Falls
Porto de Galinhas
São Francisco de Assis church

Moqueca
Cachaça
Brigadeiros
Pão de queijo
Acarajé
Quindim
Açaí
DoNotPay Helps You Tackle All Kinds of Problems From the Comfort of Your Home
Are you too busy to go to Target, Walmart, or photo studios to get your passport photos taken? DoNotPay offers you the possibility of taking them yourself and having them edited without going anywhere!
Thanks to our app, you don't need to visit the post office if you want to initiate a return. You can also skip going to a notary office because we'll help you get your documents notarized.
Here are some other tasks you can complete with ease using DoNotPay:
We Help You Get Fuss-Free Subscriptions to Any Service
Interested in a specific service or platform? Make sure to get the best out of your free trial without getting charged and ending up with an unwanted paid membership. Even if you make a mistake, DoNotPay can end your subscription in a few simple steps!
Our system allows you to generate virtual credit card numbers to prevent platforms from getting your real bank details and using them for unauthorized transactions. We also offer burner phone numbers that will help you go through any subscription or verification procedure without disclosing personal details.