Brand vs. Trademark—Essential Differences
The more successful your small business becomes, the more you have to worry about competition and brand protection. A trade or service mark can help you avoid infringement and give you legal grounds to protect your brand from those who try to copy it.
Are trademark and brand similar in any way, though? DoNotPay will break down the crucial brand vs. trademark differences and show you how to file a trademark if you decide to get one.
Brand vs. Trademark
While many people believe that brands and trademarks are the same, it is important to make a distinction—all trademarks are brands, but not vice versa.
A brand can help you communicate with your customers and establish a reputation, while trademarks exist to provide legal protection to your brand, products, and ideas.
Your brand is part of your business' identity dedicated to your customers, products, or services, while a trademark is related to your competitors.
What Is a Brand?
A brand identifies your company or a specific product. It is a name that consumers create associations with and can easily recognize.
Companies use brands to differentiate their products from those of their competitors, creating positive images and emotional ties to a product. As they become loyal to a certain brand, people stick with it and don't even consider purchasing a competitor's item.
A brand consists of various elements:
Identity
Character
Personality
Image
Reputation
Essence
Although some of these elements are abstract, others can copy them and use them to their advantage without any penalty—unless you have a registered trademark.
What Is a Trademark?
If you worry your competitors may misuse your brand, you should consider getting a trademark. Your competitors don't have to use the same name as your brand—even a similar name can be seen as trademark infringement since it can confuse customers into thinking they're buying from your business.
If you register a trademark with the United States Patent and Trademark Office (USPTO), you will be able to sue copycats for any misuse as long as your trademark is active.
A trademark can be one of the following:
Depending on what you are looking to protect, you may need to go for a different type of protection, such as copyright, patent, or trade secret.
Why Register a Trademark?
Once you establish a trademark, do you have to register it? The answer is no, but you will not have any form of protection for your ideas, creations, and business outside of your immediate geographical area (where you're protected by common-law rights). A registered trademark helps you:
Seek legal action against any infringing party and ask for financial compensation
Prove infringement took place as the federal court will accept your registered trademark for indisputable proof of ownership
Get protection on state, federal, or international level
Stop infringing goods from entering the United States
How To Get a Registered Trademark
To protect your brand, you have to fulfill a set of requirements.
One of them includes making sure your brand is unique and that customers will not confuse it with someone else's brand name. You can ensure your brand becomes a trademark by researching the USPTO database for the already existing ones.
After that, you need to select trademark classes—there are 45 different ones—for which you wish your trademark to be protected. You also need to fill out an application form, which will ask you to provide information about yourself and your business.
From Q3 2020 to Q3 2021, the USPTO received just under 730,000 applications, out of which less than half ended up with successful registrations. The Office takes a close look at every detail and will reject an application if it contains even the tiniest of mistakes.
How To Apply
Business owners can fill out the application in three ways, as shown in the table below:
| How To Apply | Description |
| --- | --- |
| Do it on your own | You can go through the process yourself, in which case you will only have to cover the trademark registration costs. Many owners avoid this option as the application process is tedious. If you are not experienced with it, it is likely you will make a mistake |
| Hire a trademark attorney | You can hire an attorney to deal with the USPTO in your stead. Their services come with extortionate costs, and their flat fees can reach up to $3,000 |
| Use DoNotPay | DoNotPay gives you all the benefits of a trademark attorney and doesn't entail exorbitant fees. When you , we will guide you through the process and check for your chosen trademark's availability in the USPTO database |
Applying for a Trademark With DoNotPay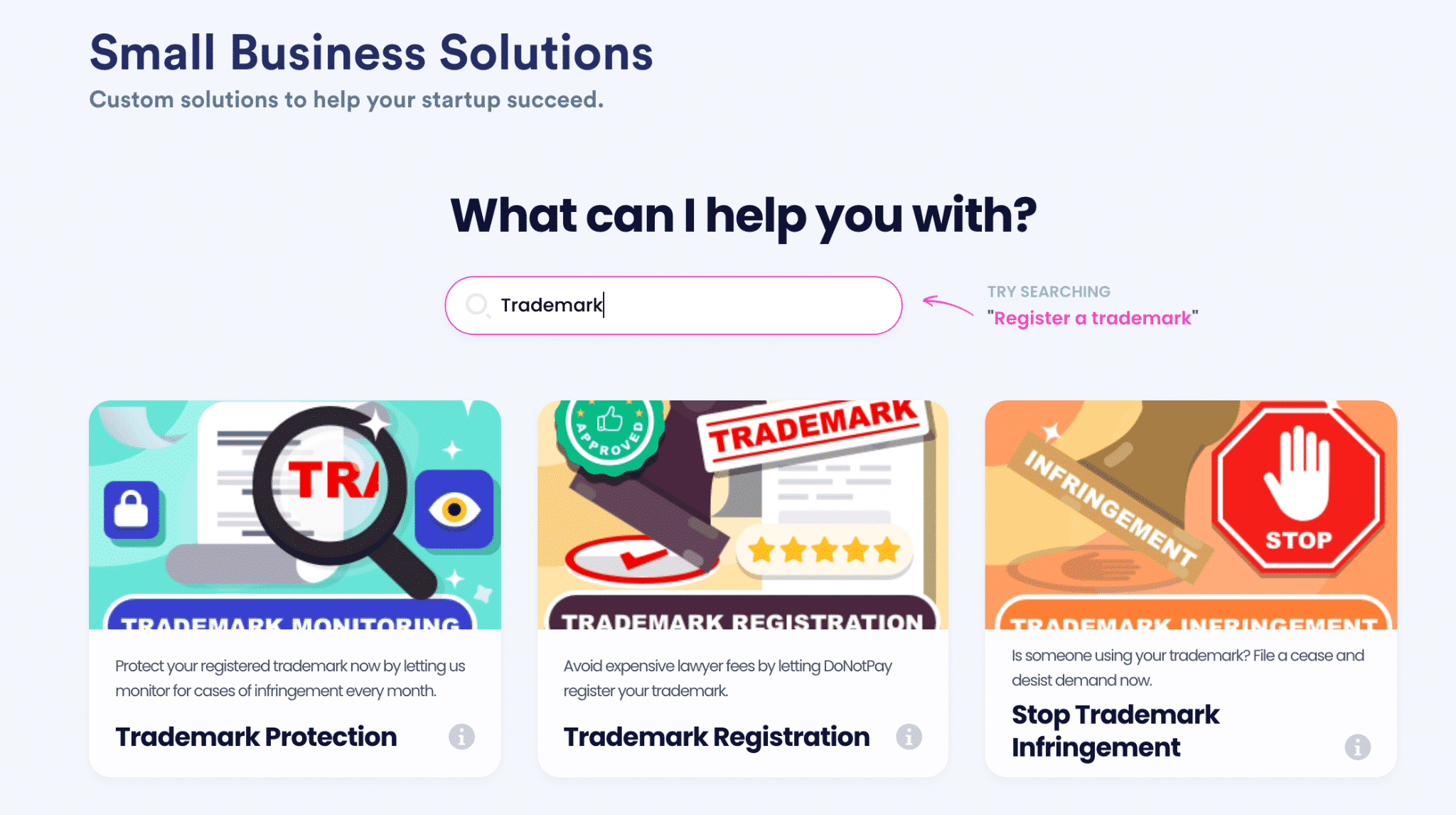 If you decide to go through the application process on your own, you risk losing money and getting rejected by the USPTO. DoNotPay can help you fill out the form error-free in a matter of minutes by asking you a set of questions about your trademark.
To ensure the USPTO accepts your application, we will go through a two-step process:
Doing a clearance search to check the availability
Asking for all the necessary information
All you need to do is the following:
Navigate to the Trademark Registration product
Answer a few questions from our chatbot
Pay the USPTO fees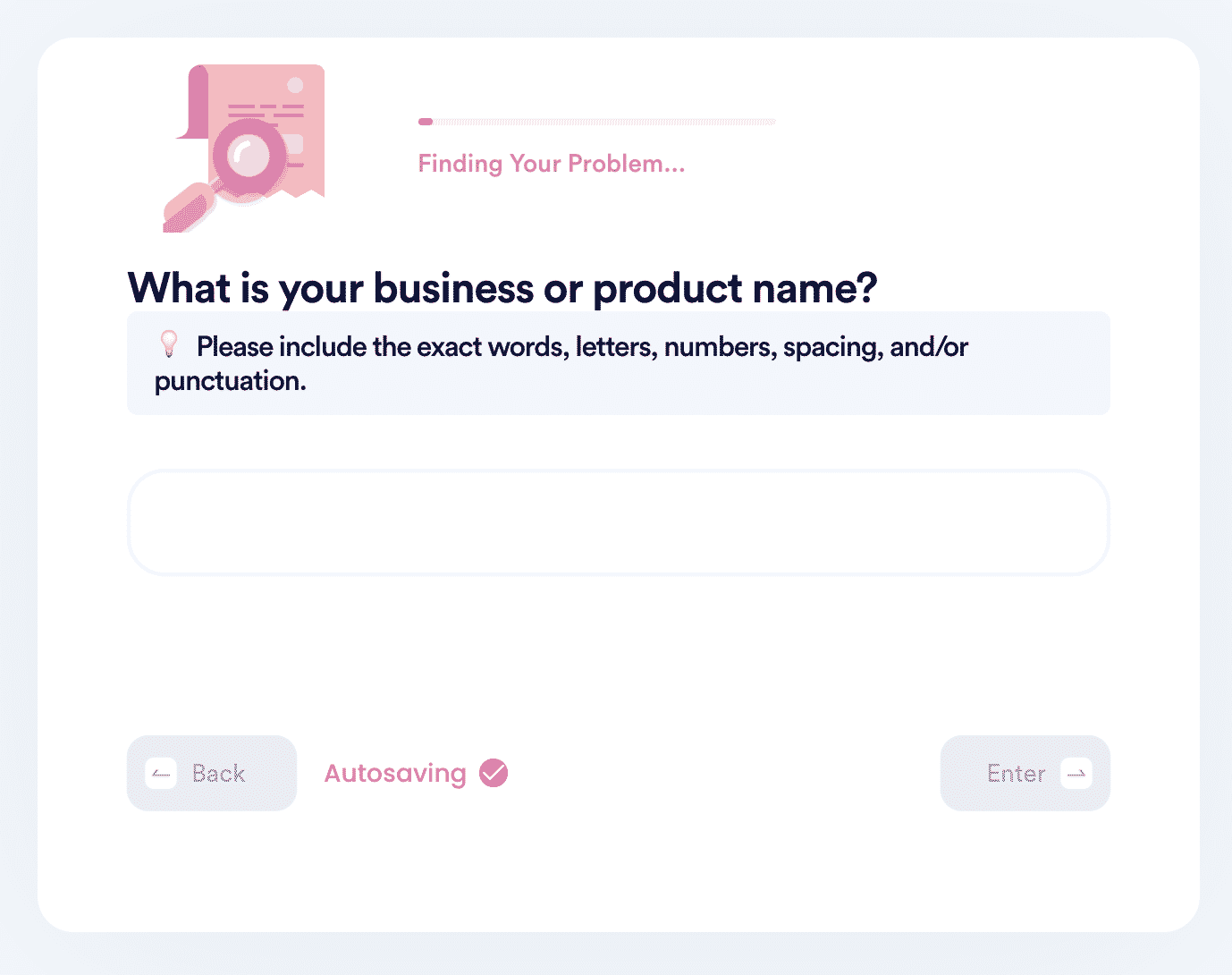 You will receive a copy of the form to review and e-sign, and that's it! We will send you a tracking number to check on the progress.
Don't Waste Ages on Tedious Administrative Tasks—Rely on DoNotPay
Running a small business can be a challenging endeavor, but you can count on DoNotPay to make the situation easier! We have developed a number of handy features that you can use to deal with your business-related hurdles. With our help, you can:
Send mail to your customers, investors, or business associates without wasting time going to the post office
Register your business slogan, logo, or name as a trademark to prevent brand infringement
Avoid copyright violations on your website by registering a DMCA agent
Protect the privacy of your clients' data by filing the Privacy Shield program self-certification request
Contest unjust chargebacks and keep the revenue
Deal with clients who breach the contract without wasting money on collection agencies or lawyers
Worked Hard on Creating a Good Business Reputation? Don't Let It Go to Waste!
Has one of the angry clients or envious competitors decided to leave a mean online review that could have a negative impact on your business? DoNotPay is here to help you remove it! We will analyze the problematic review and report it until it is taken down.
Don't know how to protect your trademark and make sure no one else is using it? Our app can monitor the trademark on a monthly basis and send cease and desist letters if necessary.
Let our app take care of many other issues—such as filing 83(b) election forms, registering for an Employer Identification Number (EIN), taking out small business loans, and similar—while you concentrate on the creative side of your business.