Understand the Bowling Alley Startup Cost and Strike It Rich!
For many American families, a trip to the bowling alley is the ultimate outing.
For the alley owner, this means potentially sitting on a money-spinner that delivers constant, dependable profit.
The barrier to entry is high, though, and setting up a bowling alley that can compete with the best ones demands serious upfront investment.
DoNotPay can help you understand the bowling alley startup cost, plan your investment, and source funding to bring your dream to life.
What Kind of Bowling Alley Startup Costs Should You Expect?
Bowling alleys are expensive to set up.
Besides the requirement for a large plot of land in a convenient location, you will have to invest heavily in the infrastructure before opening.
Once the initial investment is made, though, you have a potentially lucrative—and low-maintenance—business on your hands.
According to IBISWorld, the bowling alley industry continues to grow year on year, and a successful alley can expect an annual turnover of up to $40,000 per lane.
The startup costs you will include:
Lease or purchase of land
Construction
Lanes, machines, and equipment
Bowling supplies
Food and beverage inventory
Furniture, signage, and ancillaries
Licenses and permits
Staff recruitment, advertising, and marketing
Lease or Purchase of Land
Depending on the number of lanes you want, you will need an adequately-sized plot with the relevant planning and development permissions.
Your plot needs to be conveniently located with good access. The plot size you will need is as follows:
16 lanes—two acres
24 lanes—two and a half acres
32 lanes—three acres
40 lanes—four acres
Parking—five spaces per lane
Construction
Preparing the plot, constructing the buildings, and laying out the interior will take time and money.
You can also renovate an existing alley—this can drastically reduce your construction costs, but you may find yourself limited in the scope of what you can do.
Lanes, Machines, and Equipment
Ball return machines, pin replacement mechanisms, scoreboards, and front-end equipment must be purchased and the lanes laid precisely.
You can buy second-hand setups that will perform adequately with regular maintenance.
Bowling Supplies
You will need pins, balls, shoes, and other equipment in sufficient quantities to cope with breakage and loss.
You should base your calculations on how much of each item you will need when running at full capacity.
Food and Beverage Inventory
Modern bowling alleys offer a full range of catering—you can choose to do this yourself or partner with established franchises to reduce your costs.
Furniture, Signage, and Ancillaries
Exterior and interior signage are essential to establish your brand and entice customers, and you should provide relaxation and eating areas that are separate from the lane section of your alley.
Your staff will also need uniforms, and you may need maintenance equipment, cleaning supplies, and security technology.
Licenses and Permits
Several licenses are required to operate a bowling alley, namely:
A local operating license
Liquor and food-handling permits
A general business license
An employer identification number
A sales tax permit
Staff Recruitment, Advertising, and Marketing
You may have to use a recruitment agency to find suitable staff, and you should plan on investing enough in advertising and marketing to guarantee a high volume of lines from day one.
Your total bowling alley startup cost can come to:
Between $90,000 and $110,000 per lane for a new build
From $50,000 to $65,000 if you are renovating an existing facility
With startup costs of at least $800,000 for a renovated 16-lane alley, you will most likely need to look at your options for financing the development.
What Loan Options Do You Have for Your Bowling Alley Startup Costs?
Financial institutions regard bowling alleys as relatively low-risk—as long as:
The small business loan or startup financing you choose will be dependent on the:
Many financial institutions will shy away from offering 100 percent of the money you need, so you may have to invest up to 25 percent of the total startup costs yourself to secure financing for the remainder.
It pays to shop around, though, and you should investigate the following institutions for the best deal:
Credit unions or other independent lenders
Whichever financing solution you choose, you will need to provide:
Proof of your credit rating and the availability of a portion of the money needed
A sound business plan, including credible financial projections
A convincing argument as to why the financier should grant your loan
This is where DoNotPay can help. We can generate a comprehensive and professional business loan request letter that will tick all the boxes your financier requires!
DoNotPay Can Help You Strike a Loan Deal!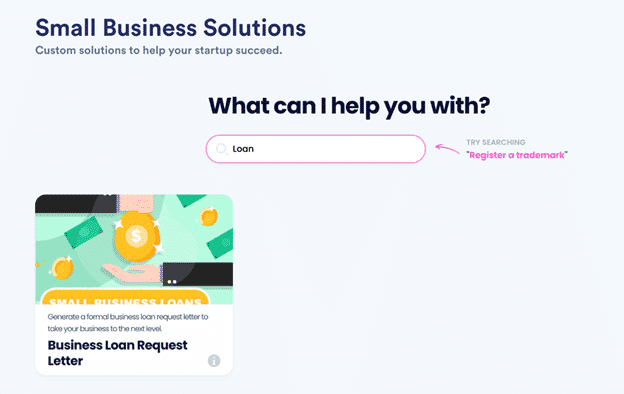 Securing a loan to develop or renovate a bowling alley is a big deal—the numbers involved are high, and you will need to be convincing and credible to get what you need.
DoNotPay's Business Loan Request Letter product takes much of the work out of preparing your application. We can help you make sure you:
Have all the documentation you need
Come across convincingly to your chosen financier
To set up your loan request letter, you need to:
Navigate to our Business Loan Request Letter product
Gather your credit ratings and personal financial records and upload them
Answer some questions about the loan you need, your business plan, and your revenue projections
We will take it from there.
DoNotPay will generate a loan request letter that puts your case across convincingly, ready for you to print out, sign, and use to approach the financial institution you have chosen.
As an added feature, we can even help you source a lender. Our Find Online Business Loan Lender feature will look at the amount you are looking for and give you a list of possible lenders, rates, and terms—a true one-stop shop for your startup.
If you have done your homework, your bowling alley could be up and running within months.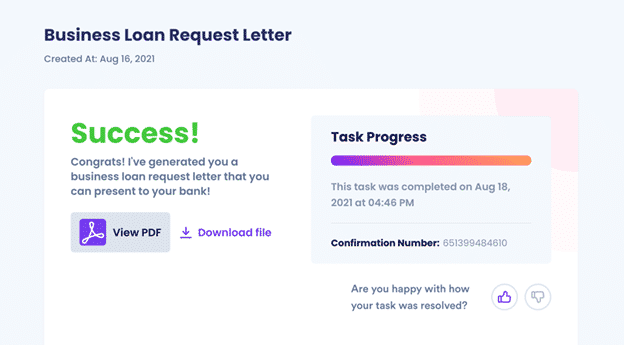 Let DoNotPay Become Part of Your Game Plan
If you want to protect your clients, you may want to join the Privacy Shield program. DoNotPay can help you with the application. What if a client is taking advantage of you and refuses to pay? Our Client Breach of Contract product can solve your problem and get you your promised payment. In case you stumble upon negative client feedback online and you suspect it is unfounded, rely on our Remove Negative Reviews feature to get rid of it.
DoNotPay can also assist you with Employer Identification Number (EIN) registration and 83(b) election form submission. Multitasking has never been easier with our app.
Take Advantage of Our Versatile App
There is even more we can do for you! From trademark registration and protection to chargeback disputes and DMCA agent registration, we have got you covered. Within the same app, you will be able to fill out the necessary documents and submit them.
For speedy and simplified business loan applications, also rely on our AI-powered app. We have even made sending letters and faxing documents easy. Thanks to our multifunctional faxing and mailing service, you can forget about snail mail and obsolete machines.