Boulder County Divorce Broken Down and Explained by DoNotPay
Ending your marriage means that you'll have to familiarize yourself with all the rules and regulations of your state and county. As there's an abundance of them, it can be difficult to start the divorce process.
If you want to learn how to get a Boulder County divorce, DoNotPay can help! We'll show you the ropes and help you get the forms you need to finalize your divorce at a low cost!
Boulder County Divorce—The Basics
To get to know the basic Boulder County divorce laws, check out the table below:
Questions
Answers
What are the residency requirements in Boulder County?
Getting divorced in Boulder County requires you to meet the following Colorado residency requirements:

One of the spouses must have resided in the state for at least 91 days before filing for divorce
Any marital children must have lived in Colorado for at least 181 days
You must wait 91 days after serving the papers for your divorce to be finalized
The respondent spouse needs to be under the jurisdiction of Colorado

Do you need grounds for divorce in Boulder County?
Being a part of the Centennial State means that Boulder County recognizes no-fault divorces. You aren't required to have any grounds (reasons) for getting a divorce. You or your spouse can only claim that the marriage is irretrievably broken
How is property divided in Boulder County?
Since Colorado is an equitable distribution state, property in Boulder County is divided the way judges think it's fair to both parties
Can you get divorced online in Colorado?
You can fill out your divorce papers online in Boulder County, but you can't file them and finalize the process
What's the Easiest Way To Get Divorced in Boulder County?
The easiest and most affordable way to end your marriage in Boulder County is to opt for an uncontested (friendly) divorce. This type of divorce requires you to agree on the following issues with your spouse:
Child custody and support
Parenting time
If you come to a mutual agreement, you can get an out-of-court settlement and even get divorced without hiring a lawyer. Couples who can't compromise can try divorce mediation. A mediator can help them come up with solutions and make them eligible for an uncontested divorce.
What Papers Do You Need To File for Divorce in Boulder County?
Getting an uncontested divorce in Boulder County requires you to get the following forms:
Affidavit for Decree Without Appearance of Parties—To find this form, visit either the district court or the official government website. You can ask the county clerk for the affidavit, which you can then file yourself or with your spouse
Divorce Settlement Agreement—This is the most important document you will need to file as it will contain the terms on which you're getting divorced. To get one, you can hire a lawyer, which will cost you a lot. A more wallet-friendly and efficient solution is to and get the document in no time
How To Get a Professional Divorce Settlement Agreement in a Few Clicks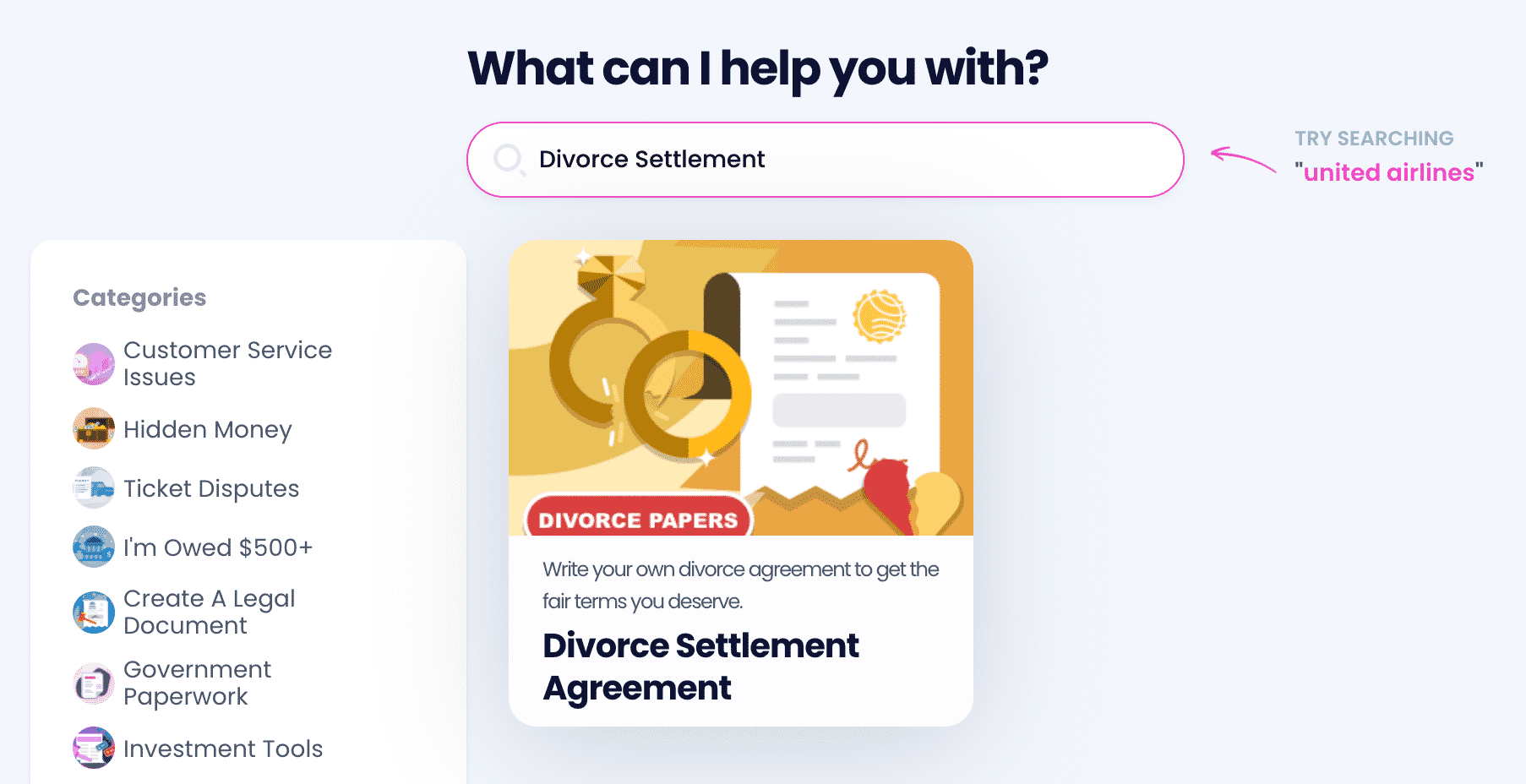 To get a divorce settlement agreement without spending hefty amounts of money on lawyers, use DoNotPay! We'll draw up this crucial document for you in a jiffy. All you have to do is:
Select our Divorce Settlement Agreement feature
Answer our chatbot's questions regarding your divorce
Choose whether you want to have your document notarized online
We will process your request in minutes and generate an agreement that will comply with Colorado state laws and contain everything you need. Opted for online notarization? Follow the link we sent you via email and book an appointment with an online notary.
Want to get acquainted with divorces in Colorado or divorces in general? Check out the articles DoNotPay has prepared for you:
Do You Need To Serve Papers in Boulder County?
In case you and your spouse signed the Affidavit for Decree Without Appearance of Parties, serving the papers won't be necessary. If you've signed the affidavit on your own, you will need to hire a professional server or the Boulder County sheriff to serve the papers for you.
Once 91 days have passed since the divorce papers were signed, the judge will have to review them. They will make sure you and your spouse meet all the requirements and finalize the divorce by issuing a Decree of Dissolution of Marriage.
Need Legal Assistance? DoNotPay Got You Covered!
Forget about getting a migraine every time there is an administrative task to handle. DoNotPay makes it easy and stress-free to deal with any bureaucratic issue that comes your way.
Not only can we assist you in drafting a legal document and getting it notarized, but we also help you:
Finishing Your Daily Errands Has Never Been Easier!
Looking for help with running errands? You don't have to spend hours trying to make a DMV appointment or contacting a customer service rep! Completing your day-to-day tasks stops being a burden once DoNotPay gets involved.
There is no shortage of errands we'll help you run for a small subscription fee, including:
Sign up for DoNotPay and avoid spending hours on simple daily tasks that can be done in a jiffy!