Everything About The Bossier City Animal Control 
Bossier City is home to 62,000 people and tens of thousands of pets. If you are the victim of a dog bite or other animal attack, you can use DoNotPay to contact Bossier City animal control and demand compensation from the animal owner. 
Here, we'll discuss four key topics:
How to contact Bossier City animal control to report a dog bite with DoNotPay
How to contact Bossier City animal control on your own
Important documents you should keep if you need a dog bite lawyer or plan to sue for a dog bite
And a few other ways DoNotPay can help
Bossier City Animal Control Contact
Below is a list of Bossier City animal control contacts:
Physical Address
3217 Old Shed Road

Bossier City, LA 71111

Mailing Address
P.O. Box 5337

Bossier City, LA 71171-5337

Phone Number
Phone: 318-741-8499

Fax: 318-741-8494

Hours of Operation
Monday - Friday

8 a.m. - 4 p.m.

Adoption Hours
Monday - Friday

10 a.m. - 3 p.m.

After Hours Emergency
318-741-8610 (Police Department)
But before we get to any of that, know that your health is our number one concern.
Get Medical Attention After a Dog Bite Injury
Animal attacks can cause diseases like rabies and can cause permanent scarring. So the first thing you should do is get medical care. It will get expensive, so keep track of all your medical bills. We'll talk more about that in a moment.
And remember, any time an animal attacks a small child, you should see a doctor right away. Big dogs can knock children down and cause head trauma or concussions.
Symptoms of concussions in children include:
Headaches or a feeling of pressure
Nausea, vomiting, a child complaining of a "tummy ache"
Short term memory problems, or asking the same question repeatedly
Dizziness
Little kids have a hard time explaining their physical feelings. So you'll need to be on high alert and see a doctor ASAP.
Assuming you're now adequately stitched up and bandaged, it's time to report the incident to Bossier City animal control. Then, get ready to get paid for your damages.
The DoNotPay app can help you with both tasks! It's like having a personal injury attorney in your family.
How to File a Complaint with Bossier City Animal Control Using DoNotPay: it's Easy and Fast!
If you want to report an animal-related injury to Bossier City Animal Control but don't know where to start, DoNotPay has you covered in three simple steps:
1. Search "animal" on DoNotPay, find the Animal Control product, and select whether you've sustained a physical injury.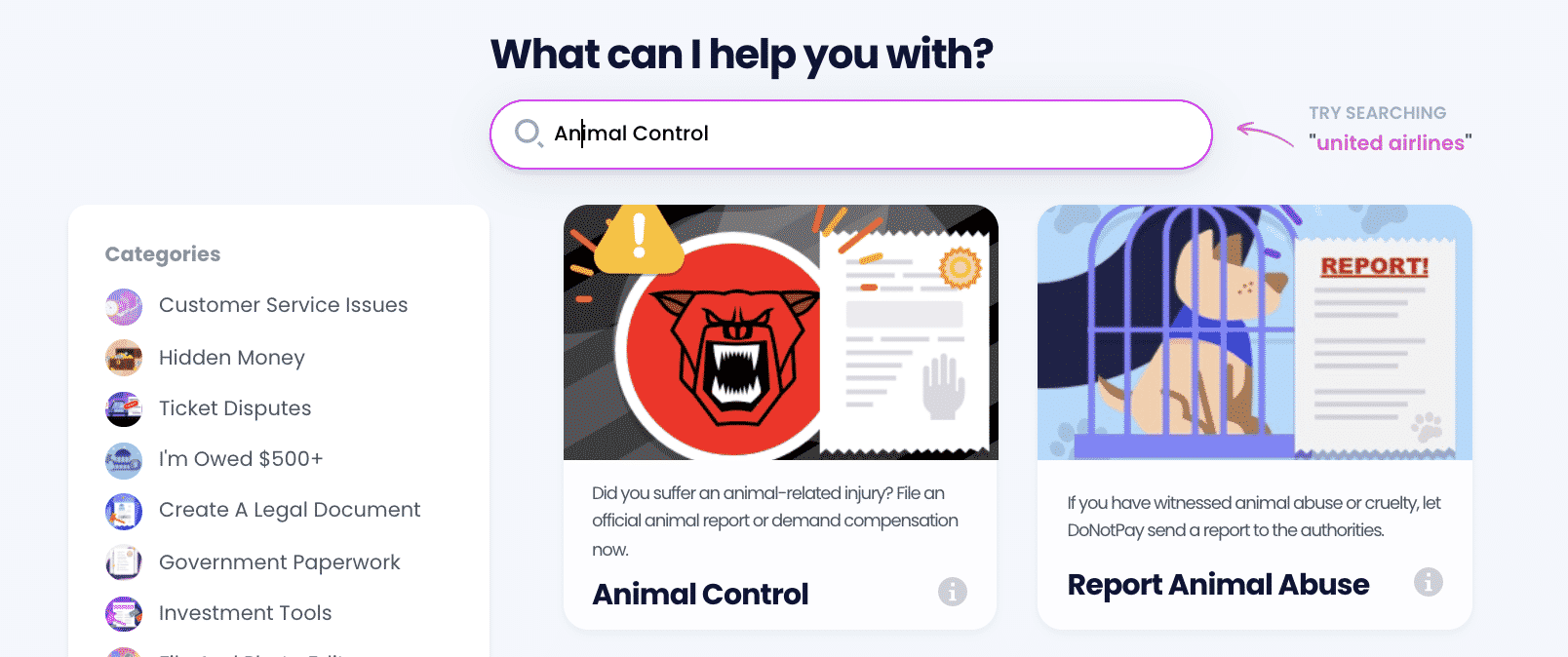 2. Select whether you would like to report this incident to your local government agency, or demand compensation from the pet owner.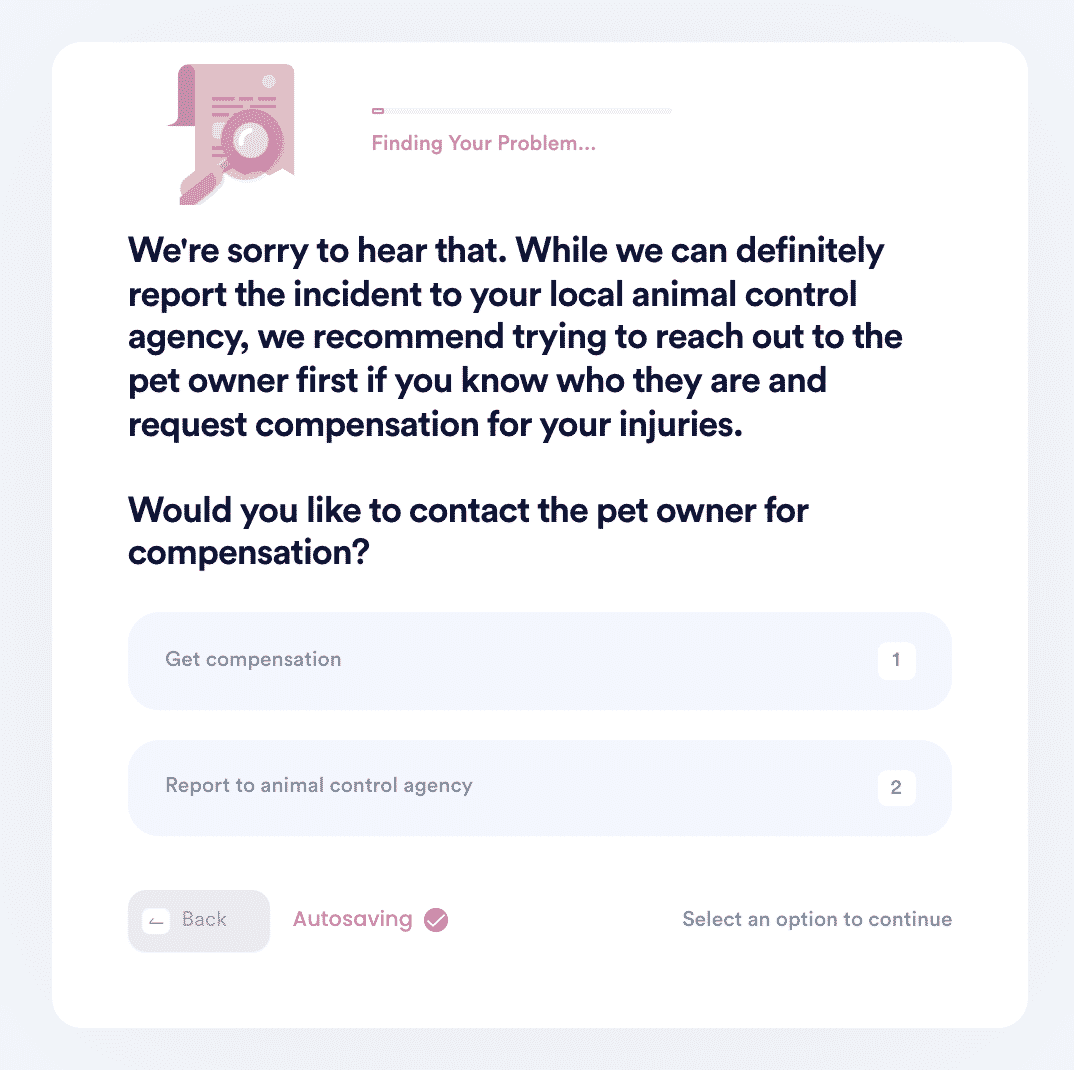 3. Tell us more about the incident, including when and where you were injured, a description of the animal that caused the injury, and the contact information for the pet owner (if known).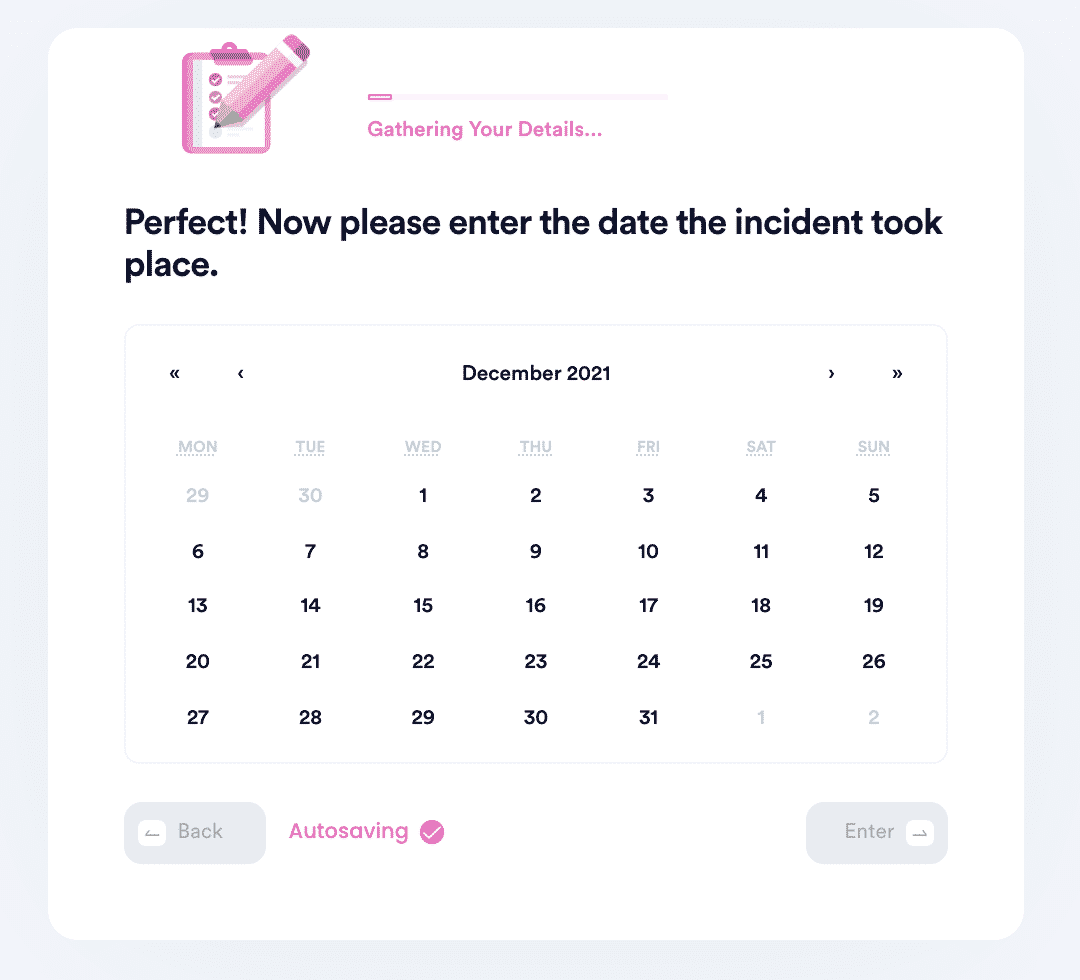 It's the fastest, easiest way! Next, DoNotPay will file the demand letter or government report on your behalf with your incident details! You should hear back from them directly with further questions/confirmation regarding your demands.
You Can Also Contact Bossier City Animal Control by Yourself
Visit the Bossier City Animal Control page online, or call them at (318) 741-8499. However, if it's after business hours, you'll need to call the police instead.
Remember, you can use DoNotPay to reach animal control in any city, even Atlanta, Miami , and LA.
DoNotPay Handles Two Tasks for Animal Bite Victims
Once you've sought the medical attention you need and submitted a report to local law enforcement, the next step is to get paid.
Use DoNotPay to Demand Compensation
Animal bites can cause a lot of damage. They can also cause emotional scarring and future fears, especially among little children.
Think about how quickly these expenses will add up:
Ambulance rides — these can cost as much as $10,000
Emergency room visits — again, they'll cost thousands
Follow-up doctor appointments
Rabies shots and rabies testing
Pain meds and over-the-counter ointments or salves
Ongoing physical therapy
Ongoing occupational therapy
Ongoing counseling for a child who might have a fear of dogs/animals without it
And it doesn't end there! The point we're making is that you must keep very accurate records. Then use DoNotPay to demand compensation from the animal's owner. It's only fair.
You'll Need to Prove Damages to Collect Funds.
While TV programming might have you believe that dog bite lawsuits are worth millions, that's not usually the case. The liability portion of a homeowners policy will often help the animal owner pay for damages. But there needs to be solid proof on paper that those damages exist. So become an excellent record-keeper. Take photos of receipts, too, so they don't get lost. 
Now that we've explored how to report an animal incident to Bossier City animal control and how to demand compensation from an animal owner let's talk a little more about ways you can use DoNotPay. It's the world's first robot lawyer! And you should use it any time you believe a company or person is mistreating you.
What Else Can DoNotPay Do For You?
Have you ever wished you had a super-intelligent personal assistant? Have you ever wished someone could manage your tedious paperwork, chase down pet licenses or pay your utility bills on time? DoNotPay can do all of that and more!
Use the app to:
You can do so much with DoNotPay. It's like having a paralegal for your best friend. Try it today!