Boss Reporting Done Right
How do you deal with a bad boss? This is a question most employees will have to ask themselves at some point in their career. Although boss reporting might seem daunting, there will always be company policies and labor laws to protect you and your rights from a problematic supervisor. Unfortunately, even with the policies and laws put in place to protect employees, the complaint may cause backlash or retaliation.  
When to Report Your Boss
The first thing to consider when figuring out how to deal with a problematic boss is to know when to formally file a complaint. For example, these are some common instances when you should report your boss to HR or the Department of Labor.
When you witness incidents, or are a victim of bullying by your boss. This includes any mistreatment of an employee by your boss which causes emotional or physical harm. For instance, any repeated, unreasonable behavior (including verbal abuse, threats, and inappropriate jokes), that a boss directs towards an employee should be reported.

For

harassment

and

discrimination

. This refers to cases where you witness, or are a victim of unfavorable behavior by your boss, because of your race, gender, religion, national origin, disability, pregnancy, or maternity. Federal

law strictly prohibits this workplace discrimination.

If you witness, or are a victim of, any illegal activity that your boss commits. As an employee of the company, you are

expected

to immediately report any illegal activity you witness or suspect. For example, illegal activities include fraud, theft, accounting or auditing irregularities, and the sale or possession of illicit controlled substances.

If your boss violates company policy. This involves any behavior which goes against the written or verbal policies for your company. Examples of company policy violations include not paying employees for vacation time, using company assets for personal use, and not working during work hours.

The problem persists or escalates even after talking to them. For instance, if you have tried to reach a resolution on a problem with your boss to no avail, they should be reported. This might be the only chance for you both to come to an agreement, or to prevent the conflict from escalating.
Steps to Reporting Your Boss to HR
Like every other workplace report or complaint, the process of complaining about your troublesome boss needs to be done the right way to achieve desirable results. The following steps outline the standard process for reporting your boss to HR:
Talk to your boss. If this is a safe option, it should always be the first step. Begin the process by trying to reach a resolution with them in private. Clearly explain what the issue is, how it's affecting you, and what you hope the resolution can be.
Learn your rights. If talking to them fails, do your research on what your rights are as an employee, and what their limits are as your boss. Consult the

Equal Employment Opportunity Commission

(EEOC) to learn what you should not tolerate, and how to address the issues.

Build evidence. Put together evidence of the issue you're complaining about to

build your case

. Include all correspondence, reports, and any other physical evidence that supports your complaint.

Follow company policy. Make sure the report you file about your boss is in regulation with company policy. Consult the employee handbook or company policy manual to be sure to stick to the rules as much as possible as you make

your complaint

.

Go to HR. Take your complete report to HR to address the issue you have with your boss. Set up a meeting and explain the problem clearly, including the incidents to report, how they affect you, what you have done to resolve the issue, and any suggestions you can offer for resolution.
If necessary, escalate the issue. If HR is unwilling or unable to resolve your concerns, take it up to the EEOC.
Risks That Come With Reporting Your Boss
The complaint may cause an escalation of the issue after the accused becomes aware of the report made against them.

Despite the policies and legal prohibitions, the accused may retaliate against the complainant along with

other employees

who have sided with the former.

Making a complaint that is properly addressed by HR can give the complainant a bad reputation of being disloyal to their team, thereby straining their workplace relationships.
Report Your Boss in Anonymity With DoNotPay
DoNotPay, the world's first robot lawyer, is here to make dealing with abusive supervisors at the workplace easier. We do this through the Anonymous HR Complaints product launched by the company. Now, you can let HR know about the inappropriate behavior of your boss without any risk, in 4 simple steps:
1. Sign up to DoNotPay and open the Anonymous HR Complaints product.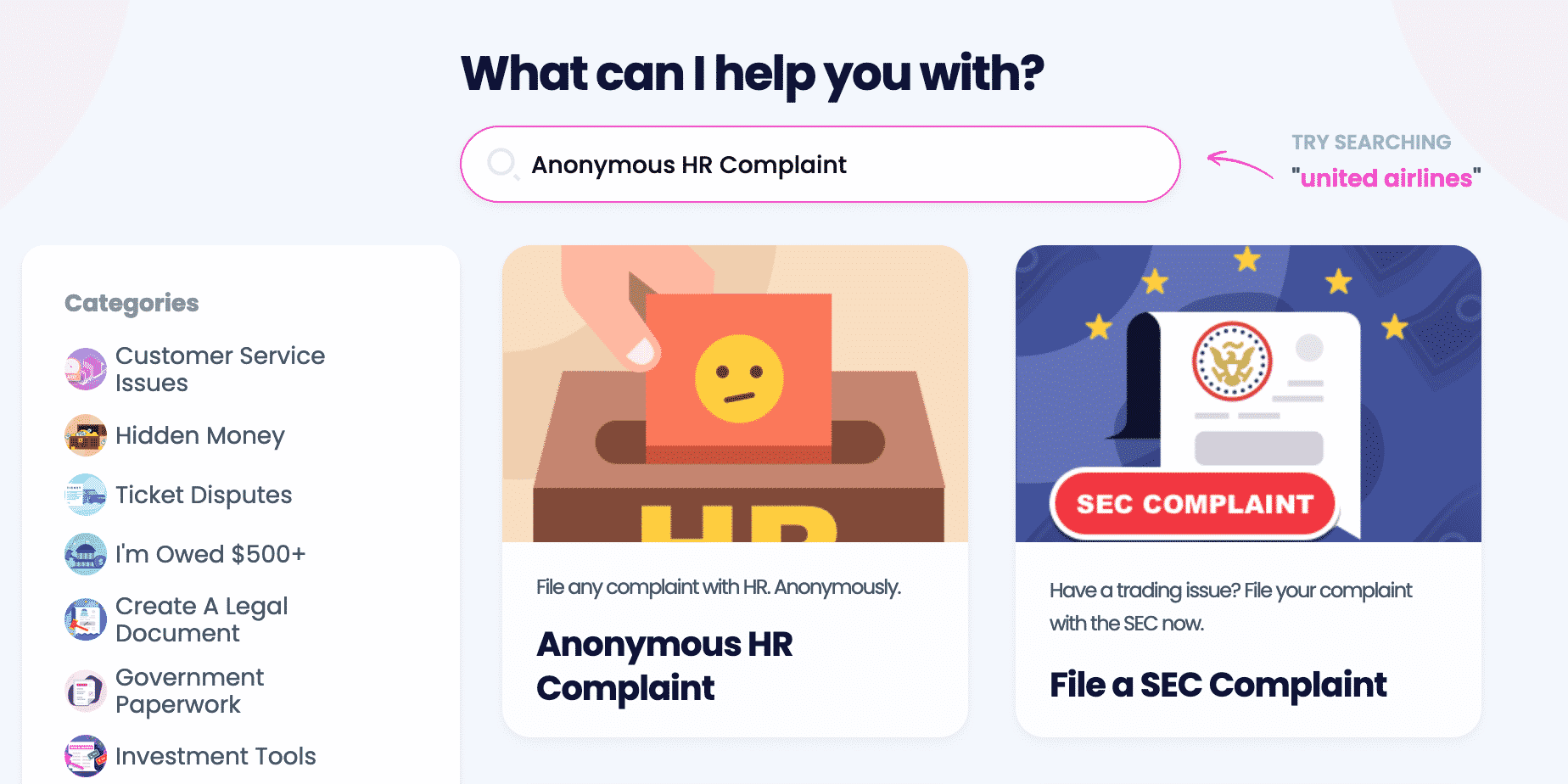 2. Enter your employer's name, along with your HR department's address.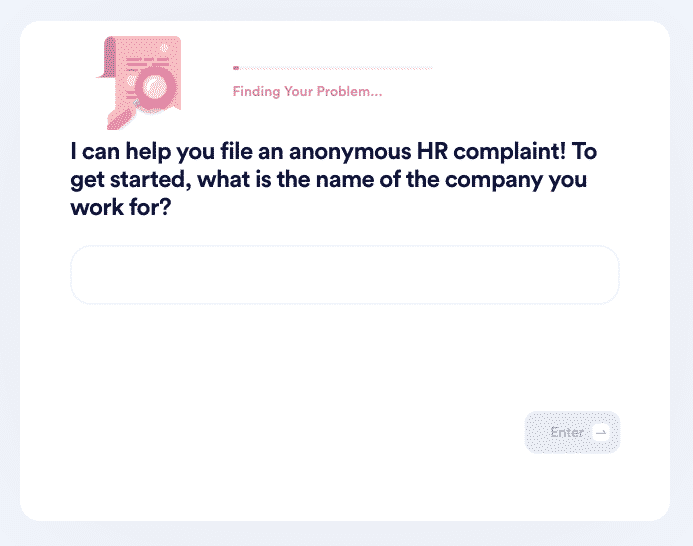 3. State what complaint you are making about your boss and how you hope for it to be resolved.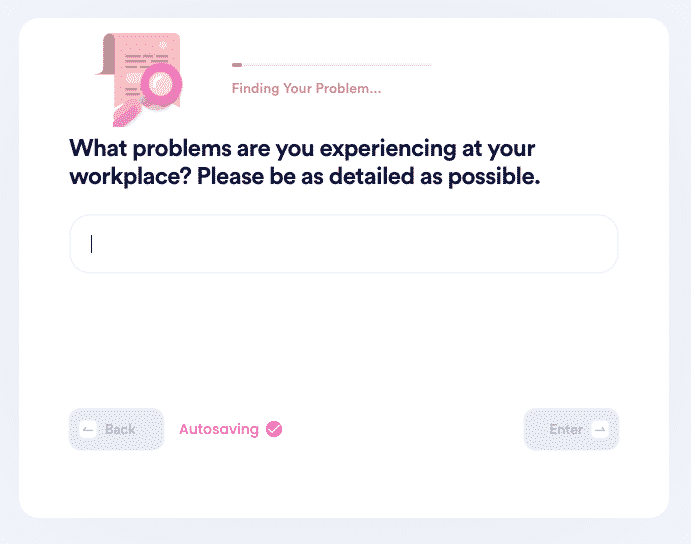 Let DoNotPay automatically send your report to HR in anonymity. None of your personal information is added to the report, so you can make a solid HR complaint about your boss without the fear of retaliation.
Other DoNotPay Services
Apart from helping employees report their bosses anonymously and workplace incidents, DoNotPay offers a wide range of services, dealing with issues like: