How to Get Boots Free Contact Lens Trial Without Giving Your Card Info

Choosing contact lenses can intimidate you, especially if it is your first time wearing them. How do you know you will enjoy using them? Will they fit your lifestyle? A Boots free contact lens trial helps you figure it out.
However, you may not want to get involved in a free trial if you are worried about the potential hidden fees. To ease your worries, DoNotPay provides everything you need to know about enjoying a truly risk-free free trial using a virtual credit card.
Is a Boots Contact Lens Free Trial Right for You?
The Boots free trial offer includes a 30-minute assessment that helps your optician discover which lenses may be best for you based on your lifestyle. Once this assessment is complete, they will teach you how to put in and take out contacts as well as get your prescription ready. You will choose either a month's supply of reusable lenses or five pairs of daily disposable lenses.
Getting started is easy. You simply need to book your eye test, assessment, and trial online or via your phone at 0345 125 3752.
After the trial, your cost will vary based on the lenses you need and if you have a pay plan.
Will Boots Optometrists Automatically Take Out Money?
Boots Optometrists should never charge you for the free trial. However, if you cannot cancel before they send out your prescription contacts at the end of the trial, you could see charges on your bank statement.
Here are the available plans:
Plans
Contact Lens Rewards Plan
Contact Lens

Care Plan

Contact Lenses

to Go

Annual Fees
None
£50
None
Eye Test Fees
None
None
£25
Cost Checks
None
None
£35
Discount on Glasses
50%
25%
None
Home Delivery
Included
Included
£2.95 or free when you spend over £50
Other charges may also show on your banking statement, but it depends on the services that you have subscribed to. Therefore, it is important to keep up with what appears on your bank statement.
How Will Boot Charges Appear on My Statement?
Boots Optometrists will be listed on your statement as coming from Boots. It is important to note that you may also see charges based on which pay plan you're enrolled in.
BOOTS OPT PROF SVS T/A BOOTSRWRD
BOOTS REWARDSCHEME 337100000085723001 DDR
BOOTS REWARDSCHEME XX69427480 DDR
BOOTS OPT PROF SVS
BOOTS REWARDSCHEME 87727833813
BOOTS REWARDSCHEME 115957218415 DDR
BOOTS REWARDSCHEME XX6045727472
BOOTS REWARDSCHEME 121001313414 DDR
BOOTS REWARDSCHEME
BOOTS REWARDSCHEME REF 122990418012
BOOTS REWARDSCHEME 560045 31030521
BOOTS REWARDSCHEME 118215317812 DDR
BOOTS REWARDSCHEME 129266218712
BOOTS REWARDSCHEME 130331633213 DDR
BOOTS REWARDSCHEME BN027375078254 DDR
BOOTS REWARDSCHEME AC7063196058551 DDR
BOOTS REWARDSCHEME AR062996003526 DDR
BOOTS REWARDSCHEME AQ1061263058127 DDR
Luckily, if you feel that you have been charged wrongly, or wish to cancel your order with Boots, you can return it for a full refund. To take advantage of it, you must return it in the original packaging with proof of your purchase within 35 days.
If you're enrolled in a subscription service through Boots, you will need to contact them to cancel the subscription. However, you must do so at least 28 days before your next payment comes out. You can do this by:
Phone: 0345 603 2020 (8am-8pm Monday through Friday, or Saturday 8am-6pm)
Email: contactlenses@boots-opticians.co.uk
Contacting them is your only way to remove your Boots Reward Scheme account, cancel your free trial, or unsubscribe from other services.
What if there was a better way to handle it? One that includes blocking your bank account so that free trials do not end up being unexpected charges. That is a service that DoNotPay can provide you with.
How the DoNotPay Virtual Credit Card Helps You Avoid AutoPay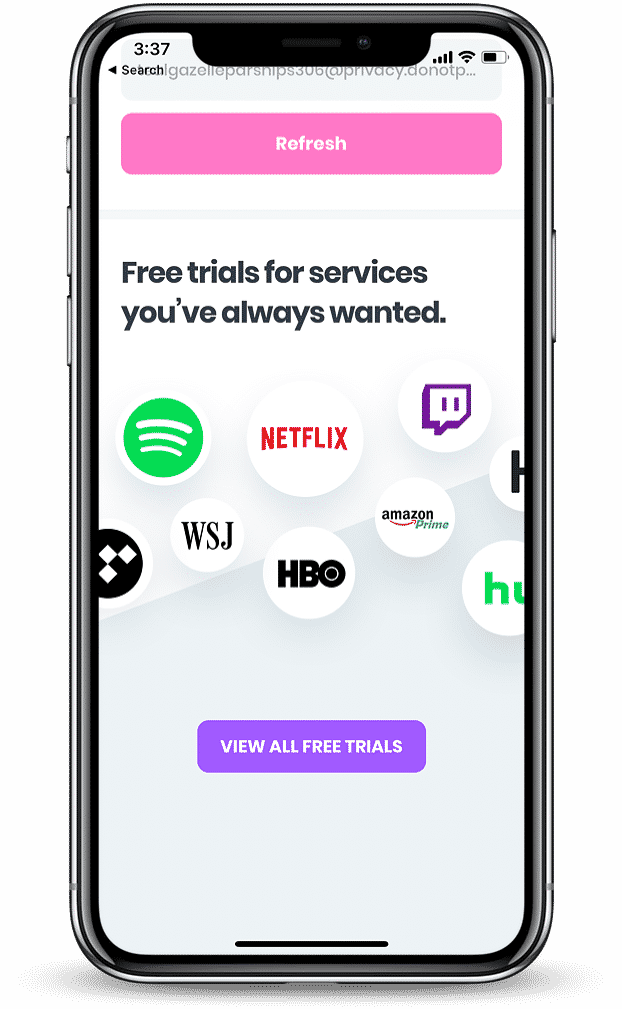 DoNotPay offers you the ability to give any "free trial" a chance without any of the risk that may come from free trial offers. We do it by providing you with a free virtual credit card that you can use to subscribe to any service.
In the past, others have used the DoNotPay service to avoid hidden fees associated with companies like:
Getting started with DoNotPay's Virtual Credit Card is easy.
Log in to DoNotPay and locate the Virtual Credit Card Product.
A card number will be generated for you.
Use the Virtual Card to request your free trial.
Never worry about hidden charges because your actual bank account will never be linked.
If Boots Optometrists or any other free trial offer attempts to charge the virtual credit card, it will be declined, even if you forget to cancel your subscription. How much easier will this make your life?
Contact Lenses Boots Free Trial Alternatives to Consider
Boots may be one of the top lens providers in the UK, but this does not mean they are the only ones available. Some other popular options include:
| | | |
| --- | --- | --- |
| Provider | Free Trial Offer | Other Offers |
| Vision Express | 5-day trial of either daily disposable or reusable contact lenses | Free Eye Test |
| Optical Express | Not Available | Free Consultation |
| Costco Optical | Not Available | You must be a member to use Costco's services |
Other Services From DoNotPay
DoNotPay makes life simpler. You can enjoy a Boots free contact lens trial without risk, using a free virtual credit card. Our services don't stop there!
Popular services include:
When you need help, DoNotPay is here. We will help you simplify all the problems you may deal with. Join us today to get free trials and never get charged!