Making a Booth Rental Agreement? Here's What You Should Know
Do you have a bad experience with renting salon booths? If the answer is yes, you should consider making a legally binding agreement in the future.
In case you don't know how to write a contract, don't fret! DoNotPay can provide you with the necessary information and instructions on how to draw up a booth rental agreement by yourself.
What Are Booth Rental Agreements?
A booth rental agreement is a legal document made between two parties—the owner of the business service and the person renting the space in which they'll provide said service. It may be a weekly, monthly, or long-term lease agreement.
Salon booth rental agreements are most common in:
The agreement should protect both the owner of the salon and the service provider.
What Should a Salon Booth Rental Agreement Include?
Booth rental contracts typically include the following details:
Contact information of the owner and the renter

Address of the salon booth

Size of the rental space

Length of the rental term

Rental cost

Payment terms

Type of service the renter provides

Potential restrictions—food, drinks, pets, cellphones, or similar items

List of the equipment and other items that the salon owner should provide

Cancelation and breach of contract terms
The agreement might include additional terms that are specific to the service the renter will provide.
How To Write a Booth Rental Agreement on Your Own
Salon booth rental agreements are legally binding, but that doesn't obligate you to hire an attorney to prepare the contract on your behalf. You can check out the instructions for drawing up the perfect booth rental contract in the table below:
Steps for Writing Salon Booth Agreements
Explanation

Find a booth rental

contract template

Search for booth rental agreement samples online. You can download and use them directly or study them to create your own

Start writing the agreement

Begin completing the contract by entering contact information of the parties and street address of the salon booth

Describe the rental booth

Provide rental space specifications, such as square footage, available equipment, and spaces that the other party can use

Add the terms of the agreement

Include the most important details, such as:

Contract length—weekly, monthly, or yearly lease

Deposit and payment terms

Grace periods

Start date

Ramifications of contract violation

Describe the owner's responsibilities

Explain what other responsibilities lessor has, like maintaining the building, repairing the equipment, and anything besides renting the space

Describe the renter's responsibilities

Define the lessee's obligations, like keeping the area clean. State that they are responsible for any damages they, their clients, or their guests cause

Appoint lessee as an independent contractor

If the lessee is an independent contractor, they are responsible for their taxes and insurance. Stating that in a contract reduces responsibilities of the business owner

Outline the subleasing rights

Identify whether the lessee obtains the rights to sublease the space to another party and define the conditions of the sublease

Insert additional terms and conditions

Add clauses that refer to your specific needs and conditions you might have
Even though it isn't necessary, you should consult your attorney to check if the agreement is valid. They should inform you if your booth rental contract does not comply with state and local laws.
Use DoNotPay To Create Contracts and Other Legal Documents in a Flash
Contracts and legal documents are an inevitable part of everyday life. If you don't have any education in law, chances are you're going to avoid legal paperwork as much as you can. Attorneys are a go-to option when you can't manage legal documents on your own, but everyone knows they can cost you a pretty penny.
Don't give up yet! DoNotPay created the Standardized Legal Documents feature—a practical service for making all sorts of legal agreements stress-free.
With our sweeping database, we gather laws and rules from every state in America and use them to make legally valid and enforceable contracts and documents.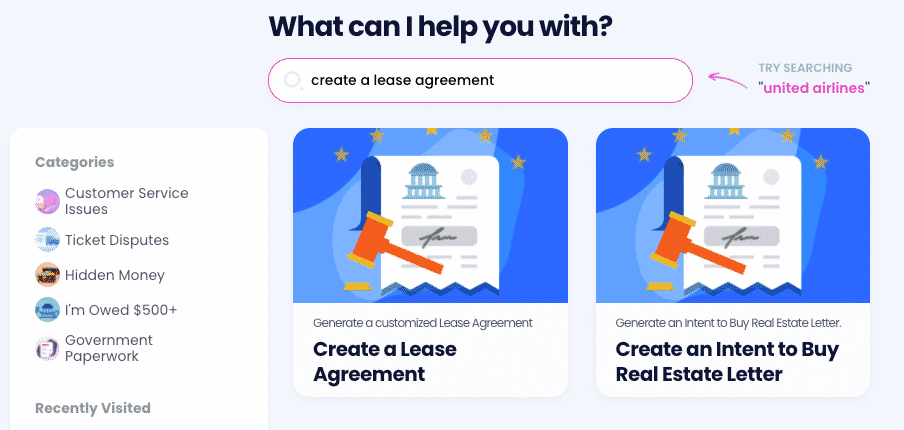 If you want to create a contract hassle-free, you should follow these steps:
Log in to your DoNotPay account in a

Search for the legal document you want to generate

Answer several questions from our app's chatbot
We will use the information you provided to prepare a personalized contract for you.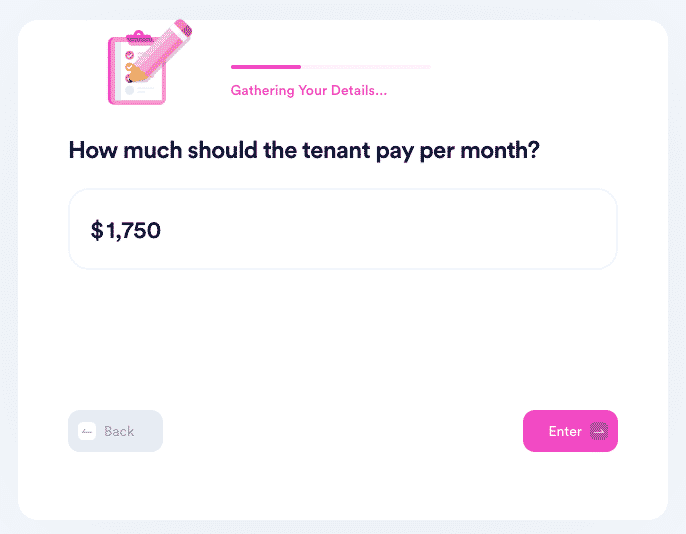 The Perks of Creating Legal Documents With DoNotPay
Aside from getting a valid and customized legal document in under a minute, our app enables you to:
What Legal Documents Can DoNotPay Help Me Draft?
can generate a variety of legal documents, including:
You can also use our learning center to find information about other legal documents, like:
DoNotPay Is a Time-Saving App
How many customer service reps do you have to deal with only to file an insurance claim or book your DMV appointment?
DoNotPay helps you sort out these tasks and much more in only a few clicks.
Get your revenge on robocallers, report text scammers, find validated clinical trials, claim your warranties, get in touch with your loved ones in prison, and protect your creative content—all in less than five minutes.
No more hours-long phone calls, emails, or in-person visits.
We cover everything from freeing your inbox from spam to providing excellent prep tests for government exams! Save time with your all-in-one app!
Keep Your Money Safe With DoNotPay
Don't let greedy companies threaten your consumer rights by holding back refunds, refusing to cancel your subscriptions, or charging you after your free trial ends.
DoNotPay helps you try out different services without providing your credit card info or phone number—you will never again have to deal with unexpected post free trial charges!
Our app also helps you avoid paying unnecessary parking tickets, delay challenging bills, or waive your college application fees.
If any company refuses to issue you a refund or an airline won't compensate for canceled flights, we can help you sue them in small claims court.