Learn About the California College Promise Grant (BOG Fee Waiver)
Community colleges are two-year school programs, offering budget-friendly postsecondary education to those looking to finish studies early but also those preparing to transition to four-year studies. As affordable as they are, some community colleges still require you to pay college application fees.
Many students, and their families, have a problem with paying for application fees since going to college already requires numerous expenses.
To regulate that, the state of California issued the California Community College Board of Governors (BOG) Fee Waiver—now called the California College Promise Grant—a program that helps students with financial issues to waive their community college fees.
What Is a College Application Fee Waiver?
Many community colleges, like most others, make their students pay a fee for applying there. The cost of these fees can vary from one college to another, but most of the time, they go from $40 to $75.
Having to pay for tuition and other college expenses, people find the application fee unnecessary and over-the-top. Other costs may come from:
Test preparations

SAT and ACT exams

Assistance for the college application process
The majority of students won't apply for a single college, and having more options means having to pay much more. All the application fees can add up to more than a thousand dollars, and atop of that, you may have to spend extra money on college camp visitations.
If they're struggling financially, some students may decide not to apply at all.
Luckily, colleges enable students with a background like that to obtain the application fee waivers, and we will demonstrate the easiest way to do it.
Who Can Qualify for College Fee Waivers?
In case you already got the SAT or ACT fee waiver, you should be eligible for a college fee waiver automatically. If not, you should check the eligibility criteria to see if anything applies to you. Note that most of the colleges rely on your school counselor or another designated official to look into your form, approve, and sign if all is correct.
You can apply for a fee waiver if you:
Receive public assistance from the U.S. or state of California

Are an orphan

Live in a foster home or federally subsidized public housing

Are homeless

Are eligible or registered for the

Federal Free or Reduced Price Lunch

program

Meet the

Income Eligibility Guidelines

together with your family

Are enrolled in a program that helps students from families with low incomes
BOG Fee Waiver Eligibility
Criteria
To apply for a BOG fee waiver, now the California College Promise Grant, you must either be a California resident or have an AB540 status. California's Assembly Bill 540 was signed into law in 2001, enabling qualified undocumented and non-resident students to pay the in-state tuition.
There are several types of California College Promise Grant, and each has its requirements. You can check them out in the following table:
| | | |
| --- | --- | --- |
| Type of CCPG | Eligibility Criteria | Requirements |
| Method A | Students or their family are receiving: | Verification of Benefits that the student must provide within the 60 days of the CCPG application date |
| Method B | Students or their parents must meet the income and household size standards that are established by the state of California each year | Proof of total income |
| Method C | / | Proof of having a minimum financial need of at least $1,104 |
How To Apply for a BOG Fee Waiver
You can apply for a BOG Fee Waiver through the official website of the community college whose application fee you would like to waive.
The other option is filling out the California College Promise Grant application form. Here is how to do that:
Download the

CCPG application form

Add detailed personal information, including your full name, student ID, email, phone number, and date of birth

Answer the questions about your dependency to determine whether you'll insert your or your parents' income

Provide information about your or your family's income

Check if anything from the special classification section applies to you

Confirm the information you provided by checking the boxes

Insert your and your parent's signature, if required

Add dates
Once you fill out this form, you can do the following, depending on your community college's regulations:
Email the form

Send the form as a letter

Deliver it in person
How Long Does It Take for the BOG Fee Waiver To Process a Request?
The standard time for processing application fee waiver requests is one week. You should check your inbox after the submission to avoid missing the confirmation mail. Every college is different and has its rules, so it is best to follow their protocol and the rules that apply to fee waiver requests.
Obtain a Community College Fee Waiver Using DoNotPay
If you are one of the many people that find the process of requesting fee waivers exhausting, you are in luck. DoNotPay makes your college application process much easier with its handy feature.
Our College Application Fee Waiver enables students to get much-needed financial help by waiving fees without any hassle.
Here are the types of fee waivers we can help you with:
Transfer student fee waiver

Enrollment deposit fee waiver

New student application fee waiver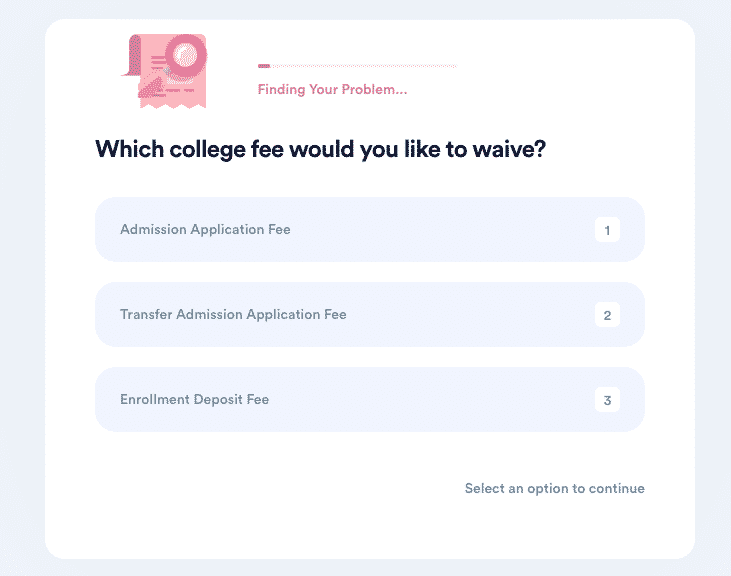 We use an extensive database of all universities in the U.S., which allows us to work with any college in America.
The goal of our fee waiver feature is to enable you to waive your college fees with us doing all the grunt work for you. This way, you can focus on your studies instead of filling out countless forms.
We manage this by:
Filling out the form on your behalf

Mailing the fee waiver request to the college's financial aid department

Requesting a signature from your high school counselor or any other school official, if necessary
You can apply for a community college fee waiver by following these steps:
Access DoNotPay from your

Open the

College Application Fee Waiver feature

Choose the type of fee you would like to waive

Enter the name of the college you're applying to

Answer several questions about your financial situation

Specify if you want to obtain the counselor's signature
DoNotPay Can Sort Out Mundane Everyday Issues
As mentioned, our feature works with colleges throughout the U.S., so why stop in California? We can waive your application fees for any university you choose—from Brown, Columbia, and Harvard Law to Emory University, the University of Texas in Dallas, or Georgia Tech.
Find out how the application fee waiver letter should look or how the Common App works.
Get DoNotPay's assistance when requesting fee waivers for graduate school tests and graduate school applications.
Log in to your DoNotPay account from any to get our assistance with waiving fees and so much more.
Check out how we can help you with:
Disputing traffic tickets

Appealing speeding tickets