How to Clean Your Credit Report Using Pay for Delete with Blakely-Witt Collection Agency
Creditors use your credit reports to evaluate your creditworthiness. For this reason, any error in your credit report may impact you negatively. If the Blakely-Witt collection agency is responsible for forwarding your information, you can have them on your credit report.
Unfortunately, this process is not always simple, and your efforts to improve your credit score may be unfruitful. But don't worry just yet. You can use DoNotPay, an automated, faster, and more convenient solution, to clean your credit reports whether they state late payments, collections, and more. This article explains cleaning up credit reports and how DoNotPay can help.
What Is the Blakely-Witt Collection Agency?
Blakely-Witt is a registered and bonded third-party collection agency that serves the residential rental and apartment industry. This Texas-based company takes an and uses its knowledge of the State and Federal laws, the Texas Property Codes, and the TAA lease contract. They reach out to tenants who move out with debts on behalf of management companies' apartment managers and executives.
Their contact details are as follows:
Mailing Address
Blakely-Witt & Associates

802 US Highway 80 East

Mesquite, Texas 75149

Telephone
(972) 288-2106
Website
https://www.blakelywitt.com/
What Should I Look for On My Blakely-Witt Collection Agency Credit Dispute?
You need to review every section of credit reports carefully. Below are the things to look for in the report.
Personal information
Incomplete or incorrect phone number, address, or name
Incorrect birth date or social security number
Incorrect marital status
Missing, outdated, or incorrect employment information
Public records section
In this section, you look for:
Bankruptcies
Check any indicated filed bankruptcy that you did not file
Check bankruptcies filed more than ten years ago
Lawsuits
Check the lawsuits you were not involved in
Check lawsuits reported more than seven years after entering judgments or expiry of the statute of limitations
Any paid tax indicated as unpaid
Credit accounts section
In the credit accounts section, check the following:
Commingled accounts – credit information for another individual with a similar name
Account listed joint whereas only your spouse is responsible for the account
An account due to identity theft actions
Incorrect account histories
Accounts incorrectly listing you as a cosigner
Closed accounts wrongly listed as open
Overdue child support that is over 7 years old
Inquiry section
In the inquiry section, you check the following:
Credit inquiries from other businesses when you only did comparison shopping
Credit inquiries car dealers from times you simply did a test drive
You may want such inquiries removed since they hurt your credit report for no reason.
How to Dispute a Blakely-Witt Collection Agency Credit Report
You can dispute a Blakely-Witt collection agency credit report through any of the following methods.
Online – Get access to your Blakely-Witt credit report and begin a dispute.
By phone – Initiating a dispute by phone involves calling the number displayed on the Blakely-Witt credit reports.
By mail – You can also write to Blakely-Witt collection agency to dispute a credit report.
How to Successfully Dispute Your Credit Report
Be concise about the issue – Disputes should be short and to the point but describe what you perceive as incorrect about the report. You do not have to explain why the information is wrong; just reveal what is incorrect.
Documentation is key – Any documentation or proof you can produce of the inaccuracies on the credit report makes your case stronger. You can give copies of statements and checks provided they can prove the mistake.
The saturation technique – This technique involves getting your

debt validation letter

or credit dispute letter into as many unique hands as possible. When many people read your letter, there are higher chances to have one of them making a positive adjustment for you and improving your

credit score

.

Find multiple addresses to the institution and send the letter to them. Your objective is to ensure the letter lands in many different hands. You can send the letters in two or three rounds on different days.

Sue for an unresolved credit report dispute – If the collection agency continues to give out inaccurate or incomplete information, even after requesting corrections, you can consider litigation. The Fair Credit Reporting Act provides that one may sue a credit reporting agency for willful noncompliance or negligence. Depending on the violation, you may win actual damages, punitive damages, statutory damages, attorney fees, and court costs.
How to Clean Credit Reports by Yourself/On Your Own
You can also clean credit report errors on your own as follows:
Identify the credit report errors – Check for incomplete or inaccurate information on the credit report.
Reach out to the furnisher – Reach out to Blakely-Witt collection agency. Verify their records and confirm that the errors exist.
Dispute your credit report's errors – The Fair Credit Reporting Act requires the collection agency to accept disputes from consumers and correct any incomplete or inaccurate information about you in the report.
Allow time for the investigation – The investigation may take up to thirty days as the collection agency finds out more about the dispute and sends it to the credit reporting bureau. If you are right and indeed there was an error on your report, the agency will notify the three credit bureaus so they can rectify the information in your credit reports.
While you can clean credit reports by yourself, this process can be quite complicated, tedious, and time-consuming. You have to review the credit report, identify any errors therein, then reach out to the collection agency. Besides, you have no assurance that they will receive your complaint and in time.
Luckily, DoNotPay is here to help you. When you use DoNotPay, you'll find an already set out simplified procedure to help clean your credit report.
Clean Your Blakely-Witt Credit Report With the Help of DoNotPay
You do not have to undergo the tedious procedure of cleaning credit reports on your own. DoNotPay is an automated solution and makes the process super easy while guaranteeing you success.
How to clean up your credit report using DoNotPay:
If you want to clean up your credit report but don't know where to start, DoNotPay has you covered in 3 easy steps:
1. Search Clean Credit Report on DoNotPay.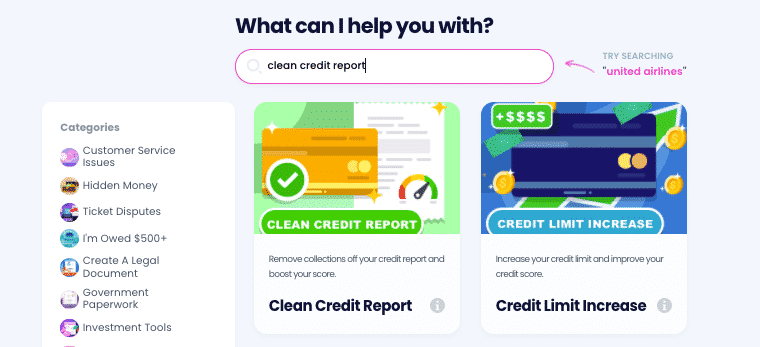 2. Prepare a recent copy of your credit report that you can use as a reference.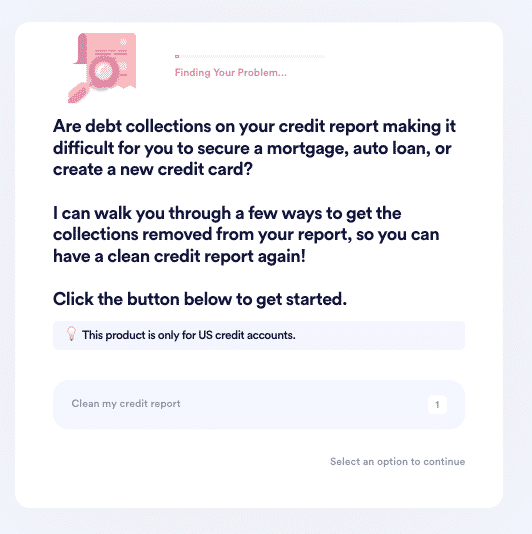 3. Let us guide you through the 4 potential options:
If you've already paid off your debt, we'll help you file a Goodwill Removal Request to get it removed.
If you notice any errors in your report (we have a list of common errors you can use!), we'll help you file a credit dispute to the creditor or major credit bureaus.
If there are no errors, we'll check if you're still eligible to file a debt validation request. If they can't validate your debt, they're required to remove it from your report, and they can't collect it!
Lastly, if none of the above options work, we'll help you file a pay-to-delete negotiation letter. You can customize the amount you are willing to pay in exchange for getting the item removed.
What Else Can DoNotPay Do?
DoNotPay can do more than just clean your credit card reports and file . Our other services include:
Sign up now and discover how easy your life can be with DoNotPay.