Black Discrimination
in the Workplace Is Still a Major Issue in the U.S.
Despite widespread protests and heightened awareness of civil rights across the country, routine and systemic workplace discrimination against Black people is still widespread.
If you are experiencing Black discrimination at work, DoNotPay is here to help with facts, advice, and solutions.
How Common Is
Black Discrimination Today
?
According to the Equal Employment Opportunities Commission (EEOC), race-based discrimination in the workplace counted for nearly 33% of all the charges filed in 2020.
The discrimination against African-American employees varies in nature and includes cases of:
Type of Discrimination

Explanation

De jure discrimination

Employers who have policies or procedures deliberately designed to discriminate against Black employees are guilty of de jure discrimination

De facto discrimination

Companies that allow discriminatory practices against Black employees even though company policy forbids it are practicing de facto discrimination

Wage discrimination

Wage discrimination involves the deliberate underpaying of Black employees compared to other racial groups

Harassment

Harassment can occur in the form of:

Retaliation

Employers regularly retaliate against employees who have raised grievances about discrimination. The retaliation can include:

Reallocation of work

Downgrading of responsibility or status

Disciplinary action

Termination
Retaliation and harassment are the most common forms of Black discrimination—as an example, 8,291 of the 22,064 race discrimination charges filed with the EEOC in 2020 involved harassment.
According to the EEOC, 26% of Black employees have experienced African-American discrimination at work.
What Legal Precedents Are There?
Race discrimination at work is prohibited under the terms of Title VII of the Civil Rights Act of 1964.
Several recent landmark cases have added strength to the act, the most important being:
Abdallah v. Coca-Cola (2000)

EEOC v. JL Schwieters, Minnesota (2017)

EEOC v. Falcon Foundry, Ohio (2020)

EEOC v. Jackson National Life Insurance (2020)

EEOC v. BMW Manufacturing Company (2015)
Abdallah v. Coca-Cola (2000)
The Coca-Cola Company was accused of routinely disadvantaging Black employees and agreed to:
Radically revise its hiring and promotion policies for Black employees

Install an oversight committee to monitor Black discrimination throughout the company

Pay $192 million in compensation to its Black employees
EEOC v. JL Schwieters, Minnesota (2017)
Two Black carpenters at JL Schwieters received compensation of $125,000 after the company was accused of de facto discrimination for allowing frequent harassment and racial slurs in the workplace.
EEOC v. Falcon Foundry, Ohio (2020)
The EEOC and the National Association for the Advancement of Colored People (NAACP) achieved a guilty verdict against Falcon Foundry after its management was found to have condoned long-term racial discrimination—including allowing a noose to be left hanging in one of its halls.
EEOC v. Jackson National Life Insurance (2020)
The Jackson National Life Insurance Company settled by paying $20.5 million in compensation and punitive damages for systemic discrimination against Blacks in its hiring and promotion practices.
EEOC v. BMW Manufacturing Company (2015)
BMW settled for $1.6 million in compensation to Black workers who suffered discrimination at its Spartanburg, SC, facility. BMW's practice of insisting on criminal checks for Black employees was discontinued.
Despite these—and other—high-profile cases, the problem of Black discrimination persists. It can only be eradicated if every victim takes action against the employers committing the discrimination.
What Are Your Options if You Experience Black Discrimination?
Your first course of action is to make sure your employer is aware of the issue by:
If this has no effect, you can contact a discrimination lawyer for advice, but you should also lodge a complaint with the EEOC.
Your complaint—called a charge of discrimination—should include the details of any examples of discrimination you have experienced in the workplace. The more detail and evidence you can provide, the stronger your case.
After it receives your charge of discrimination, the EEOC will:
Tell your employer about the charge

Ask for written statements from your employer and a response from you

Investigate the case
If the investigation determines that you have enough evidence of Black discrimination to proceed, the EEOC will either facilitate conciliation, launch its own legal proceedings against your employer, or give you written permission to open a lawsuit yourself.
Filing your charge of discrimination is the first step—DoNotPay can make it quick and easy!
What Can DoNotPay Do To Help?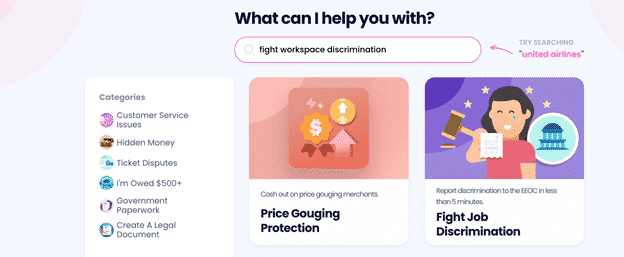 DoNotPay can get your charge of discrimination filed with the EEOC in no time—here are the steps you need to follow:
Set up a DoNotPay account

in your web browser

Search for our

Fight Workplace Discrimination

product

Give us the details of your case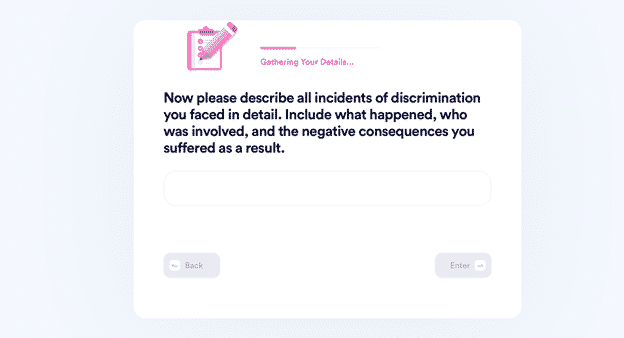 DoNotPay will file your complaint, and your nearest EEOC office will contact you to discuss your next steps.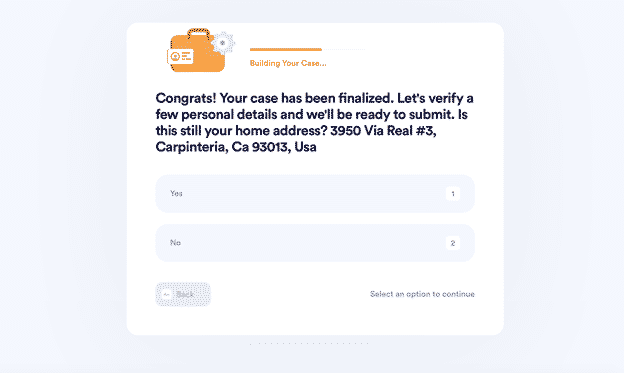 Is Black Discrimination the Only Issue?
Black discrimination is only one facet of a larger problem—you may also experience discrimination based on:
Whatever the basis for discrimination, your action in calling it out can help eradicate it once and for all.
Money Doesn't Grow on Trees, but DoNotPay Is a Close Second
Experiencing workplace discrimination can affect the victim in more ways than one. Filing a report with the EEOC should help, but in reality, people sometimes lose jobs if they stand up to bullies.
If that happens to you, there are several ways how DoNotPay can help. Our app is a great resource for fighting injustice and administration, but it can also help you save and earn money if you lose your regular income:
| | |
| --- | --- |
| Saving Money | Earning Money |
| | |
We Can Help You Fight for Your Rights
DoNotPay was created to support anyone who feels small and helpless in front of big corporations, confusing administration, or downright criminals.
We can help you get a refund even when companies won't budge, stop email and text message scams, protect your work from copyright infringement, save yourself from stalking and harassment, or even take individuals or companies to small claims court!