How to Easily Resolve a Binance Withdraw Error?
It can be frustrating getting a Binance withdraw error for an unknown reason especially when you need to complete the transaction right away. It's possible that your account has been frozen or it could be a system issue. Nevertheless, the experience can be infuriating when you are unable to get a hold of anyone from customer support when needed.
Luckily, there's DoNotPay. The world's first ever robot lawyer is designed to make communicating with customer support and retrieving your Binance account easier and stress-free.
Keep reading to find out how you can use DoNotPay to resolve a Binance Withdrawal error or Binance funds being locked as well as other Crypto Funds issues such as:
Binance Cryptocurrency Exchange
The world's largest cryptocurrency exchange, Binance allows the trading of more than 600 types of crypto and virtual currency. The platform allows you to convert one type of currency to another as well as make deposits and withdrawals. Common cryptocurrencies used include:
Bitcoin
Dogecoin
Binance coin
Ethereum
Litecoin
This is just a sample of the most widely used cryptocurrencies. Fees and processing times will vary from one currency to another and across networks and blockchains.
Errors Completing Withdraw Transactions on Binance
While making a withdrawal on Binance you may encounter an error message stating that withdrawals are suspended for risk management. If you have received an error while trying to make a withdrawal on Binance here are some common reasons these errors occur.
All new account deposits are locked for ten days to ensure proper funding.
Your withdrawal could not be completed due to a lack of funds.
Your bank revoked the transaction as suspicious.
Your bank account is closed.
All of the funds requested are not available.
If you have made recent account security changes your account will be locked for 48 hours.
Your identity has not yet been verified.
If you have an outstanding negative balance you will need to make a deposit to correct the error.
If none of these seem to be the cause of the error you are receiving then maybe your account has been frozen.
Is Your Binance Account Frozen?
A Binance account can be frozen or closed for a number of reasons. Binance support specifically points out that these are common reasons that account funds are frozen.
Facilitating the spread of a virus
Engaging in suspicious behavior
Anonymizing your IP address with a proxy server
Providing false information
Unlawful use of the platform
Making fraudulent or unauthorized transactions
However, the Binance TOS states that the platform can cancel, block, reverse, refuse, terminate, restrict, or suspend any account for any reason or no reason at all. If your Binance account has been frozen you can contact Binance support and request access to your account.
Contacting Binance by Yourself
Contacting support at Binance can be quite difficult as there are thousands of other users who could also be trying to get through. This could mean long wait times being on hold without any guarantee that you will get a satisfactory resolution in the end.
Here are a couple of ways you can try to get through Binance customer support:
Binance Customer Support Number
(929) 228-3440
Binance Support Email Address
Not available
Binance Mailing Address
Binance

23 Lime Tree Bay Ave

George Town, George Town

Cayman Islands

Binance Website
www.binance.com
You can also go to their website or use the Binance app to utilize the live chat option.
Isn't There a Faster Way to Unfreeze an Account?
Attempting to unfreeze an account or find resolution when you received a Binance withdrawal error can be painfully exhausting. From the moment you get the error, to the moment you are requesting any type of assistance, up to disputing an unacceptable resolution, you're sure to get frustrated no matter how patient you are.
The fastest way to unfreeze your crypto assets on Binance or any cryptocurrency exchange is through DoNotPay. In just three steps you can have a demand letter sent on your behalf instructing the exchange to return access to your account and setting a time limit for a response of two weeks. If the exchange fails to respond then you can begin the steps to take legal action.
All you have to do is:
1. Search "Crypto" on DoNotPay.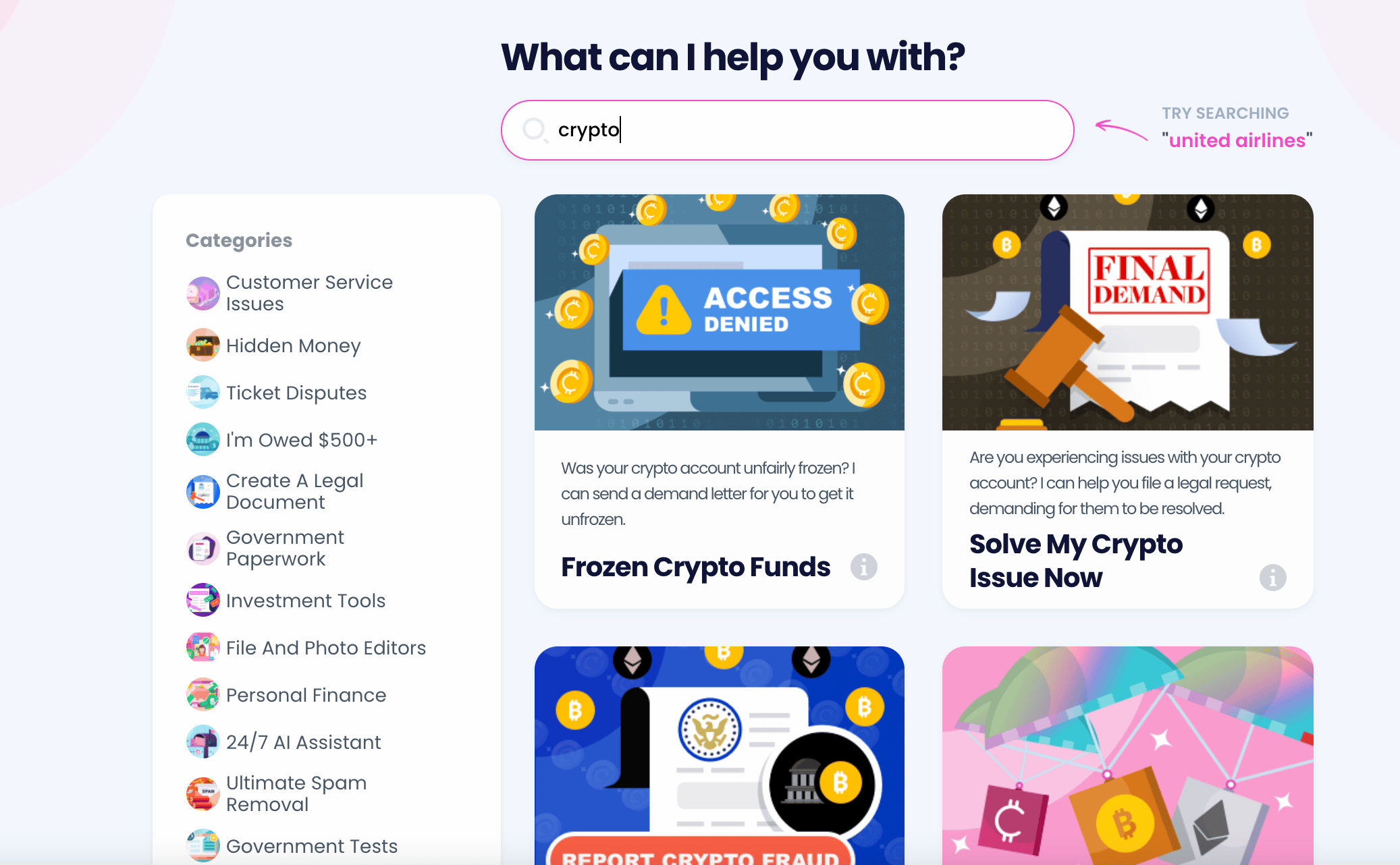 2. Select the crypto exchange platform you use.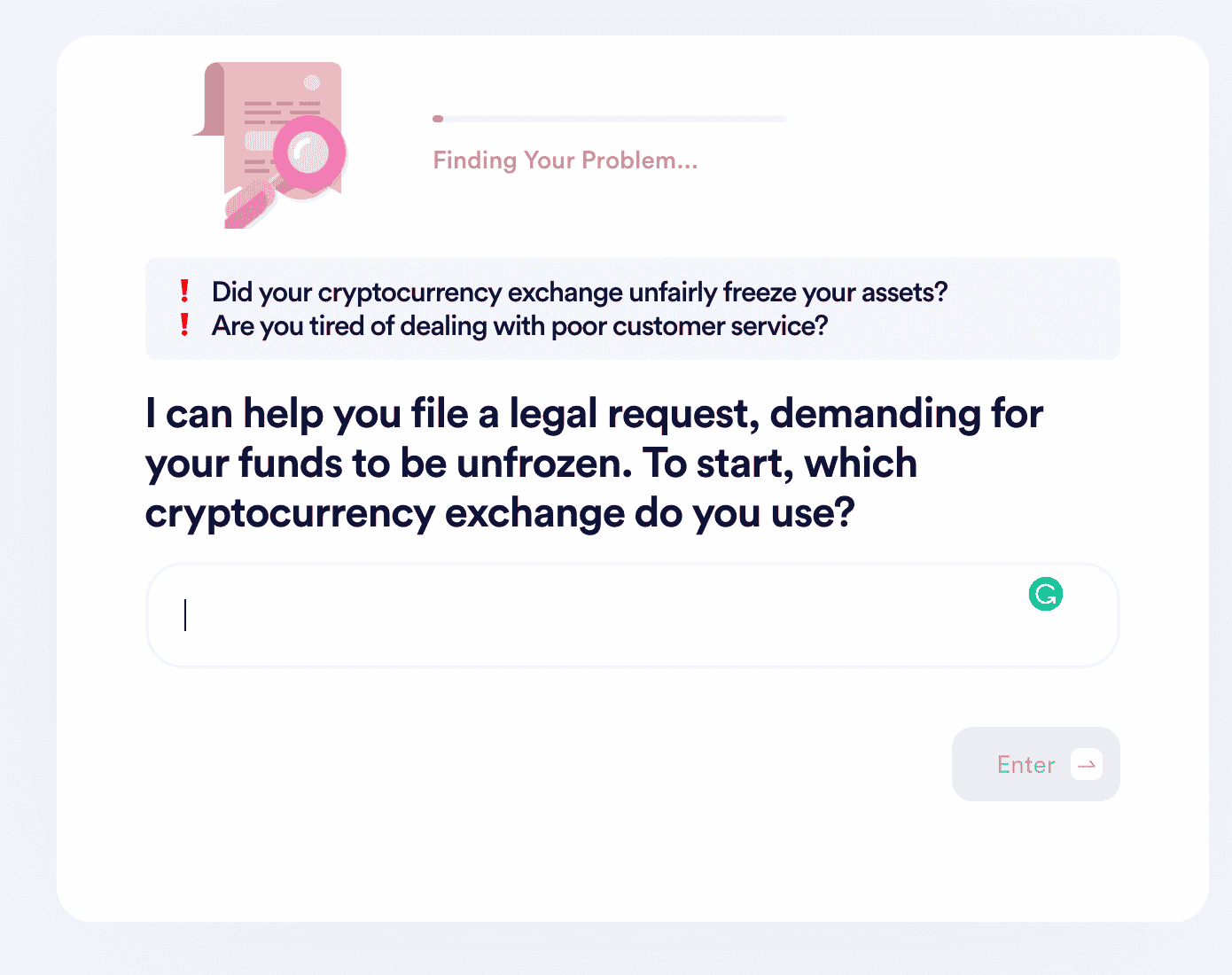 3. Tell us when this problem started and estimate the losses you incurred from your inability to make trades/cash out.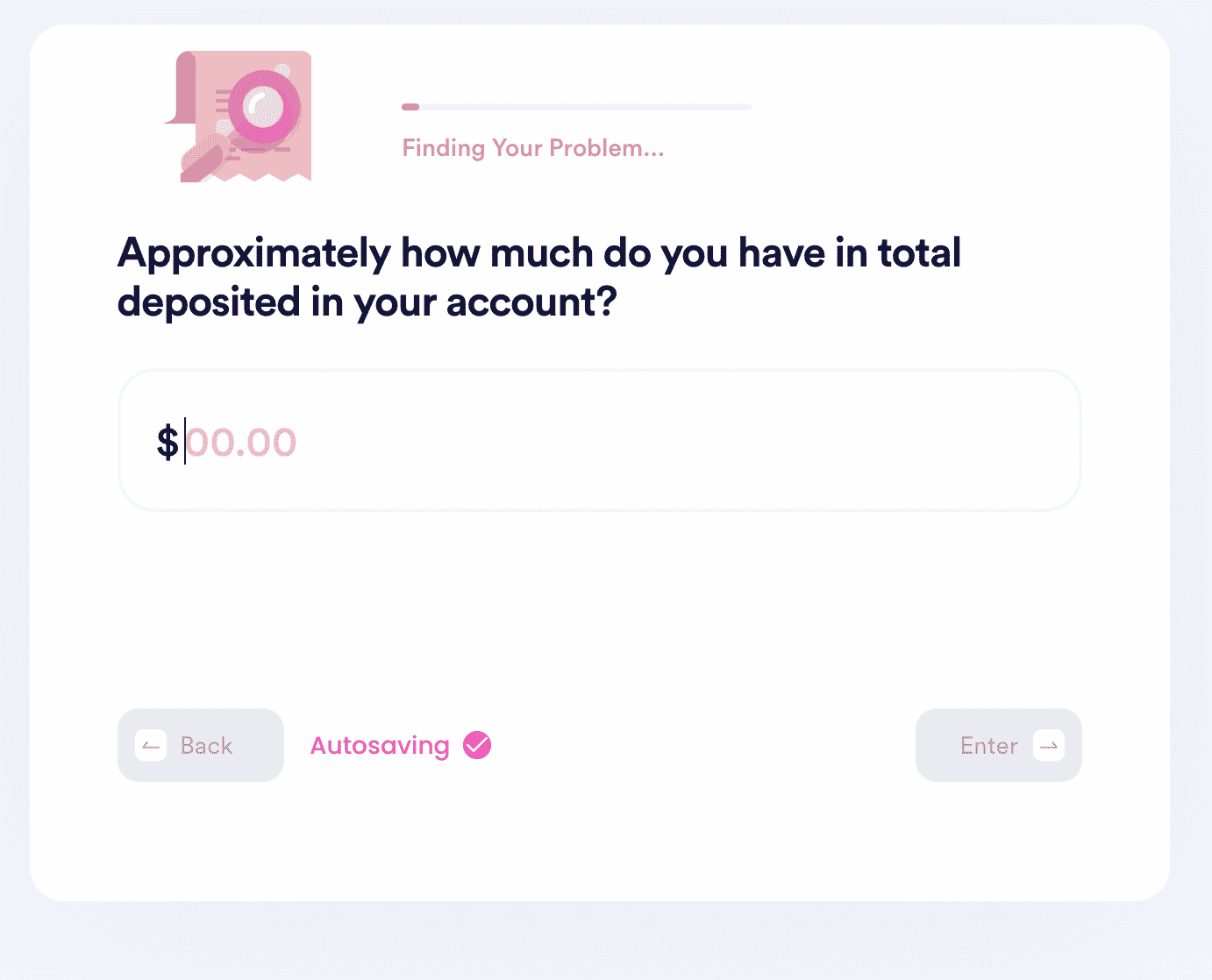 If no response is received within two weeks, DoNotPay can also help if you wish to pursue legal action against the exchange to recover your funds.
What Else Can DoNotPay Do For You?
The goal of the frozen crypto funds product is the same as every other product from DoNotPay, to save you time, money, and effort while aiming for the best possible outcome. This robot lawyer's expertise extends to solving other account-related problems.
You can use DoNotPay to:
Sign up with DoNotPay to effortlessly deal with any Binance withdraw error or to get reliable legal assistance when dealing with bureaucracy and red tape.