Binance Locked Your Coins? Recover Your Crypto in 3 Steps
Do you have locked coins with Binance? You want to get access to your coins and possibly make a withdrawal. However, it seems like the company makes it really hard to do so after they've locked your account.
When you have Binance locked coins, you need to act quickly to regain access to them. It's possible to try and do it by yourself, but you might find it frustrating. DoNotPay is your secret weapon!
What Is Binance?
Cryptocurrency is an investment, and you need to buy and trade it on a platform, such as Binance. Started by Changpeng Zhao, this crypto trading platform is the one that handles the most trades, and you'll find its headquarters in the Cayman Islands.
Binance allows you to fund your account and buy crypto funds. It offers a variety of cryptocurrencies. If you make money, you can sell it and make a profit. You can also use crypto to buy items, and it's becoming a popular form of payment.
It is therefore frustrating when you have to miss investment opportunities or you are unable to make a withdrawal when you need to because of Binance locked coins.
How Much Does It Cost to Withdraw From Binance? 
You'll find that the type of cryptocurrency and the way you withdraw the funds determines how much you pay to take the funds out. The only free method is to transfer the funds using an ACH, which can take between a day and three days to arrive in your account.
When you opt to have the funds sent using a wire transfer to your bank, it'll cost you $15 for each time you send one. You can withdraw funds onto your debit card, but you'll pay 4.5 percent of the transaction amount. Bitcoin is a popular cryptocurrency, but if you need to transfer it, you'll pay 0.0005 percent of the amount that you transfer.
How Long Does It Typically Take To Withdraw From Binance? 
Once again, the way that you withdraw the funds determines how long it takes to receive them. The fastest way to receive funds is through your debit card, and it takes mere seconds. Wire transfers can take up to a few hours during banking hours. ACH is the longest method and can take between a day and three days to receive.
What to Do to Regain Access to Your Account if You Have Binance Locked Coins
You can contact Binance customer support to find out what steps you should take to regain access to your account.
Binance Customer Support Number
(929) 228-3440
Binance Customer Support
https://www.binance.com/en/support/
Binance Mailing Address
Binance

23 Lime Tree Bay Ave

George Town, Cayman Islands

Binance Website
https://www.binance.com/en
What's the Fastest Way to Regain Access to Your Account?
While cryptocurrency is still new, many people are using the currency as an investment opportunity. As one of the busiest trading platforms, Binance is a popular option, but if you have locked coins, you're feeling frustrated and stressed. It seems like there's no reason for your coins to be locked, but they are. You've tried contacting Binance without any luck in regaining access to your account, and you're unsure of what your other options are to take care of this issue. You need a partner. DoNotPay is the fastest way to regain access to your account.  By answering a few questions, DoNotPay will send a demand letter on your behalf. 
All you have to do is:
1. Search "Crypto" on DoNotPay.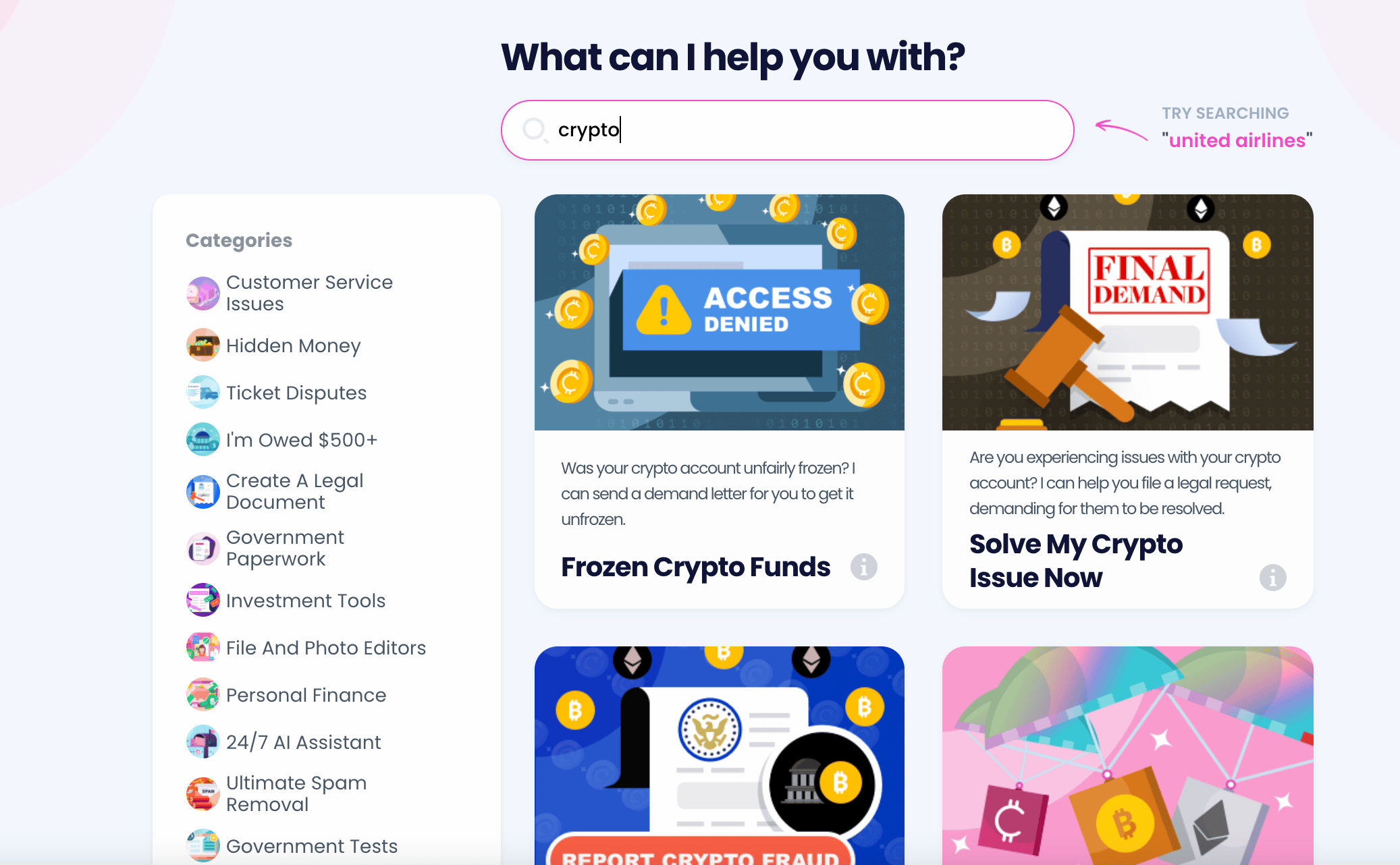 2. Select the crypto exchange platform you use.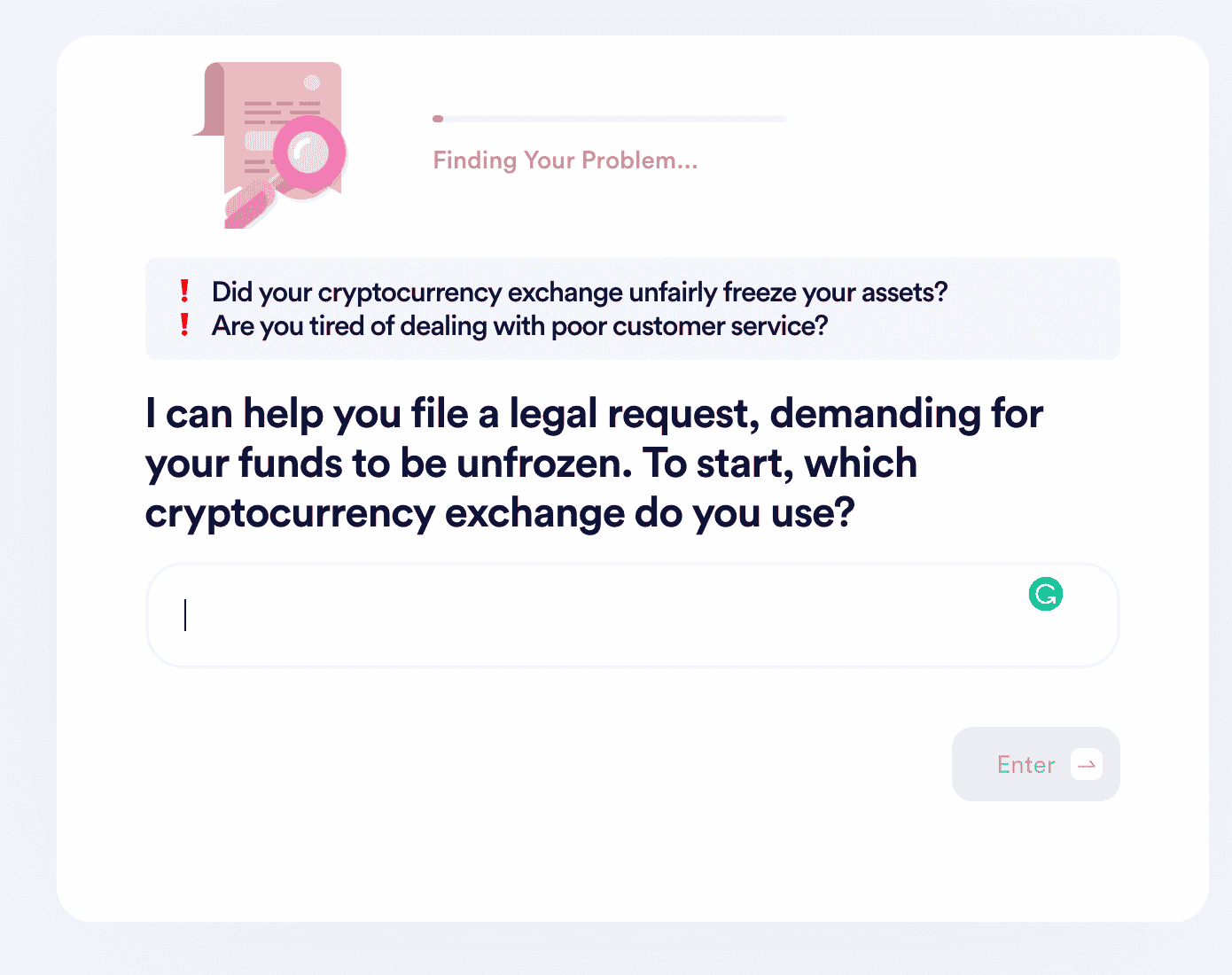 3. Tell us when this problem started and estimate the losses you incurred from your inability to make trades/cash out.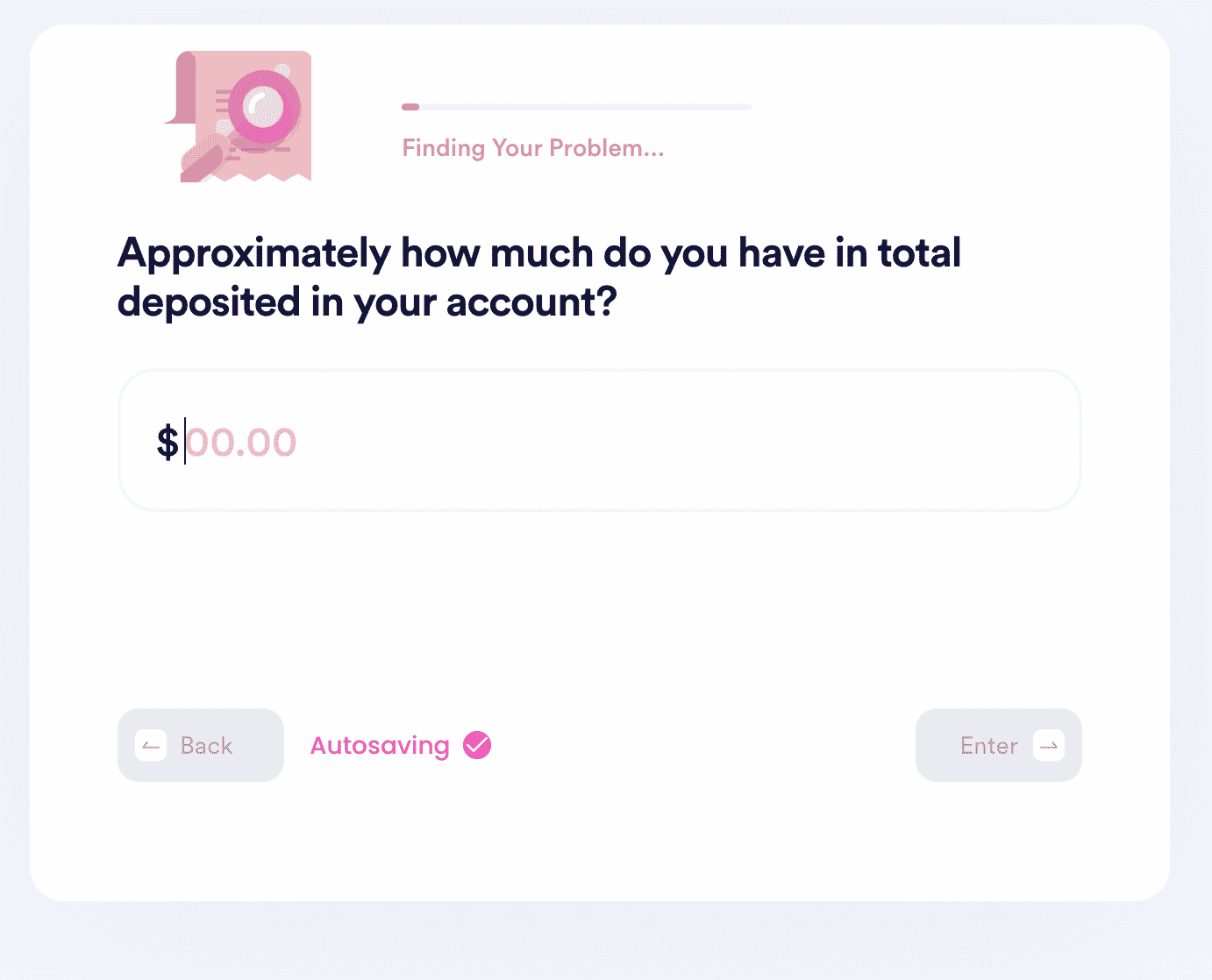 Why Use DoNotPay to Solve the Challenge of Regaining Access to Your Binance Locked Coins
It's a big deal when you have Binance locked coins, and you need to work with an app that gets actual results. If you've already tried to regain access to your locked coins by yourself or with help, you're feeling stressed and upset. You need to have a little more confidence in the DoNotPay app before you decide to use it.
DoNotPay Works Across All Companies/Entities/Groups With the Click of a Button
If you're new to cryptocurrency, and you've experienced Binance locked coins, you have a lot of questions and want more information about crypto funds. DoNotPay offers the information you need about crypto and can help you with a variety of situations concerning this new type of money and investment opportunity. Here's a look at a few of the topics you can check out:
What Else Can DoNotPay Do?
You're going to be so impressed by how easily the DoNotPay app was able to deal with your Binance locked coins that you're going to become curious about other ways that the app can help. You already know how easy it is to use but you want to see how else it can help you. These are a few of the most popular options in the app:
Sign up to DoNotPay and regain access to your Binance locked coins today!