How to Make a Bill of Sale Document in Minutes
Whether you're a buyer or a seller, a bill of sale is an important document to make the sale and the transfer of property ownership official.
This article will help you understand the ins and outs of the bill of sale and its importance. You don't want to write a contract by yourself or hire a pricey lawyer? No worries—you can use our app to generate a bill of sale document and many other legal documents!
What Is a Bill of Sale?
If you don't know what a bill of sale is, you may have heard of other names it goes by, such as proof of purchase or payment and sales slip or receipt. Typically, the seller creates the bill of sale to document the sale of an item to a buyer. This document is proof that the transaction has been made and that all the rights to the property in question have been transferred.
A bill of sale is usually required for items of high value, but it comes in handy for various types of property. Here's what you may use a bill of sale for:
Furniture

Firearms

Clothing and jewelry

Cars, boats, bikes, and aircrafts

Trailers, campers, and mobile homes

Animals, such as cats, dogs, and horses

Electronics, including phones or speakers

Tools, appliances, and exercise equipment
Why Is a Bill of Sale Important?
Even if a bill of sale is not required by your state laws, it's recommended to have one for the protection of both parties—the buyer and the seller. Check out several reasons why drafting a bill of sale is a good idea:
If a buyer pays in cash without a bill of sale, it would be hard to prove the transaction even took place

In case a dispute arises or any tax or liability issues emerge, you can use your bill of sale as evidence

If you want to insure the property in question, you may need proof of legal ownership, which a bill of sale will provide
Types of Bill of Sale Contracts
What kind of bill of sale contract you need depends on different factors. Here are the most common types of bills of sale:
| | |
| --- | --- |
| Type of Document | Brief Explanation |
| Absolute bill of sale | This document represents the sale or transfer of goods |
| Conditional bill of sale | It is a transfer or an assignment of personal property as a way of granting security to the buyer |
| Bill of sale with warranty | This bill of sale type guarantees that the seller owns the property and can transfer the ownership rights to the buyer |
| Quitclaim bill of sale | The quitclaim bill of sale doesn't guarantee that the seller owns the property |
What Should a Bill of Sale Cover?
A simple bill of sale document should include the essential information of the purchase, including:
Names and addresses of the seller and the buyer

Date of the purchase

Description of the property

Purchase cost and payment method

Any warranties

The seller's and the buyer's signatures
While in some states, only the buyer needs to sign the bill of sale, in others, such as Louisiana, Nebraska, and Maryland, a notary public has to witness both parties signing the document.
What Does a Car Sale Document Include?
Aside from the usual info a bill of sale covers, a car sale document also needs to include:
Car make, model, and year

Description of the car

Odometer reading (mileage)

Vehicle identification number (VIN) or serial number
Use DoNotPay To Draft Your Bill of Sale Document Like a Pro
With our AI-powered app, you'll forget all about lawyers and contract templates! DoNotPay—the world's first robot lawyer—will generate a bill of sale for you in under five minutes! Other benefits of creating legal documents with DoNotPay include faxing them to the other party immediately and e-signing them.
Here's how the process works:
Visit DoNotPay in a

web browser

Type in

Bill of Sale

in the search field

Answer several questions to personalize your document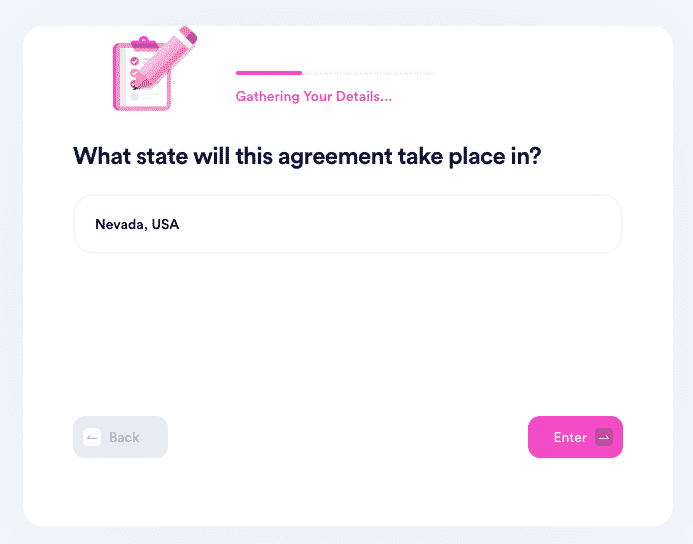 That's all it takes! Feel free to create as many bills of sale as you want with no hidden charges.
When you need other contracts or agreements, we'll step up! Check out what our app can draw up for you:
General business agreement

Promissory note

Quitclaim deed

Residential

lease agreement

Estoppel certificate

General affidavit

Intent to purchase real estate
Learn About Different Legal Documents With the Help of DoNotPay
If DoNotPay currently can't generate a document you need, that doesn't mean we won't be able to in the future. Our database is constantly growing, both in terms of documents we can create and documents we can break down for you. Check out our articles to understand the following legal documents:
Tired of Companies Not Taking You Seriously? Use DoNotPay To Put a Stop to It
If you're sick of companies that violate your consumer rights, DoNotPay is here to help. If you're struggling with reporting robocalls, requesting a refund, claiming any type of warranty, scheduling a DMV appointment, reporting spam text messages, or anything else, our robot lawyer will help you sue any firm or individual in small claims court.
With DoNotPay, you can also sign up for any free trial, cancel any subscription, avoid getting charged after the end of your free trials, and much more!
Want Your Money Back? DoNotPay Is Here To Help
Are you looking for your missing money? Do you want to get a refund for a delayed or canceled flight? Are you trying to flip the script on illegal robocalls and earn money off them? DoNotPay will assist you in dealing with any of these pesky issues!
We can also help you bypass phone number verification, sign up for clinical trials stress-free, ace any government test in a jiffy, and block spam emails for good.