Texas Taxes Reduced With Bexar County Property Tax Exemptions
Bexar County is known for its high property tax rates. The problem applies to the whole state of Texas and is rooted in the lack of state revenue from income tax and the low sales tax rate.
This is a headache for Bexar County residents—the last thing you want is a massive annual property tax bill on top of all your other expenses. DoNotPay is here to help you find property tax exemptions in the area and take some of the property tax pain away.
What Is Property Tax?
Property tax funds local amenities and is levied on every property in Bexar County. While some states offer low property tax rates, Bexar County has a reputation as being one of the most costly locations to own property in.
If you own any of these, you will be liable for property tax:
Residential homes

Farms

Business premises

Non-removable building fixtures
Bexar County expects you to pay your property tax by January 31 for the previous calendar year. Failure to pay your property tax could have serious consequences, up to and including the loss of your property.
How Is Bexar County Property Tax Calculated?
Property tax in Bexar County is calculated by multiplying the property tax rate by the fair market value of your property.
The state of Texas is different from many other locations in the U.S. in that it has no state income tax and a lower-than-average sales tax rate. This means that Bexar County has to generate money from property tax to fund services such as:
Public schools

Community health services

Fire and police protection

Road maintenance

Flood control projects
The result is that Bexar County uses a property tax rate of 1.97%, which is huge. A property with an appraised value of $152,400—the median value in Bexar— will be landed with an annual property tax bill of $3,000.
The second part of the property tax equation is the property tax assessment, which determines the value of your property. The Bexar County Tax Assessor-Collector appraises properties throughout the year and determines a valuation for each one by January 1. Tax bills are sent out in October and are payable by January 31.
Bexar County suffers from two problems, namely:
| | |
| --- | --- |
| Problem | Explanation |
| The number of properties to be assessed | Bexar County has too many properties to assess each one individually, so it relies on averages and estimates to set the fair market value of many properties |
| The need for revenue | Bexar County has no state income tax to generate revenue, and Texas sales tax is also low. Despite this, the County has to generate enough money to provide services. The property tax calculations are partially based on how much money is needed, instead of how much is a reflection of the property values in the County |
The result is that Bexar County property tax bills are high. Luckily, there are several exemptions you can apply for to help ease the burden. DoNotPay can assist you in this, as well as in finding discounts and property tax relief opportunities.
What Are the Bexar County Property Tax Exemptions You Can Claim For?
You may be eligible for any of the following property tax exemptions in Bexar County:
Homestead property tax exemption

Senior tax exemption

Disability property tax exemption

Veterans' or disabled veterans' property tax exemption
Homestead Exemption
As a homeowner, you may be eligible for an exemption amounting to $5,000 off your assessed property value.
Senior Tax Credit
Homeowners in Bexar County who are over 65 years old may be able to claim for a senior citizens' property tax exemption, giving them a reduction of between $5,000 and $65,000 off their assessed property value depending on their exact location within the County.
Disability Tax Exemption
In Bexar County, people with disabilities can apply for a reduction of the assessed value of their property of up to $65,000, depending on their exact location.
Veterans' or Disabled Veterans' Property Tax Exemption
Veterans and disabled veterans are eligible for a property tax exemption. Depending on the degree of disability, this can represent up to a 100% exemption from property tax.
The full list of locations in Bexar County and their applicable exemption rates can be found here.
How Can I Get a Bexar County Property Tax Reduction?
You can check your eligibility and claim exemption from Bexar County property tax here.
Applications must be made to the Bexar Appraisal District, which will provide you with the necessary forms and pass your application on to the county tax office.
DoNotPay Can Help You Apply for a Property Tax Exemption in Bexar County
Applying for a property tax exemption in Bexar County is not easy, but DoNotPay can help you overcome all the hurdles.
Our app can check your location and give you customized advice on what exemptions are available in your area. The guide comes with two sections:
Property Tax Exemptions
Property Assessment Appeals

Information about the property tax exemptions available in Bexar County

A list of documents you must fill in and submit

Instructions on how to submit your application

How to negotiate with a property assessor

How to appeal an assessment you think is wrong
How Do I Get DoNotPay's Property Tax Guide?
Our guide is easy to get, and here's how to do it:
Sign up for DoNotPay in any

web browser

and look for the

Property Tax

feature

Fill in the required fields with information about yourself and your property

Hold while the app generates customized advice on how you can get property tax reductions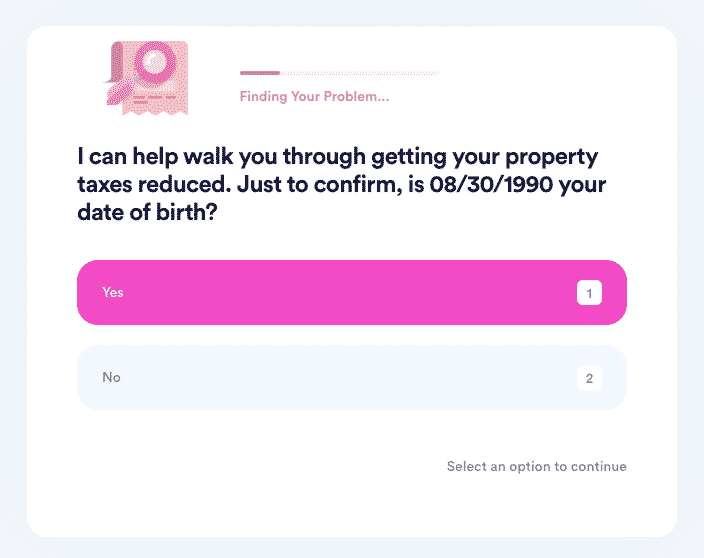 Use DoNotPay To Help You Lodge an Appeal in Bexar County
If you don't qualify for any of the above exemptions, or you want to further lower your property tax bill in Bexar County, there are a few more avenues for you to explore. Here's what we suggest:
Don't carry out any renovation or improvement work that could increase the value of your property

Make sure your property tax bill is completely accurate

Ensure you are present when the county assessor performs the assessment
As a last resort to help you pay your property tax, you can appeal your Bexar County property tax assessment. This may seem scary, but DoNotPay can help you understand the appeal procedure, prepare the documents you need, and lodge your appeal.
Falling for Scams Is Less Likely With DoNotPay
Thanks to AI technology, DoNotPay is a great resource for protecting your privacy and finances from potential scammers. Our bots can help you report robocalls, keep your inbox clean from spam email and shady text messages, or even deal with stalking and harassment, if it comes to that. 
In case the issues escalate, skip the expensive lawyers and sue the offenders in small claims court with ease. 
Another great way to increase your online security is to use our virtual credit cards and sign up for any free trial without risking unwanted charges. You can even avoid sharing your contact info with our Burner Phone feature. 
The Solution To Your Driving Woes
DoNotPay provides invaluable help to future and current drivers. By helping you ace that driver's license test, scheduling a DMV appointment the easy way, or contesting parking tickets, our app saves you money and time. 
If you need to file a car warranty or an insurance claim, we will help you deal with the necessary paperwork within minutes. Trying to get out of a car wash membership? DoNotPay can cancel it in an instant. 
Our platform works above ground as well. You can use DoNotPay to secure refunds from airline companies or compensation for delayed and canceled flights.