Everything You Need To Know About Bexar County Divorce Forms
The required divorce paperwork is different in every state and county, and finding out which forms you have to file can be overwhelming.
But things are not as dire as they seem because DoNotPay has prepared a guide to help you turn the procedure into a piece of cake! We'll tell you all about Bexar County divorce forms and help you get divorced without breaking the bank!
Divorce in Bexar County—The Basics
Before diving into the divorce forms, you should decide on the divorce type. In Bexar County, you can file for fault-based and no-fault divorces. The former requires you to provide evidence of your spouse's misconduct to court based on the following grounds:
Cruelty
Adultery
Conviction of felony
Abandonment
Alcohol or drug abuse
Impotence or infertility
Cultural or religious differences
A no-fault, uncontested divorce is a more favored choice among couples in Bexar County. It allows you to settle out of court without hiring lawyers and playing the blame game.
Residency Requirements for Getting an Uncontested Divorce in Bexar County
To file for divorce in Bexar County, you or your spouse must:
Be a Texas resident for at least six months in continuity before filing the required forms
Reside in Bexar County for a minimum of 90 days
How To File for an Uncontested Divorce in Bexar County
Filing for an uncontested divorce—also known as friendly marriage dissolution—consists of three steps:
Gathering the required forms
Filing the divorce papers
Finalizing the divorce
Gathering the Required Forms in Bexar County
You can get all the divorce papers—also known as pleadings—at your local county house or the official government website. The forms you need are:
Petition—This is a legal document filed by the party who seeks the divorce containing information about you and your spouse. The petition initiates the process
Waiver of Service—If you're getting an uncontested divorce in Bexar County, serving papers is only a formality. Your spouse must sign this form 24 hours after you file the petition. Keep in mind that a notary public has to sign this document too
Final Decree of Divorce—Once the judge signs this form, your marriage will be officially over
Divorce settlement agreement—This document contains the terms of your marriage termination and post-divorce arrangements. The most reliable way of getting one is by using DoNotPay
Uncontested Divorce in Bexar County—Filing the Divorce Papers
The first step of filing divorce papers in Bexar County is filling out the Petition. Make sure it doesn't have any mistakes and be careful not to leave any blanks.
Once you complete the form, make three copies and turn them in at the District Clerk's Civil Filing Department.
The clerk will file the Petition with a stamp and give you a cause and court number, which you need to have whenever you appear in court
Keep in mind that you will have to pay the filing fee. To inquire about the cost, call the filing department at (210) 335-2621.
Can't afford the fee? Fill out a Statement of Inability to Afford Payment of Court Costs.
Finalizing the Uncontested Divorce in Bexar County
Once you've filed the Petition and your spouse has signed the Waiver, you enter a waiting period of 60 days. Once it expires, you can present the Final Decree of Divorce and a divorce settlement agreement to the judge.
They will review the documents to confirm everything is valid. If the agreement isn't fair to both parties, the divorce can't be finalized. That's why it needs to be drafted with care and precision.
Need a Professional Divorce Settlement Agreement? Get One Fast With DoNotPay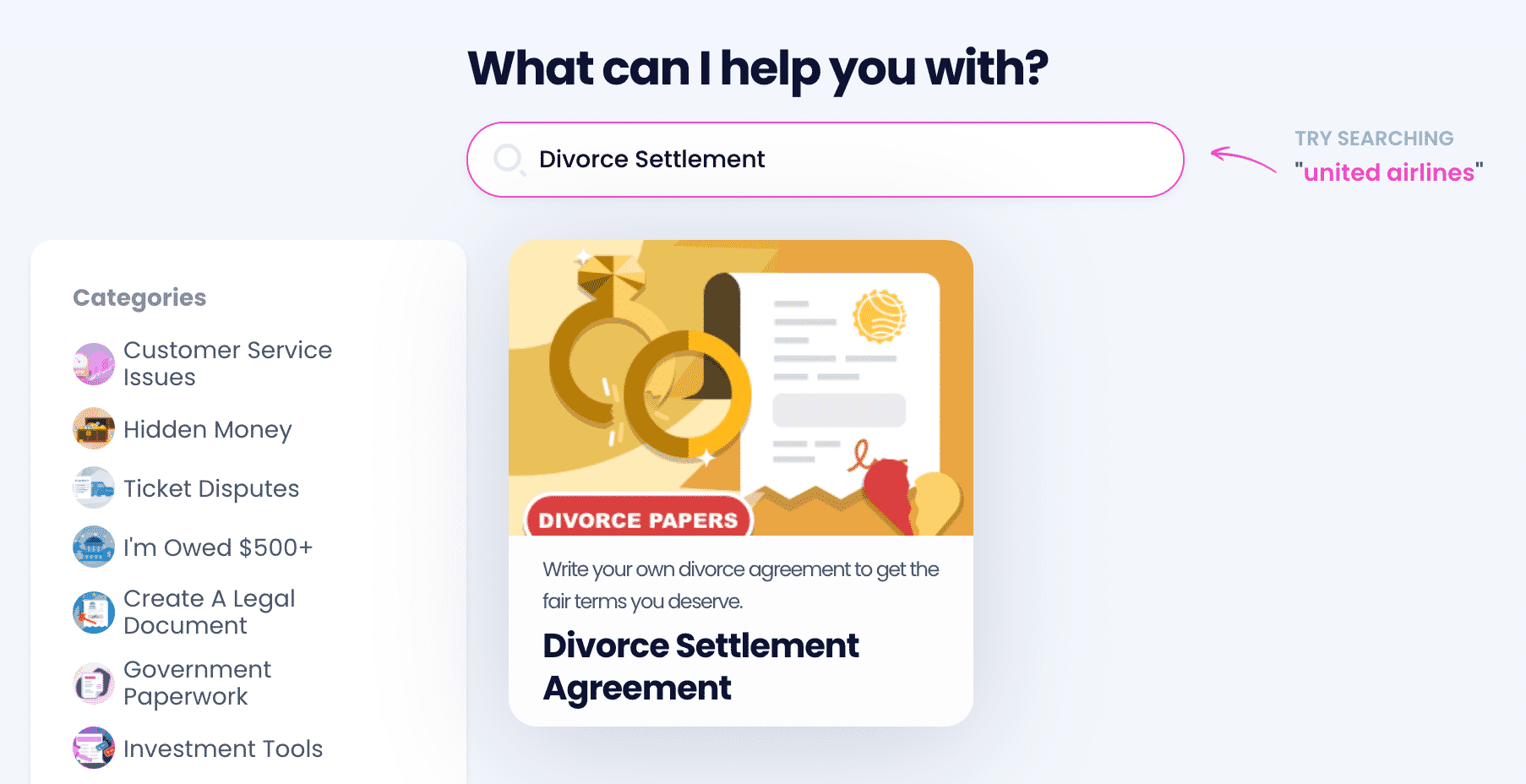 To get a divorce settlement agreement, you can hire expensive lawyers to draw up the document for you or write one yourself. Are you not satisfied with these limiting options? Use DoNotPay! We'll generate an affordable and personalized settlement agreement for you in no time. All you should do is:
Select the Divorce Settlement Agreement tool
Enter the necessary details
Opt for online notarization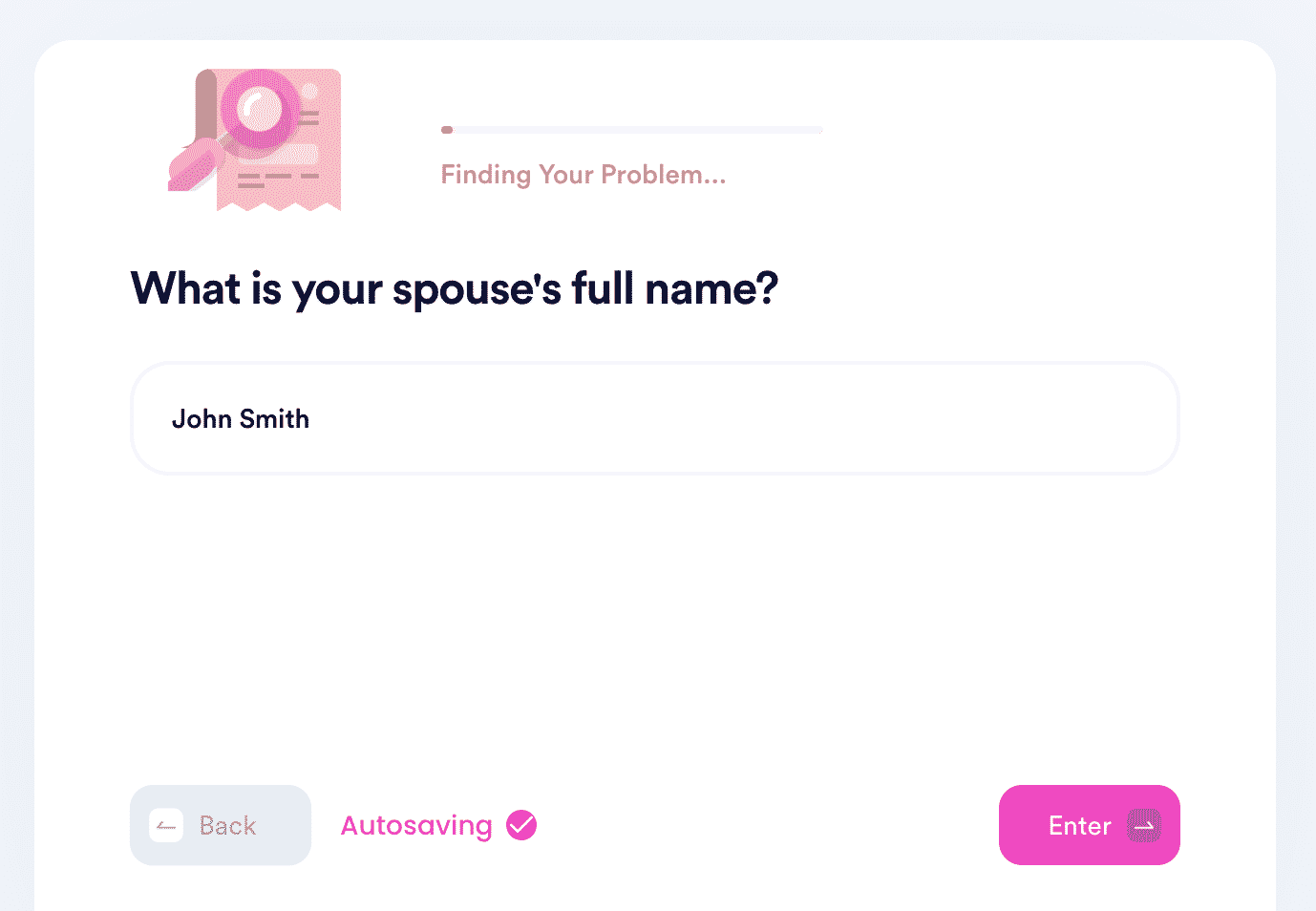 After we process your request, we'll use the details you give us and generate an agreement perfectly suited to your needs. You can then have it notarized along with the Waiver by one of our online notary partners. Click on the link we send you via email and complete the entire process remotely.
Need more info about Texas divorces? Check out the table below:
| Divorces in Texas | Divorces in General |
| --- | --- |
| | |
DoNotPay Is Committed to Solving All Kinds of Problems for You
Are you lost in the sea of administrative tasks? By subscribing to DoNotPay, you gain access to many products and features that can assist you in:
Check Out What Our Robot Lawyer Can Do for You
Not too skilled at drafting contracts and agreements? Keep calm and let DoNotPay, your virtual assistant, do it for you! Our app can generate various legal documents, including divorce settlement agreements, child travel consent forms, and powers of attorney. All it takes is to click a few times or answer several quick questions—we do all the rest!
Besides providing personalized documents, DoNotPay takes over other tiresome legal tasks. These include having your documents notarized, filing lawsuits in small claims court, requesting crime victims' compensation, or submitting HR complaints.