DoNotPay Shows You the Best Way To Get a Divorce
If you're planning to end your marriage and wondering what the best way to get a divorce is, you've come to the right place! DoNotPay has prepared an article to help you choose the correct divorce type and even settle out of court.
We'll show you how to lower the cost of the dissolution and part ways with your spouse on the terms you deserve with a professional settlement agreement.
Ways To Get a Divorce
There are two types of divorce you can file for—contested or uncontested. To better understand the difference between the two, consult the table below:
Contested Divorce
Uncontested Divorce
This type of dissolution is for couples who can't agree on certain issues, so they have to take the case to court.

The judge will have to decide on the terms of their divorce for them. Generally, contested divorces are:

Lengthy
Expensive
Complicated

Uncontested divorces are for couples who can meet halfway on issues such as:

By agreeing on these aspects, they can get divorced without hiring a lawyer or going to court. This makes the process affordable and much quicker
The Easiest Way To Get a Divorce
The easiest way to get a divorce is to opt for an uncontested divorce. This divorce type is also known as friendly divorce because couples usually stay in an amicable relationship after ending the marriage. This is important if there are any marital children involved.
You will need to agree on the key aspects of the divorce to be eligible for it. If you can't reach a compromise with your spouse, try divorce mediation. The mediator will save you time and money by facilitating negotiations as a neutral third party.
Why Getting an Uncontested Divorce Is Easy
Filing for an uncontested divorce is a popular choice among many couples because the process takes little effort to complete. All you have to do is:
Gather the necessary paperwork—This step requires you to visit your state's official government website or your local courthouse to get the divorce papers. Once you gather them and fill them out, you'll need to file them with the clerk of the county. Note that you'll have to pay the filing fee, which you can also waive if you can't afford it
Serve your spouse—In most states, delivering the papers to your spouse in an uncontested divorce is only a formality. In many counties, you can hand them over yourself without hiring a process server, which would be a necessity in contested cases
Get a divorce settlement agreement—This is the most important document you'll have to prepare because it contains the terms of your post-marital life that you and your spouse agreed on. The judge will have to review it before finalizing the divorce
After all the required paperwork has been filed, in most states, you'll have to go through a mandatory waiting period, which is usually around 90 days. Once those three months go by, you need to attend the final hearing, during which the judge will review the papers and complete your divorce.
To get acquainted with different state laws regarding divorces, check out the table below:
How To Get a Divorce Settlement Agreement
You have several ways of obtaining a divorce settlement agreement, including:
Writing one yourself—This solution is for the brave because if you make a mistake in the agreement, you might have to start the process from the beginning
Hiring a lawyer—The cost of hiring a lawyer is at an all-time high, so be prepared to pay an arm and a leg if you want an attorney to create the settlement agreement for you
Signing up for DoNotPay—We can generate this key document according to your desires and send it your way fast and without charging you a fortune
Use DoNotPay and Get a Tailor-Made Divorce Settlement Agreement Effortlessly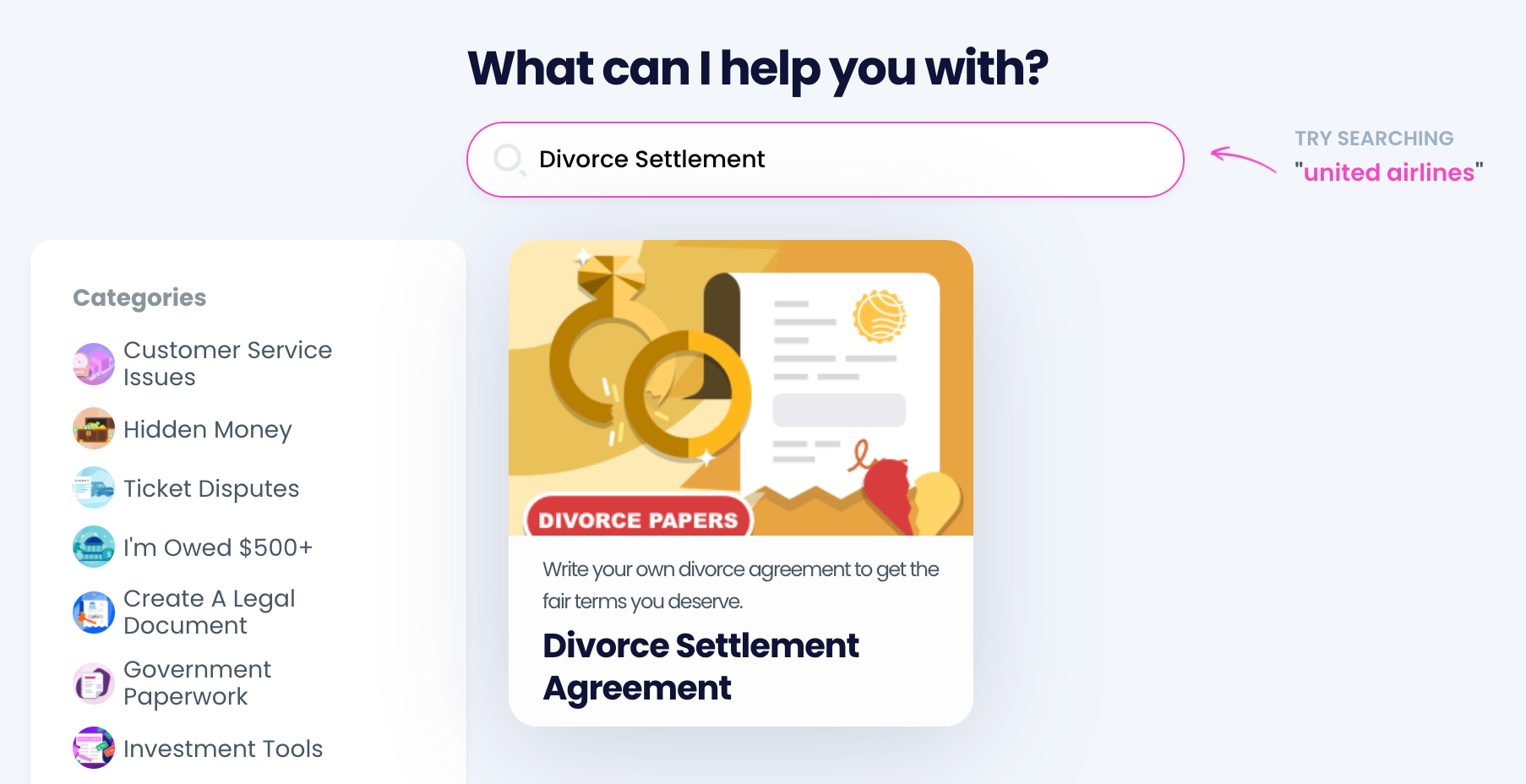 Getting a divorce settlement agreement with DoNotPay is not only affordable, but it's super easy. All you have to do is:
Choose our Divorce Settlement Agreement tool
Give us the necessary info
Opt for online notarization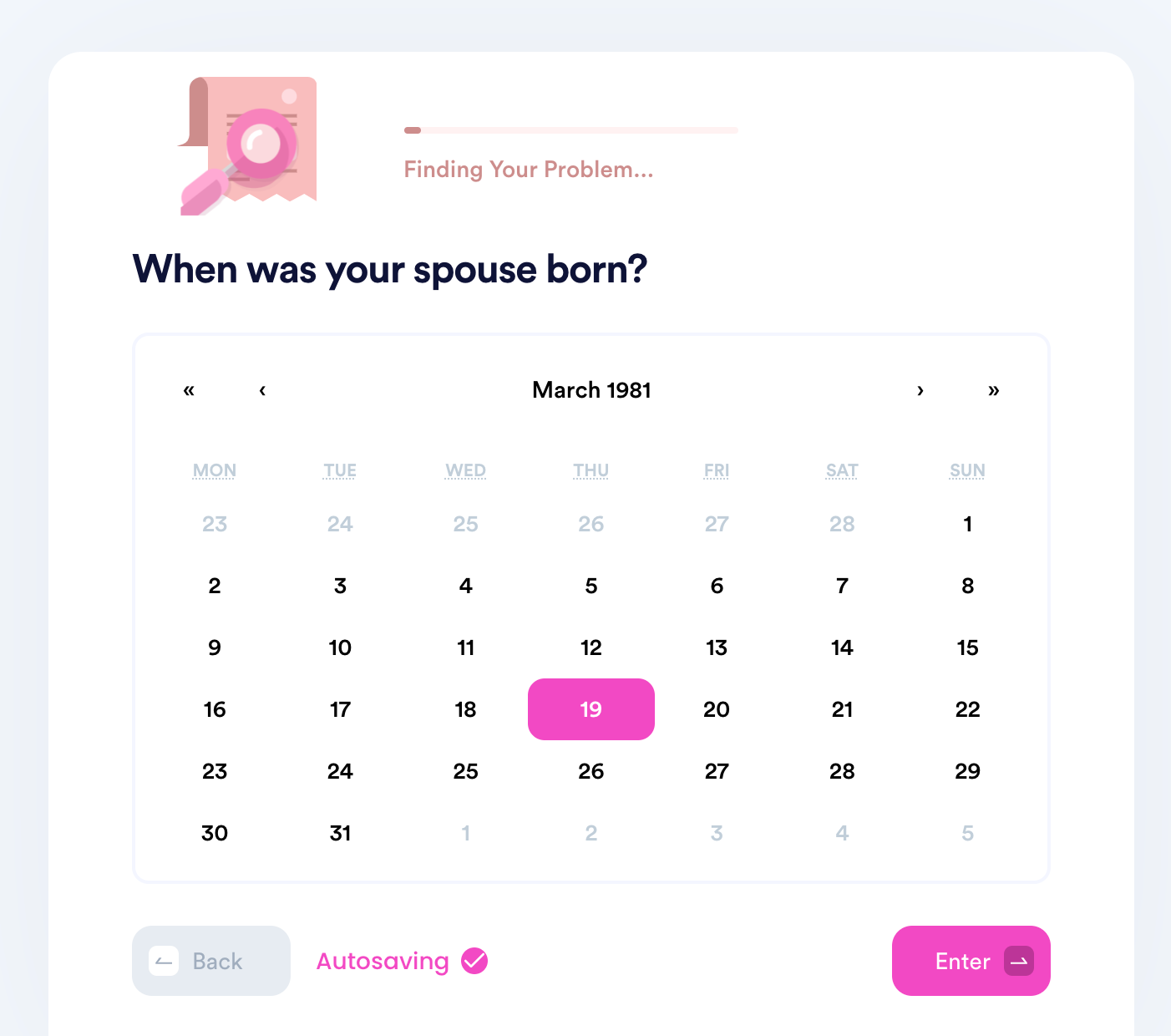 Our AI-powered app will then use the details you provide to generate a settlement agreement that will perfectly fit your needs. Once you fill it out, you'll need to have it notarized. Instead of going to a notary in person, you can schedule an appointment with an online notary with DoNotPay. Just follow the link we send you, and you're done!
Have any unanswered divorce-related questions? DoNotPay can help some more! Check out our articles, and find out the answers to these questions:
Learn How To Solve Legal Issues in Minutes!
Do you need to draft a legal document? Spending hundreds of dollars on lawyers is not the answer. We came up with a faster and more affordable solution. Not only can our app draft child consent forms, divorce settlement agreements, and powers of attorney for you, it can also provide legal assistance by helping you take anyone to small claims court!
Drafting numerous documents is not all DoNotPay does for you! Aside from drawing up contracts and agreements, we can also assist you in getting them notarized online from the comfort of your home or office!
Explore DoNotPay's Other Nifty Features
There is more assistance on the way! You can use DoNotPay's features to handle various tasks with ease, including:
We can also help you protect your safety. If you don't know how to deal with copyright infringement, stalking and harassment, work discrimination, sex offenses, and disputes with annoying neighbors, DoNotPay has got you covered.