Where Is the Best State To Get Divorced in for a Man? DoNotPay Has the Facts!
Divorce should be fair and equitable, with both spouses treated equally.
However controversial it sounds, there is a perception that men who file for divorce may be treated less fairly than women under some jurisdictions.
DoNotPay takes a look at the law and tries to find the best state to get divorced in for a man—if it exists!
What Are the Factors in Deciding Where To Get Divorced?
When looking for a divorce, most plaintiffs—whether men or women—want the process to be:
You can find states that offer the best of all three worlds, but most states have stringent residency laws that say you can only file your divorce papers and serve them on your spouse after one of you has lived there for a certain time.
The state-by-state residency requirements are:
If you are tempted to move to a state where divorce is considered easier for a man, you will still have to fulfill the residency requirements before you can file.
What Is the Best State To Get a Divorce?
The states that offer the best combination of ease, cost, and speed are as follows:
South Dakota—Divorces can be filed after residing in the state for a day, and the filing cost is $95
Wyoming—Residents who have lived in the state for 60 days can file for divorce at the cost of $120
Missouri—With a filing cost of $133.50 and a residency requirement of 90 days, Missouri is fast and relatively cheap
Idaho—Six weeks' residency and $154 will allow you to start your divorce process in Idaho
Arkansas—You can file for divorce after 60 days of living in Arkansas, and the filing fees come to $165
These figures take no account of the time it may take to finalize your divorce but are a good indication of how easily you can start the process.
How Can You Make the Process Easier as a Man?
However difficult it may be to cope with divorce as a man, a combative attitude is the worst approach if you want your divorce to be smooth.
Perhaps the love between you and your spouse has died, or maybe some impropriety has taken place. Whatever the case, as a man, you should shelve any desire for revenge in the interests of good sense.
The more collaborative you are with your spouse, the more likely you will achieve an uncontested divorce.
An uncontested or friendly divorce means that you and your spouse enter the process having agreed on how your rights and family responsibilities should be divided after the divorce is finalized. These can include:
If you can reach an out-of-court settlement with your spouse, you may be able to avoid:
How Can You Negotiate Your Divorce Settlement Agreement?
A divorce settlement agreement needs to be negotiated before it can be drawn up, and your options for hammering out a settlement with which you are both happy are:
You and your spouse
Lawyers
You and Your Spouse
If you agree on everything and can still communicate with each other without fighting, you may be able to reach a settlement without any outside help—this is the first prize.
Lawyers
You and your spouse can engage attorneys to negotiate on your behalf, but you should both be aware that the expenses can escalate quickly using this route.
Attorneys charge up to $400 per hour, and the average cost of an uncontested divorce sits at around $5,000 per spouse. Most lawyers also charge a retainer that is payable in advance and usually non-refundable.
Mediation Service
If you and your spouse have trouble negotiating essential divorce terms, you should use a mediation service.
You will have to negotiate face-to-face, but you will be assisted by a trained mediator who will help you focus on desired outcomes.
Where Can You Get Your Agreement Drawn Up?
Once you have negotiated a satisfactory agreement, you need to have it drawn up as a legal document that a judge will accept. To achieve this, you can use:
Attorneys—Cost is an essential factor in this decision, and attorney involvement will be expensive
Online service—An online divorce service may be able to provide you with a template, but you should exercise caution, as many of these documents are too generic to cover your needs adequately
DoNotPay has the solution—we can with no need for lawyers to be involved!
DoNotPay Is the Man for the Job!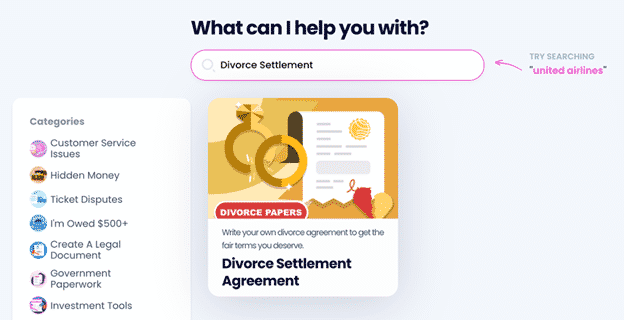 DoNotPay understands how difficult divorce can be for both men and women!
That is why we are committed to making the process as easy as possible. Our Divorce Settlement Agreement product does exactly that—you get a watertight and comprehensive agreement that ticks all your boxes and helps you get your divorce with no hassle.
To create your settlement agreement, here's what you need to do:
in your web browser
Click on our Divorce Settlement Agreement feature
Follow the prompts and give us the details you have agreed on with your spouse
Once everything is filled in, you will have your document in an instant. You can sign it together with your spouse and have it notarized.
Even if you don't know where to find a notary, there's no need to panic—with our online notarization service, you can get documents signed and sealed online!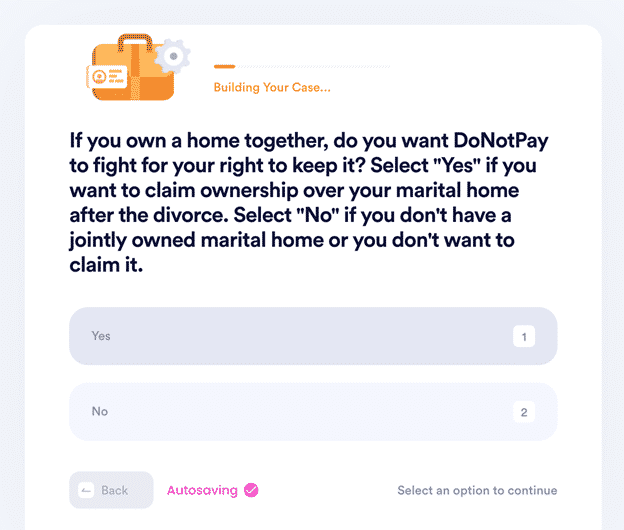 What Other Issues Can Our App Solve?
DoNotPay can support you through various burdensome procedures and turn them into a breeze! Here's a table showing a tiny part of our extensive offer:
| DoNotPay Can | Services |
| --- | --- |
| Create various documents | |
| Protect your safety and privacy | |
| Get your money back | |
DoNotPay Is Your Ticket to Simpler Life
Don't bother going through complicated tasks alone—we are here to take care of them! Seek our help if you want to get in touch with customer service instantly, fax anyone online, or get your documents notarized. Besides providing these amazing services, DoNotPay can make preparations for your travel adventures by assisting you in getting passport photos at home and obtaining tourist visas.