What Are the Best Small Business Loans?
If you are struggling to cover your day-to-day expenses or lack working capital, you can seek additional resources from various lending institutions. Getting a loan will ensure your business stays afloat in the face of current difficulties.
In this article, we discuss what the best small business loans for up-and-coming entrepreneurs are. We will compare the different types of loans and the general qualifications—we will also let you know how to initiate the process using DoNotPay.
Small Business Loans Explained
What if the budget you set out for your entrepreneurial endeavor is not enough to get you through the fiscal year? You can try applying for a small business loan to avert the crisis and avoid a shutdown. Loans are a form of financial assistance for small to medium-size businesses that cannot generate capital on their own.
Getting a loan can help you with:
How do loans work? The funding can come from multiple sources, such as credit unions, banks, online lenders, and crowdfunding websites. Each lending institution provides multiple loan programs. Borrowers apply for a program that best accommodates their needs and are required to fulfill the lender's specific repayment terms.
Types of Small Business Loans
Depending on the purpose of the loan, you can apply for:
Startup loans—Meant for covering the costs of launching a business (e.g., insurance, incorporation fees, marketing campaign, etc.)
SBA loans—Financing provided by banks or non-profit lenders and mitigated by the Small Business Administration (SBA)
Term loans—One of the most common types of small business loans where you receive a lump sum and pay it back in monthly payments
Credit loans—Instead of a lump sum, you apply for a line of credit or a business credit card and gain regular access to the funds
Microloans—Loans of up to $50,000 provided by non-profit organizations
How To Qualify for a Small Business Loan
After you decide which type of loan is best suited for your business, you need to familiarize yourself with the lender's criteria. While the exact requirements depend on the loan provider, the overall qualifications include:
Good credit score—Both your personal and business credit history will become a subject of evaluation. Lenders tend to reject businesses with a poor business credit (e.g., under 700) since they appear less reliable
Viable income—You will need to provide financial sheets and bank statements, such as profit and loss statements, balance statements, and cash flow statements
Debt-to-income ratio (DTI)—DTI presents your ability to pay off past and future debts in percentages. If your DTI is above 36%, your chances of getting a loan are decreased
Business maturity—It is always more challenging to acquire funding for a new business. Pay close attention to the business age criteria of the prospect lender
Collateral—With some loan types, you are required to back the loan with collateral. It is mostly the case with asset-based loans, but it is a common requirement
DoNotPay's Small Business Loans Reviews
Based on the interest rates, repayment window, and overall terms and conditions, here are the top-rated small business loans programs:
Loan Program
Details
SBA loans
SBA loans are incredibly versatile. The agency offers a slew of different financial solutions, from startup loans and microloans to disaster aid programs.

The general terms are:

Loan amounts from $5,000 to $5,000,000
Repayment window of 10–25 years
Interest rates from 5.5%

Wells Fargo
If you are looking for the best bank loans for small businesses, Wells Fargo is a solid contender. Apart from being one of the most prolific SBA lenders, it also offers:

Three different lines of credit
Business credit cards
Equipment financing
Real estate loans

Rapid Finance
Rapid Finance is one of the top small business loan lenders when it comes to variety. They offer a wide range of financing options, from asset-based loans to lines of credit. Rapid Finance is also an active SBA lender.

You can expect the following terms:

Loan amounts from $5,000 to $1 million
Maximum loan term of 5 years
Monthly fee
Fast loan approval (within 24 hours)

Upstart small loans
If you only need a microloan to get you through a temporary issue (e.g., damaged equipment), Upstart is perfect for you. Here is a breakdown of the program details:

Minimum credit score requirement is 580
Minimum income requirement: $12,000
Repayment window of 3–5 years
Starting rates range from 0–8%
DoNotPay Helps With Your Loan Request and Increases the Chance of Getting Funds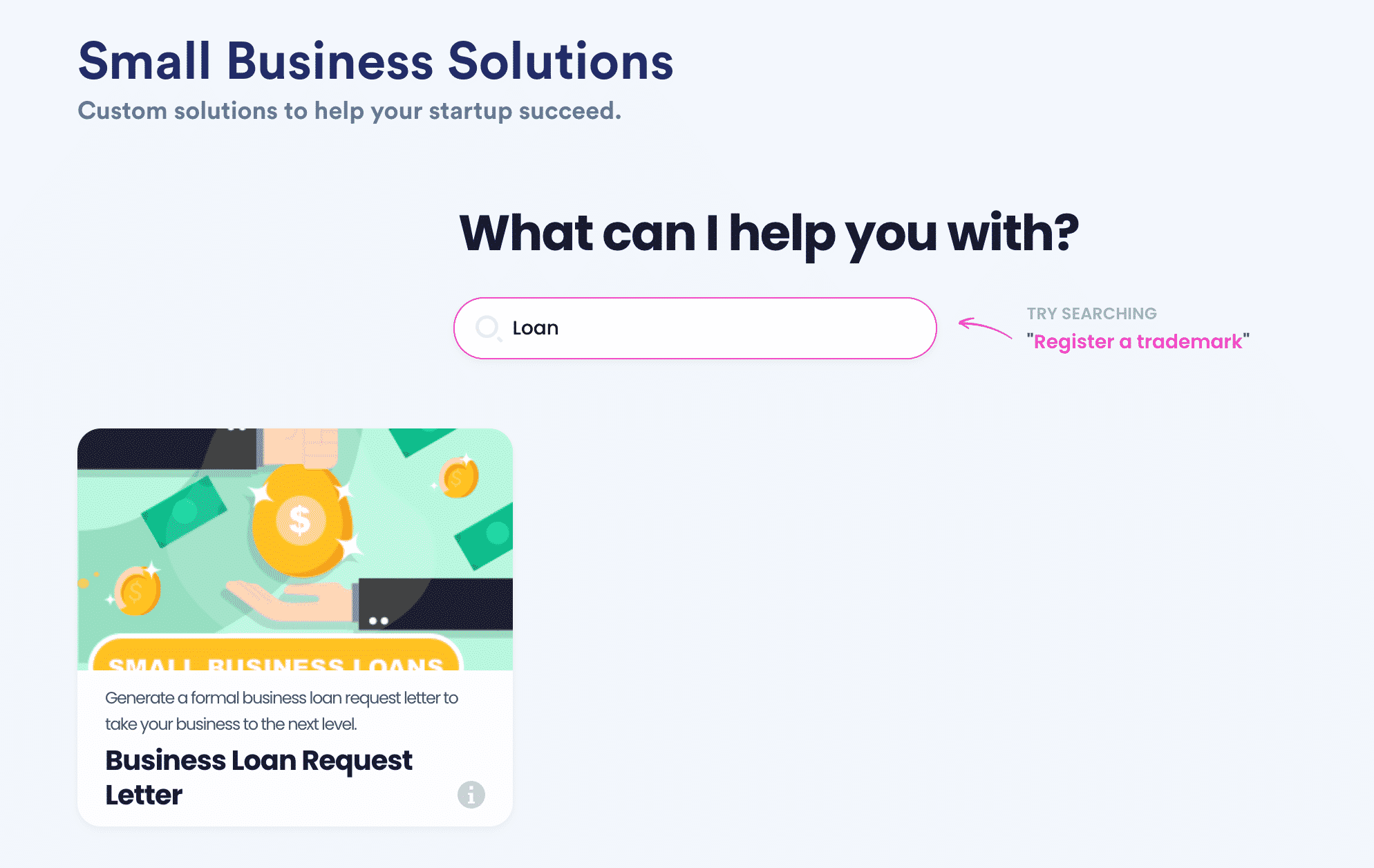 Finding the program with the best small business loan rates is difficult even without the extensive paperwork. Not only do you have to prepare the right financial and legal documentation, but you also need to compose a formal loan request letter and submit it to the loan provider. That's where DoNotPay can help!
Once you register for our AI-powered app, you gain access to our Small Business Loan Request Letter product. The streamlined service enables you to compose an impeccable loan request effortlessly. You only need to complete the following steps:
Gather your personal and business credit score
Prepare the necessary financial statements
Answer a series of questions about your business and provide details about your loan
Upload the documents
DoNotPay will generate your loan request letter and send it to your chosen lending institution or provider. If you are still in the process of finding a lender, we can help you with your search! Use our integrated Find Online Business Loan Lender tool, and DoNotPay will hand-pick the best small business loan provider for you!
Run Your Business Worry-Free!
Every beginning is challenging, which is why DoNotPay has everything you need to start running your business stress-free! We have created numerous easy-to-use products that will make boring administrative tasks easier to manage.
To help you get started, DoNotPay will assist you in taking care of trademark, Employer Identification Number (EIN), and DMCA agent registration, Privacy Shield self-certification, and business loan requests.
We can even help you maintain a good business reputation by:
Monitoring your trademark and filing a cease and desist letter in case someone tries to use it
Reporting fake negative reviews that could harm your business
Disputing illegitimate chargeback requests in a matter of minutes
DoNotPay Helps You Create and File a Number of Legal Documents
Why waste time worrying about how to draw up and file various legal documents when you can have the world's first robot lawyer do that in your stead? You do not have to waste thousands of dollars on lawyer's fees—our extensive database has a myriad of documents on offer.
DoNotPay will help you automate the procedure of completing and filing 83(b) election forms, write a formal demand letter requesting payment from clients who try to avoid it, and deal with other important paperwork.