What Are the Best Banks for Small Business Loans?
Do you need additional funds to get over a rough financial patch? In this article, we talk about some of the best banks for small business loans. We will elaborate on the different loan programs (e.g., interest rates, loan terms, and credit requirements) and explain how to qualify successfully.
Find out how to get started with the application process using DoNotPay and overcome the financial crisis!
What Is a Small Business Loan?
If you lack working capital for the upcoming quarter, you can apply for a small business loan. Financial aid is available for small to medium-sized businesses to keep the operations going when facing financial trouble.
Small business loans can cover:
What does the process look like? Borrowers typically choose the lender and loan program based on their immediate budgetary needs. You can get loans from multiple sources:
Regional and community banks offering small business loans
Credit unions, like Navy Federal
Online (crowdfunding, direct lenders, etc.)
Once you choose the lender, you must meet the preconditions for the desired loan type and gather the necessary paperwork.
Types of Loans You Can Get From a Bank
Some of the best loans you can apply for include:
Term loans—You ask for a lump sum and return it through fixed monthly payments over a designated period. The interest rates for term loans usually start at 6%, but it depends on the amount you borrowed and the chosen bank
SBA loans—The Small Business Administration (SBA) acquires funding for small businesses from various non-profit and government institutions. If a bank is listed as an SBA lender, you can apply for any SBA program you wish—from startup loans and microloans to disaster aid loans
Lines of credit—Line of credit loans function the same way personal credit lines do. You get access to a certain amount you can use via a business credit card until you reach the limit. The type of loan is perfect if you don't have an exact budget in mind
Real estate financing—The loans are meant for the construction, renovation, or purchase of new facilities. Real estate loans come with longer terms and a 10–20% down payment requirement
How To Qualify for a Small Business Loan From a Bank
Banks that offer small business loans typically ask for the following qualifications:
Good to above-average credit score (620+)
Developed business plan
Satisfactory business age
The right paperwork
Impeccable application letter
You will have to provide extensive documentation regarding your personal and professional affairs. If you fail to enclose a mandatory document, your loan request letter will be rejected. Before you apply, make sure you gather the following:
Credit reports
Account statements (personal and business)
Financial statements (e.g., balance statement, profit, and loss, cash flow, etc.)
Any current leases and licenses
Collateral (optional)
An ID
A resume
The Best Banks for Small Business Loans—An Overview
The table below contains brief overviews of the best banks for small business loans:
Bank
Loan Amount
Interest Rates
Minimal Credit Score
Loan Term
Additional Information
Bank of America
$10,000–$100,000 (lump sum or line of credit)
Start at 4.75%
670+
Dependent on the loan type

The minimum income requirement is $100,000
Required business age is two years

Wells Fargo
$5,000–$100,000
From 5% to 13%
Not specified
12–16 months

An SBA Preferred Lender
Only SBA loans are currently available

Chase Bank
$5,000–$500,000
Not stated
Not specified
From 12 months to seven years

Borrowers must have a business checking account
In-person application for a loan

U.S. Bank

$5,000–$250,000
Starting at 5.49%
Good to excellent personal credit score (650–800)
Seven to 25 years

The minimum business age is two years
SBA loans are available

Suntrust
$10,000–$50,000,000
Not stated
Good personal credit (600+) history
Up to 20 years

Required business age is two years
Offers SBA loans
Currently only available in Washington, DC, and ten U.S. states

Capitol One

$10,000+
Determined case by case
Good personal credit history (620+)
Up to five years in fixed monthly payments

SBA lender
Requires collateral
Borrowers need a business checking account to apply

TD Bank
$10,000–$1,000,000
Not stated
Good credit score (620+)
One to five years in fixed monthly payments

SBA loans available
Borrowers can submit an online application for loans under $100,000
DoNotPay—Secure a Loan for Your Small Business Easily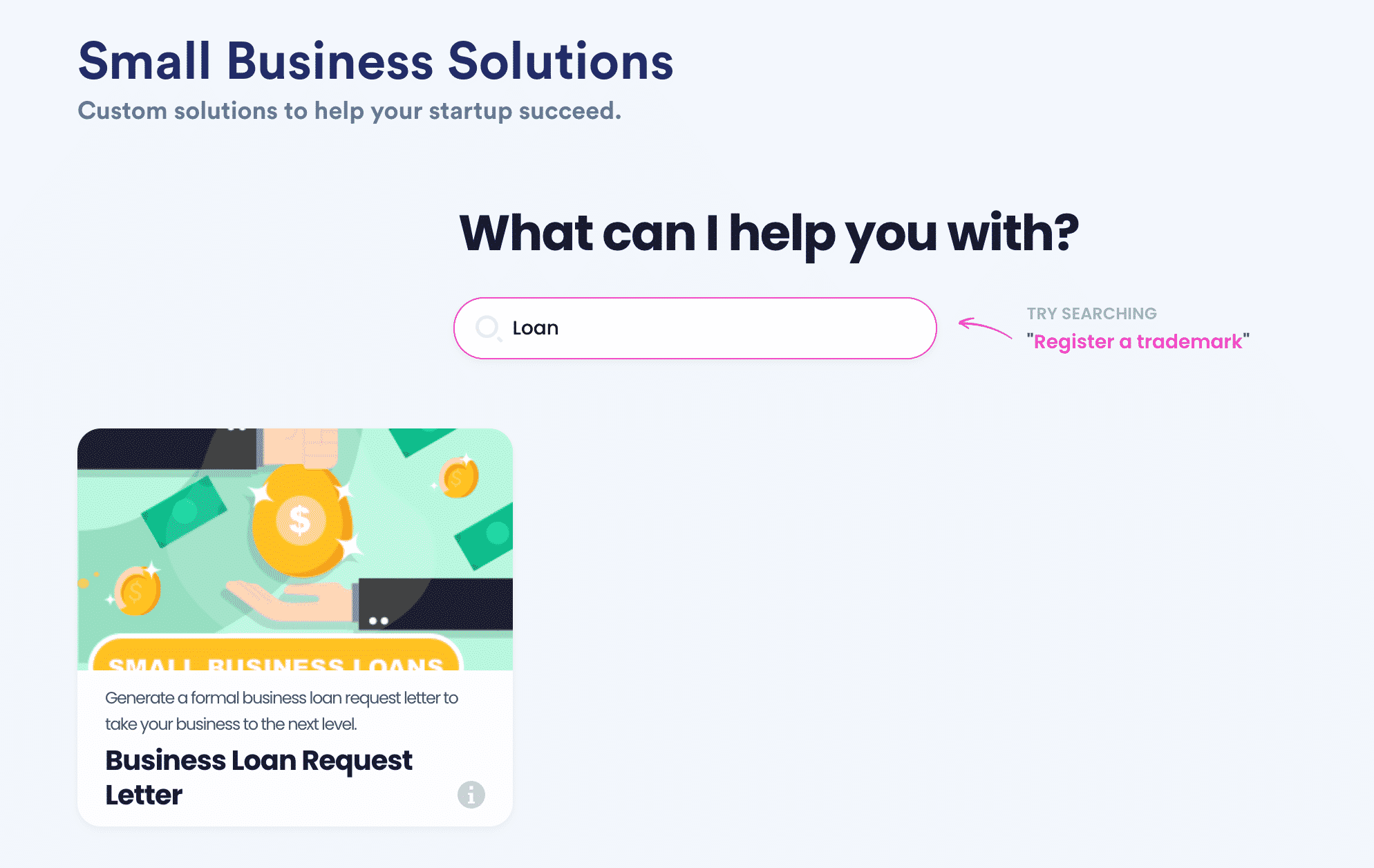 If you need help with the application process, look no further than DoNotPay! After you register for our app, you can have us generate a watertight loan application for you.
All you have to do is:
Gather all the paperwork
Access the Small Business Loan Request Letter product
Answer a few questions from our chatbot regarding loan details and your business
Upload the documents
DoNotPay will then generate your loan request letter and forward it to your chosen bank. We can put in your application to any of the best banks for small business loans with incredible speed!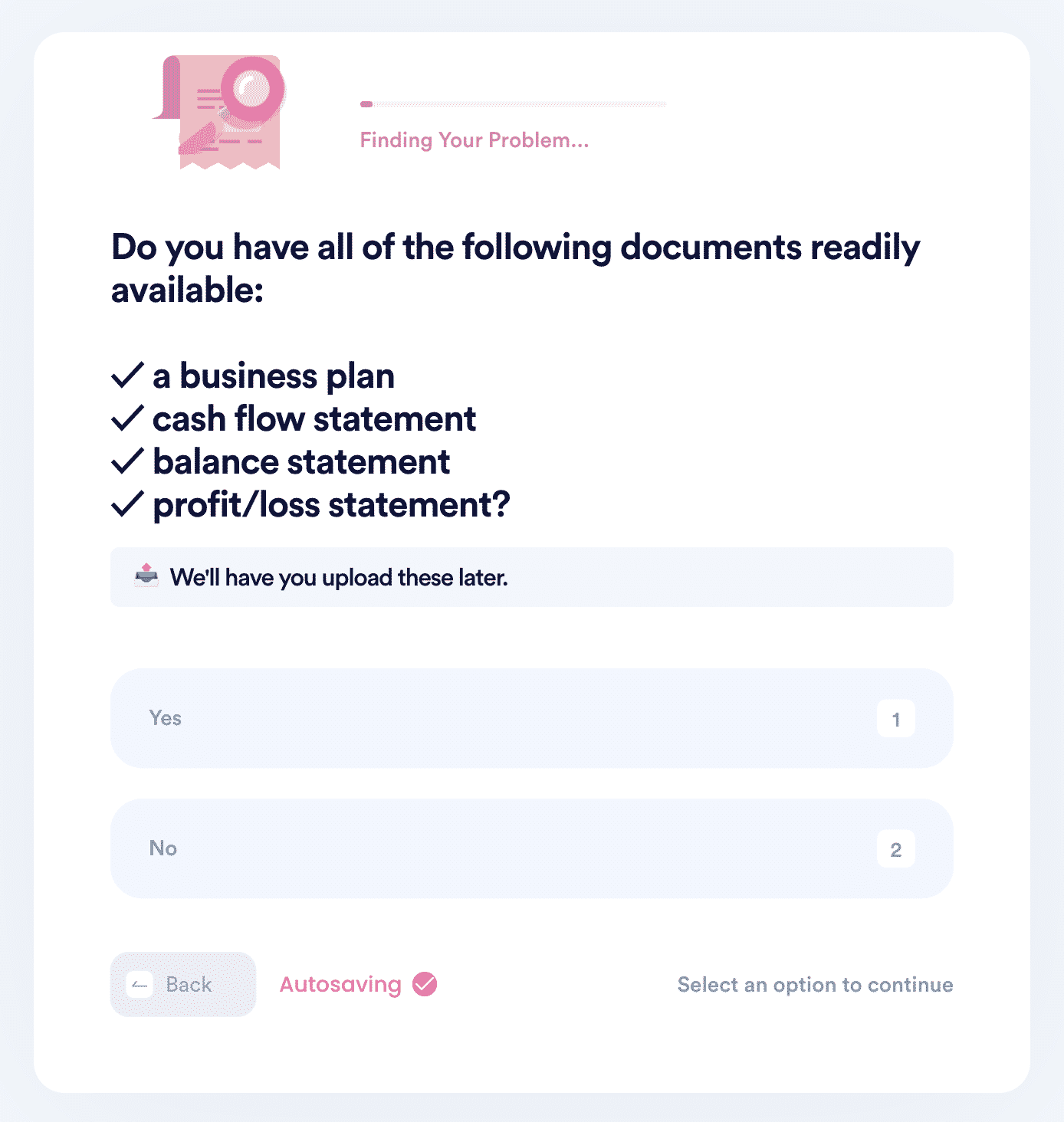 DoNotPay Can Find the Best Lender for Your Needs
DoNotPay will help you navigate the application process from start to finish!
If you aren't sure whether banks or other lenders offer better loan terms, input your requirements and details about your business in our app, and we'll find the best lenders for you!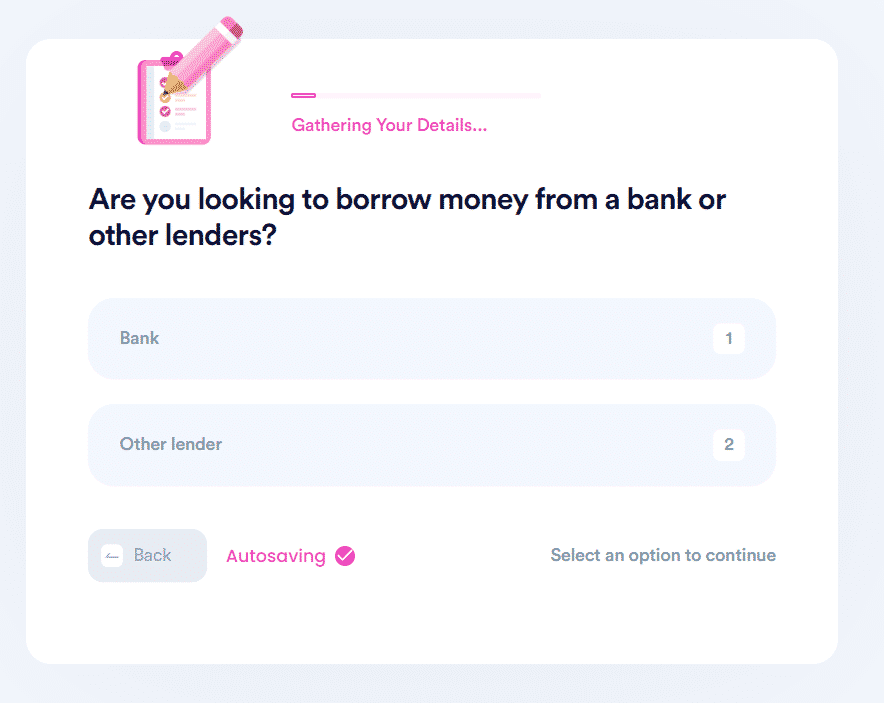 You can use our Find Online Business Loan Lender product to enlist DoNotPay's help in finding the most suitable loan for your needs. This tool is also integrated with our Business Loan Request Letter feature, which means that we can find you the lender, draft the loan request letter, and send it to the chosen lender in your stead! How much easier can it get?
Don't Let the Complex Procedures Stress You Out! Rely on DoNotPay and Run Your Business Like a Pro!
DoNotPay has created a plethora of simple-to-use features that will help you run your business the best way possible. Here are some aspects we can help you take care of:
Registrations
Legal Documents

Get an Employer Identification Number (EIN)
Register a DMCA agent to avoid copyright violations

Send a cease and desist demand if someone is using your trademark
Draw up a watertight letter requesting a loan for your business
Draft a demand letter to send to a client who refuses to pay you
Get a customized chargeback rebuttal letter and fight unfair chargeback requests hassle-free
What Else Does DoNotPay Have in Store for Your Business?
You can use our app to resolve many other business-related issues. DoNotPay can help you deal with fake reviews that are ruining the reputation of your business by analyzing the harmful review and figuring out the best way to go about it.
Do you wish to protect the privacy of your clients and prevent their data from being collected while they are on your website? Use our app to file a self-certification request with the Privacy Shield program.
If you need help automating the filing of 83(b) election forms, DoNotPay has the right solution for you and your employees or shareholders! With our app, you will be able to finish the entire process with a few clicks.
Another perk of using our app is that we can help you fax and mail any documents or letters without having to leave your home or office.
DoNotPay will help you handle all your business tasks in the blink of an eye!