What are the Benefits of Bankruptcies? 
If your financial hardship causes stress, anxiety, and possibly even physical ailments, it may make sense to consider filing for bankruptcy. The benefits of filing for bankruptcy sometimes get buried by the complexity and bureaucracy of filing, But, DoNotPay's product to help you file for bankruptcy takes much of the tedious guesswork out of the process.
What is Bankruptcy?
Bankruptcy represents a federal court process to assist those experiencing severe financial circumstances eliminating debt or paying it off under the protection of bankruptcy court. Most of the time, the individual or married couple who carry the debt file for bankruptcy voluntarily.
Events may occur such as health problems, unexpected job loss, or life-changing events such as death or premature death that put you in a position to consider filing for bankruptcy.
Two types of bankruptcy exist for individual or married couple filers:
| | |
| --- | --- |
| Chapter 7 Bankruptcy | Chapter 7 takes non-exempt assets and liquidates them into cash. Often, material goods get returned to the creditor unless the debtor arranges to reinvest more significant property you need for shelter and transportation such as a home or a vehicle. |
| Chapter 13 Bankruptcy | Chapter 13 represents a bankruptcy option for individuals with a steady income. Some of their debt may see a reduction or even total forgiveness, but the primary advantage of Chapter 13 involves keeping possession of your assets. Chapter 13 resembles a budgeting plan that the court approves. |
Benefits To Consider When Filing for Bankruptcy Under Chapter 7
Chapter 7 represents a good option for individuals without a steady income stream who may possess over-extended debt caused by medical bills or other problems. Advantages of filing for Chapter 7 include the following:
Although you may need to return possessions recently purchased on credit, filing Chapter 7 does absolve you of much of your credit card, medical debt, and other outstanding credit balances.
You're allowed to keep the following property when you file Chapter 7:

Equity in your home
The property you needed for your daily life, such as clothing, appliances, and furniture
One motor vehicle of reasonable value
The cash value of your insurance properties
Retirement plan
Social Security and Unemployment Benefits
Wages
Equipment used for your livelihood

Once filed, the Chapter 7 petition will activate the Automatic Stay, which keeps creditors from harassing you.
For some, Chapter 7 presents an opportunity for a fresh start.
Benefits of filing for bankruptcy under Chapter 13:
When filing for Chapter 13, you disperse 25% of your income to the court, which your trustee divides amongst your creditors. Most repayment plans under Chapter 13 last between three and five years. Some benefits of filing for Chapter 13 include the following:
You will receive the guidance and counsel of the court to help you formulate a plan to pay down your debt.
Some of your creditors may forgive a portion of your debt or significantly reduce the interest rate.
You keep your assets.
Chapter 13 represents a less harmful mark on your Credit Report.
You may make up late payments on your house or car.
You don't need to concern yourself about getting any cosigners on your loans involved in the process.
Chapter 13 makes it easier to work with tax debt.
You receive professional guidance through the courts to help you pay your creditors.
It's important to note that filing bankruptcy won't eliminate all your debt and responsibility. Debts such as student loans, fees and fines, court-ordered restitution, and child support and alimony payments represent just a few examples of what neither Chapter 7 nor Chapter 13 will cover.
Follow These Steps to File for Bankruptcy on Your Own
Filing for bankruptcy represents a tedious and challenging process. It's essential to research the differences between Chapter 7 and Chapter 13 and understand both the benefits and detriments filing may bring to your financial situation. The steps below represent a general outline of filing for bankruptcy:
Make an appointment with an approved credit counseling agency for advice and analysis within 180 days of filing.
Make sure to gather all the required documents relating to taxes, proof of income, real estate related documents, insurance policies, and retirement funds.
You or your attorney may file the petition and appropriate forms and documents with the Clerk of the United States Bankruptcy Court in your area if you file Chapter 7. If you file Chapter 13, your attorney or legal agency must file the petition.
Once filed, an Automatic Stay will go on your account, which prevents creditors from contacting or harassing you.
After filing the Chapter 7 petition, the court appoints a trustee who works with the creditors to recover the money owed. The trustee's pay depends on the amount of money recovered for the creditors. For Chapter 13, you must file a plan with 15 days that outline how to repay your debt.
In the case of Chapter 7, meetings are held with the trustee and the creditors to determine what assets will need to liquidate and what debts will qualify for discharge. Those filing Chapter 13 will release the payment to the trustee, who then disperses it to the creditors.
For Chapter 7 filers, you learn the final decision of what debt remains your responsibility and what debt was forgiven or discharged. Those filing Chapter 13 will find out if their plan met the court's approval.
Chapter 7 filers also must complete a course on personal finance.
Chapter 13 filers may decide to keep making payments on assets held as collateral if the court approves it.
Let DoNotPay Take the Stress and Guesswork Out of Filing for Bankruptcy
Needing to decide to file for bankruptcy already represents an incredibly stressful task. DoNotPay's product to help you through the filing for bankruptcy process eliminates much of the tedious work and frustration.
Why try to do it all on your own when DoNotPay helps you with the process by just following these steps:
1. Search for File for Bankruptcy on DoNotPay.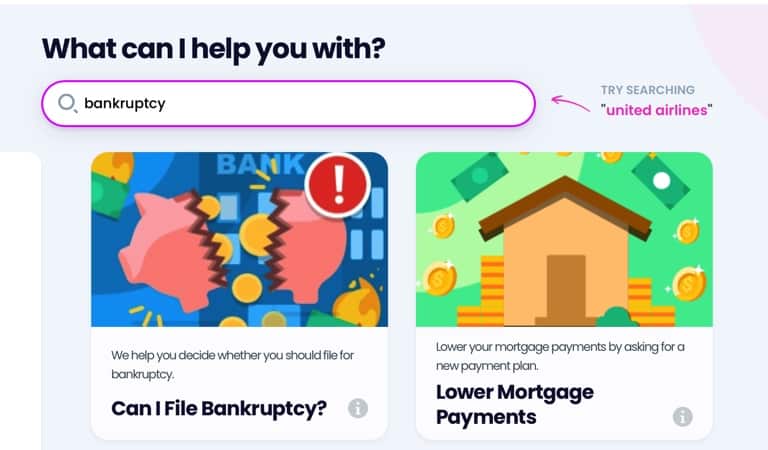 2. Put together a list of your debts, expenses, and assets. If you need help accessing information like your credit report, DoNotPay can help you get your report.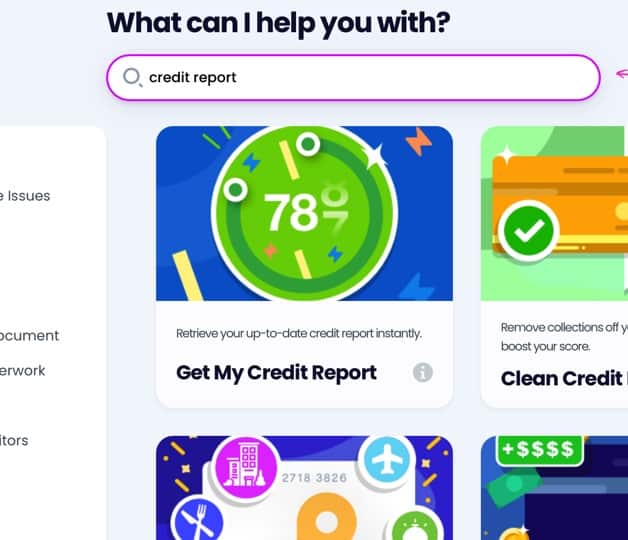 3. Let DoNotPay walk you through your bankruptcy options and help you determine whether a Chapter 7, Chapter 12, or Chapter 13 bankruptcy is right for you.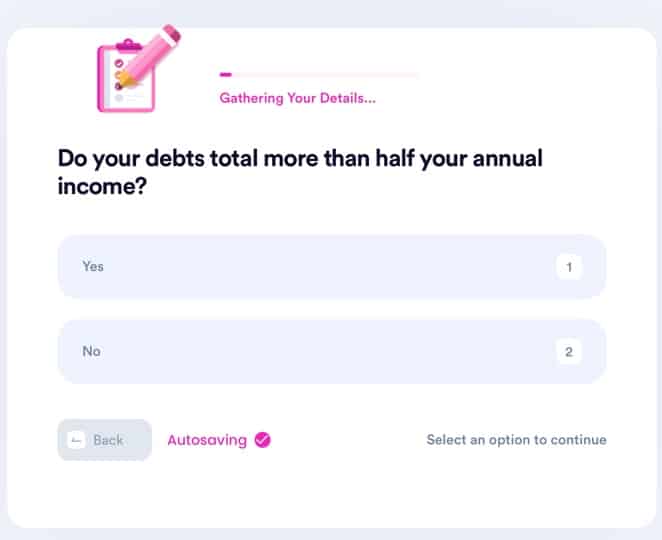 4. DoNotPay will then help find the best credit counseling course near you, which you need to complete before filing your bankruptcy forms.
5. Lastly, DoNotPay will gather all of the forms you need (including available fee waivers) and help you locate your nearest bankruptcy court. All that's required is to complete the required forms, prepare your filing fee, and file the application with your local court.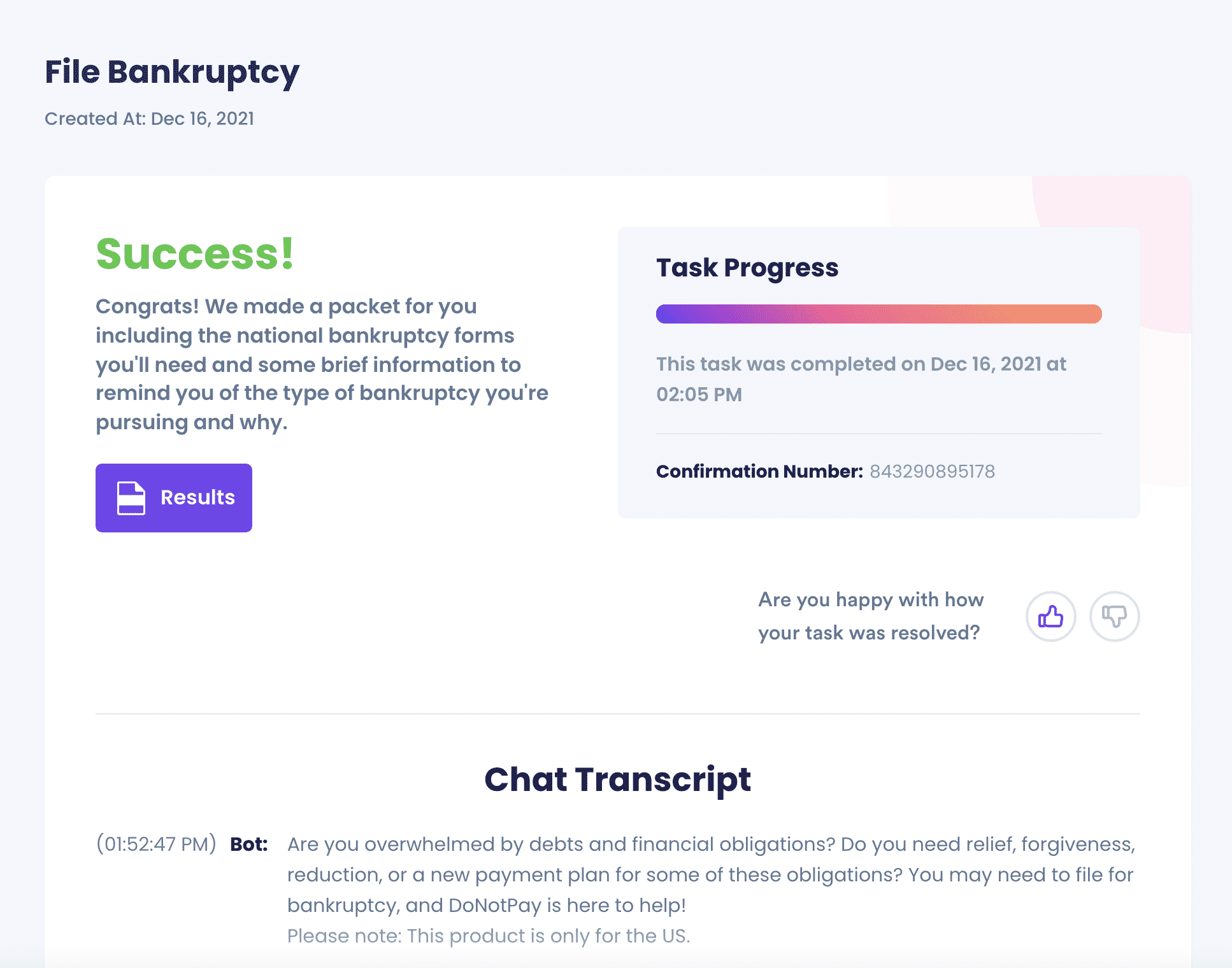 And that's it. Once done, the court will give you:
The bankruptcy case number
Your bankruptcy trustee's name
The location and date and time of your meeting with your trustee
At this point, you've completed the filing of your case. Congrats! The automatic stay will protect you from all debt collectors. Your trustee will then contact you for further financial documents you will need to provide. Make sure to attend your meeting and complete the post-filing bankruptcy debtor's course.
Consider These Three Reasons as to Why Using DoNotPay to File for Bankruptcy Makes the Most Sense
Fast—You will save hours of research and reading time.
Easy—You don't need to figure out the process or what forms you will need.
Successful—DoNotPay will use their legal expertise to work in your vest interest.
DoNotPay Will Help You With All Different Aspects of Bankruptcy and Related Problems:
Just follow the links below for more information and guidance:
What Other Problems Can DoNotPay Help You Resolve?
As the premier Artificial Intelligence Attorney, DoNotPay offers solutions to everyday management concerns and other legal problems. Check out just a few of the ways DoNotPay may help you:
Please visit DoNotPay's website here to find out more about their products and mission.