Bell County Property Tax Exemptions
Made Possible With DoNotPay's Help
Bell County is one of the oldest counties in Texas, suffering from the same high property tax rates as the rest of the state.
With the growing population, the rising cost of living, and increasing property values in Bell County, you need every opportunity you can find to reduce your annual property tax bill or get help paying your property taxes.
DoNotPay is here to assist you with all the facts and tailor-made advice so you can get the most out of Bell County property tax exemptions.
How Does Bell County Work Out Your Property Tax?
Your property tax bill is calculated by multiplying the applicable tax rate by your property's assessed value.
The State of Texas does not levy any central property tax, so it is left up to each county to fund its municipal services through property tax collection.
The result is that Texas has high property tax rates, with some counties charging over 2%. Bell County is not one of the highest, and you can expect to pay around 1.8%.
Property tax in Bell County is used to fund:
Schools

Roads

Fire departments

Public amenities
The Texas Constitution sets out strict guidelines for how property tax should be handled in each county, and this ensures that the system remains fair and equitable to all homeowners.
The two elements of your property tax are administered as follows:
Tax rate

Property appraisal
Tax Rate
No state property tax revenue is available to counties in Texas, so Bell County calculates the amount of money it needs to fund its local services and sets the tax rate accordingly.
The rate currently sits at 1.83%—well above the national average of 1.07%, but below the median for Texas—which does not figure on the list of states with low property tax.
Property Appraisal
Your property's value is appraised every year by county assessors, who take into account property prices for similar homes in your area. Bearing in mind that property prices in Bell County are increasing by around 4.3% per year but that the median income is growing by only 3.8%, the combination of a high property tax rate and rising property assessments could hit you harder each year.
What Are the Key Dates for Property Tax in Bell County?
Your property tax in Bell County is payable in one installment, and the key tax dates are:
| | |
| --- | --- |
| Date | Action |
| January 1 | Property appraisals begin |
| January 1–April 30 | Appraisals completed and exemption applications processed |
| April–May | County sends appraisal notices to homeowners |
| May–July | The county hears appraisal appeals |
| August–September | Local tax authorities adopt tax rates |
| October 1 | Local tax authorities send tax bills |
| January 31 (next year) | Tax payments are due |
| February 1 | Unpaid taxes are considered delinquent |
What Property Tax Exemptions Are Available in Bell County?
Even though your property tax bill is likely to be high in Bell County, there are several exemptions available to homeowners.
The exemptions are:
Residence homestead exemption

Senior citizens'

or

disabled persons'

exemption

Veterans' exemption

Solar and wind power exemption
Residence Homestead Exemption
A homestead is a property you own and live in as your primary residence, and Bell County offers an exemption of $25,000 off the assessed value of your home. In some cases, an additional exemption of 20% off the property's value may be offered.
Senior Citizens' or Disabled Persons' Exemption
Bell County homeowners aged 65 or over or disabled homeowners of any age can claim an additional $10,000 off their assessed property value. 
A disabled person has to meet the state criteria to receive a disabled person's allowance. If homeowners are both senior and disabled, they can apply for both exemptions.
Veterans' Exemption
Veterans disabled in the line of duty can qualify for a partial exemption on their property's assessed value, and the amount is dependent on their degree of disability. Their surviving unremarried spouse and minor children are also eligible for this exemption.
Solar and Wind Power Exemption
Texas is committed to developing renewable energy sources and offers an exemption equivalent to 100% of the installation cost of solar or wind-power systems. The exemption is renewable every year for ten years, with the exemption value decreasing by 10% each year.
Can DoNotPay Help You Claim a Property Tax Exemption in Bell County?
DoNotPay is your one-stop-shop for advice on reducing your property tax bill or getting help with paying your property tax.
We can offer you customized advice on what exemptions are viable for you. Your personalized property tax guide features two sections:
Property Tax Exemptions
Property Tax Appeals

What exemptions do you qualify for?

What documents do you need?

Where and how can you apply?

How can you deal with an assessor?

Where can you lodge an appeal?
How Do You Get Your Property Tax Guide From DoNotPay?
Your guide is easy to get by following these steps:
Look for the

Property Tax

feature

Type in some details about yourself and your property

Get your personalized guide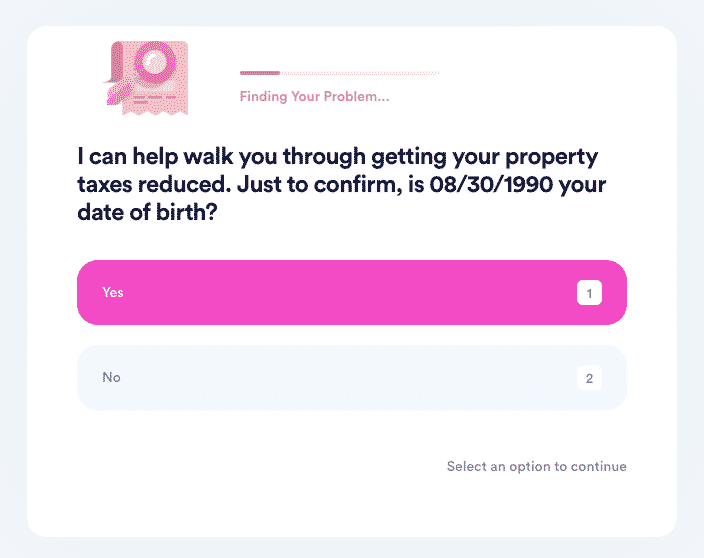 Can DoNotPay Help You Lodge an Appeal?
If all else fails and you still need to reduce your property tax bill, you can appeal your property assessment.
DoNotPay can help you understand:
What the appeals process entails

Which documents you need

Where you can lodge your appeal
Falling for Scams Is Less Likely With DoNotPay
Thanks to AI technology, DoNotPay is a great resource for protecting your privacy and finances from potential scammers. Our bots can help you report robocalls, keep your inbox clean from spam email and shady text messages, or even deal with stalking and harassment, if it comes to that. 
In case the issues escalate, skip the expensive lawyers and sue the offenders in small claims court with ease. 
Another great way to increase your online security is to use our virtual credit cards and sign up for any free trial without risking unwanted charges. You can even avoid sharing your contact info with our Burner Phone feature. 
The Solution to Your Driving Woes
DoNotPay provides invaluable help to future and current drivers. By helping you ace that driver's license test, scheduling a DMV appointment the easy way, or contesting parking tickets, our app saves you money and time. 
If you need to file a car warranty or an insurance claim, we will help you deal with the necessary paperwork within minutes. Trying to get out of a car wash membership? DoNotPay can cancel it in an instant. 
Our platform works above ground as well. You can use DoNotPay to secure refunds from airline companies or compensation for delayed and canceled flights.