Questions and Answers About the Belize Tourist Visa and Entry Requirements
Belize is a Caribbean paradise famous for its beautiful shores and dense jungles. While visiting this Central American country, you can:
Go snorkeling and scuba diving in Belize Barrier Reef
Explore jungles and Mayan ruins
Enjoy horse riding in open farmlands and spot wildlife
Tour Ambergris Caye Island to admire coastal villages and go bar-hopping
Escape typical downtown hustle and bustle on Caye Caulker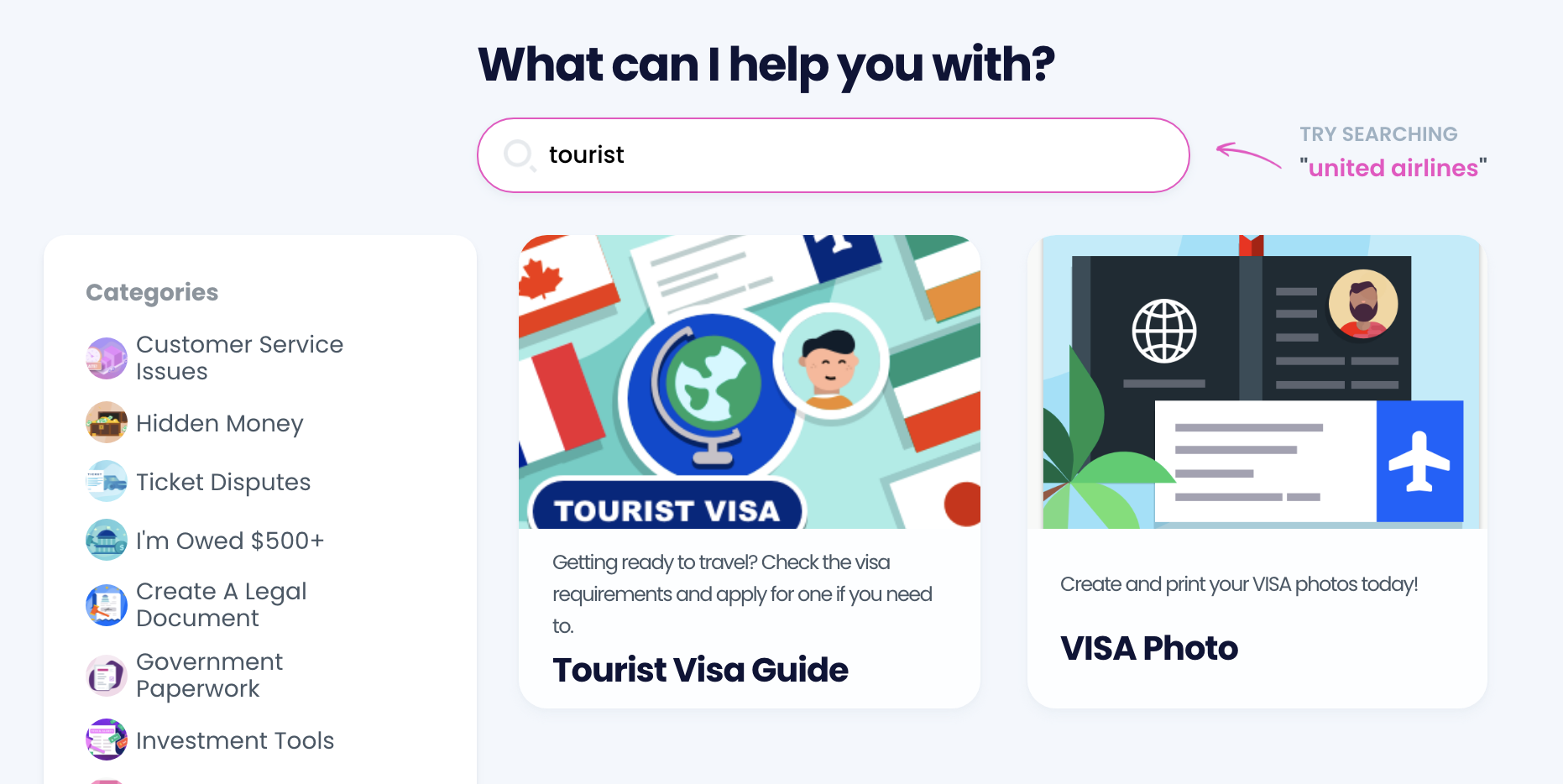 Before packing your swimsuits, diving equipment, and other gear, you must find out if you need a Belize tourist visa to enter the country. Subscribe to DoNotPay to learn what documents you should prepare in the blink of an eye.
Belize Tourist Visa—Do U.S. Citizens Need an Entry Permit?
Whether U.S. nationals need a Belize tourist visa depends on how long they intend to stay. Please refer to the table below for details:
| Duration of Your Trip | Is the Permit Required? |
| --- | --- |
| Up to 30 days | No |
| More than 30 days | Yes |
In case you need to stay over 30 days, request the extension permit at the Belize Immigration Office and specify the reason for a prolonged stay. The fee is 200 Belize dollars, which is approximately $100 per month. You can extend the duration of your trip up to six months.
While you don't need this travel permit for short-term stays, you must fulfill various requirements to enter Belize.
What Are the Belize Tourist Visa Requirements?
To enter Belize, U.S. nationals must have a valid passport and proof of intended departure. All visitors must pay a $40 exit fee, so check if your airline includes the cost in your ticket price.
You must also present proof that you have sufficient funds to sustain yourself for the trip's duration.
What Are Mandatory Passport Requirements?
When entering Belize, you must provide a U.S. passport valid for the duration of your trip. Ensure that you have one blank page for the entry stamp. Note that even a little stamp renders the page unusable.
What Proof of the Intended Departure Must I Provide?
If asked, you must provide proof of the intended return to the U.S. or the continuation of your trip to another country. Belizean officials could ask you for the details, such as:
Tour agent's itinerary
Date of a return or onward flight
Belize Minors Policy
Parents traveling with underage children must provide kids' birth certificates. If minors travel alone, they must carry their parents' or guardians' permission stating that they agree with their children's trip. The accepted documents are:
Notarized letters
Custody papers, if parents are divorced
Guardian's adoption paperwork
If both parents are deceased, children must present their death certificates.
What Is the Belizean COVID-19 Travel Policy?
Belize doesn't have any particular restrictive measures in place because of the ongoing COVID-19 pandemic, but you should check for updates before your trip because the policies are quick to change. You must prove that you aren't infected when you arrive at the entry checkpoint. You can do so by providing:
The official vaccination card for shots taken 14 days before arrival or earlier
Negative PCR test taken (not published) not later than 72 hours before your arrival
Serology test
In case you can't take a PCR test before the trip, the authorities will require you to take the test on-site. The price is 50 USD, and cash is the only available payment method. Children under five don't need to provide any documents regarding their health status.
Screening teams monitor travelers for any COVID-19 symptoms. Depending on the results, you may be randomly selected for additional checks. If you test positive, the authorities will send you to a quarantine center for the next 14 days. You also cannot take a flight back before the quarantine period expires.
Can I Use DoNotPay for Tourist Visa Applications?
DoNotPay can help you learn whether you need a tourist visa for any country you wish to visit. Finding accurate visa information online is demanding, so we conduct the research on your behalf.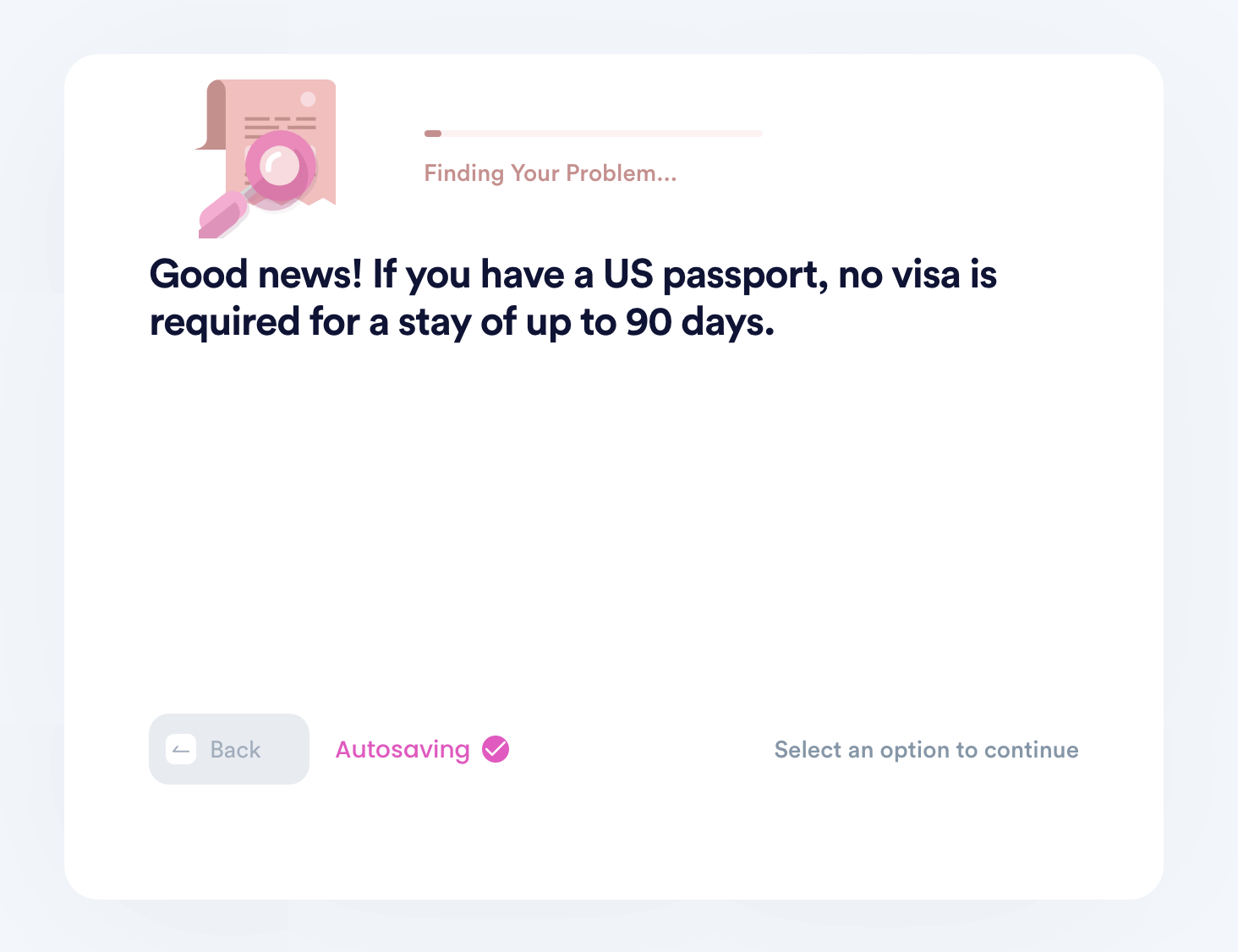 If you need a travel permit for your destination, DoNotPay will list the paperwork you must provide. In case you can apply for a visa online, we will send you the application link. If applying online isn't possible, we'll send you a PDF version of the form you can print and complete.
To benefit from our convenient service, you need to:
Sign in to DoNotPay and opt for Tourist Visa Guide
Confirm you hold a valid U.S. passport
Select your destination country
Is Belize Only a Starting Point?
If you are about to discover the wonders of Central America, check out our helpful guides to various countries in the region:
Save Time With DoNotPay
DoNotPay is not done helping you! We offer you assistance in completing a variety of tasks quickly and efficiently, such as:
Canceling Subscriptions Has Never Been Easier!
If you keep getting charged a monthly subscription fee even though you no longer want to use a certain service, don't let your money go to waste! Some companies tend to renew your subscription automatically, but that doesn't mean you have to put up with it—use our app to terminate your membership or subscription in a few clicks!
Do you want to sign up for free trials and create a virtual credit card or a burner phone number to protect your sensitive info? Once you subscribe to DoNotPay, we will walk you through the process of doing all of the above in no time!
You can also count on our assistance if you need to get rid of spam or robocalls.