What Everyone Should Know About Belgium Tourist Visa
Are you craving some mouth-watering chocolate and waffles or fresh craft beer? No better way to make your wishes come true than setting off to Belgium! While it's quite exciting to plan your trip and make a list of all the sights you want to see, administrative issues may cause some complications.
Our guide is here to make your Belgium tourist visa application a piece of cake by providing the essential info and speeding up the process as much as possible. We will also show you the quickest way to check if you have all the required documents by signing up for DoNotPay!
Do U.S. Citizens Need Tourist Visas for Belgium?
In general, U.S. citizens aren't required to get a tourist visa for Belgium. This country belongs to the Schengen area, which is famous for being visa-free. The only document you need is a valid passport that has been issued at least three months before the trip.
There are a few exceptions based on travelers' nationality and general situation. These refer to the internationals residing in the USA who:
Come from the countries that aren't under the visa-free regime—including U.S. green card holders/permanent residents
Come from countries that are under the visa-free regime but who were denied entry to the EU before
These persons must file an application for a Schengen visa. It's a short-term approval that allows specific travelers to stay in Belgium or any other country in the Schengen area as tourists for up to 90 days.
Belgium Tourist Visa Requirements in Brief
Here's what you should prepare to request a Schengen visa:
Completed Application for Schengen visa—It should be error-free, and you need two signed copies
U.S. residence permit—It's necessary for U.S. green card holders or permanent residents. This can be:

U.S. alien registration card (green card)
U.S. residence visa
Whichever document you submit, make sure it has been valid for at least three months before the departure

Valid passport containing two blank pages
Passport-like photo not older than three months
Cover letter stating your reasons for visiting Belgium, the amount of time you want to spend there, and other travel-related details
Proof of a booked flight
Proof of accommodation
Means of Subsistence—It's a document that confirms you have enough financial assets to support yourself during your trip, such as a bank statement or a letter of sponsorship
Europe Travel Health Insurance
Additional Documentation
There are some extra documents you may have to submit depending on your employment status. You will find more details in the table below:
Applicant Category
Documents
Underage children
Foreign students

Form I-20
Reference letter from the educational institution the person is attending

Employed candidates

Employment contract
Bank statement from the last six months
Leave permission
Income Tax Return (IRS) form

Self-employed candidates

Income Tax Return (IRS)
Company bank statement not older than six months
Copy of the business license

Unemployed candidates married to U.S. citizens

Marriage certificate
Spouse's passport
Spouse's Confirmation of Employment letter not older than three months

Retirees

Pension statement for the last six months
The rest of the required steps include:
Setting an appointment with the appropriate Schengen visa application center
Showing up for the arranged interview
Paying the required visa fees
Waiting for the decision to be made
Belgium Tourist Visa Fees
Visa application expenses may vary depending on the candidate's age, status, or travel purposes. Check out the applicable fee range in the following table:
Applicants That
Categories
Have to pay

Adults—$70
Children between six and twelve years of age—$41
Citizens of Georgia, Russia, Ukraine, or Kosovo who reside in the USA—$35

Don't have to pay

Children below the age of six
Family members of EU/EEA nationals
Students and teachers who need visas for school trips
What Is the Belgium Tourist Visa Processing Time?
The embassy should inform you about the outcome of your visa application within ten to fifteen business days. During the peak season, this time frame may be slightly extended to 30 days or sometimes even more.
Let DoNotPay Help You With Your Tourist Visa Application
Coming across too much information related to your visa application? No worries—DoNotPay can help!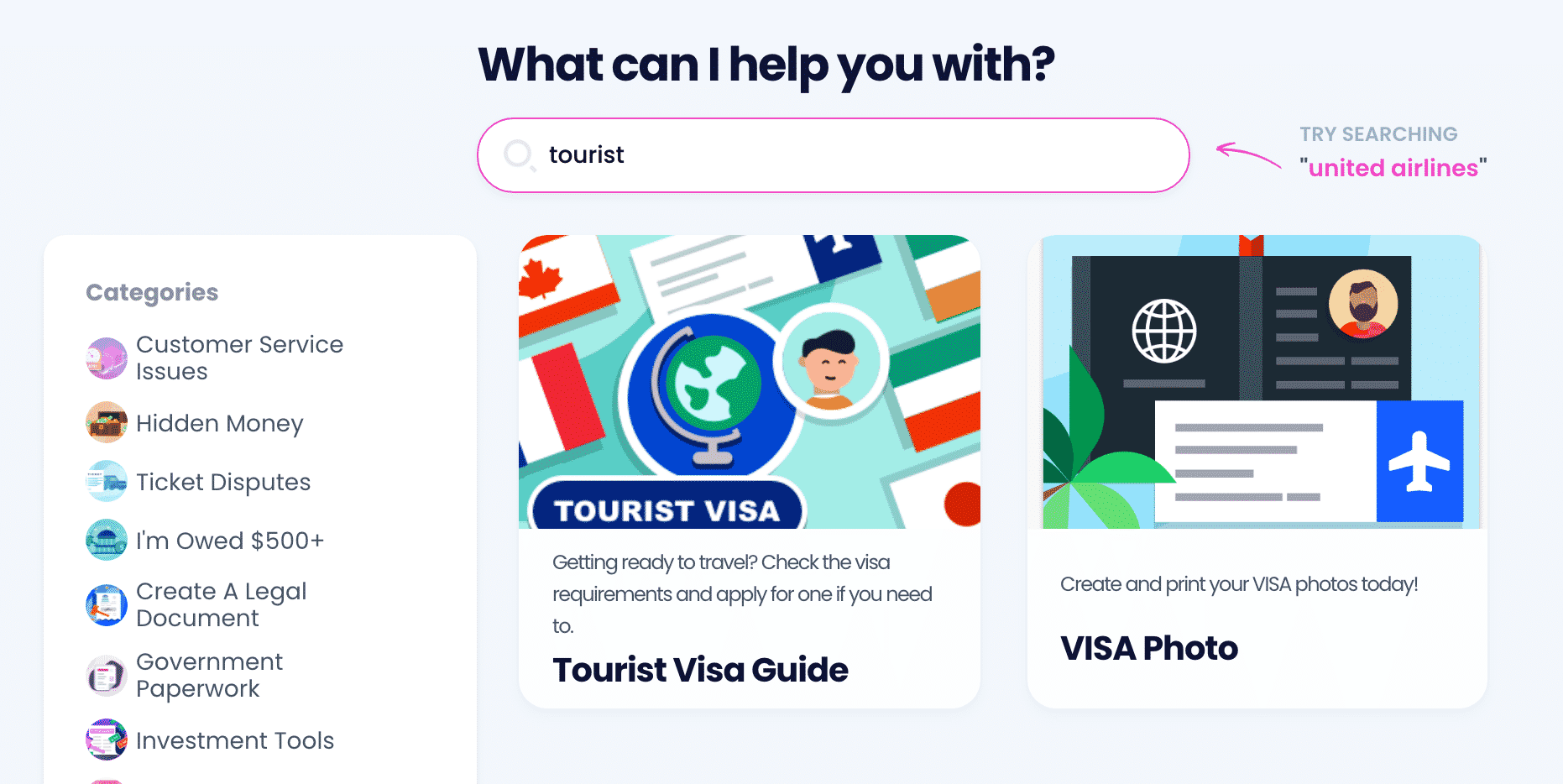 Here's what our app can do for you:
Check whether the country you want to travel to requires tourist visas
List all the paperwork you must gather to file a valid application
Get in touch with the embassy to examine the possibility of email applications if you need a visa
Direct you to the application form—online or in PDF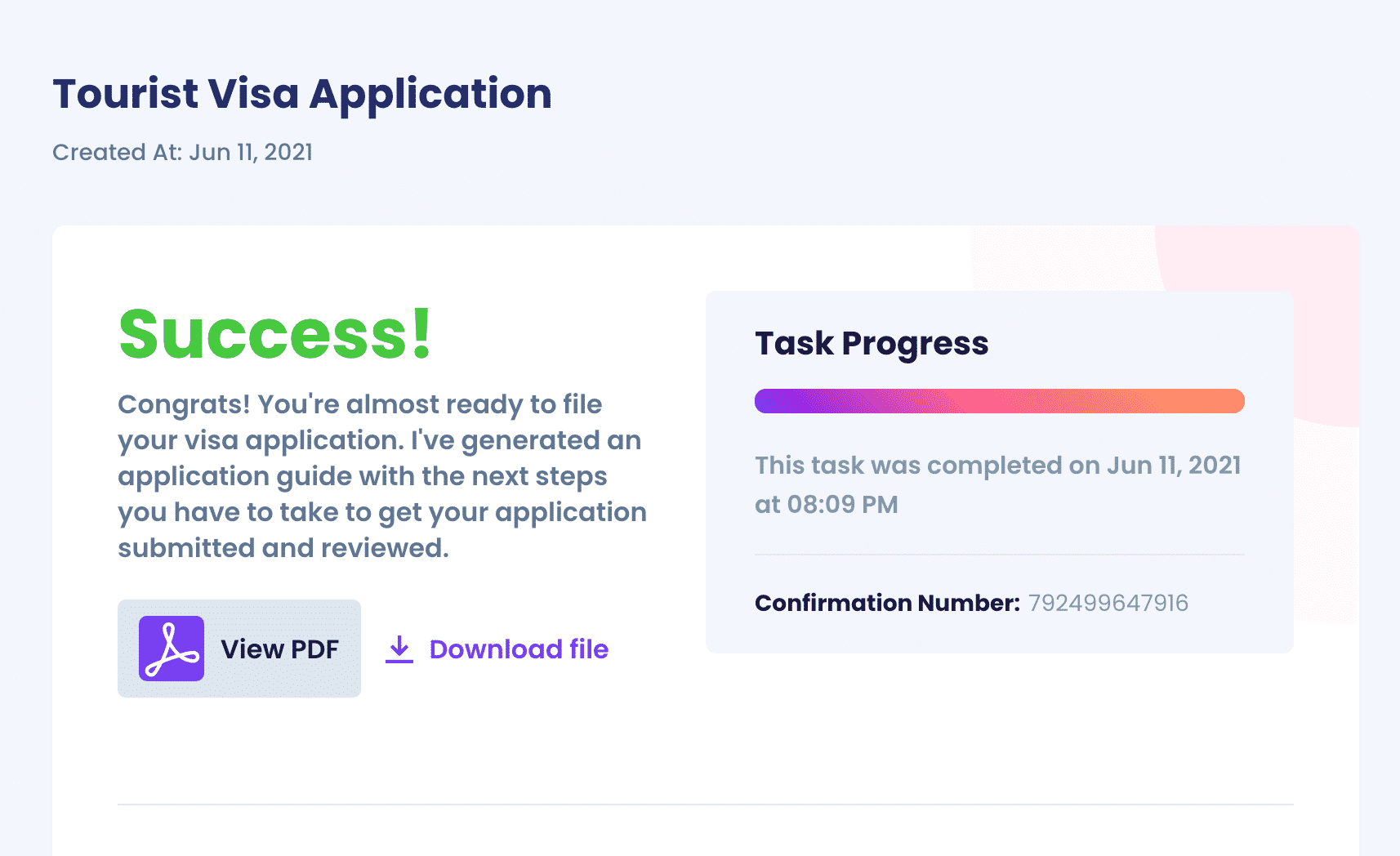 All you have to do is follow the prompts below:
Find the Tourist Visa Guide product
Verify that you have a valid U.S. passport
Tell us where you want to travel
Discover More Tourist Visa Guides for European Countries
Our learning base boasts many useful guides to the visa application procedures for various countries all around the world! If you are interested in visiting other European countries, check out our articles explaining how tourist visas work in:
DoNotPay Crosses All Your Tasks Off Your List
Whether you need help with preparing for government tests, online faxing, or getting your documents notarized—DoNotPay will be able to help! Whatever problem you're facing, we'll turn it into a breeze!
Sign up now if you want an easy solution to stop email spam, cancel unneeded subscriptions, schedule DMV appointments, and draw up agreements from the comfort of your home.
We can also help you reduce property taxes, pay bills, appeal parking tickets, and find any unclaimed money.
Improve Your Quality of Life With DoNotPay
The beauty of our platform is that besides bureaucratic issues, it can also assist you with numerous other struggles! To name a few, we can help you:
The list could go on for days!