Do U.S. Citizens Need a Belarus Tourist Visa To Enter the Country?
While Belarus is famous for its sweets, dealing with visa paperwork could leave a bitter taste in your mouth. If you'd like to visit this country, you should check out the Belarus tourist visa requirements first.
DoNotPay is here to help you with our Tourist Visa Guide product. It is an effective tool that puts your mind at ease when traveling to any country.
Sign up for our service to find out everything about Belarus tourist visas and see how we can help you travel stress-free!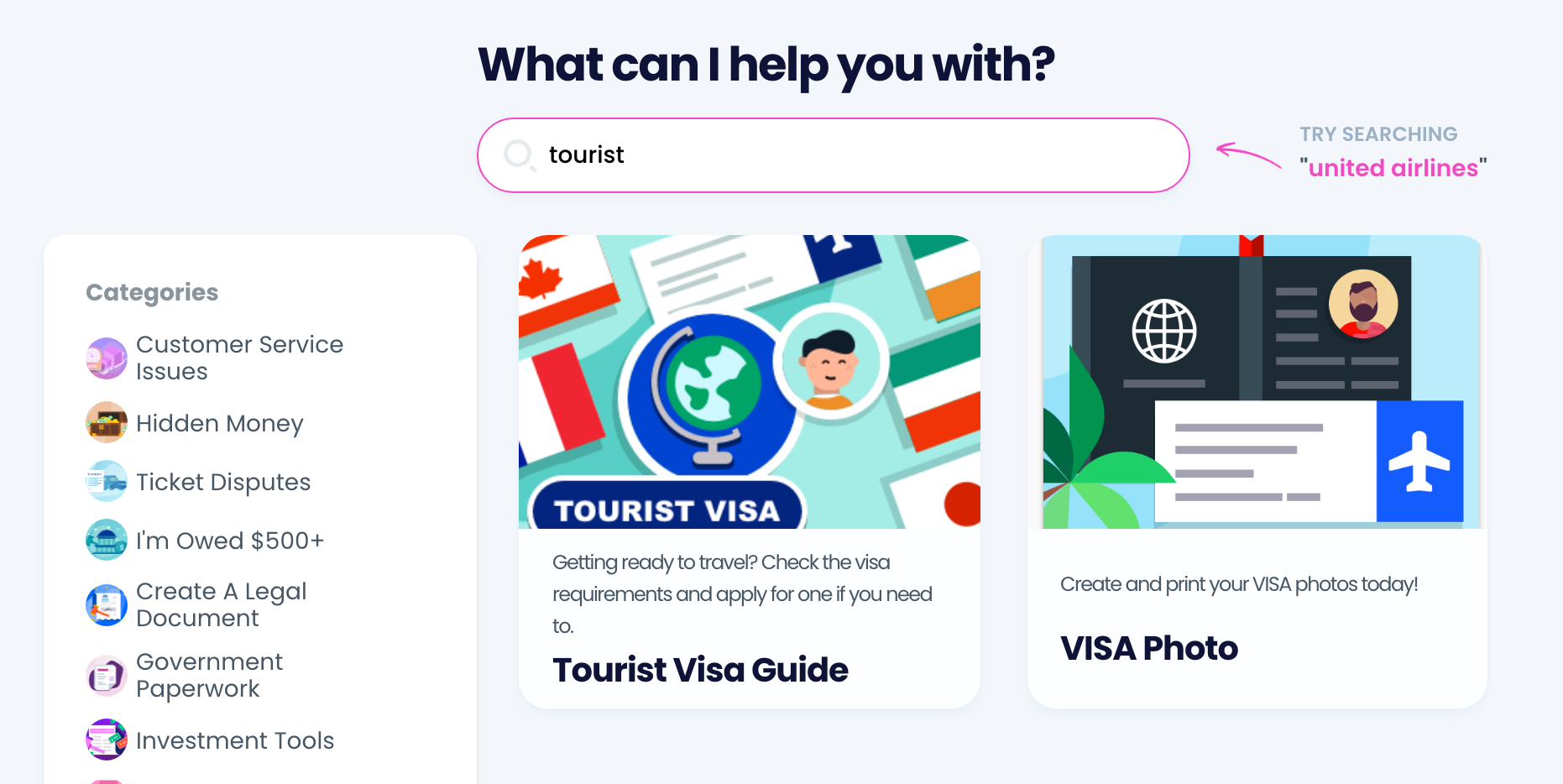 Do U.S. Passport Holders Need Tourist Visas for Staying in Belarus?
Americans enjoy travel benefits when visiting a plethora of countries, including Belarus.
You do not need a Belarus tourist visa if you:
Have a U.S. passport that remains valid three months after leaving Belarus
Plan on staying in the country for up to 30 days
Enter Belarus through the Minsk International Airport
Arrive and depart from any country other than the Russian Federation
Prove that you have enough funds for your stay (25€ a day) in the form of cash, traveler's checks, or credit cards
Register your stay with the local migrations office if you're staying in the country for more than five business days
Prove that you are insured for over 10,000€ for the duration of your stay
Overstaying in Belarus without a permit may result in:
Deportation
A prohibition from entering the country
A fine of up to 550€
Note that U.S. citizens holding an official or diplomatic passport are not exempt from needing a visa—they're required to have a diplomatic visa to enter Belarus.
Other Requirements You Should Be Aware of When Visiting Belarus
If you're staying in Belarus for longer than five days, you have to abide by certain registration rules and respect various COVID-19 measures:
Foreigner Registration Rules
COVID-19 Measures

You must register with the local office of the Belarus Citizenship and Migration Department of the Ministry of Interior within ten days of entering the country
If you stay in a hotel, you don't have to worry because the hotel staff will handle your registration
Should you change accommodation during your stay, you need to re-register each time

You must present a negative COVID-19 PCR test taken no earlier than 72 hours before entering the country
Wearing a face mask in all closed spaces is mandatory
You're not required to be in quarantine at the moment
For more information about the coronavirus measures, contact your airline ahead of departure.
Recommendations for Those Who Are Traveling to Belarus for the First Time
The best time to visit Belarus is during the summer (in July or August) when the temperature is around 70°F. The winters are harsh, so avoid traveling to Belarus then.
Some of the best activities for first-time travelers are:
Exploring museums—The must-see museums in Belarus include the Belarusian State Art Museum, the Stalin Line Museum, and the Dudutki Ethnological Museum Complex
Kayaking—This activity is available at Isloch, Saryanka, and Stracha rivers that are close to Minsk, but note that kayaking there is not recommended for the inexperienced
Visiting the historic castles and fortresses—Mir Castle, Brest Fortress, Nesvizh Castle, Hrodna's Old Castle all used to be inhabited by royalty from Lithuania and Poland and have well-preserved architecture
Exploring the Pripyatsky National Park—Also known as the Lungs of Europe, the park is perfect for boat tours, hiking, and fishing
Visiting Grodno—This city has various attractions, including a fantastic Archeology Museum, a historic castle, and the Kalozha Church (which dates back to the 12th century)
DoNotPay Has Guides to Tourist Visas for Other European Countries
Traveling to Belarus is a treat, but you might want to see the wonders of Russia, Ukraine, Poland, and other neighboring countries. With DoNotPay's help, you won't have to spend ages researching visa requirements, and you can focus on the fun parts of your Euro trip instead.
Refer to the table below for visa guides on specific destinations:
You Don't Need To Do Visa Research on Your Own! DoNotPay Is the Visa Assistant You Were Looking For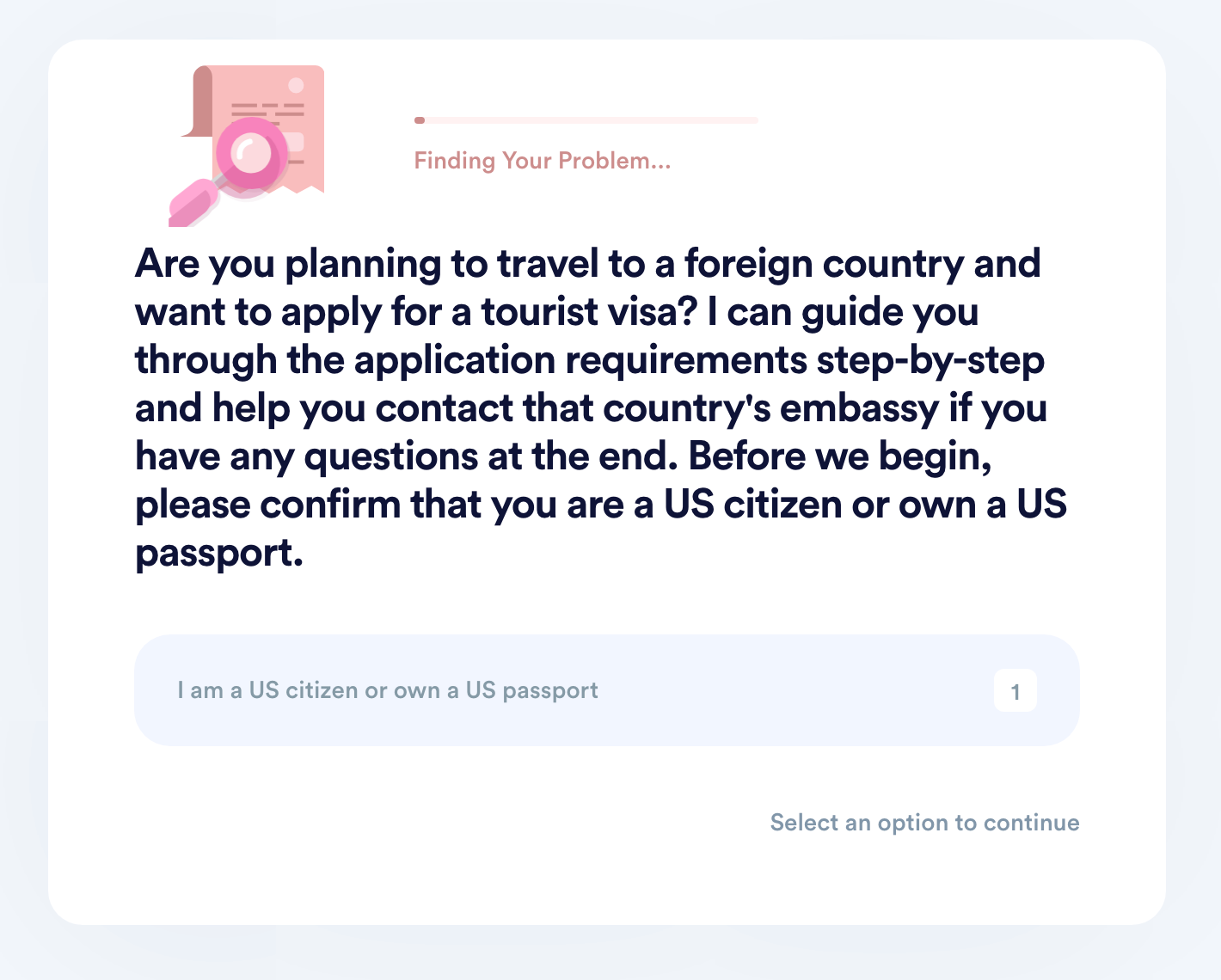 Getting your hands on a visa is a challenging, multi-step process that takes effort and hours of research. DoNotPay trims down the process effectively by checking whether you need a visa for your destination in the first place. If that's the case, we help you further by:
Contacting the designated embassy for you
Getting you first-hand information on the visa application process
Providing a visa application link if the country has an online visa portal
Preparing a PDF file with instructions on the visa application
Our assistance is only four steps away if you follow the prompts:
Select the Tourist Visa Guide feature
Enter your U.S. passport info
Choose a destination country
We'll get back to you with answers within minutes!
DoNotPay's Features Are Here To Make Your Life Easier
To simplify confusing bureaucratic procedures, we developed a number of features you may find super useful. Sign up for our app and let us assist you in:
DoNotPay Doesn't Stop There!
Assisting you with bureaucratic tasks is only a fragment of what DoNotPay can do—we have a lot more nifty features to offer! We can show you how to:
Struggling to draw up a financial aid appeal letter, an HR complaint, or a child travel consent form? DoNotPay is here to do it in minutes!