Find a First-Rate
Behavior Contract Template
Every class has a student that acts out and has trouble following instructions. When a child requires a bit more discipline and extra incentive to change their conduct, a behavior contract can help. You can create it yourself or find a reliable behavior contract template.
If you need tips on what a behavior contract should include and where to find a contract template, look no further. DoNotPay can help you find a top-notch behavior contract form within minutes!
What Is a Behavior Contract?
A behavior contract is an agreement between a student, a teacher, and usually a child's parent. It outlines the expected behavior and rewards and disciplines accordingly. 
You should implement a behavior contract when a child:
Is disorganized

Exhibits continual behavioral problems

Fails to complete his or her daily school obligations, such as schoolwork, homework, or respectful interaction with classmates

Shows constant emotional difficulties, including anxiety and temper tantrums 

Displays rebellious behavior 
How To Implement a Behavior Contract?
The crucial point of creating a behavior contract is inspiring a student to act by it. That means you have to follow a specific procedure to ensure it will be well-received. Here are the steps you should take to induce positive change:
Steps for Implementing a Behavior Contract

Description

Customize the contract 

Determine which aspects of the child's behavior have to be addressed and make a plan for change. Whether you are creating or using a behavior contract template, you need to customize it to the particular situation and child's personality and preferences 

Organize a meeting

Hold a meeting with a school counselor and the parents. Focus on one or two behavioral patterns the child should change. Emphasize that all the participants are there with the same goal

—

to help the child

Indicate the consequences

Define the tracking method for monitoring the progress and determine consequences of not following the agreement

Arrange a follow-up meeting

Schedule a follow-up meeting in a few weeks with the involved participants to discuss the progress

Be consistent and patient

Make sure to stick to the terms of the agreement and stay consistent when enforcing the rules. Some children need more time to demonstrate behavioral changes, so be patient and trust the system
What Should a
Sample Behavior Contract
Include?
Before choosing a behavior contract template, you must know what a comprehensive behavior contract should include. Take a look at its most important sections:
A list of student's reactions to be increased or reduced

—

Try to set a positive tone when indicating behavioral goals. The desired or undesired behavior should be described in sufficient detail to prevent any potential disagreements

An introductory clause/basic requirements

—A statement or a section that explains the basic expectation for earning a reward

Bonus and penalty clauses

—Even if they are not mandatory, these clauses may provide an extra incentive for respecting the terms of the agreement

Areas for signature

—All participants—including the student, teacher, and parents—need to sign the document to show their commitment to the contract
Is There a
Behavior Contract Template for Adults
?
While behavior contracts are common in schools and hospitals, companies can use them as well. Every business sets an implied behavioral standard, but some managers choose to document it. Behavioral contracts in the business environment exist to:
Address the negative behavior in the office, such as aggressiveness and violent outbursts

Lay out the positive behavior the company would like to see in its employees, including ambition and adaptability
A behavioral contract template for adults usually includes:
A company's statement that includes reasons for creating the contract

Standards of behavior towards customers, such as being patient, respectful, and efficient

General behavior requirements, including honesty, diligence, and willingness to accept constructive criticism

Involved parties' signatures and the date
Where To Find a Behavior Contract Template?
Behavior contract templates are available and easily accessible online. If you type in "behavior contract template" in your browser, you can choose from a myriad of free contract forms. Before downloading any of them, make sure to:
Find the one that meets your requirements 

Check if the chosen template has the necessary sections

Customize it according to the situation
Create Various Documents With DoNotPay
Creating legal documents can be tricky. They usually require legal expertise because any mistake can cause serious repercussions. Luckily, you don't have to write a contract yourself or overpay for professional assistance. DoNotPay can generate a range of business, real estate, and other contracts for you!
Our Standardized Legal Documents feature will:
Create a contract of your choice in minutes

Use the information you provide to personalize the agreement

Save your time, money, and nerves

Enable you to create an unlimited number of contracts for a modest monthly price
and choose any of the following legal documents:
Intent to purchase real estate

Quitclaim deed

Estoppel certificate

General affidavit

Promissory note

Residential

lease agreement

General business agreement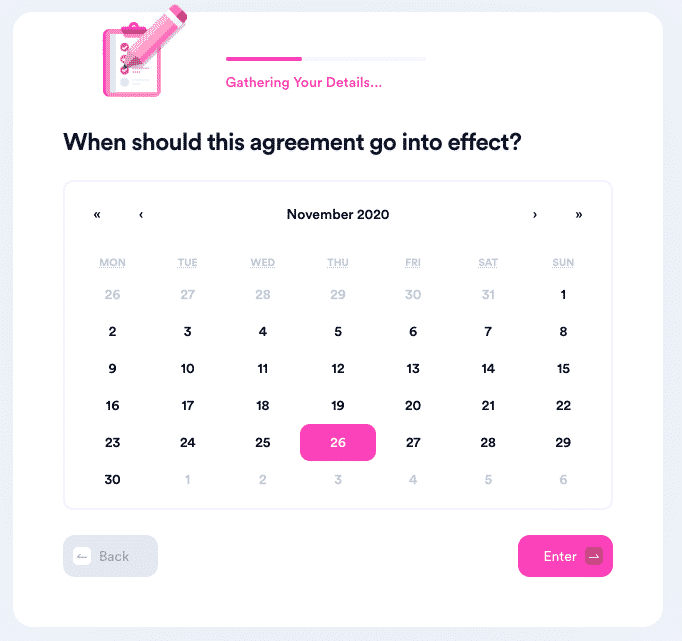 How Can I Create a Contract With DoNotPay
Getting your tailor-made contract with DoNotPay is simple. You need to:
in a web browser

Find the document you want to create

Answer our chatbot's questions

Download or print your document if you need a physical copy
Forget About Bureaucracy With DoNotPay
There's no end to what our app can help you do. From drafting legal documents and asking for bill extensions and reducing property taxes to connecting with an inmate in a federal prison and contesting parking citations, DoNotPay can handle it all and cut through the red tape.
Need to pass a government test? Use our practice tests database to nail it. Looking to file an insurance claim? You've come to the right place. College applications drained your accounts? Request college fee waivers with our assistance.
The DoNotPay app is so versatile that it can easily locate any unclaimed funds under your name or any clinical trials that you're eligible to participate in. We can also schedule DMV appointments and take care of your small claims court documents.
Check Out What Else DoNotPay Has in Store
DoNotPay never stops upping the game. You can explore some of our latest features and see how you can access public records, receive free online fax, submit a warranty claim, or get compensation if you were a victim of a crime.
Alternatively, check out some of our most popular products that aim to reclaim your funds—from getting airline flight compensation and submitting refund and chargeback claims to canceling your unused subscriptions and getting class action cash from email, text, and robocall scammers.