Learn the Ins and Outs of Beauty School Scholarships
The increased focus on aesthetics has created a higher demand for cosmetologists and beauticians. Having a certificate or a degree from an accredited program has become a common job requirement, so more people attend beauty schools for hands-on training.
What can present an obstacle on your path to education is the cost, which, on average, ranges from $3,000 to $10,000—depending on the school, program, and location.
If you want to perfect your beauty and cosmetology skills, use the opportunity to finance your education with beauty school scholarships. Getting financial aid can cut down your expenses significantly or reduce them down to zero.
Find all you need to know to discover and apply for financial help in our guide.
Top Beauty and Cosmetology School Scholarships
Depending on the type of school you wish to attend and the niche you are interested in, you can look into the following scholarships categories:
Beauty schools scholarships
Cosmetologists scholarships
Barber school scholarships
Esthetician scholarship
Hair school scholarships
Makeup school scholarships
Other scholarships
Scholarships for Beauty Schools
Beauty schools are technical schools that prepare students for providing hair and skincare services. If you enroll in such a program, the focus will be on gaining skills through hands-on training. You will get a certificate or a diploma once you finish your courses.
If you want to attend a beauty school, you can consider the following notable scholarships:
Beauty Changes Lives Scholarships
Empire National Educator Scholarship.
Beauty & Wellness Professionals Scholarship
Scholarships for Cosmetologists
Cosmetology schools offer a more advanced education with full-length courses covering hair, makeup, nails, and skincare topics. Students are also often taught about marketing and business so they can open their own salons once they complete the courses.
If you want to become a cosmetologist, look into these financial aid programs:
Beauty Schools Directory $2,500 Cosmetology Scholarship
Rosy Salon Software Cosmetology Scholarship
The Joe Francis Haircare Scholarship Foundation
Scholarships for Esthetician School
Is your goal to go to a school for estheticians? Here are a few scholarships that will help you achieve it:
European Wax Center & Beauty Changes Lives
Health and Beauty Esthetics Scholarship
National Coalition of Estheticians Association (NCEA) Scholarship
Barber School Scholarships
Some of the best scholarships open for barber students are:
Alice Madden Barton Scholarship Program
Joe Francis Haircare Scholarship Foundation
Keller Cosmetology Scholarship
Hair School Scholarships
Students who want to attend a beauty or cosmetology school with a focus on hairstyling can be eligible for different aid programs, such as:
The Joe Francis Haircare Scholarship Foundation
Oregon Barbers and Hairdressers Grant Program
Great Clips Great Scholarship Program
Makeup School Scholarships
Do you wish to attend a school that will allow you to pursue a career as a makeup artist? In that case, these scholarships can help you pay for your education:
Ve Neill Legends of Makeup Scholarship
Dick Smith Legends of Makeup Scholarship
Minerva Beauty Scholarship
Other Scholarships
You should look beyond scholarships for future cosmetologists and beauticians. There are numerous unique categories you might fall under—including:
Where To Look for Cosmetology Scholarships and Grants
Where can you find all the scholarship programs you can apply for? The information is scattered all around, so you need to make an effort to collect it. You can start with:
Contacting beauty associations in your state
Checking with the school you plan to attend if they have any aid opportunities
Performing an internet search
Are you looking for the easiest way of surfacing all scholarships you qualify for? Create a DoNotPay account, and we'll handle the research. In a few minutes, you can get a tailored list of grants and scholarships based on your requirements.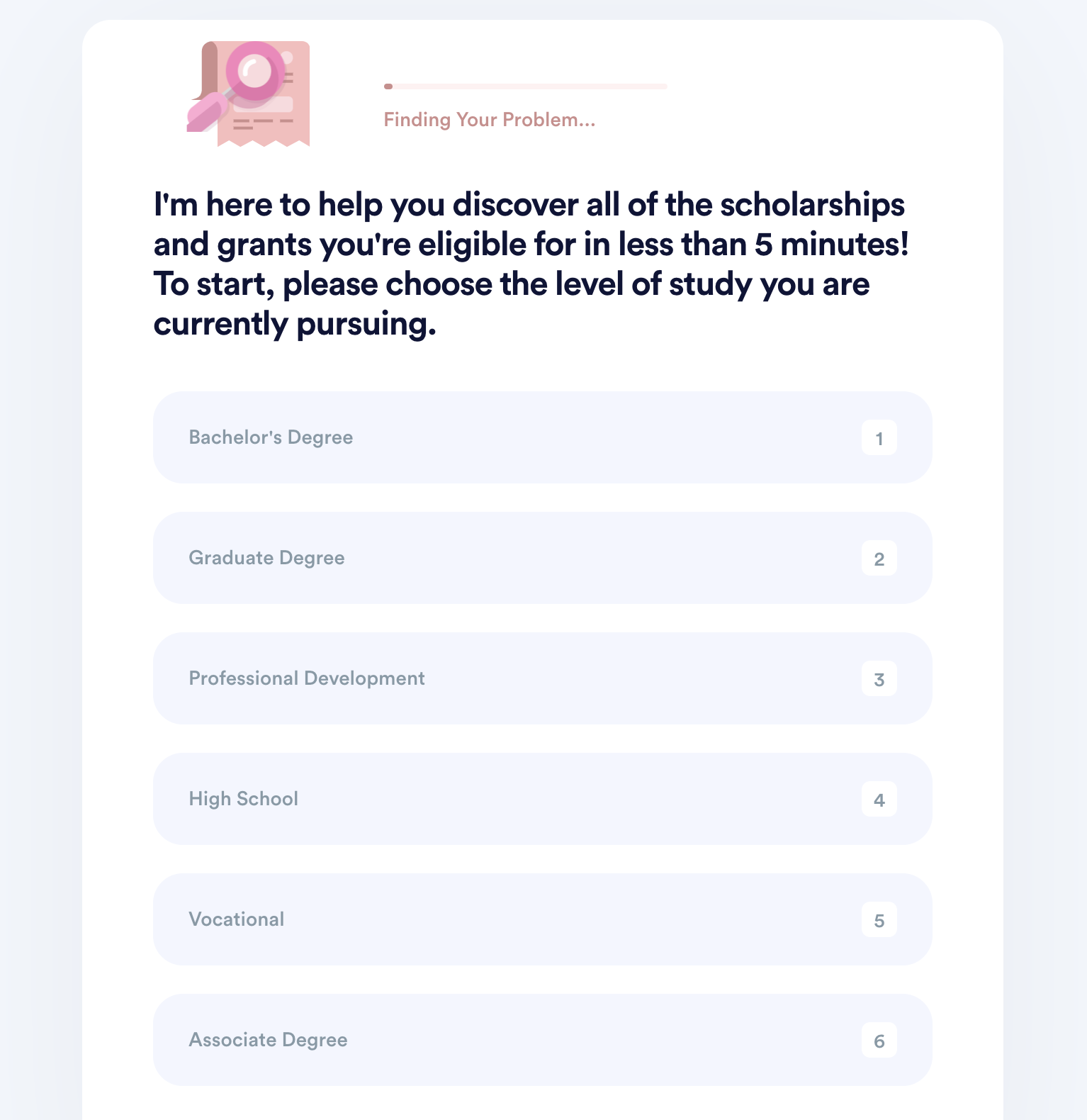 What Does the Application Process Look Like for Beauty School Scholarships?
The procedure for each scholarship depends on the sponsor. Some general tips for a successful application are:
Read the requirements for every program with care
Start writing scholarship essays and collecting letters of recommendation early on—if they are requested
Check if you need to complete an online form on the sponsor's website
Eligibility Requirements for Beauty School Scholarships
Besides having a passion for a certain field in the beauty industry, you might also need to satisfy other criteria, such as:
Demonstrate financial need
Provide proof of acceptance or enrollment in a beauty or cosmetology school
Enroll in a program that the specific scholarship supports
Have a high school diploma or GED
Show academic excellence
Make Sure You Get the Aid You Deserve With DoNotPay's Help
DoNotPay can find every aid type you are eligible for and boost your chances of minimizing education expenses. We will take the research part off your plate—you only need to:
Navigate to the Apply for Scholarships product
Answer our chatbot's questions
That's it! In less than two minutes, you'll be revising your custom-made list of scholarships. You can also use the app to apply for no-essay scholarships you qualify for in a few clicks.
Who knows where the road to education may take you—but DoNotPay will always be there to help. Whether you are a high school senior or veteran who wants a college or graduate school scholarship, our nifty app will find the solution to your financial woes.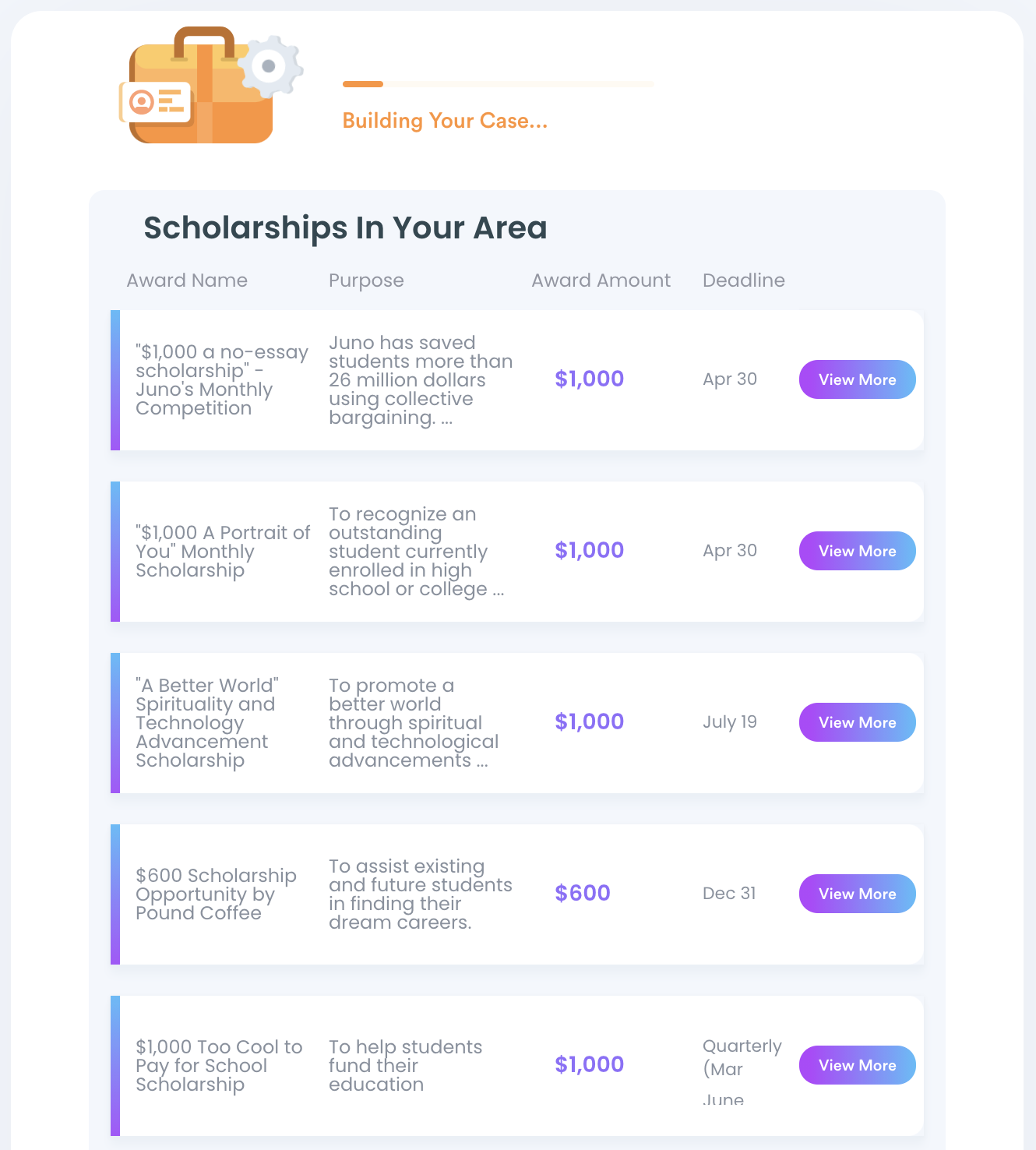 Administrative Issues? We Don't Know Them!
Forget about getting frustrated and overwhelmed by the administrative tasks waiting for you to complete them! With DoNotPay's numerous tools, you can easily resolve such tasks in a heartbeat! All you need to do is sign up for our app, and you'll be able to:
Use DoNotPay To Protect Yourself at All Times
Are pesky robocalls and email spammers working your last nerve? Don't despair—we are happy to help you get rid of them! In a few clicks, you can also stop text spam and avoid the incessant phone buzzing!
You can use our app to protect your privacy by creating burner phone numbers and virtual credit cards. That way, you don't have to disclose personal info when subscribing to online services.
In case you're looking for a way to keep yourself safe from stalkers or work discrimination, we'll help you report the case and walk you through the entire process!
Protecting your work from copyright violation and asking for violent crime compensation in your stead is also something DoNotPay can do!