How to Have BB&T Checking Account Fees Waived
If you are a BB&T customer, you should be aware that Branch Banking and Trust Company (BB&T) and SunTrust Banks merged in December 2019 to form Truist Financial. To understand any fees associated with your BB&T account, you will need to defer to Truist's merger guide and/or fee schedule. If you are looking to have  waived, DoNotPay can help.
What Type of Fees Does BB&T/Truist Charge?
In late 2021,  branches began making Truist consumer and commercial products available, and BB&T customers began seeing their products transition to Truist.
Checking Account Fees
There are several types of checking accounts you can maintain at Truist. Some checking account fees will vary depending on the type of account you have.
Some of the most common fees include:
Monthly Maintenance Fee - $5 - $30 per month, depending on the type of account.
Truist Student Checking - $0/month
Truist Wealth Checking is a $50/annual fee
Paper Statement Fee - $3.00 per statement cycle
Check Images with Statement - $4.00 per statement cycle
Enhanced Check Images with Statement - $5.00 per statement cycle
Overdraft/Returned Fee - $36.00 per item
Negative Account Balance Fee - $36
Charged after seven consecutive calendar days
Stop Payment Fee - $35/each
Returned Mail -$5 per occurrence
ATM Fees
You can continue to use BB&T and SunTrust ATMs with no fees during the transition. Other banks may also  for non-banking customers, and these fees vary, but they are typically posted at the ATM.
Truist ATM - NO FEES
Non-Truist ATM - $3.00 per transaction (or $5 per international transaction)
How to Avoid BB&T / Truist Checking Account Fees
There are a few things you can do to avoid the various fees associated with your checking account.
| | |
| --- | --- |
| Read the fine print. | It's important to understand the type of checking account you have, what fees are associated with it, or what fees will be imposed when requesting specific services. You can find a fee schedule online or request it from your local branch. |
| Avoid the Monthly Maintenance Fee | Most accounts allow you to avoid the fee if you make qualifying direct deposits of a specified amount (which varies by account) or maintain a minimum balance each month (which also varies). |
| Switch to paperless statements | You can save on the monthly statement fee if you switch to paperless statements. |
| Utilize Online Banking | You can avoid requesting copies of checks, research fees, or even ordering checks as frequently if you utilize online banking to monitor your checking account and pay bills with the free online bill-paying system. |
| Use Truist ATMs | Avoid ATMs that are not in the Truist network whenever possible. |
| Do Not Overdraw Your Account | While Truist will waive overdraft/returned item fees on transactions that are less than $5. Other small transactions will still cost you more in overdraft fees than the transaction itself. Multiple overdrafts can add up quickly. |
| Request a Fee Waiver | Some banks will grant a one-time waiver if you politely request and have a good history with the bank. If you are experiencing financial hardship, you may be able to provide documentation and request a waiver. While there is no guarantee, it cannot hurt to ask. |
Let DoNotPay Help You Request Checking Account Fee Waivers
If you believe you were charged a fee that you shouldn't have received, want to request a fee waiver, or otherwise need assistance with fees but don't know where to start, DoNotPay has a great solution.
Here's how you can use DoNotPay to appeal fees:
1. Search "appeal fees" on DoNotPay, choose the Fight and Waive Fees product, and select the type of fee you want to appeal.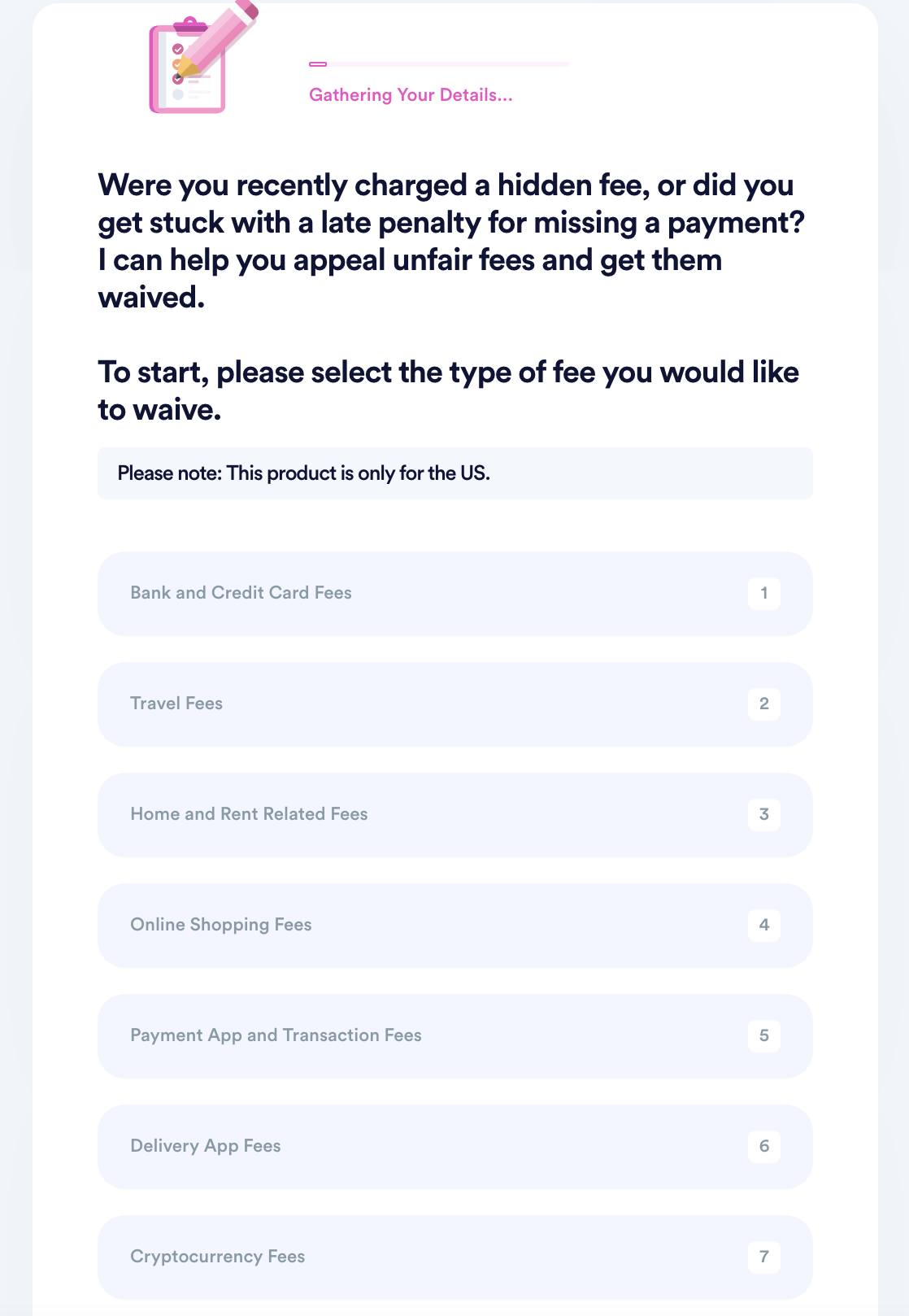 2. Select the merchant you want to appeal fees for and enter the details of your transaction, including an associated account if you have one.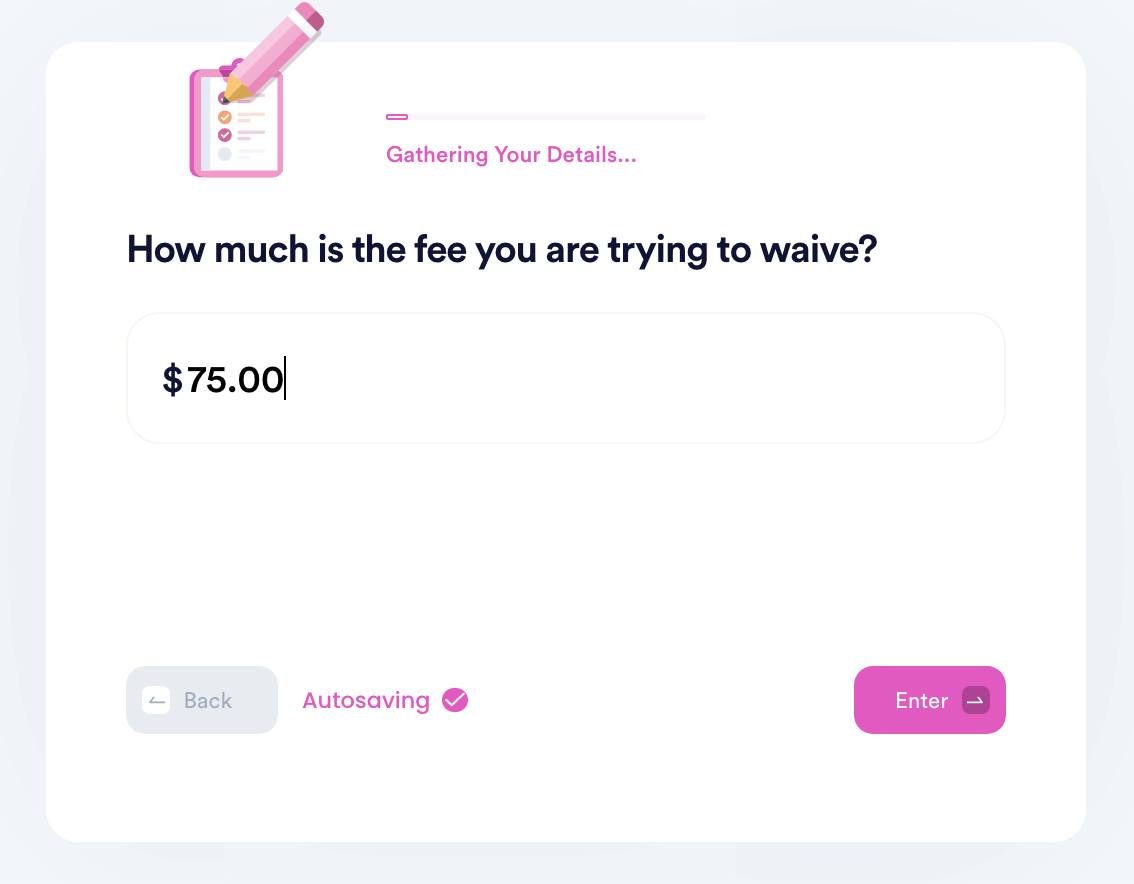 3. Submit your case! DoNotPay will generate the best argument for your case and make sure your fee waiver request gets sent to the merchant for processing.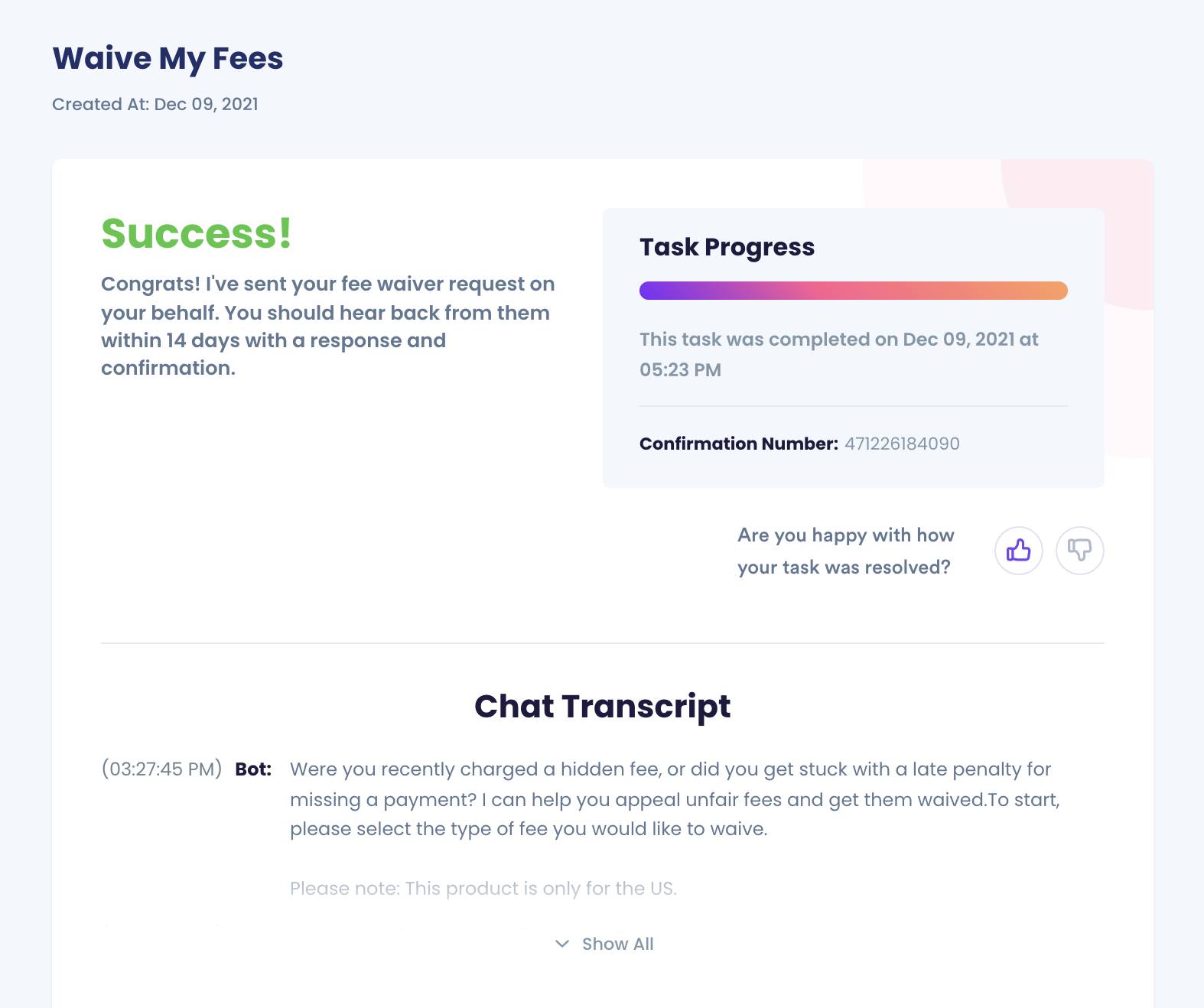 Why Use DoNotPay?
DoNotPay understands that your time is valuable, and so is your hard-earned money. We can help you fight unfair fees or request fee waivers quickly and efficiently. Our process is fast and easy - give us the information, and we successfully handle the rest. You can rest assured that we will make the best case for your appeal.
In fact, we can also help you with chargeback or closing bank accounts, or request fee waivers for any business or entity, such as:
Robinhood Fees

Shopify Fees
What else can DoNotPay do?
DoNotPay can do so much more than help fight fees or assist with checking account issues.
We can also help you:
Whatever issue, concern, or problem you are facing, DoNotPay can help you save time, money, or stress. Try it today!