Draft Your Basic Rental Agreement in the Blink of an Eye
Whether you are a landlord or a tenant, writing a valid contract is a crucial step towards protecting your rights. It's a legal document the involved parties sign to settle the rent-related terms and regulations. 
A rental contract can be difficult to compose if your knowledge of the law is poor. The good news is—it isn't impossible. Forget online services that offer suspicious templates or require registration to let you see the samples. Our article will point out the best ways to get a full basic rental agreement with minimum effort! 
Is There a Difference Between Rental and Lease Agreements?
People usually use the terms rental agreement and lease agreement as synonyms. While they share many traits, they are two different documents.
Signing a rental agreement means determining the terms and conditions of the limited tenancy, which usually lasts for a month. These contracts are also known as month-to-month rental contracts, and the parties can renew them every 30 days. The biggest advantage of rental agreements is that the landlords and tenants can make new modifications with each renewal. 
Lease agreements propose a long-term tenancy, and they are the best option if you plan to stay on the particular property for a longer time. The rules usually remain the same during the whole tenancy period.
What Parts Should Every Basic Rental Agreement Contain?

The more relevant information your contract contains, the clearer it will be. Many websites offer short rental agreement samples, but most of them don't have all the necessary clauses. Below is the table with sections you shouldn't miss:
Information
Details

General information

Landlord and tenant names, location, signatures, contact details, and date

Property

Property address

Short description

Tenancy 

Tenancy duration—start and end date

Tenancy type—it's usually a fixed-term contract, so you only need to choose the duration

Rent

Payment date

Penalties in cases of late or missed rent

Monthly rent amount—some states limit the amount landlords can charge their tenants, which is why you should check the local regulations and act according to them

Security deposit information—the amount, deadline for returning the deposit, etc.

Utility bills

Determines which party should take care of utility payments

Duties and obligations

Repairs

Pet policy

Subletting

Alteration of the premises

Potential visitor restrictions

Cleaning and maintenance

Potential contract changes

Term violation

Types of violation—damage, missing payment, or breaking any other stated term or condition

Violation consequences—additional fees, lawsuits, etc.
Why Is It Necessary To Sign a Basic Rental Agreement?

You should consider signing a basic rental agreement because it:
Gives you peace of mind

—Verbal agreement isn't enough to protect your rights. With a written agreement, you can sleep peacefully knowing that all the terms are stated in a legally binding document. Even if an incident happens, you will know how to deal with it

Explains all the rules in detail

—Including as many details as possible while composing your contract will provide you with clear rent-related guidelines. You can consult your agreement whenever you are confused or unsure about some regulations and solve your dilemmas quickly

Helps you avoid arguments

—As long as all the terms and conditions are clear, you can find a common language with your landlord/tenant and prevent misunderstandings
Make Your Rental Agreement in a Flash With DoNotPay
Do you want to get a detailed rental agreement without wasting dizzying amounts on legal services? If so, DoNotPay will make your day better!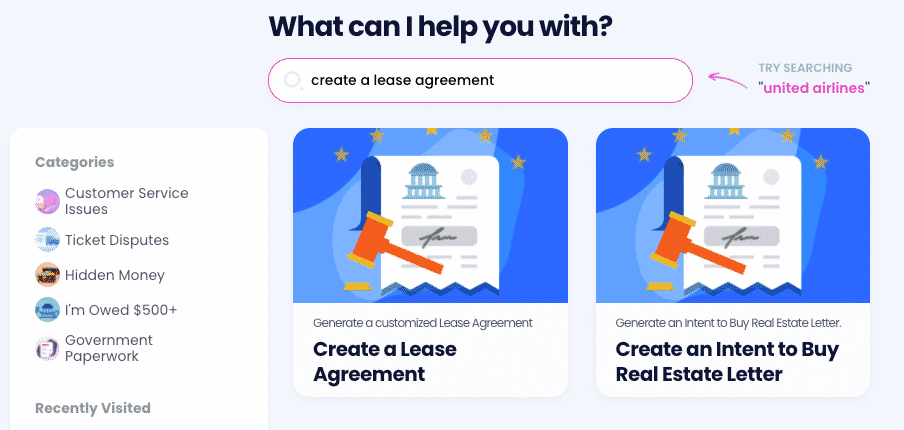 You don't need to spend hours searching for the contract templates only to find out that they are incomplete. We have developed an AI-powered system that creates various types of agreements and legal documents in only a few taps. 
To use our help, follow the instructions below:
Sign in to DoNotPay in your preferred

web browser

Find the desired document by using the search box

Answer a few easy questions from our chatbot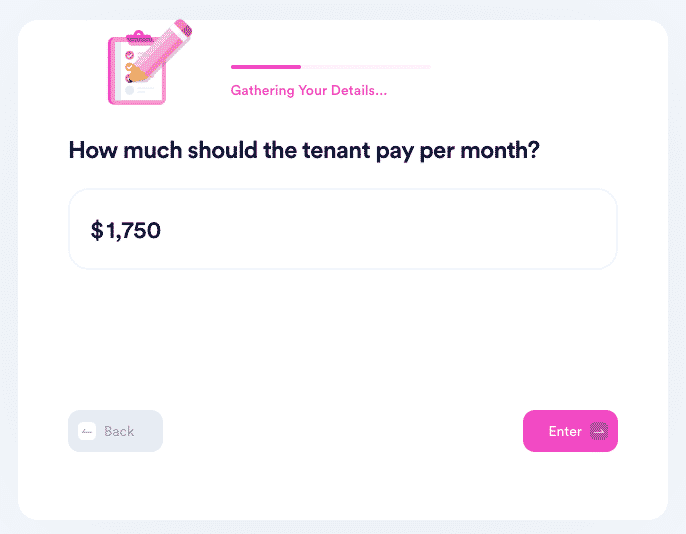 Once you submit the basic info about your case, we will provide you with a personalized document that comes into effect as soon as you sign it!
With us, there are no limits. DoNotPay allows you to create as many documents as you wish. Get some valuable advice from our knowledge base regarding:
What Types of Documents Can You Create With DoNotPay?
Check out the list of all standardized legal documents available on DoNotPay:
Quitclaim Deed

Promissory Note

General Affidavit

Estoppel Certificate

General Business Contract

Intent to Purchase Real Estate
Discovering DoNotPay Will Make Your Day
If you feel overwhelmed by tons of paperwork flooding every area of your life, you can finally breathe out and let go of that stress. DoNotPay is the world's first robot lawyer that handles your bureaucratic chores for you. 
Some of the benefits that come with our service include:
Why Get a Lawyer When You Have DoNotPay?
Our agenda has one major goal—provide easy legal access to anyone who needs it. Every new feature we come up with relies on AI technology that simplifies bureaucratic procedures and saves you time and money. 
If you're wondering how to navigate tasks like contacting imprisoned friends and family members or reducing your property taxes, DoNotPay has the answers. Our service cuts through the red tape even if you need to deal with stalking and harassment, claim forgotten assets the proper way, or secure compensation for crime victims.