Everything You've Ever Wanted To Know About Barter Agreements
You may be familiar with some common forms of legal documents—such as a sales contract or a lease purchase agreement—but have you ever signed a barter agreement?
Barter agreements are a unique type of legal documents. Even though barter agreements' origins can be traced back all the way to the pre-hard-currency era, many individuals, companies, and countries still use them.
We will explain:
What barter agreements are

Why these agreements can be advantageous when trading goods and services

How you can write your own contract

, along with how to generate a variety of other legal documents in seconds with the help of DoNotPay
What Is a Barter Agreement?
A barter agreement is a document describing an exchange of goods or services that doesn't involve money between two or more separate parties.
In the past, bartering was a common way for people to get something—such as a service or a certain quantity of food or other items—and give another service or another set of goods in return. For example, farmers would trade cheese in exchange for potatoes when they could not pay for the cheese in cash. This is what people did before the hard currency was invented.
Today, bartering has become popular again. Craigslist, for example, is a platform people can visit if they want to trade something for something else.
When bartering, it's important that both parties are satisfied with the exchange. If you want to offer your services and get something in return, you have to appraise the value of those services to match the value of the item or service you are getting.
Usually, when the values of the items or services being exchanged aren't equal, the party that's receiving a lesser-valued service or item can ask for further compensation in money.
If you enter into a barter agreement, the party you do business with is commonly called your barter partner. 
Why Do People and Businesses Choose To Barter?
Bartering has a lot of benefits. Not only do individuals seek barter partners online, but companies—mostly small ones—and countries trade goods and services as well.
You can benefit from entering into a barter agreement when you:
Don't have hard currency to pay for the goods or services you need 

Wish to dispose of the items you no longer need but that still have value

Want to spend the money that you have on other expenses
If you are considering drawing up a barter agreement as a businessperson, you'll be happy to hear that bartering can help you:
Accumulate resources for your company by getting bartered items

Grow your business by developing a large professional network

Expand your reach and gain new customers and clients
While you can get almost any item or service through a barter agreement, there are certain expenses you have to cover with money, such as:
Utilities

Mortgage

Medical bills
Is Bartering Taxable?
If you are entering into a barter agreement solely to avoid paying taxes, you'll be disappointed to hear that the IRS actually considers bartered items and services taxable.
You have to estimate the market value of the goods you are receiving and report it as a taxable income, particularly if you are bartering for your business. The IRS expects you to estimate the market value of the bartered items by comparing them to cash exchanges of similar value. When you can't know how much money the items you get through a barter deal would cost, you should rely on their carrying value.
How To Barter Successfully—A Short Step-by-Step Guide
As long as you are on good terms with the other party, there's no particular science to successful bartering. You should:
Appraise the value of the goods or services you want to offer

—without forgetting to include additional costs, such as shipping or material you need to render the service

Find a barter partner

—starting by browsing the internet, but you can also spread the word among your friends or your company's existing partners

Agree on the terms of the exchange with your partner

—remembering that a successful exchange needs to satisfy the needs of both you and your partner and represent your interests equally

Draw up a barter agreement based on the agreed terms

—sign and get the agreement notarized when you are done writing it if you want it to carry more legal weight
How To Write Your Barter Agreement
Barter agreements aren't difficult to draw up. Writing one is better than relying on contract templates that you need to revise and edit a number of times until you include all the terms you need in your contract.
Here's what to include in your barter agreement:
Your and your partner's legal names

A detailed description of goods or services being exchanged

The method of exchange

Delivery date if you are sending goods to your partner

Any other terms and conditions you and your partner agreed on

Legal repercussions you or your partner will bear if either party doesn't honor the agreement
Generate Legal Documents With the Help of DoNotPay in One Minute!
Say goodbye to downloading dozens of incomplete and generic templates online when you need to draw up a simple legal document! DoNotPay has designed a tool that generates a tailor-made contract for you automatically.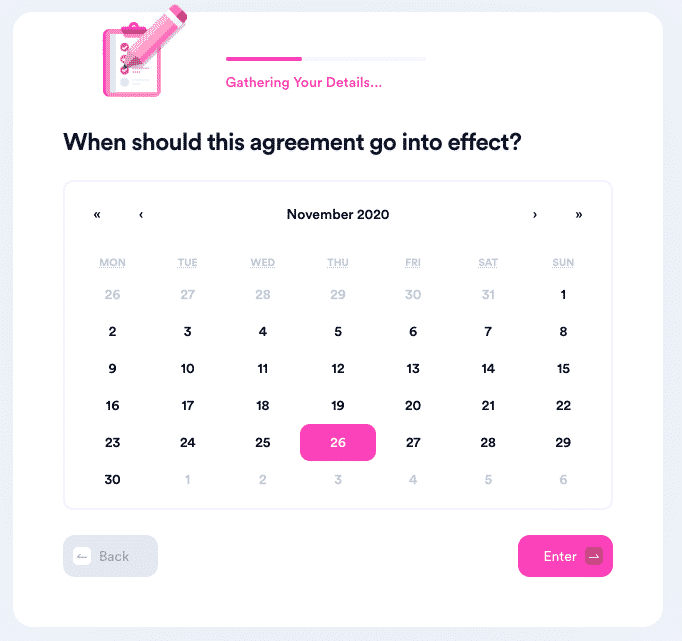 Here's what to do if you want to get a completely personalized contract from DoNotPay:
Enter the name of the document you need

Give our chatbot the essential details you want included in the document
What Legal Documents Can DoNotPay Create for You?
When you , you'll see that our app can generate legal documents for all kinds of purposes and different contexts. Check out the table below to see what only some of the most common contracts DoNotPay creates are: 
Agreement Type
Agreement Name

Business contracts

General business contract

Real estate

Estoppel certificate

Intent to purchase real estate

Quitclaim deed

Other types of documents

General affidavit

Child care authorization form

Promissory note
DoNotPay—A Pocket-Sized Assistant
If you need protection from stalkers and harassers, we know what to do. If you want to fight workplace discrimination, DoNotPay has got your back. Even spammers don't stand a chance against our AI-powered app—both the texters and the robocallers.
If your situation takes a turn for the worse, you may need to take the issue to court. In this case, the world's first robot lawyer swoops in to help! You can count on DoNotPay to assist you every step of the way, regardless of whether you need to take a person or a company to small claims court.
Our App Helps You Through Numerous Red-Tape Issues
Dealing with paperwork doesn't have to be tedious. With DoNotPay's help, cutting through red tape is fast and easy. With a few clicks in our app, you'll be able to: