The Barber Shop Startup Cost Formula—DoNotPay Fills In the Blanks
The male grooming industry has witnessed pivotal growth over the past decade. With a significant uptick in the demand for professional aestheticians for men, now is a good time to kickstart a barber shop.
The barber shop startup cost can range anywhere between $80,000 and $200,000, depending on your choice of location and the size of operations you're aiming for. In this article, we will: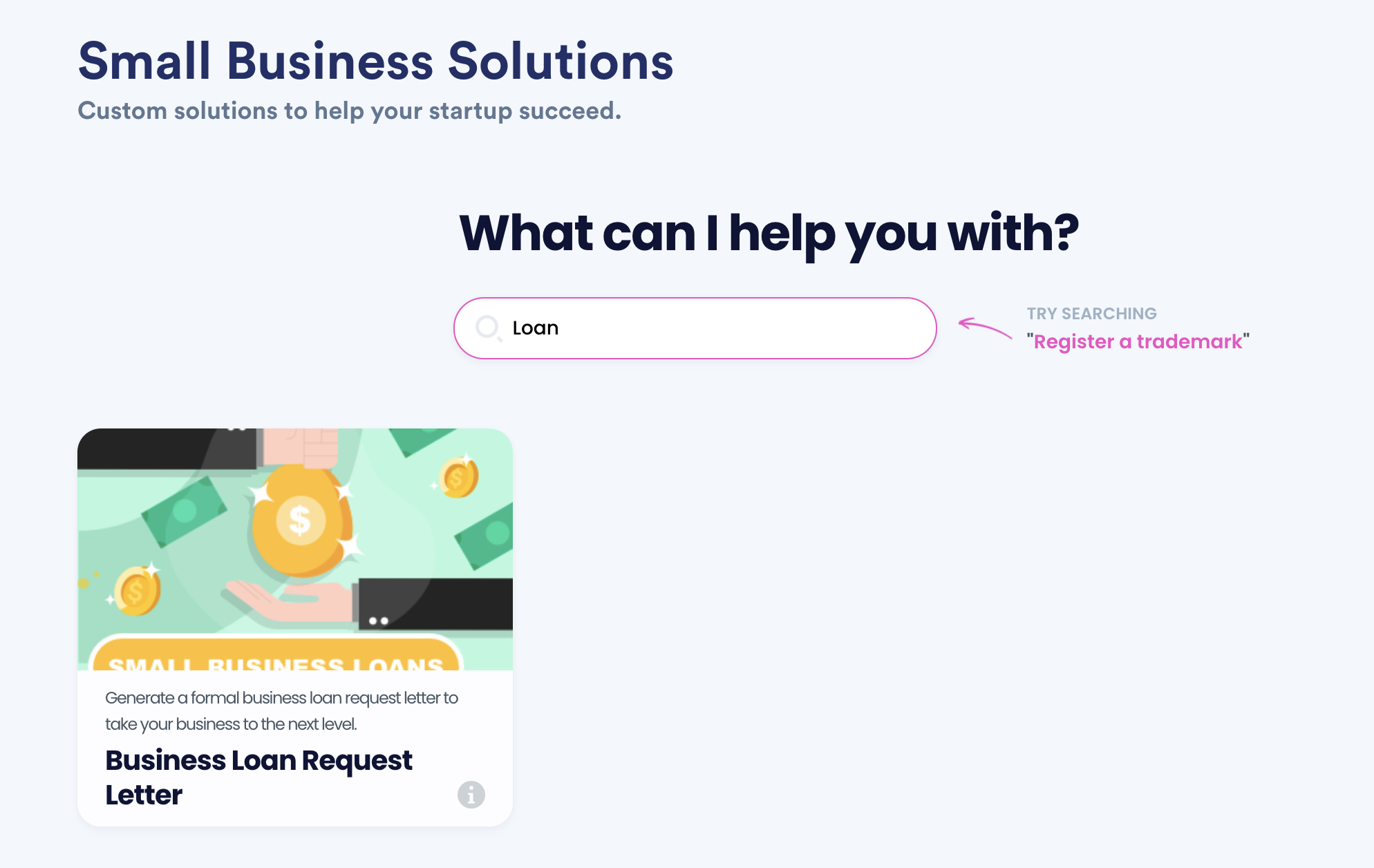 Startup Costs for a Barbershop—One-Off Capital Requirement
The standard male hairdressing and grooming establishments have undergone a renaissance in the past couple of years, giving rise to new elements in the mix of initial barber shop startup costs.
If you're looking to open a small- to medium-scale male salon in the U.S., you will be looking at a host of one-time expenses, like the ones outlined in this cost sheet:
Capital Investment
Average Cost
Remarks
Registration, permit, and licenses
$700–$1,000
Barbers have to follow the regulations and licensing requirements in every state in the U.S.
Office space
Varies
If you're renting space, the security deposit will be higher in high-demand locations. Constructing or buying your own shop can cost between $300–$700 per square foot
Utility deposits
$3,000
May vary from state to state
Equipment and gadgets
$20,000
Includes fixed assets, like:

Hairdressing supplies
Cosmetology equipment
Standard office fixtures
Sanitation devices

Furniture
$15,000–$50,000
Barber shops attract initial customers at face value, so investing in visually appealing furniture goes a long way
Business consultancy
$3,000
Includes cost for getting a viable business plan etched out as part of loan qualifiers
Website development
$600–$1,500
This also covers the domain registration cost
Promotion
$5,000
Promotion includes expenses for:

Flyers
Social media advertisement
Opening event
If you're looking to open a franchise unit, the initial fee is usually upwards of $40,000.
Barber Shop Startup Expenses—Working Capital Commitment
Once you've set up your establishment, you will need liquid capital to manage the recurring costs accruing monthly or quarterly. Here are some of the prominent expenditure points to help you budget with prudence:
| Cost Centre | Approximate Expenses for the First Quarter |
| --- | --- |
| Salaries | $60,000 (can be higher if you hire professionals instead of assistants) |
| Utility bills | $2,500 |
| Insurance | $3,000 |
| Inventory | $5,000–$20,000 (depends on the frequency at which you exhaust the supplies) |
| Ongoing promotion | $6,000–$10,000 (varies with need) |
| Miscellaneous services | $15,000 |
The above costs are mere estimates based on figures across the country. The actual outlay involved is influenced by your target location. Your initial and sustenance costs rise exponentially if you seek to open your spot in a posh area, a bustling neighborhood, or a business hotspot.
Do Loans Cover Working Capital Needs?
If your venture doesn't make a profit right away, you have to rely on loans for startups or small businesses to meet the overall working capital commitment. Some of the best banks for small business loans readily sanction recurring expenses for the first three to six months of operation as long as your paperwork is in order.
Funding Solutions for a Barber Shop Startup
Before starting your barber shop, it's imperative to stay informed on the financing options available to you—here are the major ones:
SBA loans—These loans are provided by a bank but guaranteed by the U.S. Small Business Administration (SBA). Based on your fixed and working capital needs, you can opt for 7(a) or 504 loans with generous term lengths
Conventional bank loans—Conventional bank loans are based on guarantees and collateral. Unlike SBA loans, they may not have special perks for startups
Alternative loans—Many credit unions and private financial institutions offer asset-founded loans and lease financing options to small businesses, but the interest rates can be higher than bank loans
To get a loan for any startup, the most important facilitator is a robust application letter that sells your idea to the lender. While assessing the viability of investing in your startup, a bank's underwriter will check your application for the following:
The service you will provide
The loan terms and conditions compliance of the documents you submit
Your revenue structure
The period within which you anticipate revenue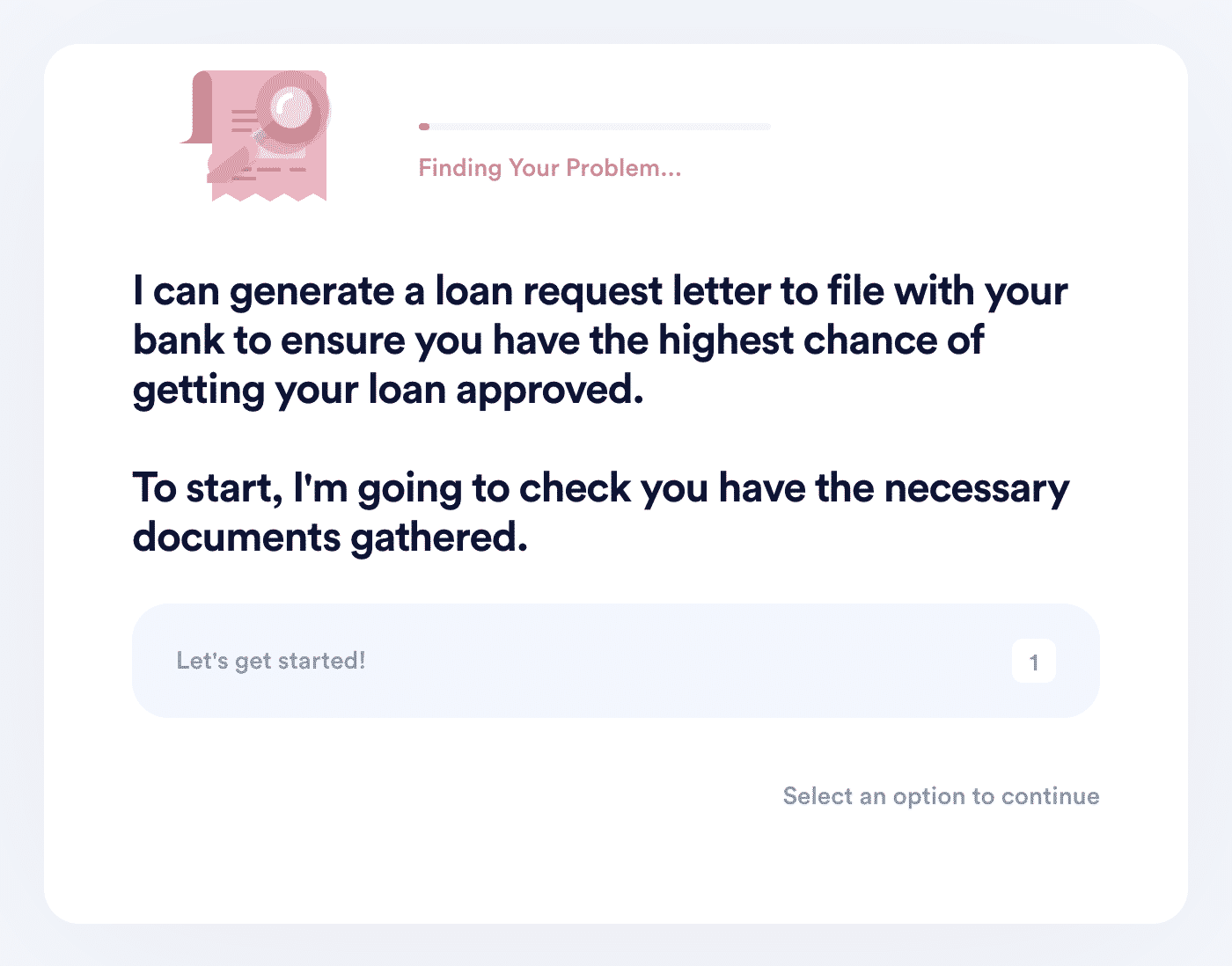 Stressed About Applying for a Loan? DoNotPay Makes It Smooth Sailing
A shabby application letter that reflects under-preparation is one of the top reasons why small business loan applicants get rejected.
If you are struggling to write a convincing application, let DoNotPay take the bull by the horns for you. Our Business Loan Request Letter product is an excellent solution to:
Draft a formal application letter for a small business loan
Streamline the process of collecting the necessary information, such as your credit score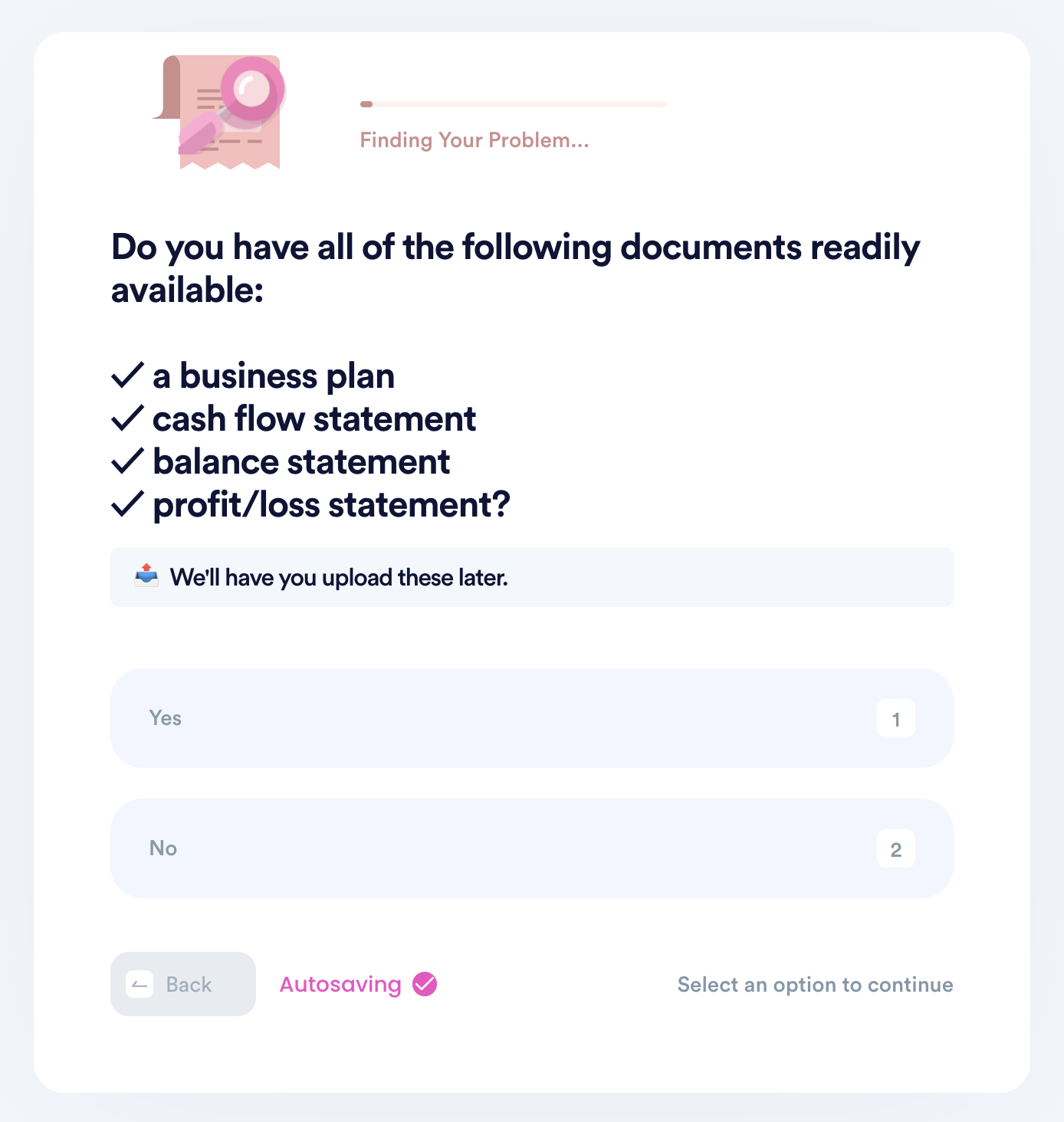 To use our services, this is what you need to do:
Open DoNotPay and navigate to the Business Loan Request Letter tab
Check the documents required to obtain a loan
Fill us in on your business particulars and the amount you want to borrow
Tell us about the lending institution of your choice (bank or online lender)
Upload the documents
Based on your responses, our robot lawyer app will automatically draft a customized loan request letter and send it to the lending institution on your behalf. With all relevant info showcased in a structured manner, you will stand a better chance of getting your loan approved without any hassle!
If you want to look into online lenders, you can opt for our Find Online Business Loan Lender product.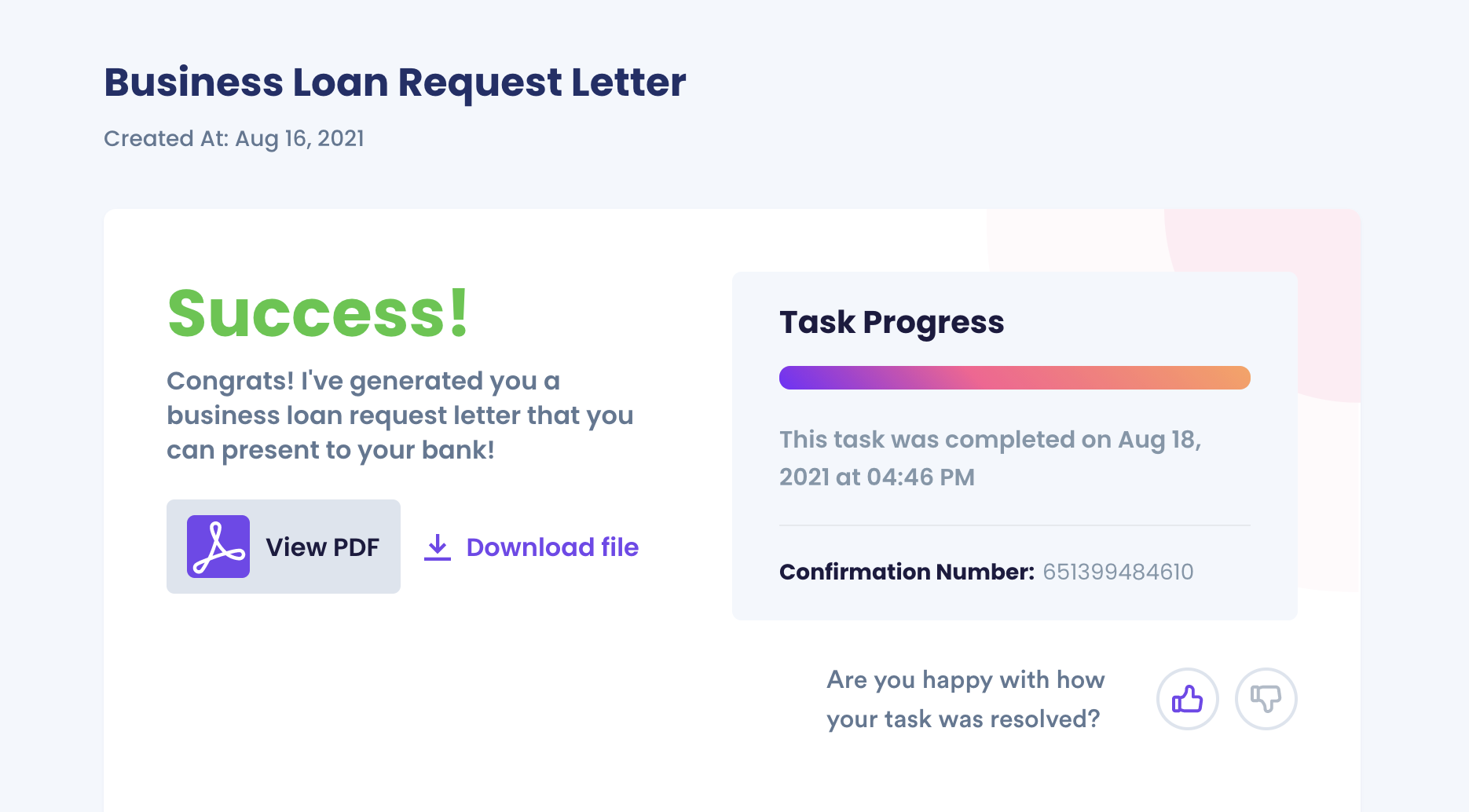 Fail-Proof Plan for a Barber Shop Startup—Tips
Barber shops enjoy a current market size of five billion dollars and an annualized growth rate of 5.1% in the U.S. Sustaining and flourishing your startup will be easy if you plan your expenses diligently and have good foresight.
Here are some tips that can help you thrive:
Don't hire more workforce than necessary
Save some funds for contingencies, like malfunctioning equipment or the pandemic
As advised by experienced barber shop owners, forging instant camaraderie with new customers and strategic promotions help you last longer by:
Building a quick client base
Carving a niche service
Generating steady funds to:

Slow down the burn rate of your investment
Paying off your loans
What if I Need More Funding Down the Line?
Whether you need to expand your shop or need temporary credit, DoNotPay can always help you find the best small business loans available. When you're already running a business, you can also sell your current and future receivables to lenders and get quick funds.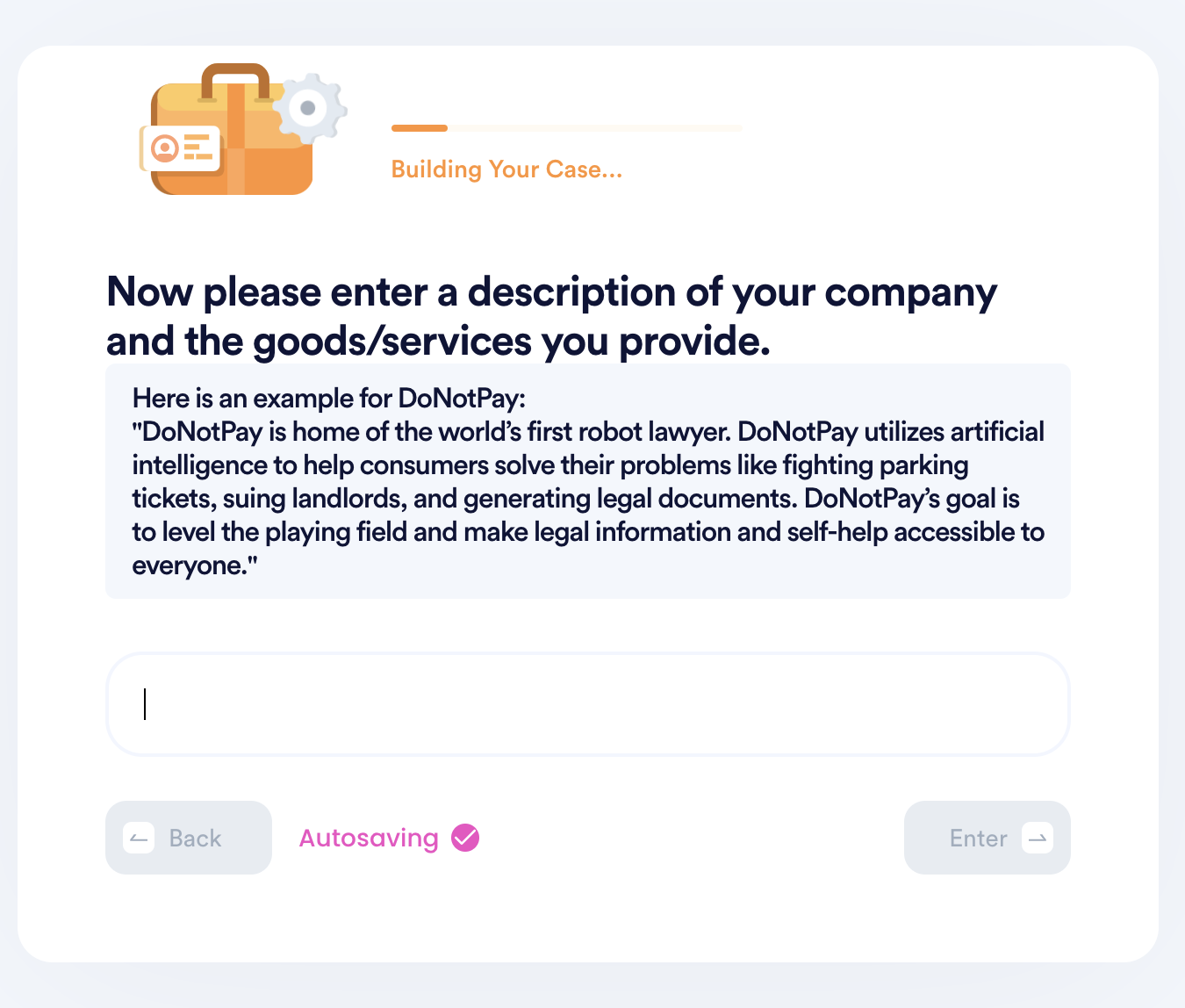 DoNotPay Helps You Raise the Bar in Business
Whether you are just getting started with your small business or are well into the game, DoNotPay can be your valuable assistant. We can help you manage various issues, such as:
Trademark infringement
Negative reviews
Suspicious chargebacks
You can focus on what is important while we take care of administrative tasks and problems.
Get More Done With Our Help
DoNotPay's features at your disposal are versatile. We can assist you in registering your DMCA agent with the U.S. Copyright Office so that you can avoid exorbitant copyright infringement fines. Thanks to our app, preparing and filing business loan applications will also be smooth sailing.
If you want to protect your slogan, logo, and company name, we will guide you through the trademark registration process. The Employer Identification Number (EIN) issuance is another procedure our app is able to assist you with.
Would you like to self-certify your business under the EU-U.S. Privacy Shield program? DoNotPay will complete and file the request in your stead. Our app can help take care of your employees, too. Use DoNotPay to create and submit 83(b) election forms to the IRS.
Is the pile of documents due to be sent getting bigger by the minute? Not to worry—your pocket assistant can mail and fax your documents with ease.