A Complete Guide to the Barbados Tourist Visa
If you're eager to explore the tropical country that invented rum, you should first become acquainted with the paperwork that will enable you to do so.
DoNotPay explains whether a Barbados tourist visa is necessary to enter the country and what the other entry requirements entail!
Do U.S. Citizens Need a Barbados Tourist Visa?
No, U.S. citizens don't need a tourist visa to visit Barbados. All you need to enter the country is a valid U.S. passport with one blank page and proof of the estimated departure date, for example, a return ticket. You can stay without a tourist visa in Barbados for up to six months.
Does Barbados Impose COVID-19 Restrictions?
To enter Barbados, you have to abide by the following restrictions:
Entrances are permitted only to tourists who show a

Negative PCR test that was taken no later than three days before arrival
Proof of recovery within 90 days that preceded the arrival date

You're required to wear a mask in all public spaces in Barbados
Beaches are open from 5 a.m. to 7 p.m. every day
At the time of writing this article, rapid testing for tourists after arriving in Barbados costs about $50 in public facilities, while getting tested at a private facility requires you to spend up to $300.
As the situation regarding the pandemic is constantly evolving, you should check the COVID-19 Information page on the Barbadian Embassy's website.
Local Laws in Barbados
Even though it's a tropical paradise and a country people visit to relax, you can face immense penalties if you break the following local laws:
People are not allowed to wear clothes or carry objects featuring a camouflage pattern. This law applies even to children
LGBTI relations are illegal in Barbados. Although the law is not always applied in practice, getting caught involving in LGTBI relations can get you a life sentence
Topless bathing on public beaches is prohibited in Barbados
Other precautions you should take to ensure a safe and stress-free vacation are:
Bring mosquito repellent with you, and don't forget to put it on. Mosquitoes can infect you with the Zika, dengue, and chikungunya viruses
The following areas can be unsafe to reside in because of frequent crime, so you should try to avoid them:

Nelson
Crab Hill
Wellington Streets
Who Can You Contact if You Have Any Questions About Your Trip to Barbados?
The Barbadian diplomatic missions can assist you in your preparations for your trip to Barbados, and you can contact them using the information from the table below:
Diplomatic Mission
Phone Number
Email
Embassy of Barbados in Washington DC
246-227-4000
bridgetownniv@state.gov
Consulate of Barbados in Chicago
773-667-5963
arkdesign@sbcglobal.net
Consulate General of Barbados in Miami
305-442-1994
miami@foreign.gov.bb
Barbadian Honorary Consulate in San Francisco
415-421-8789
jerry@mentorlevine.com
Consulate of Barbados in Atlanta
678-907-5887
atlbarbadosconsulate@gmail.com
Barbadian Consulate General in New York
212-551-4325
newyork@foreign.gov.bb
Barbadian Honorary Consulate in Houston

713-313-7024
832-725-5566

lbrowne@brownetc.com
DoNotPay Helps You Apply for Any Tourist Visa in a Matter of Moments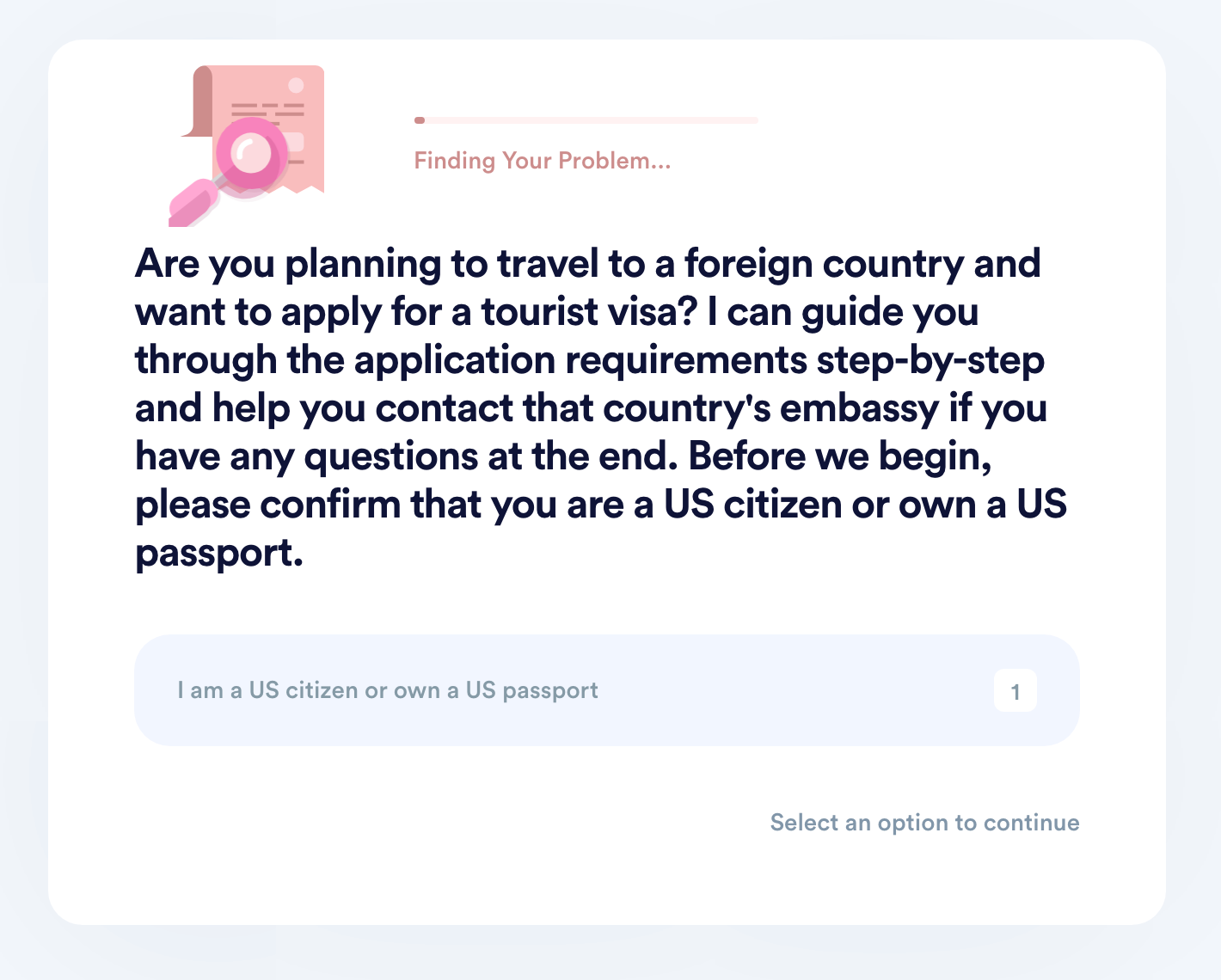 Even though Barbados does not require you to apply for a tourist visa, the next time you choose a destination country, you might not be free from the bureaucratic hurdles that come along with it. You shouldn't skip a destination because of its exasperating tourist visa application process because DoNotPay can help you nail it in no time!
Our app will:
Walk you through the necessary paperwork
Offer you a direct link to the online application, if the country offers one
Contact the country's embassy to inquire about remote application options
Create a step-by-step guide for you in case you have to apply the traditional way
You can enjoy your vacation to the fullest, and you never have to worry about paperwork again if you:
Access our Tourist Visa Guide product
Tell us whether you hold a U.S. passport
Enter your next destination

Experience the Heat of Latin America and the Caribbean With DoNotPay
If you loved your stay in Barbados, you will be thrilled when you visit another Caribbean country without having to struggle with the tourist visa application process! Subscribe to DoNotPay and find out what you need to enter the following countries with no fuss: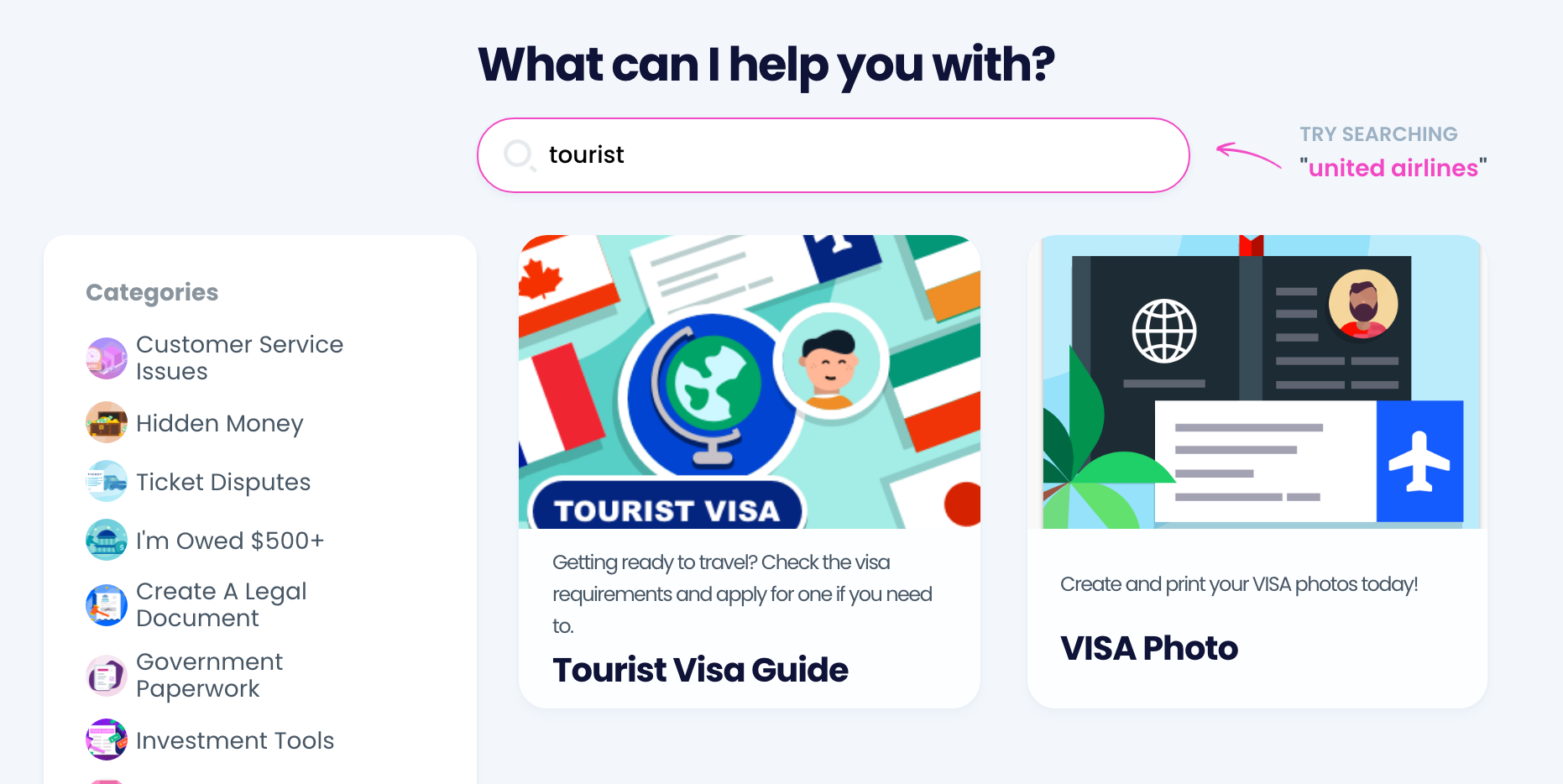 Barbados—Travel Recommendations
Don't be deceived by the country's small surface area. This tropical paradise island is filled with places to explore, and we hand-picked some for you to check out:
Beaches
Gardens and Parks
Restaurants

Bottom Bay Beach
Folkestone Marine Park & Museum
The Beaches of Carlisle Bay
Crane Beach
Bathsheba Bay

Flower Forest
Welchman Hall Gully
Barbados Wildlife Reserve
Andromeda Botanic Gardens
Hunte's Gardens

Blue Pineapple
Cala Roca
Cafe Luna
Almond Shak Deli
Fish Pot
DoNotPay Helps You Tackle All Kinds of Problems From the Comfort of Your Home
Are you too busy to go to Target, Walmart, or photo studios to get your passport photos taken? DoNotPay offers you the possibility of taking them yourself and having them edited without going anywhere!
Thanks to our app, you don't need to visit the post office if you want to initiate a return. You can also skip going to a notary office because we'll help you get your documents notarized.
Here are some other tasks you can complete with ease using DoNotPay:
We Help You Get Fuss-Free Subscriptions to Any Service
Interested in a specific service or platform? Make sure to get the best out of your free trial without getting charged and ending up with an unwanted paid membership. Even if you make a mistake, DoNotPay can end your subscription in a few simple steps!
Our system allows you to generate virtual credit card numbers to prevent platforms from getting your real bank details and using them for unauthorized transactions. We also offer burner phone numbers that will help you go through any subscription or verification procedure without disclosing personal details.