How To Obtain Money for Bar Startup Costs
Opening a new bar or nightclub is a popular venture since they make $25 billion a year. If you want to join in on the profit, you have to prepare a significant budget to cover the startup costs that will be there before any revenue starts coming your way.
In this article, we will show you what bar startup costs await any new business owner, and we will also explain:
What initial expenses there are
What recurring costs there will be
How to use DoNotPay to obtain a small business loan effortlessly
Initial Startup Costs for a Bar
Every cost you will come across as a new bar owner will largely depend on the type of bar you want to open up—juice bars and coffee shops are cheaper enterprises than nightclubs. While nightclubs can demand over $1 million of initial investment, average startup costs for a bar do not go over $850,000, even if you go for all the costliest options.
The first startup cost for a bar is the place, which you can either rent or buy. If you choose the latter, the price can range from $25,000 to $200,000, depending on the size and location.
Once you have a place for your bar, it is time to kit it out.
Take a look at the following table to see a list of initial expenses:
Expense
Amount
Bar and kitchen equipment
$5,000–$40,000
Refrigeration, glassware, and serving items
$8,000
Licenses and permits for:

Business
Entertainment
Liquor
Alcohol tax
Food service

$4,500–$11,000
Insurance
$2,000–$6,000
Point-of-sale system
$1,500
Uniforms
$1,000
Signage
$1,000
Starting inventory
$6,000–$13,000
Administrative fees
$3,000
Total
$32,000–$84,500
To be on the safe side, you should include a 15% contingency for any unplanned expenses that may come up. With the contingency, initial bar startup costs amount to $36,800–$97,175.
Recurring Bar Startup Costs
Making an outright acquisition of a place may pay off in the long run, but renting is a safer option as you cannot know whether or not your business will be a success, especially if there is a pandemic outbreak.
On average, the annual rent for a bar is $110,000 ($9,166 a month).
Aside from renting, the main recurring startup cost for a bar is the salary of your employees. Luckily, bartenders rely on customer tips for the majority of their income—most employers offer the minimum wage, which varies depending on the state.
The most common recurring costs include:
Inventory—$10,000
Utilities—The average is $2 per square foot
Maintenance—$1,000
Office supplies—$500
Payroll for non-bartenders:

General managers—Around $3,000 a month
Lawyers—The average is $500 an hour
Accountants—Depending on the task, they charge from $30 to $400
How a Small Business Loan Can Kickstart Your Bar
You will likely be without any significant revenue in the first few months of running a bar. Before you begin investing, you should consider securing enough capital to cover the costs for the entire profitless period. If you do not have that kind of money, you should not give up—taking out a small business loan can get you there.
While it is more difficult to obtain a loan without being an established business, you can find many startup loans that serve the purpose of helping out up-and-coming entrepreneurs like yourself. Bear in mind that most credit unions and banks will ask for higher interest rates as they take on a greater risk investing in a new bar.
You should consider the:
Loan Terms
Loan terms revolve around the repayment schedule and interest rates, as well as collaterals that lenders use as a guarantee. If you fail to repay the loan, the lender will take away the collateral, which can be your equipment, inventory, or the whole bar.
Loan Types
There are several loan types that offer different terms and accept only purpose-specific applications. The best loans include:
DoNotPay Can Help You Make an Error-Free Loan Request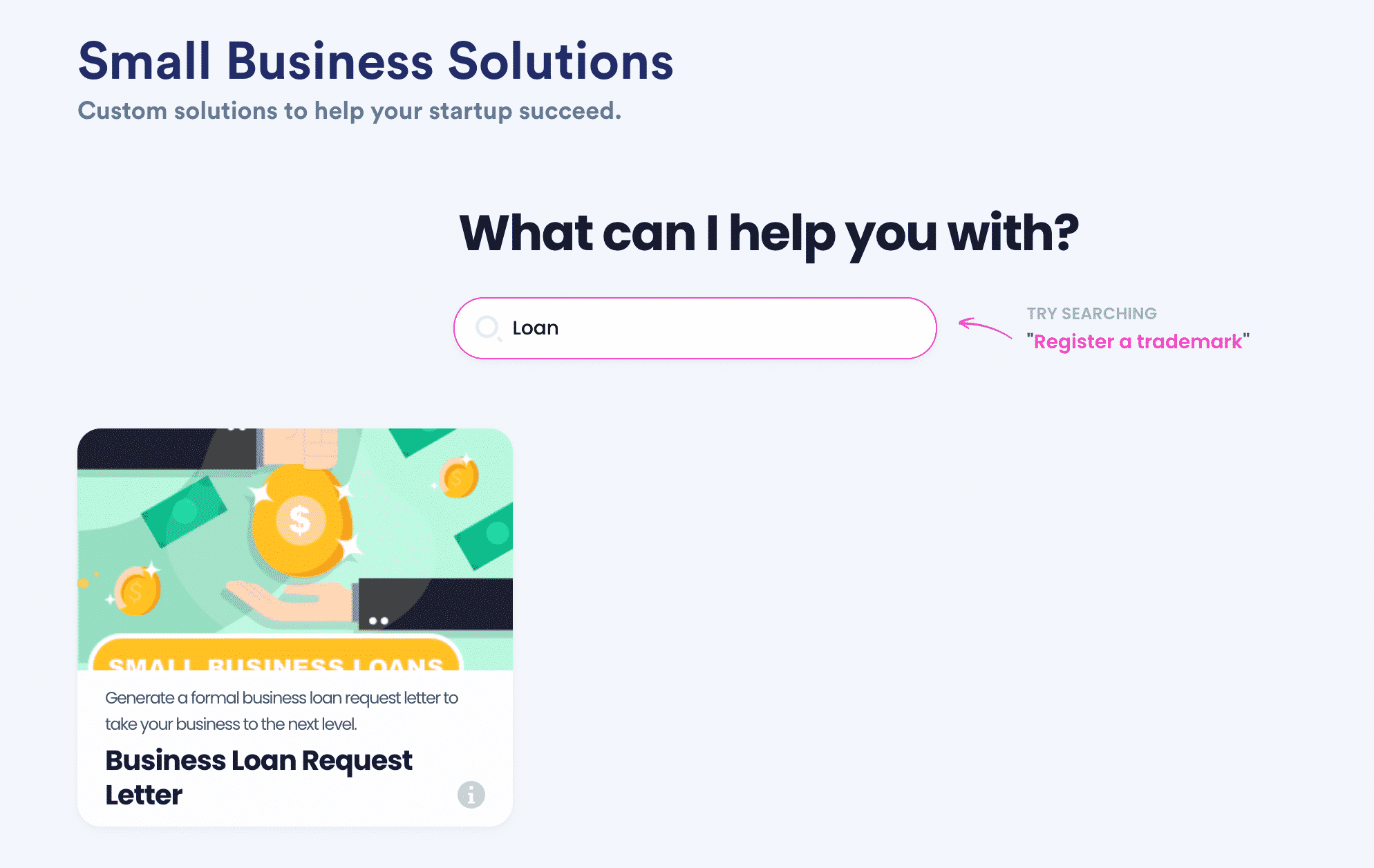 When you decide to open a new business, bar startup costs will not be the only worry on your mind. You will need to make sure you obtain all the necessary licenses, find employees, buy equipment, and so on.
Getting a small business loan will be another item on that list, and the application process is not a simple one. You will need to prove that you qualify for the loan by submitting a variety of documents, such as:
Business plan
Resume
Budget sheets
Personal and business credit score reports
Financial statements on:

Balance
Profit and loss
Cash flow
Aside from the documents, you will also need to fill out an in-depth loan application form that will ask you for many details about yourself and the business. Many owners end up empty-handed due to incomplete applications. You can avoid this by letting DoNotPay walk you through the process.
Our app makes sure you include all the details, and we also run a paperwork checklist to ensure you do not leave out any necessary documents. Once you sign up for DoNotPay, all you need to do is the following:
Select the Business Loan Request Letter tool
Collect your personal and business credit scores
Put together documents to prove you qualify
Answer a few questions from our chatbot
Upload all the necessary documents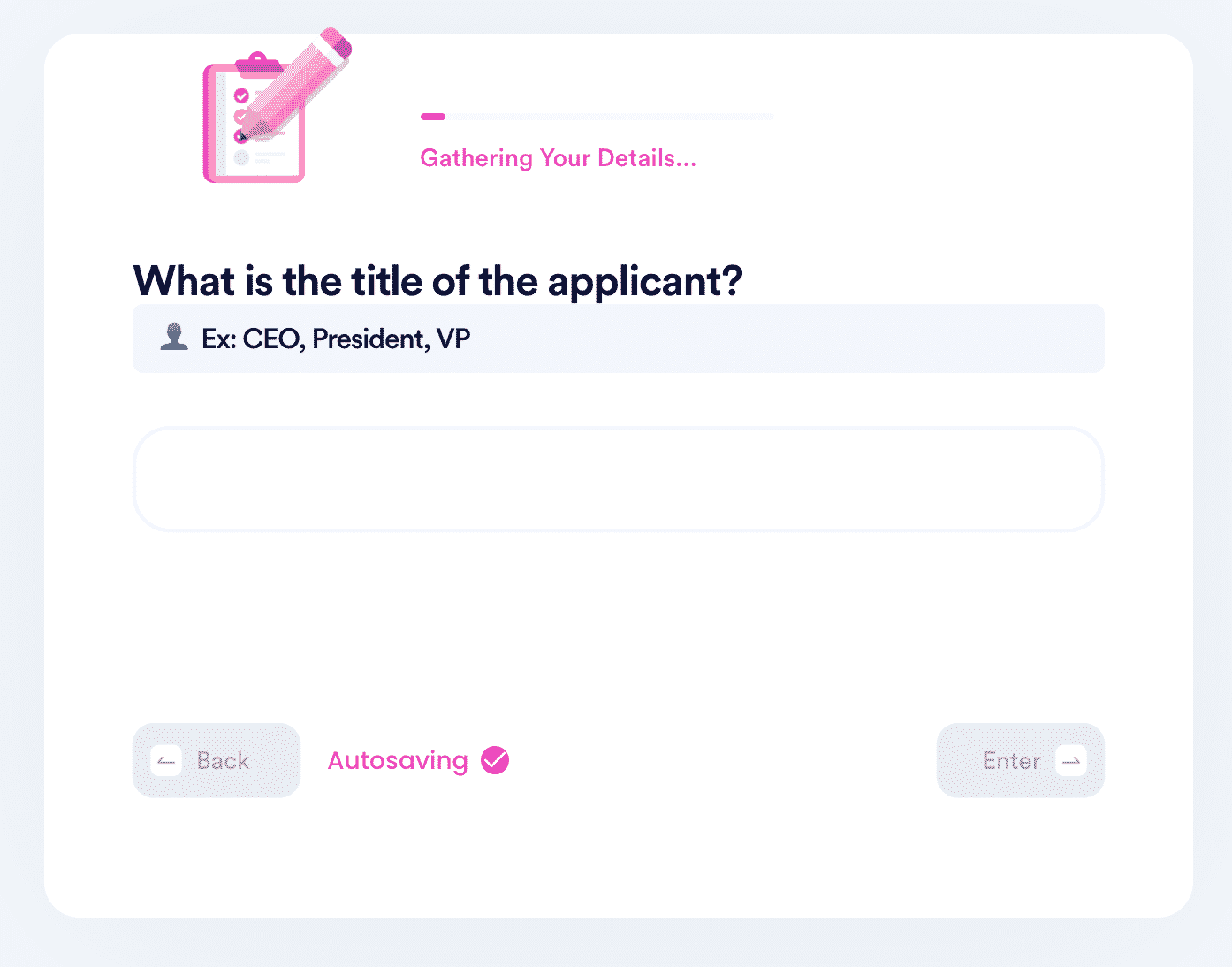 When you finish, we will create a watertight loan request letter that will pique the interest of any lender you want to get money from.
DoNotPay Finds the Best Lenders for You!
If you're still uncertain as to which lender you want to take out a loan from—we can assist you in finding the best one!
You can opt for our Find Online Business Loan Lender feature to get a list of three best lending institutions for the type of loan you need. Alternatively, you can kill two birds with one stone—fire up our Business Loan Request Letter tool, tell us you don't have a specific lender in mind, and let us find you one and draft a letter you can send to them right away!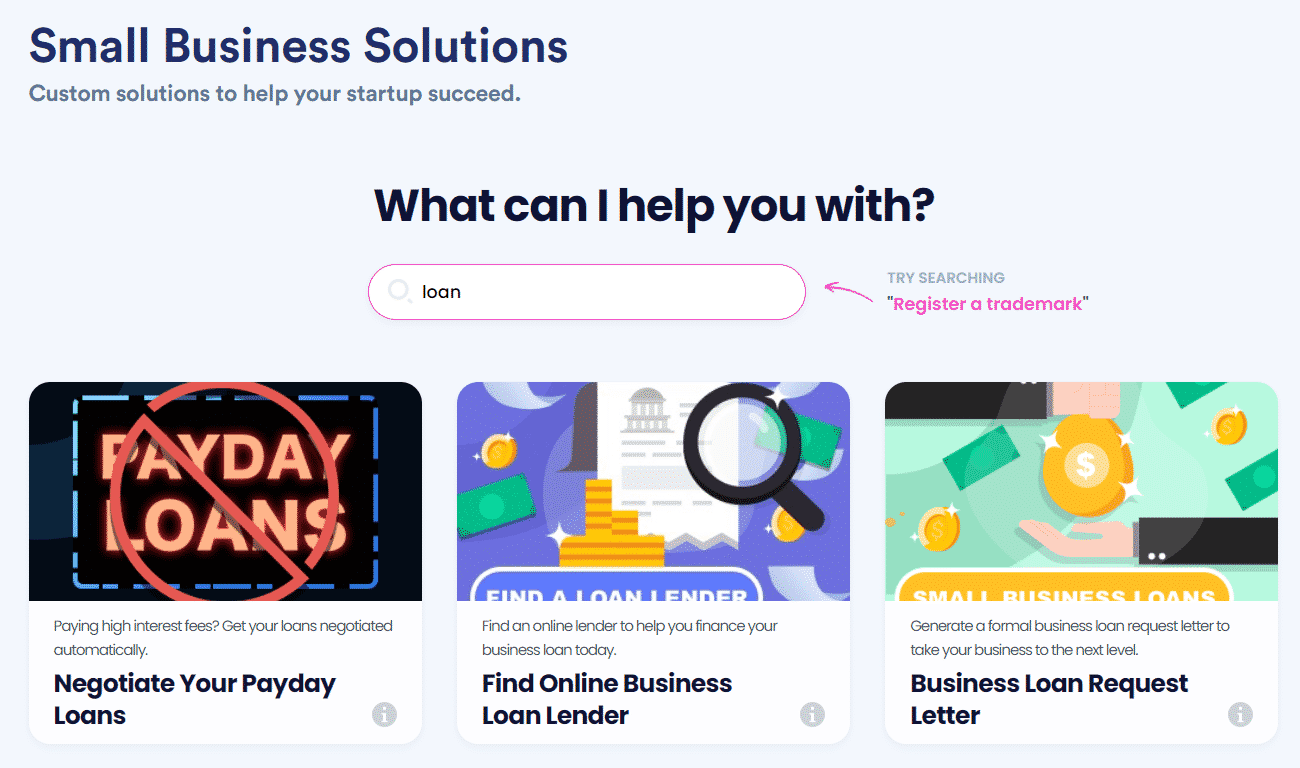 Don't Waste Ages on Tedious Administrative Tasks—Rely on DoNotPay
Running a small business can be a challenging endeavor, but you can count on DoNotPay to make the situation easier! We have developed a number of handy features that you can use to deal with your business-related hurdles. With our help, you can:
Send mail to your customers, investors, or business associates without wasting time going to the post office
Register your business slogan, logo, or name as a trademark to prevent brand infringement
Avoid copyright violations on your website by registering a DMCA agent
Protect the privacy of your clients' data by filing the Privacy Shield program self-certification request
Contest unjust chargebacks and keep the revenue
Deal with clients who breach the contract without wasting money on collection agencies or lawyers
Worked Hard on Creating a Good Business Reputation? Don't Let It Go to Waste!
Has one of the angry clients or envious competitors decided to leave a mean online review that could have a negative impact on your business? DoNotPay is here to help you remove it! We will analyze the problematic review and report it until it is taken down.
Don't know how to protect your trademark and make sure no one else is using it? Our app can monitor the trademark on a monthly basis and send cease and desist letters if necessary.
Let our app take care of many other issues—such as filing 83(b) election forms, registering for an Employer Identification Number (EIN), taking out small business loans, and similar—while you concentrate on the creative side of your business.