Do All Small Businesses Need a Bank Small Business Loan?
Businesses need small business loans to fund their budgets for a variety of reasons—from financing business operations to purchasing new land or machinery for manufacturing—and banks remain a solid lending option for many.
If you're looking to apply for a bank small business loan, your eligibility will depend on your financial business needs and the particulars of the loan. We will reveal the most common types of small business loans banks issue to small businesses and the necessary qualifications.
We'll also show you how DoNotPay can help you prepare your loan application swiftly and accurately so you are better positioned to get approval.
What Are Bank Small Business Loans?
Small business loans help small businesses get the funds they need without having to cede a share of ownership to the borrower—unless you default on your loan. To qualify for a loan, the type of loan you're applying for should be in agreement with how you intend to use the loan.
A business owner can look for a loan for many reasons, including:
Covering startup costs
Covering operational expenses (working capital)
Expanding your business (constructing or improving facilities)
Purchasing equipment or machinery (e.g., manufacturing and construction companies)
Stocking up inventory (e-commerce and brick-and-mortar businesses)
Refinancing a small business loan
Before a bank can approve a loan application, there are several metrics they use to assess a business's creditworthiness:
Age of the business
Monthly or annual sales and revenue
Bank statements
Credit score (personal and business)
Tax returns (business and personal)
Purpose of the loan
Collateral
The better your creditworthiness, the higher the possibility of securing a bank small business loan with favorable loan terms, rates, and fees.
What Are the Most Popular Types of Small Business Loans Issued by Banks?
Banks are more open to issuing a loan when the borrower wants to put the money towards assets, business expansion, or any other endeavor that directly contributes to revenue and profit growth.
The table below contains the best small business loan types that banks approve:
| Loan Type | Details |
| --- | --- |
| Business term loans | Term loans are given as one payment with a pre-arranged monthly repayment schedule. Loan terms range from two to 20 years, and loan amounts range from $2,000 to $5 million |
| Lines of credit | This option allows you to take money from a pool of funds on an as-needed basis. This is ideal when you're not sure how much money you need. You only pay interest on the amount you use |
| Equipment loans | These loans are meant for purchasing heavy machinery or equipment for your business. The repayment terms and rates depend on the equipment cost, type, and lifespan |
| SBA loans | SBA loans are guaranteed by the Small Business Administration, allowing banks (that are SBA lenders) to issue loans to small businesses with less risk. There is usually a 10–20% down payment required for these loans |
| Real estate financing | When a business wants funds to build, buy, or improve a business property, it needs real estate financing. These loans usually come with much longer repayment terms |
What Are the Pros and Cons of a Small Business Bank Loan?
Getting a bank loan is not the right choice for everyone. Analyze your business's needs carefully and check out the following pros and cons before you make a decision.
Pros of a Bank Small Business Loan
Some of the pros of bank small business loans include:
High loan amounts—If your business budget requires heavy financing, banks have the capacity to finance it as long as your business is deemed eligible
Ownership security—Banks generally just want their money back with interest, so your business equity is safe
Non-interference in how you run your business—After a bank approves your loan, it typically does not care what you do with the money as long as you keep meeting your repayment due dates
Favorable terms and interest rates—Bank rates are typically lower than the rates of online lenders, and you have a longer time to repay your loan. Also, the interest you pay is tax-deductible
Cons of a Bank Small Business Loan
The reasons below are why a bank small business loan may not be for you:
The minimum eligibility requirements are challenging—Bank business loans are better for already established businesses with a solid financial and credit history. Newer businesses and startups find it difficult to qualify, and when they do, they usually have to pay significantly higher rates
The application process is lengthy—The loan application process can take months, creating a problem if you need quick financing
Bank loans require more paperwork—You'll need to submit a business plan, financial statements, and forecasts documents, which the lending bank must assess. Online lenders require much less paperwork to approve a loan
You may not get the entire loan—At its discretion, a bank can approve only a percentage of your loan if it deems your business too risky to justify the full amount
Collateral requirements carry risk—Secured loans offer better rates and loan terms, but they can also put your personal and business assets at risk if you default on your loan
DoNotPay Can Help Improve Your Chances of a Loan Approval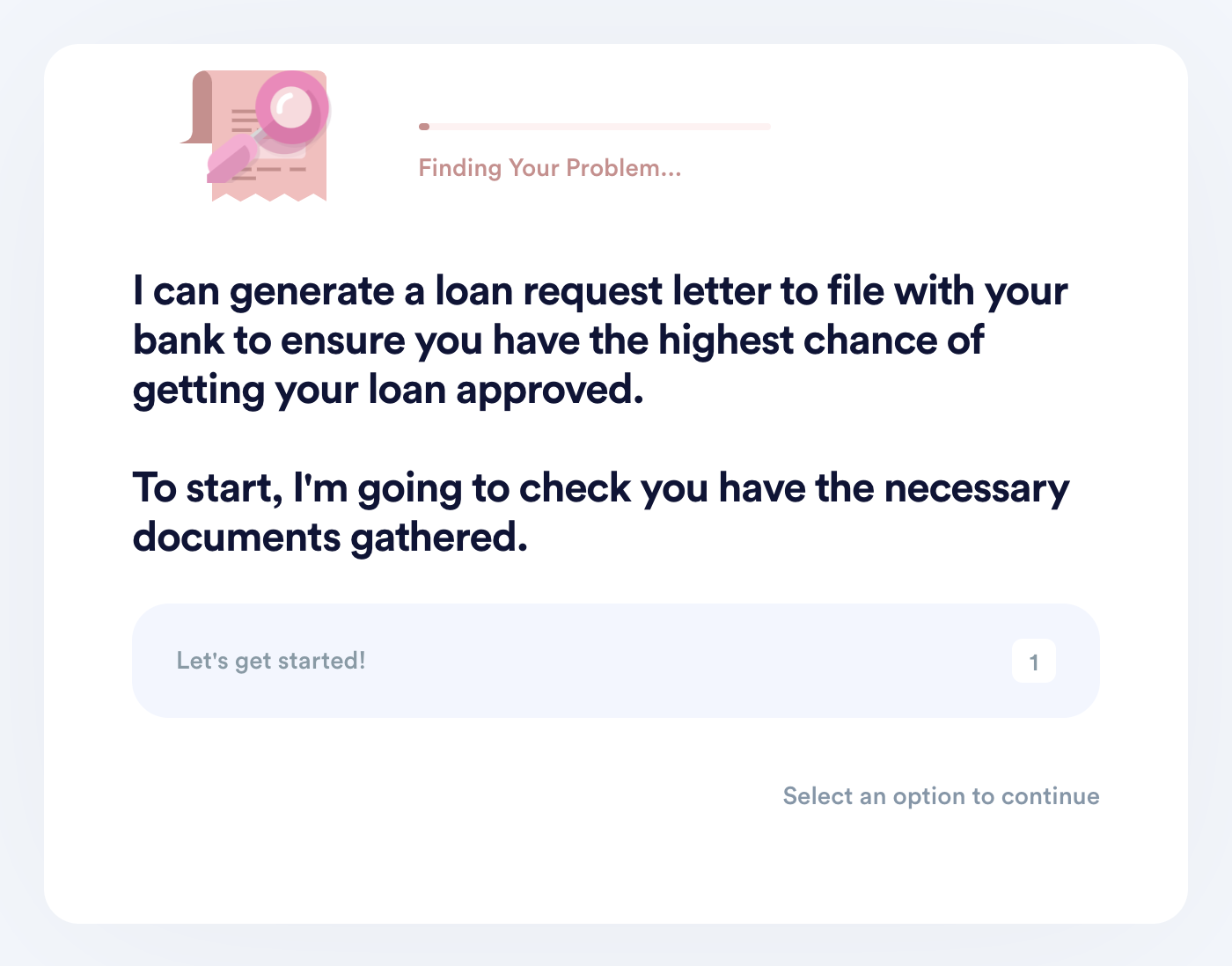 Getting a loan approval from a bank or other lenders means a lot of work—there are a lot of documents and processes to keep an eye on.
DoNotPay can help business owners stay on top of everything by generating a flawless loan request letter and sending it to their lender of choice. The process only takes a few minutes:
Click on the Business Loan Request Letter feature
Answer the chatbot's questions about your company and the loan
Upload your documents
The content and structure of the loan request letter from DoNotPay will boost the possibility of getting your loan approved.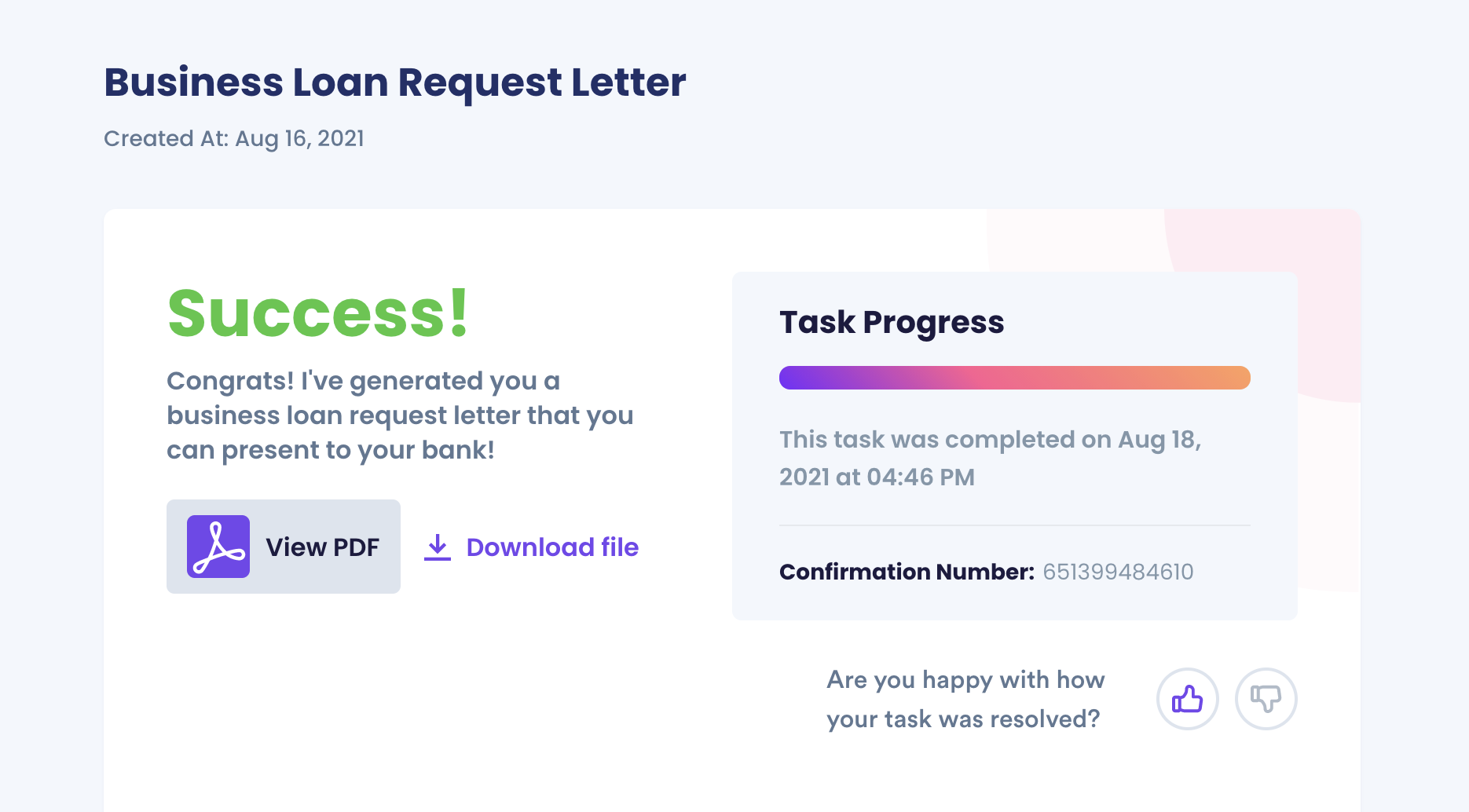 Not sure which lending institution is suitable for your loan needs? DoNotPay's Find Online Business Loan Lender tool can help match you with the right lender.
DoNotPay Offers More Help for Your Business
Running a small business is no small feat. When you're drowning in red tape, DoNotPay is here to lend a helping hand. Whether you need to register your trademark or protect it later on, we have got it covered. With our help, you will keep your logo, slogan, and business name safe.
Are you also yet to register for an Employer Identification Number (EIN)? Not to worry—our app can file the IRS SS-4 form in a few clicks. With the world's first robot lawyer at your fingertips, you will also be able to create your 83(b) election forms with ease—ready for your employees to sign them right away.
In case you are struggling financially, we can assist you with a business loan application.
Communication Has Never Been Easier With Our App
Keeping up with clients can be challenging, especially if each has a preferred method of communication. Luckily, our multifunctional app makes it easy to both fax and mail contracts, letters, and documents.
You can also count on our assistance when you need to:
Fight fake negative reviews online
Deal with a client regarding a breach of contract
Dispute fraudulent chargebacks
Thanks to DoNotPay, there is no need for back-and-forth communication. We will handle the necessary demand letters and forward them on your behalf.
We can also help you manage your DMCA agent registration and Privacy Shield program self-certification.