Bank Power of Attorney Deciphered
Looking for relevant info about a bank power of attorney and a quick way to draft one? DoNotPay got you covered! We'll provide you with all the necessary details you should know about a power of attorney for banking purposes and show you how to draw up legal documents in minutes!
Subscribe to DoNotPay, and forget about struggling with administrative tasks ever again!
Power of Attorney Types
A power of attorney is a legal document that allows an agent to make decisions in your stead. There are various different types of POA documents. Check out the table below for the specific POA types:
POA Type
Description
General power of attorney
This type of POA document allows an agent to represent you in financial matters as long as you're in a good mental state. In case you become mentally incapable of making decisions, the agreement will end
Durable power of attorney
The durable POA stays in effect even after you become incapacitated. It's used to handle legal, financial, and property matters
Limited power of attorney
With the limited POA, you can grant the agent clearly specified powers. You can also make the agreement time-limited so that it lasts for the specific period of time that works for you
Financial power of attorney
The financial POA gives the agent permission to deal with your finances, bills, and real estate matters. It can be:

Effective immediately
Sprung (effective once you become incapacitated)
What Is a Power of Attorney for Banking Transactions?
A power of attorney for banking transactions is a POA that allows a trusted agent to deal with your bank account(s) on your behalf. If you want to set up a power of attorney in a way that allows someone to make bank transactions in your stead, your POA has to specifically state that. You can hire a lawyer to help you with the details, but keep in mind that they can be quite expensive.
What Powers Can I Transfer With the Bank Power of Attorney?
You can transfer various powers to your trusted agent with this type of POA, including the power to:
Draw, sign, endorse, and deposit checks in any of your accounts
Issue, draw, sign, accept, endorse, and discount bills of exchange, promissory notes, etc.
Apply for ATM cards and other credit cards and use them on your behalf
Withdraw any deposits, shares, bonds, and any other funds currently deposited with you or received by you
Execute any transfer from your account to other parties or the attorney's account at various banks
Apply for the sale or purchase of any shares, bonds, and other commercial contracts
Rent safe deposit boxes with the right to open them and receive any of their contents
Carry out all transactions with your bank, including issuing instructions and signing contracts, settlements, and other documents in relation to the matters mentioned in this POA
What Should My Banking Power of Attorney Include?
If you decide to draft your POA on your own, you should know what clauses it must include. Your banking power of attorney should cover the following sections:
Names—Full names of both you and the agent
The effective date—The date of the POA agreement going into effect
Details about the agent—All relevant details about the agent, including the contact info and their address
The type of POA—Description of the POA agreement type
Instructions for the agent—Any instructions you want the agent to follow in your absence
Writing a power of attorney by yourself, as any other legal document, requires too much time and effort. Luckily, you can draw up a banking power of attorney with our help without spending a ton of money! All you need to do is provide us with the required info regarding you and your agreement, and you're golden. Why not let DoNotPay help cut your work in half by generating your POA in your stead?
Draft Your Bank Power of Attorney With DoNotPay in a Flash!
Spending hours writing your power of attorney document seems like a waste of time when you can draft it with DoNotPay in minutes! All you have to do is complete the following instructions to get started:
Say what powers you want us to include
Answer a few simple questions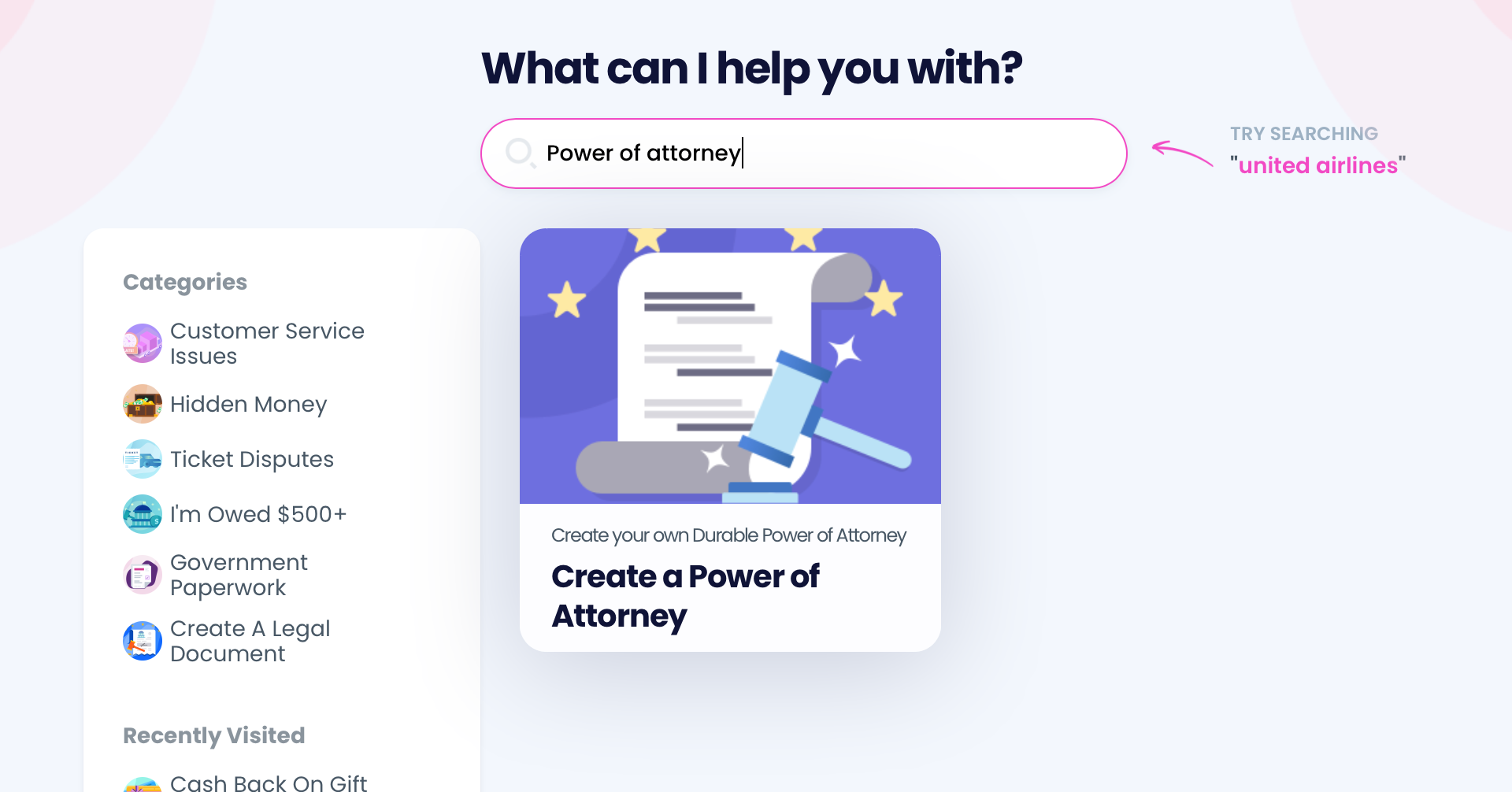 If you want to write a power of attorney letter, we're happy to show you how! DoNotPay can also provide answers to various POA-related questions, such as:
Does a Power of Attorney for Bank Accounts Need To Be Notarized?
Powers of attorney, in most states, have to be notarized. There is more than one way to get your POA notarized, and it doesn't have to include an in-person visit to a notary.
DoNotPay offers you the option to get your POA notarized from the comfort of your home or office. Once you draw up your document with the world's first robot lawyer, you can choose to get your POA notarized online and kill two birds with one app!
Take Control of Your Finances
DoNotPay is a great way of taking care of your money, whether you're cost cutting or looking for some extra income. Your new virtual assistant will help you:
Explore All the Facets of Our Multi-Purpose Platform
Our app is great for helping you with your money, but the benefits of your DoNotPay subscription don't stop there. The portfolio of DoNotPay's products and services is so diverse that anyone can find something useful to make their daily tasks easier.
We can help you deal with annoying DMV appointments, protect your privacy by offering a burner phone number, or avoid trips to the post office with our mailing service!
Find a more comprehensive yet cheaper subscription—we'll wait!