A Comprehensive Guide to Bank of America Small Business Loans
Bank of America is famous for providing small business loans as financing solutions to small businesses. If you require funds to run your business, Bank of America has various loan options to choose from. In this guide, we will break down the Bank of America small business loans and explain how they work to help you select the best one.
If you need help with the loan application process, turn to DoNotPay! We can assist you in writing a professional loan request letter to maximize your chances of approval.
Small Business Loans at Bank of America
The Bank of America offers various financial solutions for small business owners to cover their expenses. Some of the popular ones include:
Business credit lines
Term loans
Business advantage auto loans
Equipment loans
Commercial real estate loans
SBA loans
Business Line of Credit
With a business line of credit, you have a credit limit that you can use to cover business expenses. Once you reach the credit limit, you must pay it back (with interest). After the debt is repaid, you can start using the limit again.
A business line of credit is convenient because:
You can use the funds whenever you require
You do not need to provide any collateral to get the loan
The interest rates are favorable
Term Loans
With a term loan, Bank of America offers a significant amount of money to the borrower, which is to be paid back in regular installments at a fixed or variable interest rate. Features of the loan include:
A $25,000 starting loan amount
A four-year loan term with collateral
A 0.5% origination fee
Predetermined payment schedule
Business Advantage Auto Loan
You can get an auto loan to finance cars, vans, trucks, or any other automobile necessary for business operations. Bank of America offers the following loan terms:
The loan amount starts from $10,000
Interest rates can be as low as 2.49%
The repayment schedule can range from 48 to 72 months
There are no applications fees
The vehicle you intend to purchase needs to have a minimum value of $10,000 and should have run less than 75,000 miles.
Equipment Loans
Equipment loans are practical to buy equipment and machinery required to operate your business. The following are notable features of a Bank of America equipment loan:
Low interest rates
Five-year repayment schedule if collateral is provided
0.5% origination fees
A $25,000 starting loan amount
Commercial Real Estate Loan
If you are searching for a way to finance your property purchase, Bank of America can offer you a real estate loan. With amounts starting from $25,000 and interest rates as low as 3%, you can buy the property of your choice. The loan terms are as follows:
Ten years with a balloon payment
15 years with full amortization
Fees, including:

0.75% of the amount financed
Property insurance
Flood hazard insurance
Closing costs
SBA Loans
The federal government offers Small Business Administration (SBA) loans to small businesses and startups to help cover their costs. The government partners with banks and credit unions to provide the money to small business owners. The loan terms of a BoA SBA loan are as follows:
Loan Amount
Loan Details
Between $25,000 and $350,000

10% down payment
Seven years for working capital or inventory
Ten years for equipment

Loans above $350,000

10% down payment
25 years on real estate
Ten years on equipment

Between $200,000 and $5 million

10% down payment
25 years on real estate
Ten years on equipment
Seven years for working capital or inventory
How To Qualify for a Small Business Loan at Bank of America
While every lender has different criteria for loan eligibility, Bank of America requires the following:
At least two years in business with the same business owner
Annual revenue of $250,000 minimum
Boost Your Chances of Getting a Loan by Using DoNotPay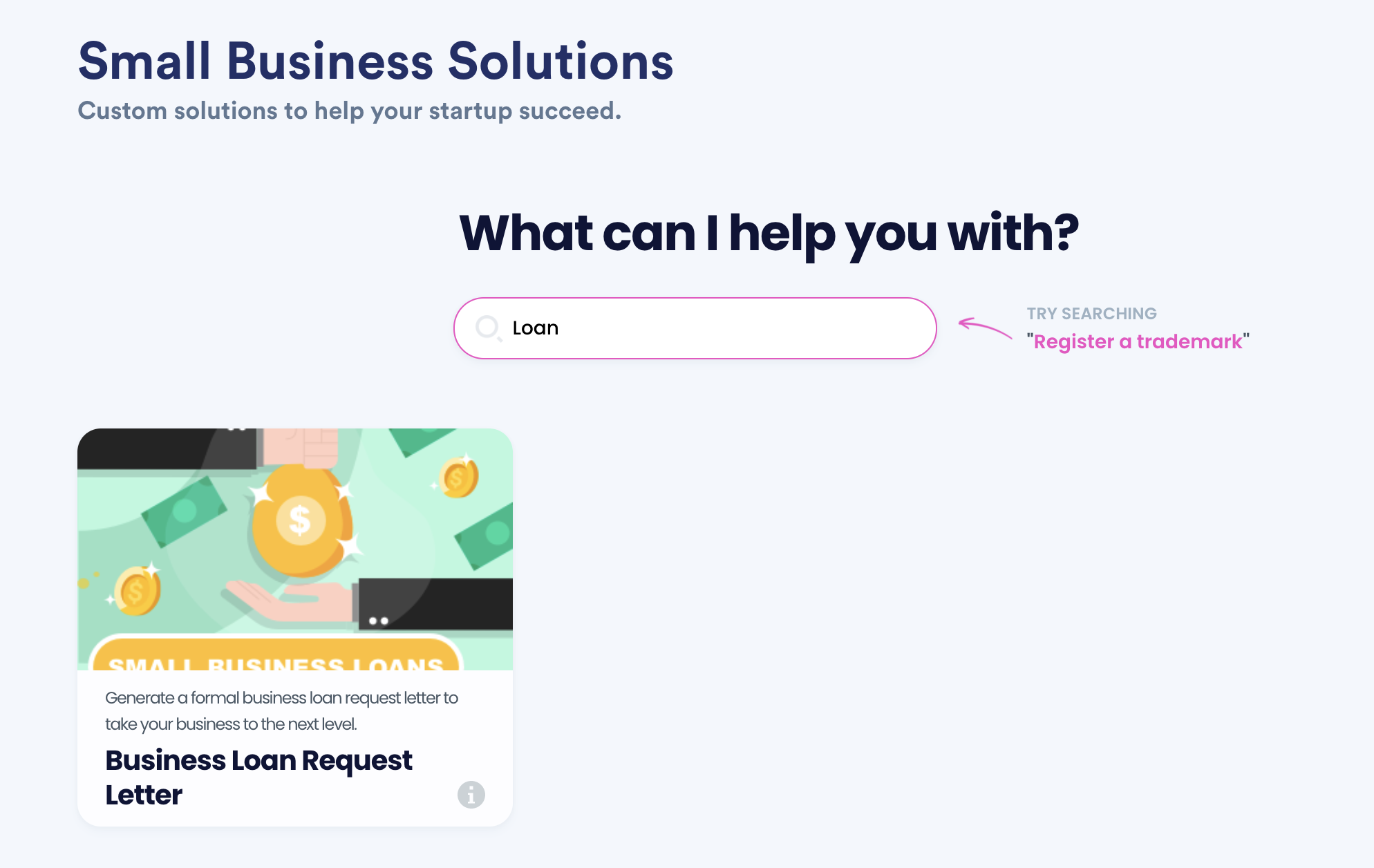 If you have chosen the best small business loan for your business, the next step is to secure it. The best way to do that is to convince Bank of America that you qualify for the funding. You can do that by writing a convincing loan request letter that increases your chances of approval. If you don't know how to write one, we can assist you! Here is what you need to do:
Select the Business Loan Request Letter product
Answer a few questions about your business
Upload all required documents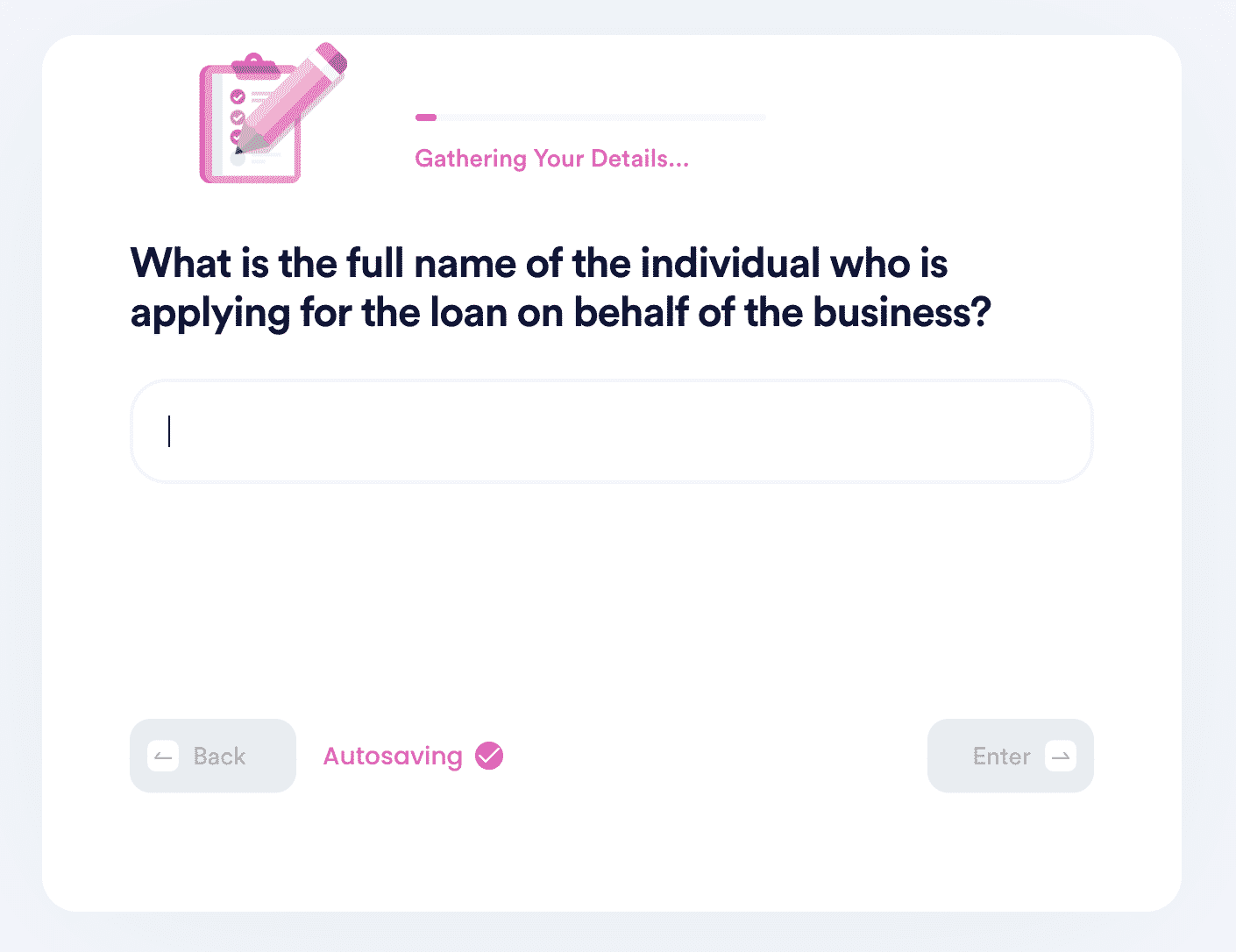 Has Bank of America denied your loan application? Don't stress out! DoNotPay's Find Online Loan Lender feature can help you find the best lenders depending on your budget and requirements.
If you want to check out the business loans offered by other banks, consult our guides on loans at:
DoNotPay Helps You Do Everything by the Book!
Are you confused by the numerous business-related laws and procedures? If you cannot seem to get the hang of all of the processes, you should rely on DoNotPay. Allow your robot lawyer to help you take care of Employer Identification Number (EIN) and DMCA agent registration in a matter of minutes!
Once you handle those tasks, you should consider using DoNotPay to register your business slogan, name, or logo as a trademark and protect your brand by allowing us to check for trademark violations regularly.
Not sure how to handle 83(b) election forms? Automate the entire process and have your employees fill out and submit the forms in a few clicks! We can even help you protect the privacy of your clients by filing a self-certification request with the Privacy Shield program on your behalf so your website complies with data protection requirements.
Running a Business Is Smooth Sailing With DoNotPay
DoNotPay has a solution for any business issue. We can help you:
Draw up a professional and convincing small business loan request letter and get the necessary funds for your business
Report unjustified negative reviews that could damage your brand until they are taken down
Request payment from clients who break the contract
Dispute chargeback requests when they are unfair
Send letters or paperwork without going to the post office