A Quick Guide to Bank of America Small Business Credit Cards and Loans
Banks, such as Bank of America, are well-known providers of small business financing solutions. If you need to access capital, you can consider the Bank of America small business credit cards and loans. In this guide, we cover the most important details of the Bank of America loan options for small businesses to help you choose the right solution for your needs.
When submitting a loan application, maximize your odds of success by using DoNotPay to generate a convincing loan request letter.
What Are the Bank of America Small Business Credit Cards?
Small business credit cards have numerous benefits, like helping you separate the business and personal expenses. They can also help if you are attempting to build credit for your business.
Business credit cards are similar to personal ones. Your business is assigned a credit limit based on the credit score.
Bank of America offers three small business credit cards that come with varying benefits. Check out the comparison of the available options in the table below:
Business Advantage Travel Rewards Mastercard Credit Card
Platinum Plus Mastercard Business Card
Business Advantage Customized Cash Rewards Mastercard Credit Card
Best For
Business owners whose major expenses come from traveling
Borrowers who want lower

interest rates

Business owners who spend a lot in different categories
Regular Variable Purchase APR
12.24–22.24%
10.24–21.24%
12.24–22.24%
Ongoing Rewards
1.5 points for each $1 spent on any purchases and 3 points for every $1 spent on travel expenses booked via the Bank of America Travel Center
None

2% cash back on dining
1% cash back on any other purchases
3% cash back in any category of your choice

Sign-Up Bonus
30,000 points after at least $3,000 in net purchases within 90 days of obtaining the card
$300 statement credit for $3,000 worth of net purchases in the first 90 days of account opening
$300 statement credit following a $3,000 worth of purchases within 90 days of account opening
Foreign Transaction Fee
0%
3%
3%
Bank of America Small Business Loans
Besides credit cards, Bank of America offers different types of small business loans for various purposes, like purchasing equipment, covering operating expenses, funding startup costs, and more. Most loans are designed to serve specific needs of a small business.
Below are some of the small business loans you can consider:
Small Business Administration (SBA) loans
Business Advantage Credit Line
Business Advantage Term Loan
Secured business loans
Small Business Administration (SBA) Loans
The Small Business Administration (SBA) is a federal agency that offers various loan programs for a variety of needs. The SBA doesn't directly provide the money but instead partners with creditors, such as community development organizations and banks.
The role of the SBA is three-fold:
Guaranteeing a percentage of the loan issued by the lender
Setting the framework for how the loan programs should work
Setting the minimum requirements for lenders and applicants
To get an SBA loan from Bank of America, you must meet both the SBA and Bank of America requirements.
Business Advantage Credit Line
Some of the barriers that you encounter when requesting loans are collateral requirements, particularly for startups. The Business Advantage Credit Line by Bank of America provides an unsecured credit option with the following features:
Competitive interest rates
Freedom to access funds anytime
Business Advantage Term Loan
Term loans provide a lump sum upfront, which you are required to pay over a predetermined period either with fixed or variable interest rates. If you need a large amount of money quickly, you can opt for the Bank of America advantage term loan, which has the following features:
No collateral needed
One-time lump sum
Competitive interest rates
Predetermined monthly payments
Commercial Real Estate Loans
This loan is ideal if you need money to buy commercial land or business facilities for expansion. The maximum loan amount varies from case to case, but the available amounts start at $25,000. These real estate loans come with interest rates as low as 3% for ten to fifteen years. To qualify, your business must have been operational for at least two years and have a minimum annual revenue of $250,000.
Equipment Loans
If you just want to purchase machinery and tools for your business, equipment loans may be a good option. Bank of America equipment loans start from $25,000 and have a repayment term of five years. You can only apply if your business is at least two years old and generates an annual revenue that is equal to or higher than $250,000.
Secured Business Loans
The secured business loans are meant for expansion and debt repayment. Loans start at $25,000 and require collateral. The loan terms are four to five years with variable interest rates.
Maximize Your Chances of Securing a Loan by Using DoNotPay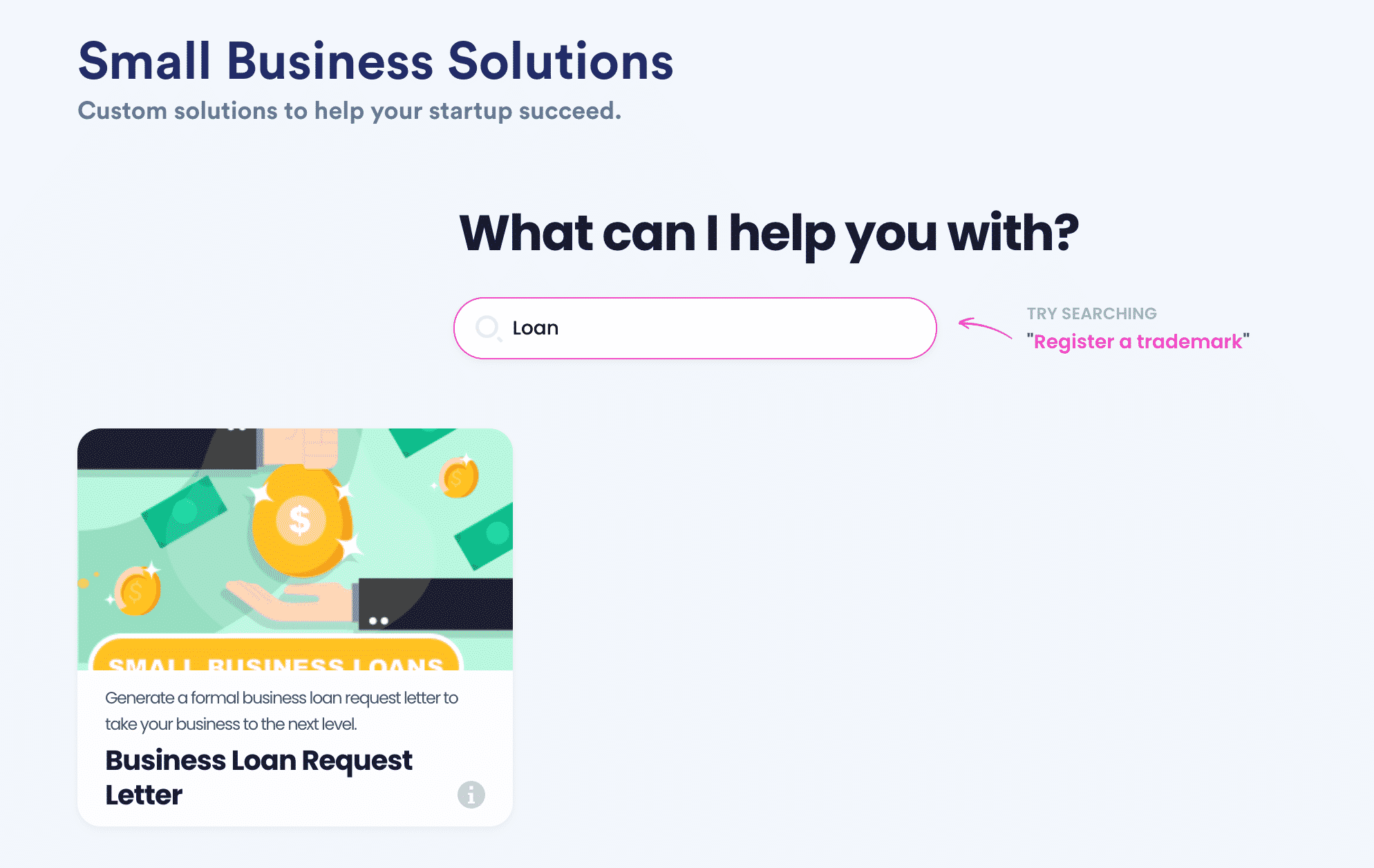 Have you found the best small business loan that suits your budget needs? To secure the loan, you must convince the lender to grant you the funding. The best way to do that is to create a compelling loan request letter that captures what lenders wish to hear from applicants. DoNotPay understands what makes a great loan request letter and can generate one for you within minutes.
Follow these steps and get your letter quickly:
Select the Business Loan Request Letter product
Answer a brief questionnaire
Upload the required documents
When you submit your details, we will quickly generate your custom letter and send it to the lender for you.
Need help with finding the best lenders? Use DoNotPay's integrated Find Online Business Loan Lender feature to get the best suggestions based on your business's needs. You can also check out our guides to the small business loans of other banks, such as: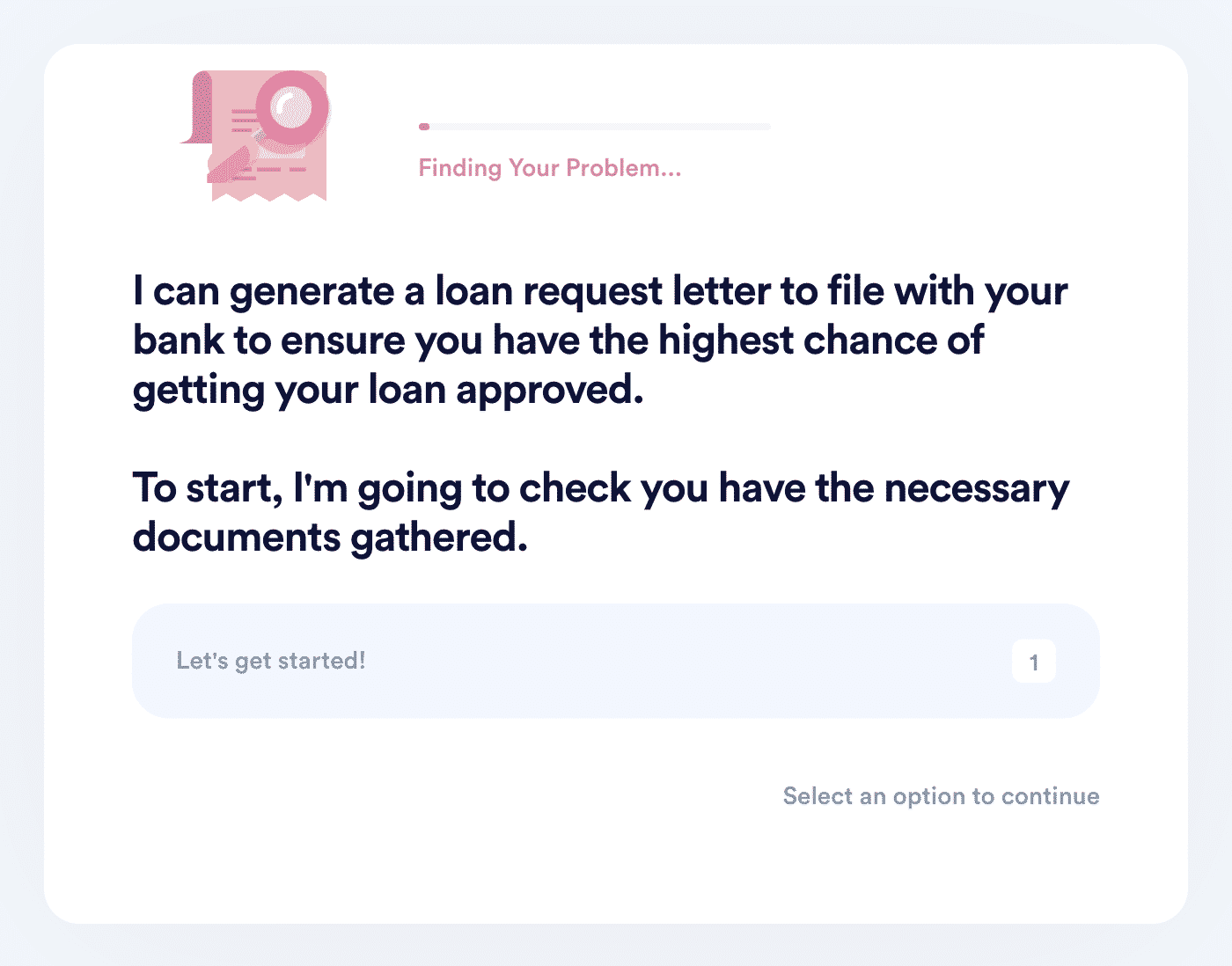 Protect Your Brand Name and Build Trust With Your Users!
One of the most challenging aspects of every business is building a trusting relationship with the customers and maintaining a good reputation. That is why it is crucial to protect your business name, logo, and slogan legally by registering it as a trademark. DoNotPay is here to help you do that hassle-free with our Trademark Registration tool. Need help checking for trademark violations once you register? There is no need to fret as we have a tool that can help you with that as well!
Now that your trademark is taken care of, you should consider complying with data protection requirements to take care of your users' privacy. You can do so by using our Privacy Shield Self-Certification product.
Are you dealing with fake negative online reviews that are harming your business? DoNotPay can help you by analyzing the reviews and reporting them until they are taken down!
Time Is Money, and DoNotPay Can Help You Save Both!
DoNotPay offers an array of time-saving features that you can use when you do not feel like dealing with business-related challenges on your own. We can help you:
Apply for your Employer Identification Number (EIN) Registration in a few clicks
Help your employees lower their taxes by filing 83(b) election forms from the comfort of their offices
Enjoy free faxing and mailing services and save time by not having to go to the post office
Complete a DMCA agent registration process to avoid dealing with copyright violations
Write a convincing letter when filing for a small business loan
Do you need help dealing with clients who do not want to pay for your services? Use DoNotPay's Breach of Contract product to send a letter of demand in a matter of minutes! Not sure what to do with unfair chargeback requests? We can help you by creating a chargeback rebuttal document for you to send to your payment processor.