Bangladesh Tourist Visa—How Can You Get It?
Visiting Bangladesh is all about checking out the stunning nature, lovely beaches, and special cultural places. If you want to have the time of your life on this journey, you must get informed about the visa policy on time to ensure a smooth entry to the country.
Finding the correct and updated information may be challenging. For this reason, we prepared an A-to-Z guide to filing your Bangladesh tourist visa application with no bother! Use DoNotPay to breeze through the process and learn all about the requirements you must meet to visit the country with zero worries.
Is a Tourist Visa for Bangladesh Necessary for U.S. Tourists?
Yes, all travelers from the USA must have a valid tourist visa when entering Bangladesh. Depending on your needs and possibilities, you can opt for:
Single-entry visa—It remains valid for six months. You can enter the country only once and stay for up to three months
Double-entry visa—It allows you to visit Bangladesh twice in six to 12 months without exceeding the maximum stay period of three months
Multiple-entry visa—You can visit the country multiple times within six to 12 months, but a single stay shouldn't exceed three months
Even though U.S. citizens can request a 30-day visa on arrival, this isn't recommendable since there's no guarantee that you will get one. The decision is at the sole discretion of the immigration officers at the customs. For this reason, you should submit a visa application in advance—ideally several weeks before the intended trip.
Bangladesh Tourist Visa Requirements in a Nutshell
Before applying for your Bangladesh tourist visa, you should comply with all the proposed criteria and have the required documents. Below is the full list of items you should add to your visa to-do list:
Have a passport with the remaining validity of at least 180 days beyond your intended stay period in Bangladesh
Make a photocopy of the bio-data page of your passport
Provide two empty visa pages of the passport for entry/exit stamps
Have a color passport-size photo (2 x 2") taken or use one that was taken in the past six months—It should be glued to your application form or uploaded along with other documents if you are requesting a visa online
Prepare one of the following:

Travel itinerary
Hotel reservation or evidence of booked accommodation
Letter of invitation from your host—if you were invited to Bangladesh by a friend, family, or any other person

Have evidence of sufficient financial liquidity
Pay the required visa application fees with a money order or an official or a cashier check—Other payment methods, such as cash or a personal check, aren't accepted
Provide evidence of not being affected by COVID-19 in the form of:

Vaccination certificate
Health certificate from a certified clinic/doctor
Negative COVID-19 test conducted within the past 72 hours
How Much Do You Have To Pay for a Bangladesh Tourist Visa?
Regardless of the in-advance visa type you choose, the fee you must pay before applying is $160.00. A visa upon arrival costs from $15.00 to $30.00.
What Does the Bangladesh Tourist Visa Application Look Like?
The following table shows all the possible ways to file a Bangladesh visa application:
Method
Instructions
Processing Time
Online
Ten days
By mail

You can submit a printed and completed application form by mailing it in a self-addressed return envelope. The envelope must be sent by USPS Priority or Express Mail along with suitable stamps to:

The Embassy of Bangladesh in Washington, DC

3510 International Drive NW

Washington, DC 20008

USA

You can also mail it to the Consulate in New York:

Consulate General of Bangladesh in New York

34-18 Northern Boulevard, Ground Floor

Long Island City, New York, NY 11101

In person

The embassy receives walk-in applications Monday through Friday from 10 a.m. to 1 p.m.
How Does DoNotPay Help You Overcome Visa Application Issues?
Applying for a tourist visa requires a lot of hard work, especially if you don't know whether the information you have is updated and accurate. Luckily, DoNotPay can walk you through the whole procedure without a hitch and help you avoid hours and hours of searching for the right instructions!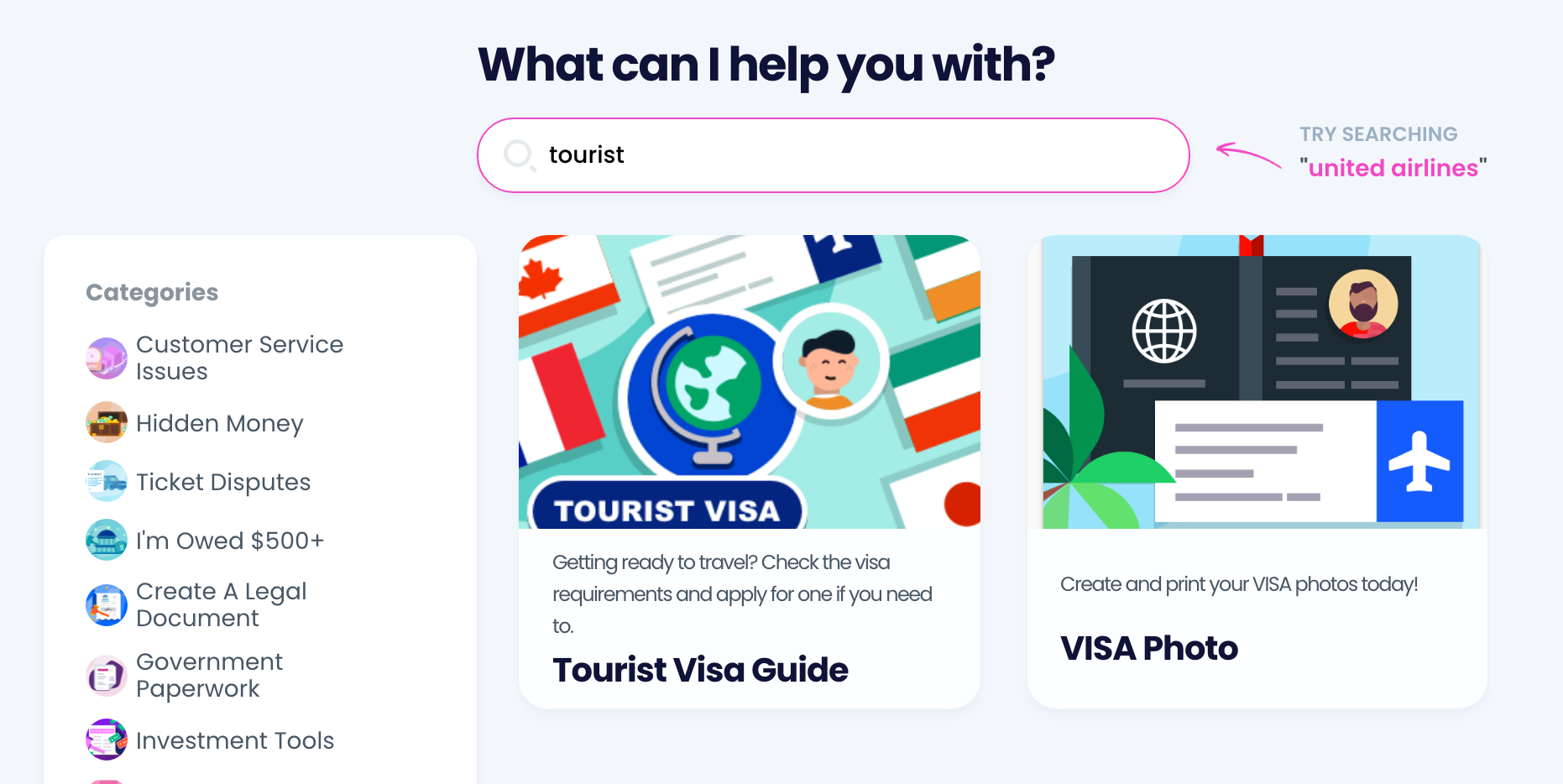 Our app can:
Scan the desired country's visa policy and tell you whether you need a tourist visa for your visit
Offer you the ultimate list of documents you must collect and submit with your application
Contact the embassy to check for the easiest way you can send your application without traveling
Send you an appropriate online or PDF application form, saving you from ending up on the wrong websites and becoming a victim of scammers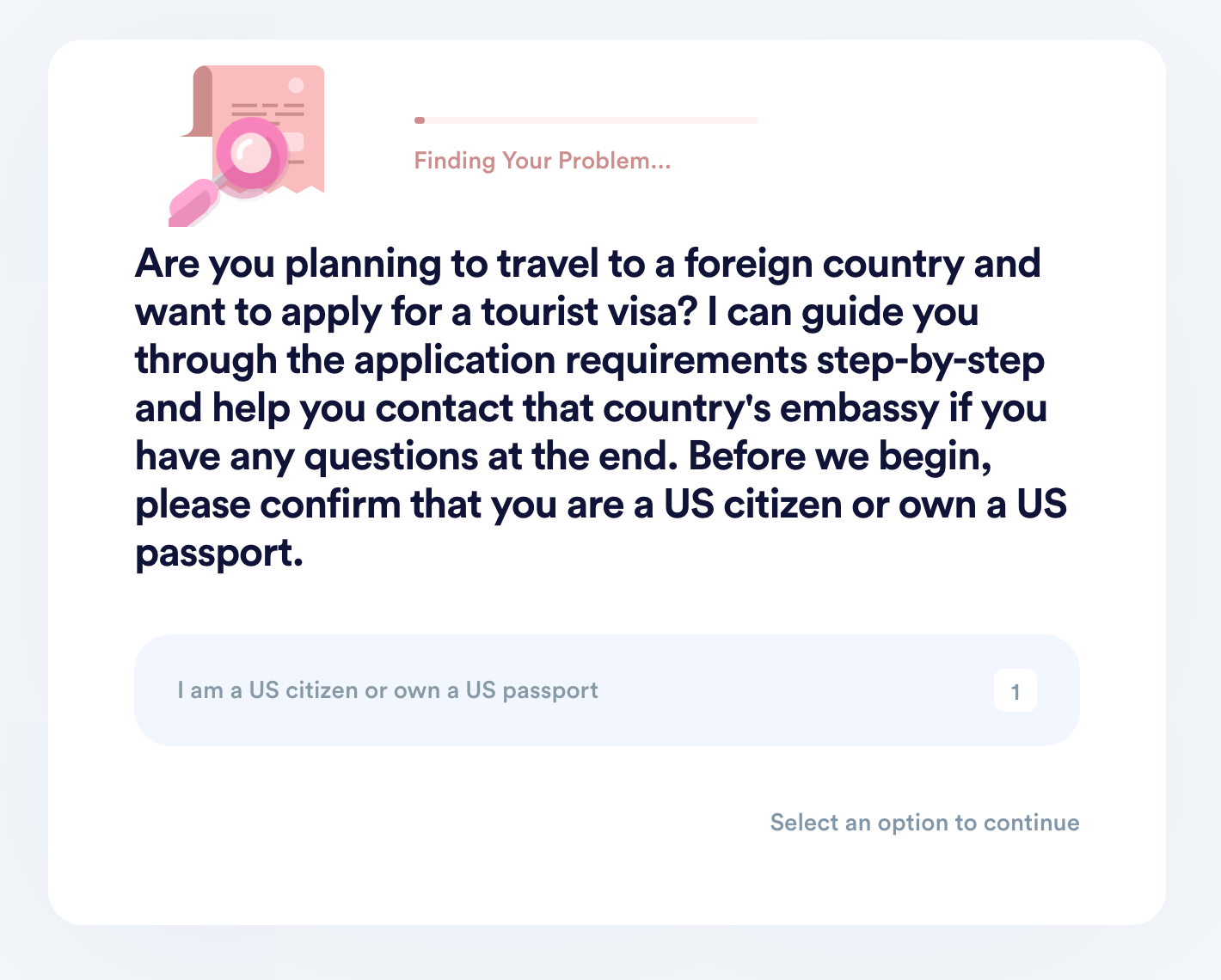 The process is a breeze—all you have to do is complete a few easy steps listed below:
Access DoNotPay and sign in to your account
Select Tourist Visa Guide
Verify that you possess a U.S. passport or are a U.S. citizen
Type in the name of the desired country
Not done with Asian destinations yet? Let us guide you through tourist visa application processes for any other country in the same area, including:
DoNotPay Is the Best Solution for Your Bureaucratic Problems!
A wide range of handy features DoNotPay offers can assist you in resolving administrative issues without breaking a sweat! Our app provides the easiest way to:
Get What You're Owed in a Few Taps!
Shopping is fun, but retailing companies can sometimes be difficult to negotiate with, especially when things go wrong. With DoNotPay, you can reach their customer service without spending hours on hold and get a refund fuss-free! Should the merchant refuse to collaborate, we can help you get justice by suing them in small claims court.
Our app can also file an insurance or warranty claim in your name, request gift card cash back, or initiate returns for dissatisfying products.
If you want to check whether you have any unclaimed money in old bank accounts, using DoNotPay is the easiest way to do it!