The Essential Baltimore County Divorce Forms for a Quickie Divorce
Are you looking for a quick and painless way to get a divorce in Baltimore County? The essence of a fast divorce is being familiar with the procedure and filing the appropriate paperwork.
If you want to know which Baltimore County divorce forms to prepare and how to complete them, we have the information you need. This article will show you how to get a low-cost divorce according to Maryland laws!
What Should I Know About the Baltimore County Divorce Procedure?
Before you file for divorce in Baltimore County, MD, you need to know the available options. Having all the facts straight will help you decide which course of action to take and how to avoid making a mistake.
The key points you should consider when ending your marriage in Baltimore County are:
What type of divorce you want to file for
Which residential requirements you have to meet
What grounds you're basing your divorce on
Types of Divorce
There are two types of divorces in Maryland:
Limited—It is similar to legal separation in other states. The court will have to resolve specific issues for you (such as finances and child custody) before you can file for an absolute divorce. Note that limited divorce presents a temporary solution and doesn't end your marriage legally
Absolute—At the end of the process, all divorce terms will be settled, and your marriage will be legally terminated
Residential Requirements
To file for divorce in Baltimore County, one or both spouses have to be Maryland residents. The length of your residency depends on where the grounds for the divorce occurred. If the reasons happened in Maryland, you only need to live there currently. In case the grounds occurred outside of Maryland, you or your spouse have to reside in the state for at least six months before filing.
You and your partner should also live separately for a minimum of 12 months before filing for absolute no-fault-based divorce. A fault-based divorce doesn't require a waiting period.
Grounds for Divorce
If you want to divorce in Baltimore County, you have to provide specific grounds (reasons) for ending the marriage. Some of those grounds can be based on fault (meaning you hold your spouse responsible for the divorce), while you may also claim that neither spouse is to blame (no-fault divorce).
If you want to file for an absolute divorce, you can use the following grounds:
Separation or mutual consent (no-fault divorce)
Adultery, imprisonment for a crime, insanity, desertion, or cruel behavior (fault-based divorce)
Bear in mind that no-fault divorces are typically quicker and less expensive. You can even skip the one-year waiting period if you claim mutual consent, provided you:
Define all terms of the divorce with your spouse before filing
Outline the agreed-upon items in a written marital settlement agreement
If you and your spouse can't settle your issues straight away, a divorce lawyer or a mediator can help you reach an understanding eventually.
Which Baltimore County Divorce Forms Do I Need for a Quickie Divorce?
Filing for an uncontested divorce (where you and your spouse agree on all terms) requires you to prepare specific documents. Take a look at the table below for more details:
Necessary Documents
Details
Divorce forms
You can find the right forms, along with the instructions for completing them, on the Maryland courts divorce page. The documents you have to prepare typically include:

Complaint for Absolute Divorce
Financial statements
Civil Domestic Information Report
Child support worksheets (if you have children)

Marital settlement agreement
A mutual consent divorce in Baltimore County has to include a written marital settlement agreement along with other documentation. The document has to cover:

Division of marital property and debts you owe as a couple
Alimony (whether there will be any and, if so, how much)
Custody and child support (if applicable)
Health insurance and other issues you deem important
A marital settlement agreement includes specific terminology and can be difficult to create if your situation is complicated. Hiring a lawyer is one option, but spouses who are unable to pay for their pricey services often resort to using online templates.
We offer the perfect middle ground between a lawyer's expertise and the affordability of online divorce services. and get a professional marital settlement agreement at a low price!
DoNotPay Is the Way to a Reliable Marital Settlement Agreement
DoNotPay knows all about state and county-specific divorce regulations and will take them into account when generating your personalized marital settlement agreement.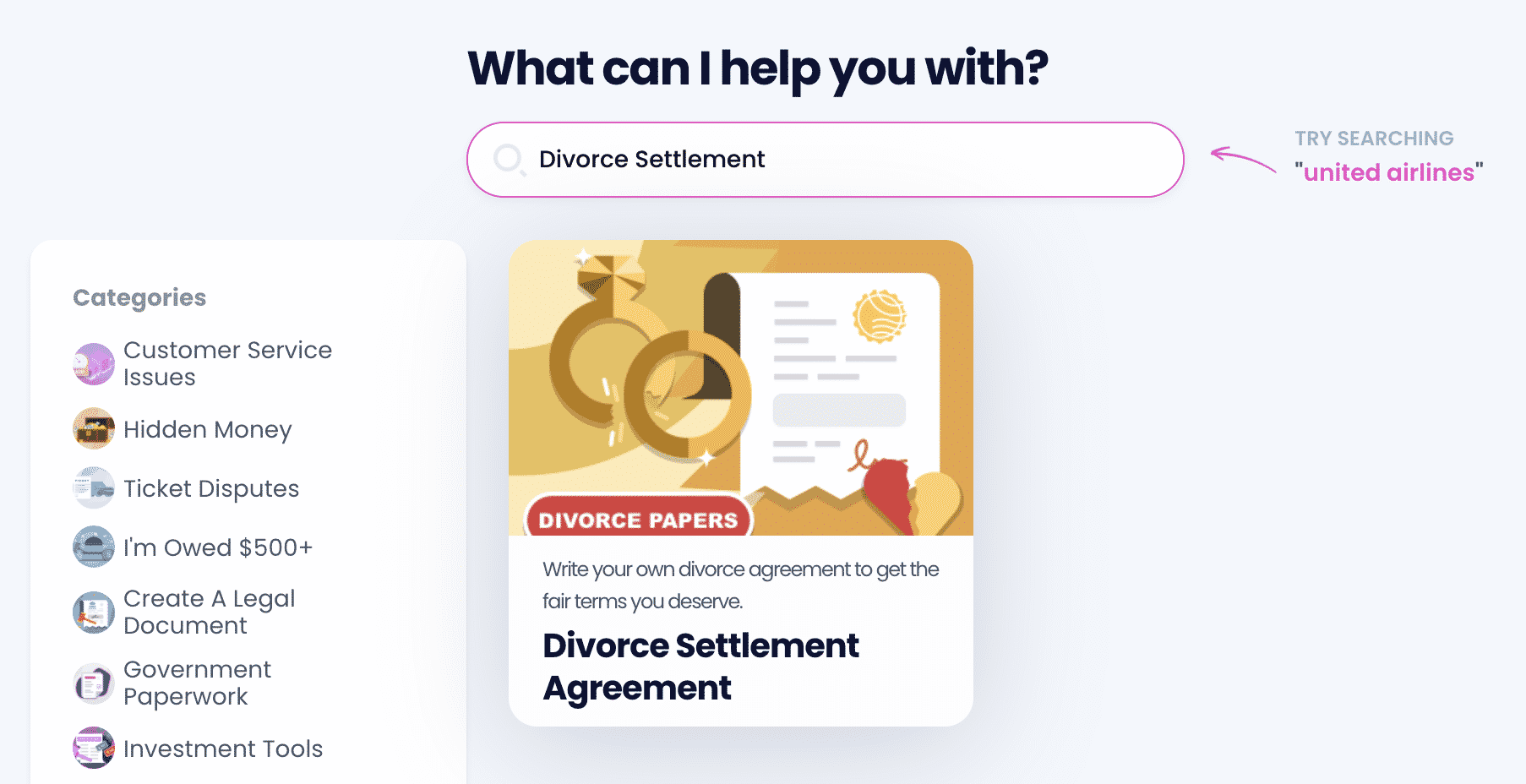 Our app will create and help you get your divorce settlement agreement notarized in no time, provided you and take these steps:
Find our Divorce Settlement Agreement product
Answer our chatbot's questions regarding your spouse, income, and other relevant matters
Indicate whether you're interested in our notarization service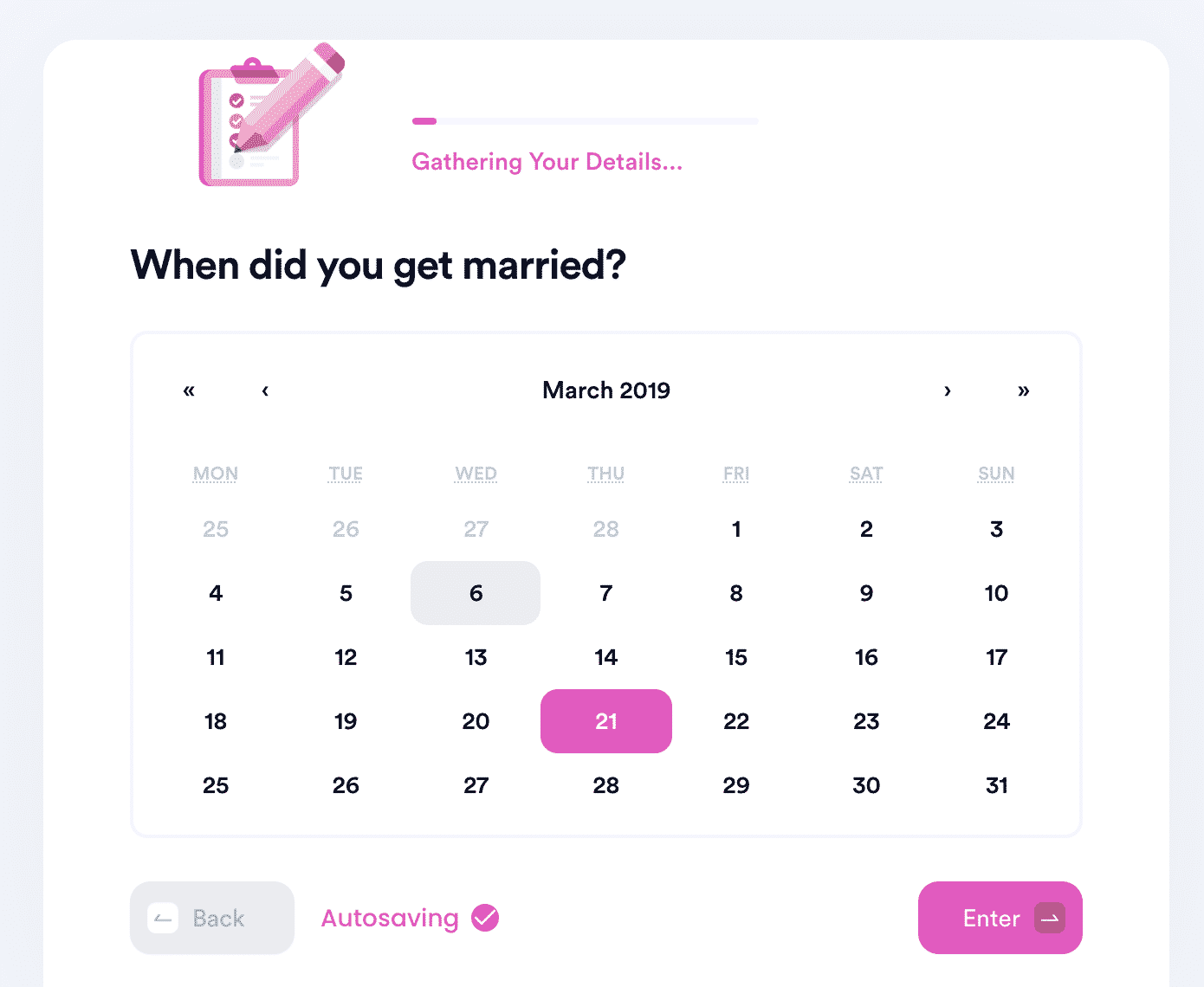 Once we generate the agreement according to the details you provided, we'll connect you to an online notary to complete the process. All you have to do next is print out the document, and you're good to go!
If you'd like to know more about executing a friendly divorce, consult our knowledge base and find the answers to these questions:
Get an Extra Buck or Two With DoNotPay
Besides being able to assist you with almost any legal issue, DoNotPay can also help you get some extra money! We can cancel any unused memberships and prevent you from being charged after free trial periods are over with our virtual credit card.
Can't claim a warranty or get cash back for a gift card? Subscribe for DoNotPay and consider it done! We can also help you return items to almost any company or even help you get a refund in a few clicks!
Helping you jump the customer service queues is also not a biggie for us, as well as taking the company that wronged you to small claims court!
No Problem Is Unsolvable for DoNotPay
By subscribing to our platform, you get access to a plethora of handy features that can help you with: