Bahamas Tourist Visa—All Questions Answered
The Bahamas consists of around 700 islands teeming with tropical vegetation, white-sand beaches with turquoise waters, and water sports opportunities. While visiting the archipelago, you can:
Admire the colonial architecture in Nassau
Swim with rays, dolphins, butterflyfish, and angelfish
Birdwatch, dive, and go snorkeling on Paradise Island
Explore underwater caves and national parks of Grand Bahama Island
Enjoy the beauty of the world's third-largest fringing barrier reef near Andros Island
Make friends with a colony of friendly swimming pigs when visiting Big Major Cay on Exuma Island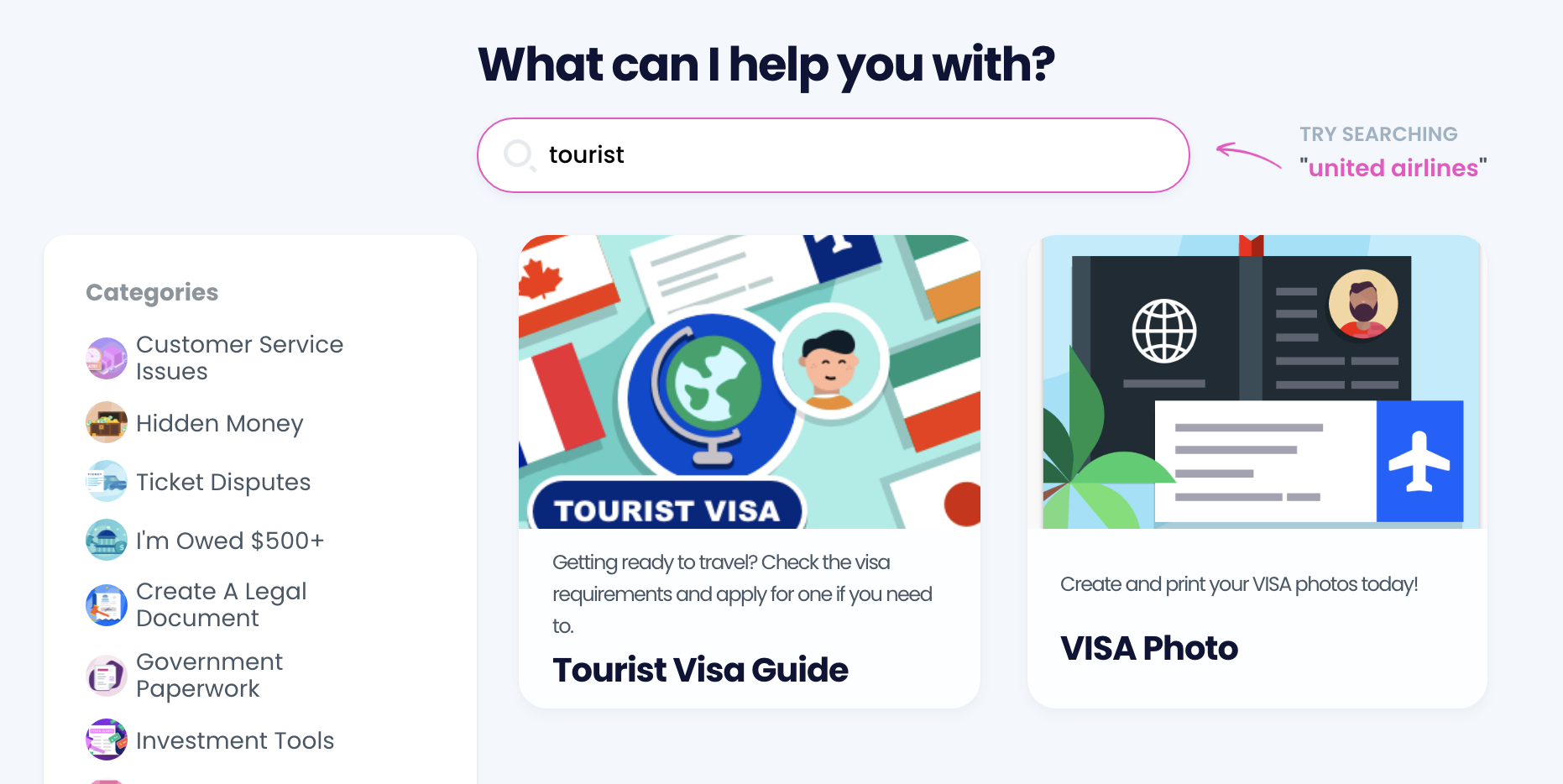 Before planning your vacation, check whether you need a Bahamas tourist visa. Since the task is pretty dull, turn to DoNotPay to learn all the travel requirements for your trip in no time.
Bahamas Tourist Visa—Everything You Need To Know in One Place
U.S. citizens need a tourist visa for the Bahamas only for long-term stays. Refer to the following table for the details:
| Duration of Your Trip to the Bahamas | Do You Need a Tourist Visa? |
| --- | --- |
| Up to 90 days | No |
| More than 90 days | Yes |
While you don't need a Bahamas tourist visa for short-term stays, you must fulfill several mandatory requirements to be granted entry. One of them is submitting a Bahamas Travel Health Visa application for all U.S. citizens over 18. The request processing usually takes up to 48 hours.
In case you plan a prolonged trip to the Bahamas, apply for an extended stay at the Immigration Department in Nassau.
What Other Requirements Must I Fulfill To Visit the Bahamas?
To grant an entry permit, Bahamian authorities require:
A valid passport
Proof of your intended departure
Evidence of sufficient funds to support yourself during the visit
Passport Validity
To enter the Bahamas, you must have a U.S. passport valid at least six months after the planned departure date. Ensure you have two blank pages for the entry stamp. Note that even a little stamp in a corner renders the page unusable.
Proof of the Intended Departure
The officials may ask you to show proof of your intended departure, such as:
A return or onward flight ticket
Confirmed hotel reservation or your host's letter of invitation
Entry permits for other countries, if you plan to continue your trip
Sufficient Funds To Support Yourself
In addition to other requirements and assurances, you have to prove you can support yourself for the duration of your trip to the Bahamas. The minimum amount is around $200 per day.
COVID-19 Travel Policy
Proving you aren't a coronavirus carrier is mandatory. You can do so by disclosing a vaccination certificate, negative PCR test, or confirmation that you recovered from the COVID-19 infection.
Keep in mind that rules tend to change depending on the current situation with the pandemic, so check for updates before your trip.
Vaccinated Travelers
You must show a certificate that you are fully immunized with the required number of shots. Bahamian authorities find the following vaccines acceptable:
| Type of Vaccine | Number of Shots |
| --- | --- |
| Pfizer/BioNTech | Two |
| AstraZeneca | Two |
| Moderna | Two |
| Johnson & Johnson | One |
Note that you are fully immunized 14 days after receiving the required number of doses.
Non-Vaccinated Tourists
In case you didn't get a vaccine, you must provide a negative PCR test to apply for the Bahamas Travel Health Visa. The test must be taken up to five days before your application. Note that the authorities at the entry point may ask you to show the test results, too.
Children under 10 years typically don't need to get tested.
Bahamian Visa Policy for Minors
Underage children traveling unaccompanied by their parents have to show the following documents:
A notarized permission letter signed by the parents
A death certificate of a late parent
Can DoNotPay Assist Me With Tourist Visa Applications?
Few things are as tedious as searching for visa and travel requirements because the info on official websites is typically hard to follow. To make it easier for yourself, subscribe to DoNotPay to get the essential details explained in plain English.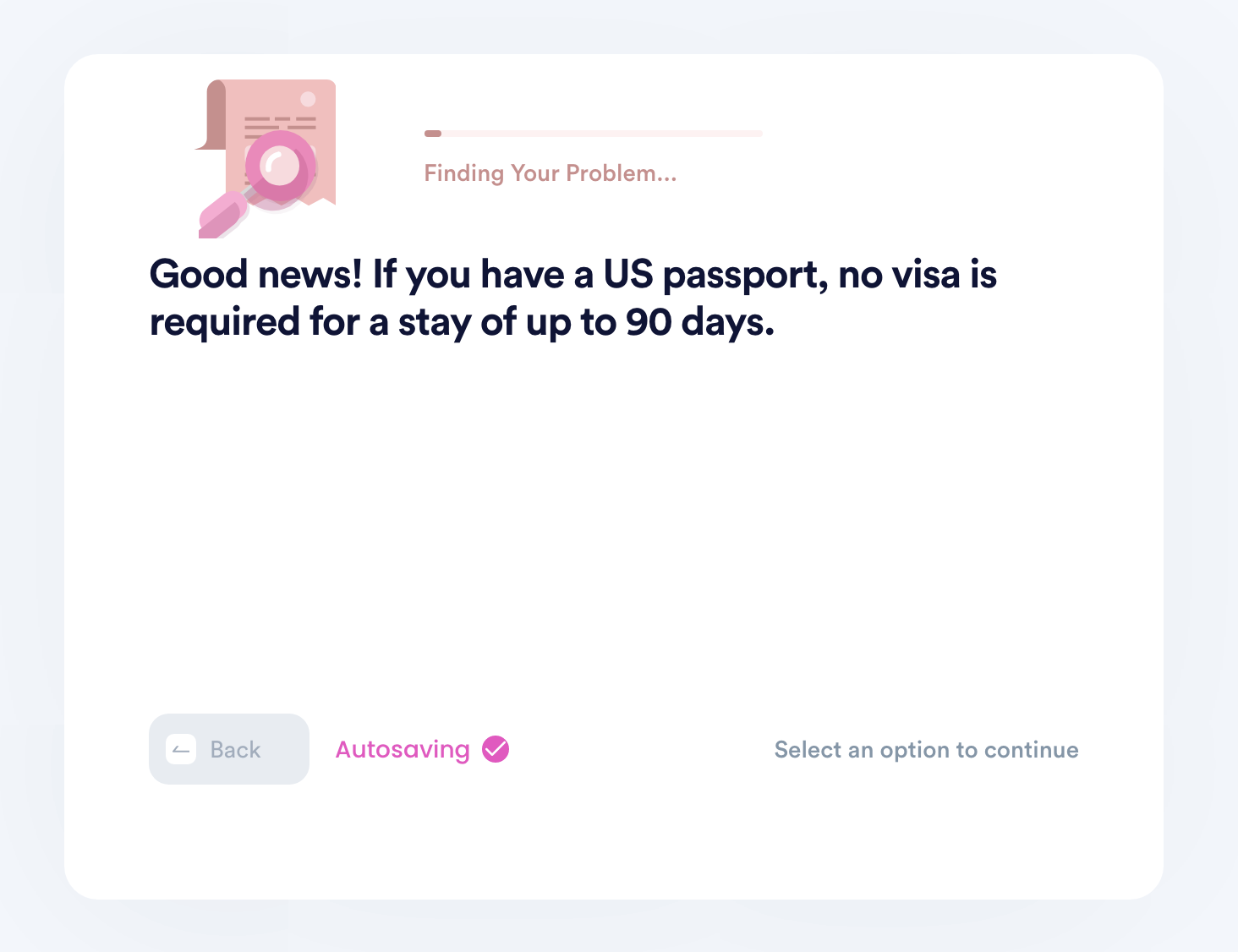 We'll also let you know what documents and forms you have to prepare to apply. If applying online is an option, we'll send you an appropriate link. Otherwise, you'll get a PDF version of the form to print and fill out.
Here are the steps to follow:
Log in to DoNotPay and choose Tourist Visa Guide
State that you hold a valid U.S. passport
Specify your destination country
I Wish To Visit Other Countries in the Region. What Are Their Travel Requirements?
Do you plan a visit to another Caribbean destination during your trip? If so, refer to the table below to learn about their visa regime and other travel requirements:
Use DoNotPay To Deal With a Plethora of Bureaucratic Tasks!
Tired of dealing with bureaucracy? We understand the struggle, and that is why our app makes handling administrative tasks a breeze!
Regardless of whether you need to compose a legal document, such as a power of attorney or a child travel consent form, appeal property taxes or your parking tickets, file a financial aid appeal and a FOIA request, or get a document notarized, DoNotPay has got you covered!
In case you also need to submit anonymous HR complaints, our app will provide you with the easiest way to do so!
Go on a Stress-Free Shopping Spree With DoNotPay
Do you like to shop until you drop? With DoNotPay, you won't have to worry about dropping! We'll make sure you can:
If you need more money to continue your shopping spree, let our app help you find any unclaimed funds under your name and enter numerous giveaways and sweepstakes!