Dealing With Bad Neighbors—Revenge Ideas
What to do when you have obnoxious neighbors who are stomping all day or playing loud music? Should you file a complaint or perhaps write a letter about noise? and send a demand letter to your bad neighbors—get revenge with our help.
Before Seeking Revenge on Bad Neighbors—Try Diplomacy
You'd be surprised what a little kindness can do. Set a good example by talking to your neighbors about the issue. Maybe they're not aware of the effect the problem has on other neighbors. Follow these instructions to try and approach the neighbor in question in a friendly manner:
Bring a little gift if you feel like it (flowers or baked goods)
Make sure you're calm and composed
Visit your neighbors
Inform them about the noise they're making or any other problem they're causing
Explain why it bothers you and how it affects your activities
Offer a solution that works for everyone
You may be able to solve the issue and possibly make a friend along the way.
Peace Was Never an Option—How To Get Revenge on Neighbors the Subtle Way
Before involving a third party to resolve the issue, try giving your neighbors a little taste of their own medicine. Depending on what kind of neighbors you're dealing with, you can try one of the following solutions:
Problem
Solution
Passionate neighbors

Take a broom and bang on the wall or ceiling
Interrupt them by ringing their doorbell while they're at it—no sexy times for noisy neighbors

Party animal

Wake your neighbor up early in the morning with some sweet melodies—don't forget to turn that volume knob all the way. Your neighbor's hangover headache will appreciate that

Loud pets

Put a Bluetooth speaker in front of your neighbor's door and play an audio track of noisy pets. Your neighbor will go crazy as their pet won't stop making noise because it will think there are animals outside

Subscription thieves

Subscribe to embarrassing newsletters on their behalf next time your neighbor lays hands on something you're paying for

Wi-Fi thieves

If you don't have a password, make one
If you have a password, change it

Litterers

Throw the trash back into your neighbor's place when they don't dispose of it correctly
How To Get Back at Neighbors by Involving a Third Party
Call for help when you realize your neighbors won't cooperate despite trying every polite way to approach the problem. Your neighbors might take the situation more seriously if they see you involve more people in the issue. Depending on your situation, the right people to call can be:
Police
Animal control
Your landlord
Trash control
Local neighborhood association
Building manager
File a Complaint With Your Local Law Enforcement
You can file a formal complaint with your local police or sheriff's department in the following ways:
Online
Phone call
In person
Keep in mind, filing a complaint against your neighbor most likely means ruining your relationship with them. Do it only if you have tried every peaceful method and be aware of the following:
Filing a complaint is a serious step, and your neighbor may face legal consequences
Your neighbor may attempt to threaten or hurt you. You should document any such attempts
When you file a complaint, make sure you highlight that you tried every way to solve the problem peacefully and that your neighbor had no intention to cooperate
Your neighbors may do the opposite of what you wanted to accomplish and start making even more ruckus
Resolving a complaint takes a lot of time, and your neighbors will still be living near you until the complaint is resolved
Your complaint could have more merit if you involve more neighbors. Ask your local law enforcement whether it makes any difference if you file a report together or separately
How To Get Even With Bad Neighbors Using DoNotPay
When being friendly doesn't cut it, seek revenge on your neighbor by sending them a demand letter. Use it as a final warning before taking legal action.
DoNotPay can help you create a custom demand letter that states all the issues and the compensation you're requesting. Follow these steps:
Type in Neighbor Complaint
Provide all the details about your problem (e.g., all the times you had an issue with them or tried talking to them about it and the compensation amount you're asking for)
If you're lucky, your neighbor will pay you, and you won't have to take it a step further by taking them to court.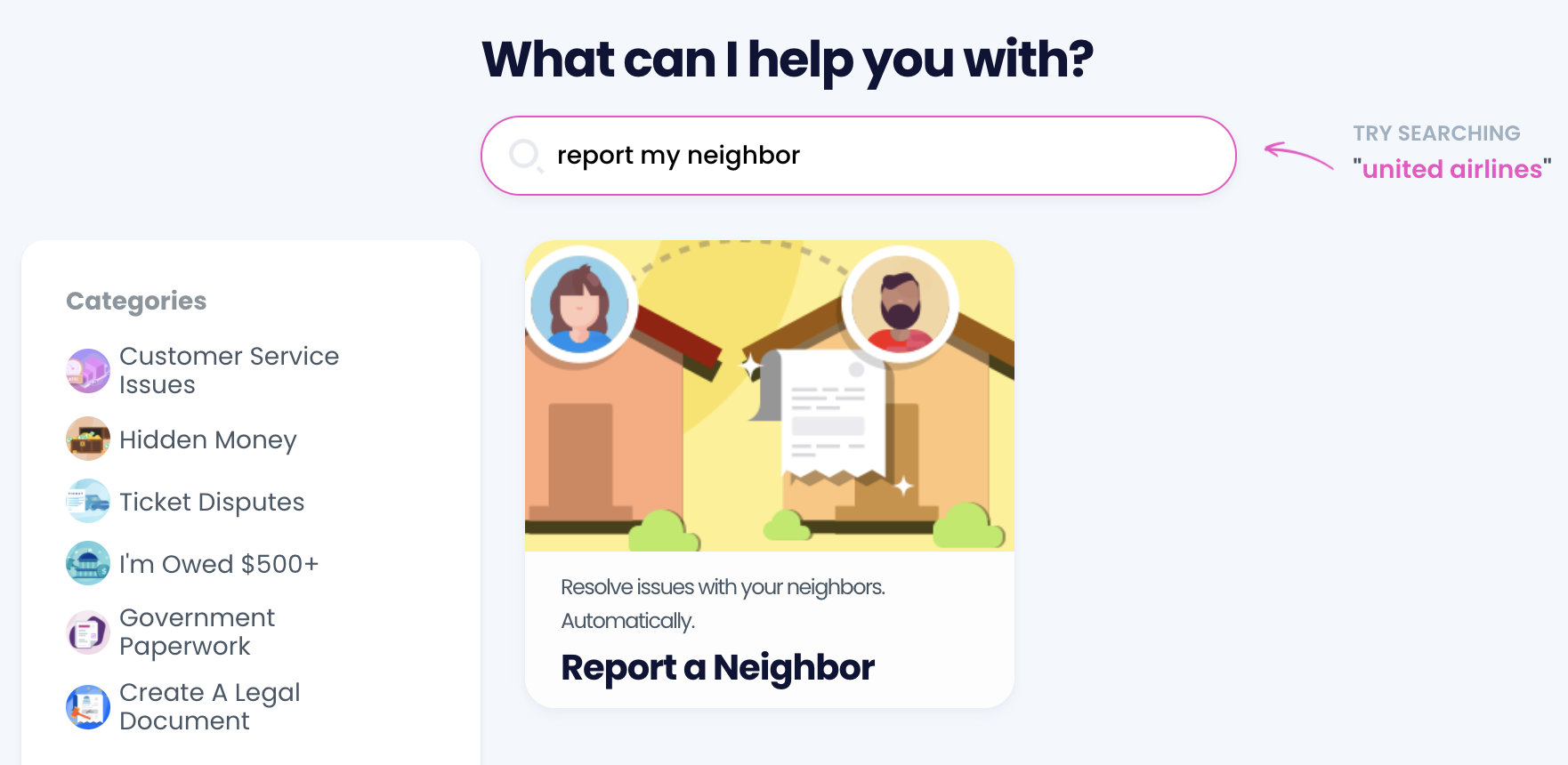 Other Neighbor-Related Issues DoNotPay Can Help You With
Learn more about how to handle different kinds of bad neighbors with our guides:
DoNotPay—A Pocket-Sized Assistant
If you need protection from stalkers and harassers, we know what to do. Whether you want to deal with a rude or noisy neighbor or fight workplace discrimination, DoNotPay has got your back. Even spammers don't stand a chance against our AI-powered app—both the texters and the robocallers.
If your situation takes a turn for the worse, you may need to take the issue to court. In this case, the world's first robot lawyer swoops in to help! You can count on DoNotPay to assist you every step of the way, regardless of whether you need to take a person or a company to small claims court.
Our App Helps You Through Numerous Red-Tape Issues
Dealing with paperwork doesn't have to be tedious. With DoNotPay's help, cutting through red tape is fast and easy. With a few clicks in our app, you'll be able to: