How To Obtain an Azerbaijan Tourist Visa
Are you excited about your visit to the Land of Fire? Then you shouldn't allow bureaucracy to spoil your fun. Instead of wasting hours researching whether you need an Azerbaijan tourist visa and how to obtain one, subscribe to DoNotPay and get the valid info in the blink of an eye!
Are U.S.Citizens Eligible for a Tourist Visa to Azerbaijan?
Yes, they are. To enter Azerbaijan as a U.S. citizen, you can apply for:
Regular visa:

Single-entry visa
Multi-entry visa

e-Visa—This is a single-entry visa that is valid for 30 days
For stays in Azerbaijan longer than 15 days, you will have to register with the State Migration Service.
Tourist Visa for Azerbaijan—Requirements
To get either the single- or multi-entry visa, you will need:
Completed application form
U.S. passport with six-month validity after your visit to Azerbaijan—It should have one blank page for a stamp
Tourist voucher, an invitation letter from the Azerbaijan Tour Agency, or a hotel booking
Two passport-size photographs of you with a light background
Azerbaijan has two diplomatic missions in the U.S.—the Embassy of Azerbaijan in Washington, D.C. and the Consulate General in Los Angeles. At the moment, the embassy is accepting online visa applications only. The consulate is accepting applications by mail, so you can submit the required documentation by sending it to the following address:
Consulate General of the Republic of Azerbaijan
Attn: Consular Section
11766 Wilshire Blvd., Ste. 1410
Los Angeles, CA 90025
The Azerbaijan Tourist e-Visa Requirements and Application Process
If you decide to apply for the e-Visa, you can do so through the ASAN Visa website.
To get your e-Visa, you will need to complete an application form. Here is how to go about it:
Visit the website and choose between:

Single-entry visa
Urgent e-Visa

Provide your name and passport
Select Tourism as the purpose of your trip and confirm whether you're applying for an urgent or single-entry visa
Provide personal info and your email address
Pay the fee
Once the processing is done, you will get notified and have to revisit the website to download your visa.
What Is the Azerbaijan Tourist Visa Fee?
For both the regular visa and the e-Visa, you will have to pay the $20 fee. If you apply for an e-Visa, you will have to pay an additional $3 for the website service. This fee amount is the same even if you choose the urgent e-visa option.
Azerbaijan COVID-19 Restrictions
Due to the global pandemic, Azerbaijan is imposing the following restrictions:
If you are vaccinated, you will not have to go through testing
In case you are not vaccinated, get tested at most three days before your trip
If you had COVID-19 and you have recovered within the last three months, you will not need to get a PCR test
Azerbaijan Travel Advice
When you meet all of the requirements and finally get the visa, the only thing left is to check out the traveling advice for this country. To have a fun trip to Azerbaijan, you should:
Not litter—There is no garbage on the streets of Baku, and the fines for those who throw trash outside of the bin will have to pay a fine
Bring your passport with you wherever you go—The police has the right to stop you and check your identity
Not accept gifts right away—If someone offers you a gift, you should refuse it twice before accepting it. The same is true when you give a gift to someone in Azerbaijan. You should offer it three times
Take tours to Ateshgah, Yanar Dag (Burning Mountain), and Gobustan National Park
Ensure Your Visa Application Process Goes Smoothly by Using DoNotPay
Forgetting to submit one required document might lead your Azerbaijan visa application to a rejected pile. If you would like to avoid that situation, you should have a guide by your side. Let DoNotPay walk you through all the steps of a tourist visa application and help you skip annoyances such as this one.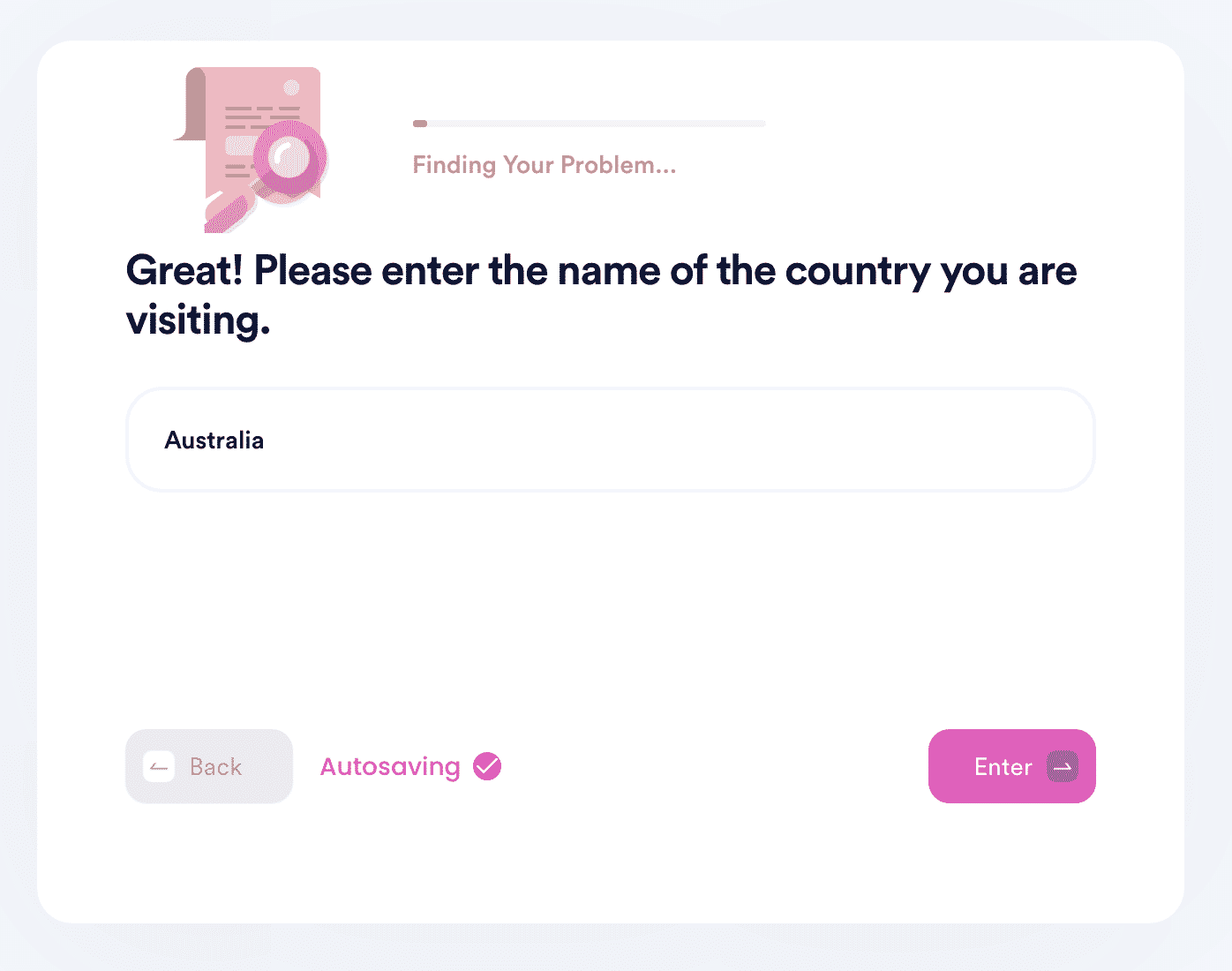 Here is how you can get our help:
Navigate to the Tourist Visa Guide feature
Select the I am a U.S. citizen or U.S. passport holder option
Type in your destination country
We will perform the necessary checks and do the following:
Contact the embassy on your behalf and ask whether you can apply for a visa online
Send you a direct link to a valid tourist visa application form
Provide you with a printable version of the form
Create a guide to help you avoid mistakes during the application process
Whether it is a trip to Azerbaijan or anywhere else, DoNotPay will be there to provide you with assistance!
DoNotPay Helps You Discover More Old Continent Destinations
Even though you will be amazed by all that Azerbaijan has to offer, you shouldn't stop there. Continue your quest for the perfect vacation destination in Europe and turn to DoNotPay for help!
Check out our practical guides and get the info about tourist visas for the countries in the table below:
Explore DoNotPay's Product Range
Are you looking for additional assistance from our app? We're happy to inform you that DoNotPay provides you with a number of useful tools that you can use to complete mundane tasks in the blink of an eye! Sign up for our app and let us help you get:
DoNotPay Resolves Your Financial Issues in a Few Taps
You don't have to struggle to figure out how to resolve financial problems yourself when you have our app at your disposal. In only a few clicks, you'll be able to discover any unclaimed money under your name, submit insurance and warranty claims, or request compensation for delayed flights.
But that is not all! Lowering your utility bills, appealing parking tickets, or canceling memberships and subscriptions is also something you can do in no time and with minimum effort if you use DoNotPay! Work smarter, not harder!