What Is the Average Small Business Loan Amount?
As a small business owner, you may need a financial boost to keep the company moving, whether it is to improve your business, manage daily cash flow, or cover expenses.
In any such case, you can rely on small business loans to get you over that hurdle. How much can you expect to get? We will break down the average small business loan amounts and also explain:
How you can get them effortlessly with DoNotPay's help
What Are Small Business Loans?
Small business loans help entrepreneurs keep their businesses afloat by allowing them to buy equipment, have enough money to cover daily costs, and so on.
While the best loans require you to be in business for at least a couple of years, there are startup loans that help out newcomers pay the initial costs of opening a business.
All loans have:
A repayment schedule
An

interest rate

Additional terms
Make sure you are aware of all the terms and try to predict how much the repayment of a loan will impact your budget as accurately as possible. While loans are an excellent source of additional capital, they can be detrimental to businesses that are incapable of paying them back.
You should take the type of loan you want to get into consideration as well. Some of the most common ones include:
How Much Can You Get for a Small Business Loan?
Small business loan amounts can vary from as little as $500 to over $8 million—it all depends on the purpose of the loan and the standing of your business. The average small business loan during a year is around $665,000.
When it comes to banks, loans come from three sources with the following averages:
Small regional or national banks—$146,000
Large national banks—$593,000
Foreign banks with U.S. branches—$8,512,000
Perhaps the most sought-after loan type is the SBA loan as the Administration offers a guarantee in case you fail to repay it. The SBA 7(a) loans come from a variety of banks that have different average amounts, as shown in the table below:
| Bank Name | Average Small Business Loan Amount |
| --- | --- |
| Newtek Small Business Finance | $772,134 |
| BankUnited | $1,034,051 |
| Bank of the West | $679,126 |
| Bank of Hope | $649,825 |
| Live Oak Bank | $1,331,839 |
| Byline Bank | $1,105,348 |
| Celtic Bank | $334,025 |
| Commonwealth Business Bank | $1,053,160 |
| Regions Bank | $788,571 |
| SunTrust Bank | $648,701 |
| Average overall | $839,678 |
Alternative Lenders
Most banks set demanding conditions for applicants, such as high credit score ratings for both you and your company. If you cannot meet these requirements, you can find an online loan that is more lenient but comes with higher interest rates.
The following table shows some of the alternative lenders and their averages:
| Lender Name | Average Small Business Loan Size |
| --- | --- |
| OnDeck | $40,000 |
| BlueVine | $25,000–$200,000 |
| Fundbox | $5,000 |
| QuarterSpot | $90,000 |
| Credibly | $53,000–$56,000 |
How To Qualify for a Small Business Loan
You will need to prove to lenders that you qualify for the loan through your application. You need to do that so banks can assess your business health and see whether you are capable of paying the loan off with ease or not. They will ask for details about your company and yourself.
You will also need to provide several documents, including:
Loan application form
Financial statements about:

Balance
Profit and loss
Cash flow

Resume
Business plan
Budget sheets
Personal and business credit score reports
Collateral
Accounts receivable and payable
Legal documents—licenses, bank statements, third-party contracts, an ID card, leases, etc.
The process is complicated, and many business owners fail to secure loans because of inaccurate or incomplete requests. If you want to avoid this, you can subscribe to DoNotPay and let us walk you through the entire procedure.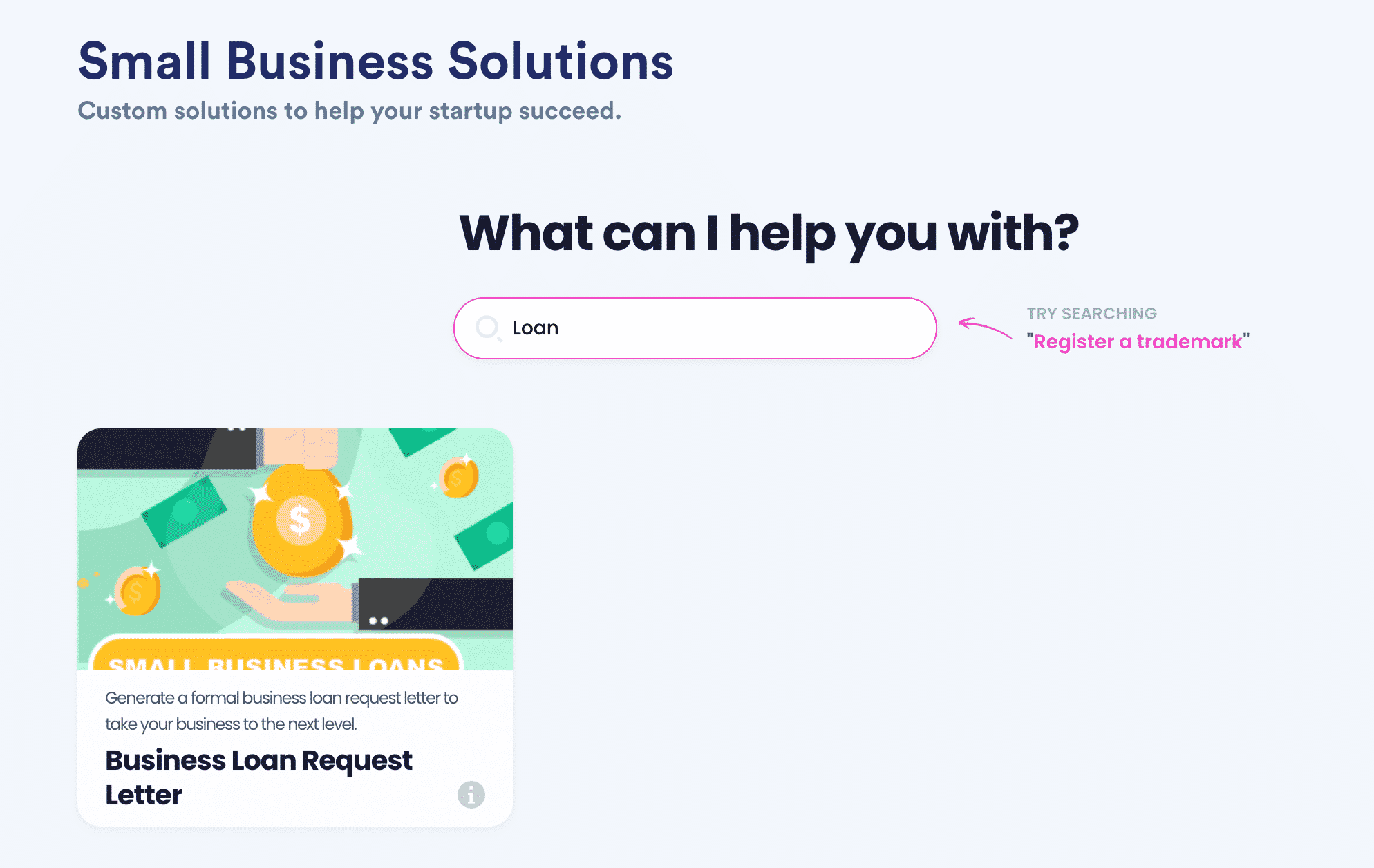 Secure a Loan Using DoNotPay
As a business owner, you have already got more than enough on your plate with day-to-day commitments and tasks. Preparing for a small business loan request is an added headache, and due to its complexity, there is a chance you will leave out a piece of paperwork or detail about your company.
Instead of worrying about it by yourself, let DoNotPay help you go through the process with ease.
Our app will run a checklist of documents to make sure you submit them all, and it will also ask you questions about yourself and the business to include all necessary details lenders demand.
All you need to do is sign up for DoNotPay and:
Navigate to the Business Loan Request Letter product
Gather your personal and business credit scores
Prepare paperwork to prove you qualify
Answer a few questions
Upload all the necessary documents
You can also utilize DoNotPay's Find Online Business Loan Lender product if you are looking for online lenders.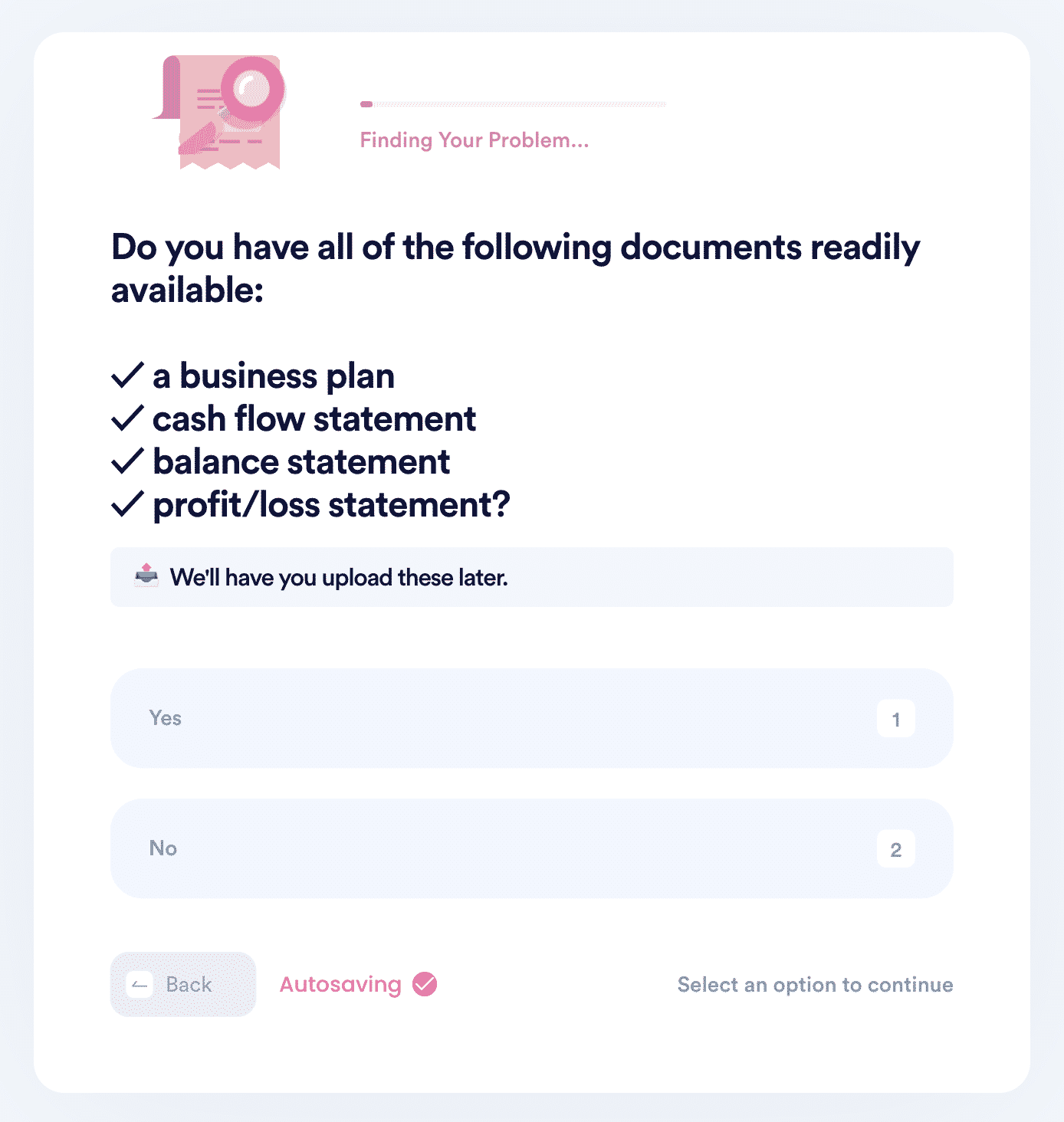 Let DoNotPay Help You With Boring Administrative Tasks While You Focus on Becoming a Business Mogul!
DoNotPay can assist you in dealing with a number of business-related tasks. We have developed a plethora of simple-to-use products that make running a business much easier and less stressful.
Do you need help registering your business name as a trademark? We have got you covered! Not sure how to write a convincing letter to request a small business loan? DoNotPay helps with that, too!
Use our app to get a perfectly generated chargeback rebuttal document, formally request payment from clients who breach the contract, and find out how your employees can file 83(b) election forms in a matter of clicks!
Check Out Our Other Nifty Products!
That is not all DoNotPay has to offer. Our awesome tools will make tedious administrative tasks easier to manage so you can concentrate on your business instead of wasting time waiting in lines and filling out forms. Rely on DoNotPay to:
Take care of DMCA agent registration and Privacy Shield program self-certification
Make sure no one else is using your trademark
Get rid of fake online reviews that harm your business reputation
Manage Employer Number Identification (EIN) registration
Enjoy the convenience of faxing and mailing from the comfort of your home or office