What Is the Average Cost of Rent for a Small Business?
Unless you are running a one-person online business, the first item on your agenda should be getting a place for your company, regardless of the industry.
When forming a budget, one of the major decisions you should make is whether you want your place to be an initial startup cost or a recurring expense, i.e., do you want to rent it or buy it outright? You should consider both options and determine what works better for you.
This article will go over the average cost of rent for a small business and show you how small business loans can get you where you need to be financially. We will also explain how DoNotPay can help you obtain a loan effortlessly.
Rent vs. Acquisition
You will not need a place only if you run a fully remote company—even then, you may require an office. Getting a place is an unavoidable item on your to-do list in any other scenario.
The main question you should ask yourself is whether you see yourself being in business for an extended period, say 15 years. Buying land or office space is not a small investment, and you will need to make sure it is the right one.
The following table shows the advantages of both renting and acquisition:
Advantages of Renting
Advantages of Acquisition

No large investment in the beginning
Easier to manage your budget
Not locked in—you can move out easily
No property tax
Smaller investment in the furniture

Long-term stability
Pays off in the long run
Freedom to remodel and decorate
No dependence on the owner
Resale value
How Much Does Rent Cost for a Small Business?
The cost of rent depends on three factors:
What type of business you run
Where the space is located
How large it needs to be
The type of business will dictate the other two elements, but it will also affect the price itself. It is cheaper to rent coworking office space than it is to get a place for a restaurant. You should also factor in the location—Manhattan offices are more expensive than those in Meridian, MS.
Consult the table below to see the average cost of rent for a small business per year, based on the type of business:
| Type of Business | Average Cost of Rent per Year |
| --- | --- |
| Office space | $8–$23 per square foot |
| Gym | $3 per square foot |
| Restaurant | $40,000–$150,000 |
| Beauty salon | $10–$25 per square foot |
| Daycare center | $0.60–$2.50 per square foot |
| Tech | $15 per square foot |
| Bar | $110,000 |
Small Business Rent Cost—How Much Is Too Much?
If you are an ambitious entrepreneur, you can go as big as you want and pay thousands of dollars each month in rent—but when does it become unsustainable?
Depending on the business, it may be a wise decision to pay more or less money. A shabby office may not affect an online blog, but a run-down restaurant will keep customers away.
To determine how much you are willing to pay on rent, you need to have a budget and a clear view of your revenue and expenses. Find out what your gross annual revenue is and decide which percentage of it should go on renting fees.
Take a look at the following table to see the average percentages for different businesses:
| Type of Small Business | Average Percentage of Gross Annual Revenue |
| --- | --- |
| Auto shops | 12–13% |
| Beauty salons | 3–10% |
| Restaurants | 6–10% |
| Retail stores | 5–10% |
| Law firm | 6–7% or up to 15% if you are in need of an elite location |
Can't Afford the Rent? Get a Small Business Loan!
Small business loans are financial aid offers to entrepreneurs who need cash to set up their business or keep it running. A loan can help you with making one-time investments or managing cash flow and recurring expenses to the next point of profit.
While they represent a helping hand, the help does not come for free—the way these loans work is that they come with predetermined terms that you need to stick to. The terms of a loan include:
Repayment schedule
Purpose of the loan
Amount of the loaned money
Another aspect you should consider is the type of loan. As loans come with specific terms and from various sources, they differ on those elements and are used for different purposes. Some of the best small business loans are as follows:
Once you figure out the type and the terms that suit you, it is time to contact the lender. Various lending institutions offer business loans, including online lenders, credit unions, and banks.
If you are unsure which lender to choose and where to find them, you can subscribe to DoNotPay and use the Find Online Business Loan Lender product to learn about the best options.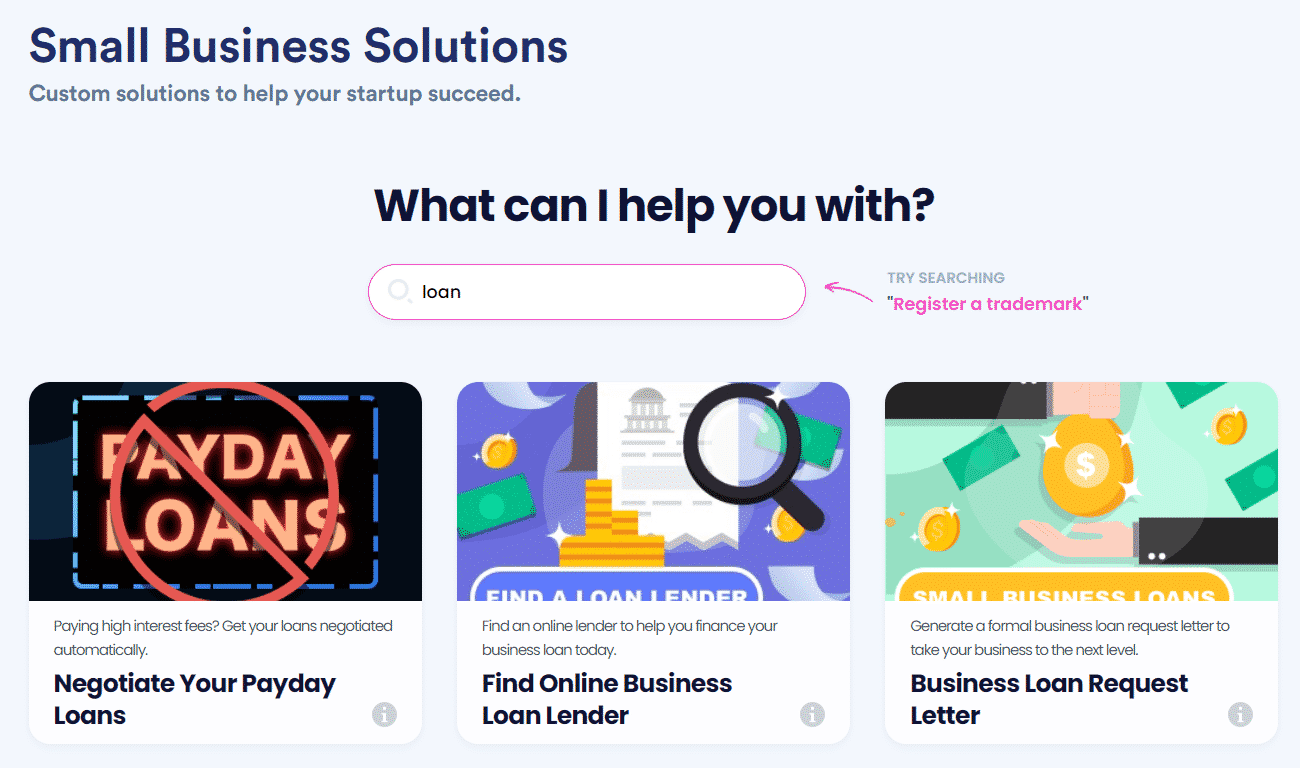 How To Use DoNotPay To Obtain a Small Business Loan
When submitting a loan request, you need to go through a complicated application process to prove that you qualify according to all criteria. To do so, you will need to hand over various business-related documents, such as credit scores, a business plan, budget sheets, financial statements, and so on.
You will also need to fill out an application form and provide information about yourself and the company. Any missed detail or document will result in immediate denial.
Do not let that happen to you—use DoNotPay's help. Our app will walk you through the application process and ensure you do not leave out any detail or piece of paperwork necessary for your request.
All you need to do is sign up for DoNotPay and:
Navigate to the Business Loan Request Letter tool
Gather your personal and business credit scores
Prepare paperwork to prove your eligibility
Answer a few questions from our chatbot
Upload all the necessary documents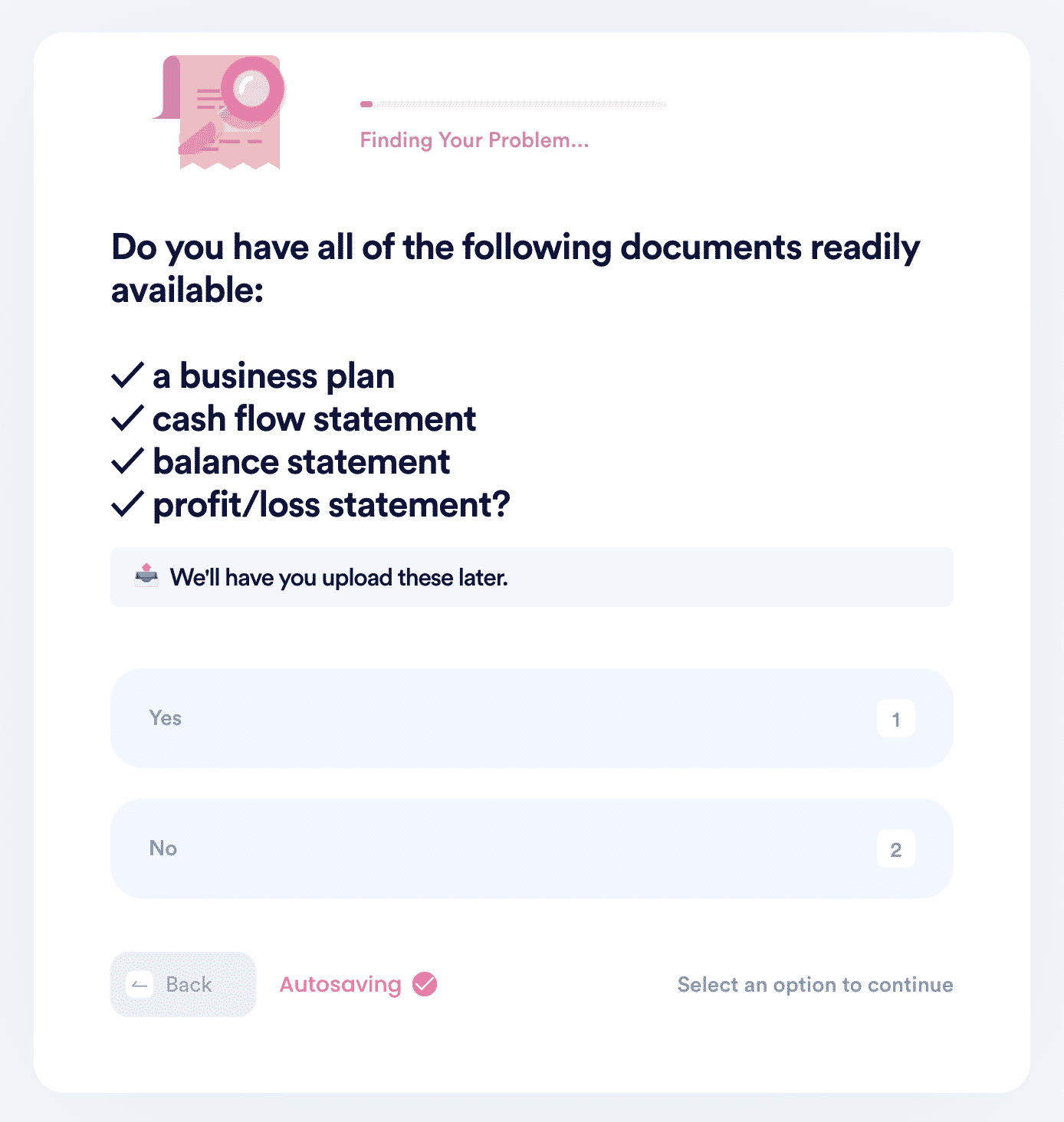 Don't Waste Ages on Tedious Administrative Tasks—Rely on DoNotPay
Running a small business can be a challenging endeavor, but you can count on DoNotPay to make the situation easier! We have developed a number of handy features that you can use to deal with your business-related hurdles. With our help, you can:
Send mail to your customers, investors, or business associates without wasting time going to the post office
Register your business slogan, logo, or name as a trademark to prevent brand infringement
Avoid copyright violations on your website by registering a DMCA agent
Protect the privacy of your clients' data by filing the Privacy Shield program self-certification request
Contest unjust chargebacks and keep the revenue
Deal with clients who breach the contract without wasting money on collection agencies or lawyers
Worked Hard on Creating a Good Business Reputation? Don't Let It Go to Waste!
Has one of the angry clients or envious competitors decided to leave a mean online review that could have a negative impact on your business? DoNotPay is here to help you remove it! We will analyze the problematic review and report it until it is taken down.
Don't know how to protect your trademark and make sure no one else is using it? Our app can monitor the trademark on a monthly basis and send cease and desist letters if necessary.
Let our app take care of many other issues—such as filing 83(b) election forms, registering for an Employer Identification Number (EIN), taking out small business loans, and similar—while you concentrate on the creative side of your business.