What Is the Average Cost of Divorce in Missouri? DoNotPay Has the Answer
Terminating your marriage doesn't only have an impact on your emotional life but on your wallet as well. The average cost of divorce in Missouri depends mainly on the type of divorce you decide to get.
DoNotPay has prepared a guide to help you make your choice! We'll break down the Missouri divorce costs and help you end your marriage without spending a fortune.
The Cost of a Contested Divorce in Missouri
Divorcing couples who can't agree on key aspects have to take their case to court and get a contested divorce. They will have to dish out a considerable amount of money. The attorney retainer fee ranges from anywhere between $500 and $25,000, depending on the case. Once you pay the fee, you will have to pay for the advice and representation, which is around $200/h in Missouri.
If the spouses have marital children, the cost will skyrocket by up to 50%. Alimony and property disputes also impact the cost. Having this in mind, getting an uncontested divorce is a better and more affordable option.
Missouri Divorce Costs in Uncontested Divorces
Getting an uncontested divorce in Missouri will cost you between $1,000 and $2,000. By agreeing on essential divorce aspects with your spouse, you won't have to hire a lawyer or even go to court. Other benefits of uncontested divorces are:
Amicable relationship with your spouse—Most couples who reach a compromise on important divorce issues stay on friendly terms afterward. This is crucial if you have any children together
Faster divorce process—As there are no battles over child custody or alimony, uncontested divorces aren't drawn out and can be finalized relatively quickly
Greater control of the divorce—You and your spouse decide on property and asset division, parenting time, and other terms of the divorce in a settlement agreement instead of letting the judge make the decisions for you
Requirements for Getting an Uncontested Divorce in Missouri
To get an uncontested divorce in Missouri, you or your spouse must have been a resident of the Show-Me State for at least 90 days before filing for divorce.
You'll also need to agree on important divorce aspects and sign the papers willingly. If you can't reach a compromise, try divorce mediation. You will get professional tips and solutions, which can help you reach a middle ground with your spouse.
Filing for an Uncontested Divorce in Missouri
Getting an uncontested divorce in Missouri requires you to:
Fill out the required forms—First, you will have to find the official divorce forms on the Missouri Courts Dissolution of Marriage website. You must fill them out and bring them to the circuit courthouse in your county. Note that you'll need to pay a filing fee of around $200. If you can't afford it, ask for a fee waiver
Give a copy of the forms to your spouse—Because it's an uncontested divorce, serving divorce papers is only a formality in Missouri, and you can deliver them yourself
Prepare a divorce settlement agreement—To finalize your divorce, the judge will need to go through your divorce paperwork and the settlement agreement. This document contains the terms of your divorce, and it has to be fair to both parties. You can hire a lawyer to get one and break the bank or write it yourself and risk making a crucial mistake. Your best bet is to as we'll generate a tailor-made agreement and send it your way in no time
DoNotPay Helps You Get a Top-Notch Divorce Settlement Agreement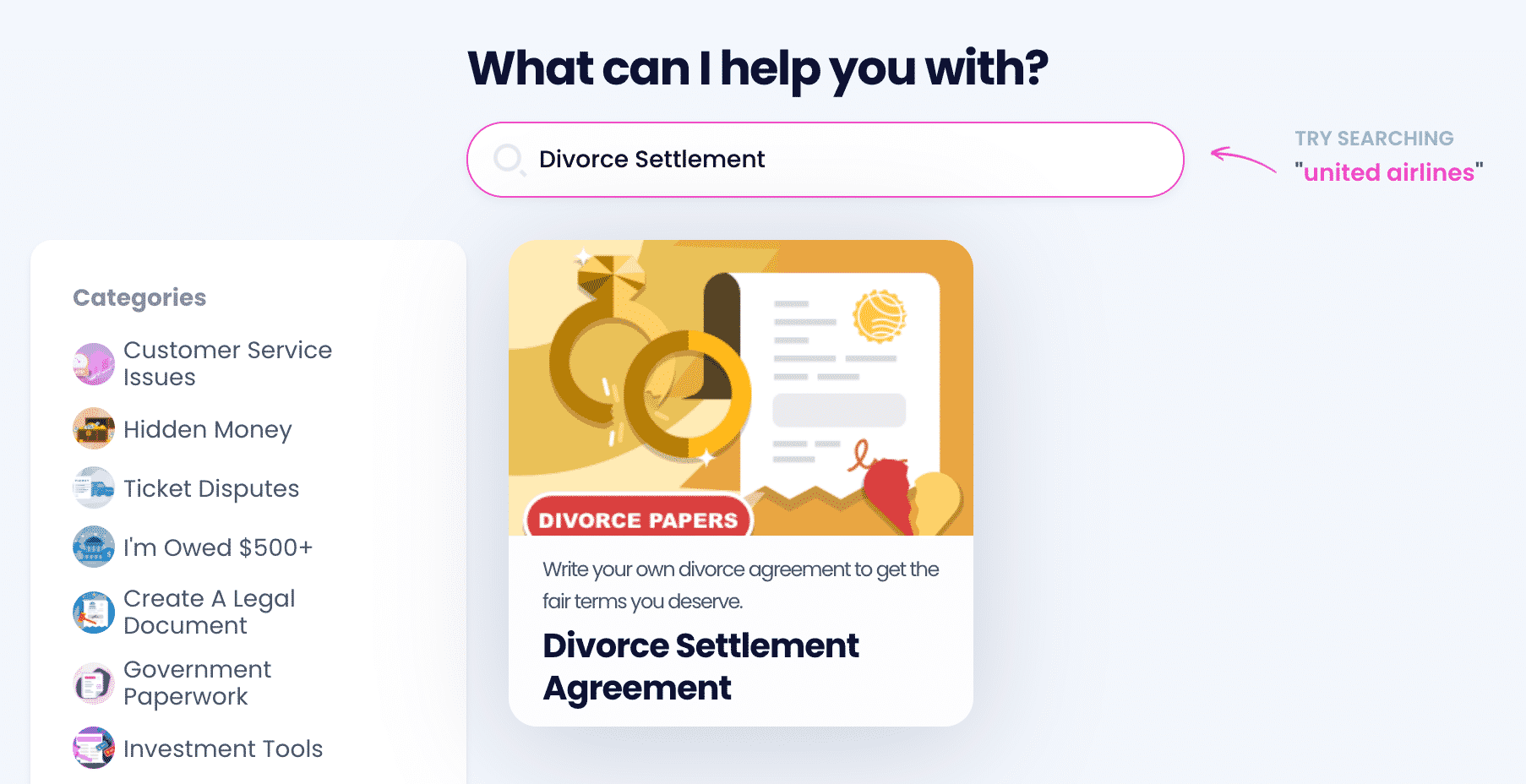 Want a divorce settlement agreement that will ensure you terminate your marriage on the terms you deserve? Don't want to pay unnecessary amounts of money or write it yourself? ! We'll create this document for you and make it suit your needs perfectly.
All you have to do is:
Select our Divorce Settlement Agreement tool
Give us details about your:

Spouse
Children
Income
Assets

Opt for online notarization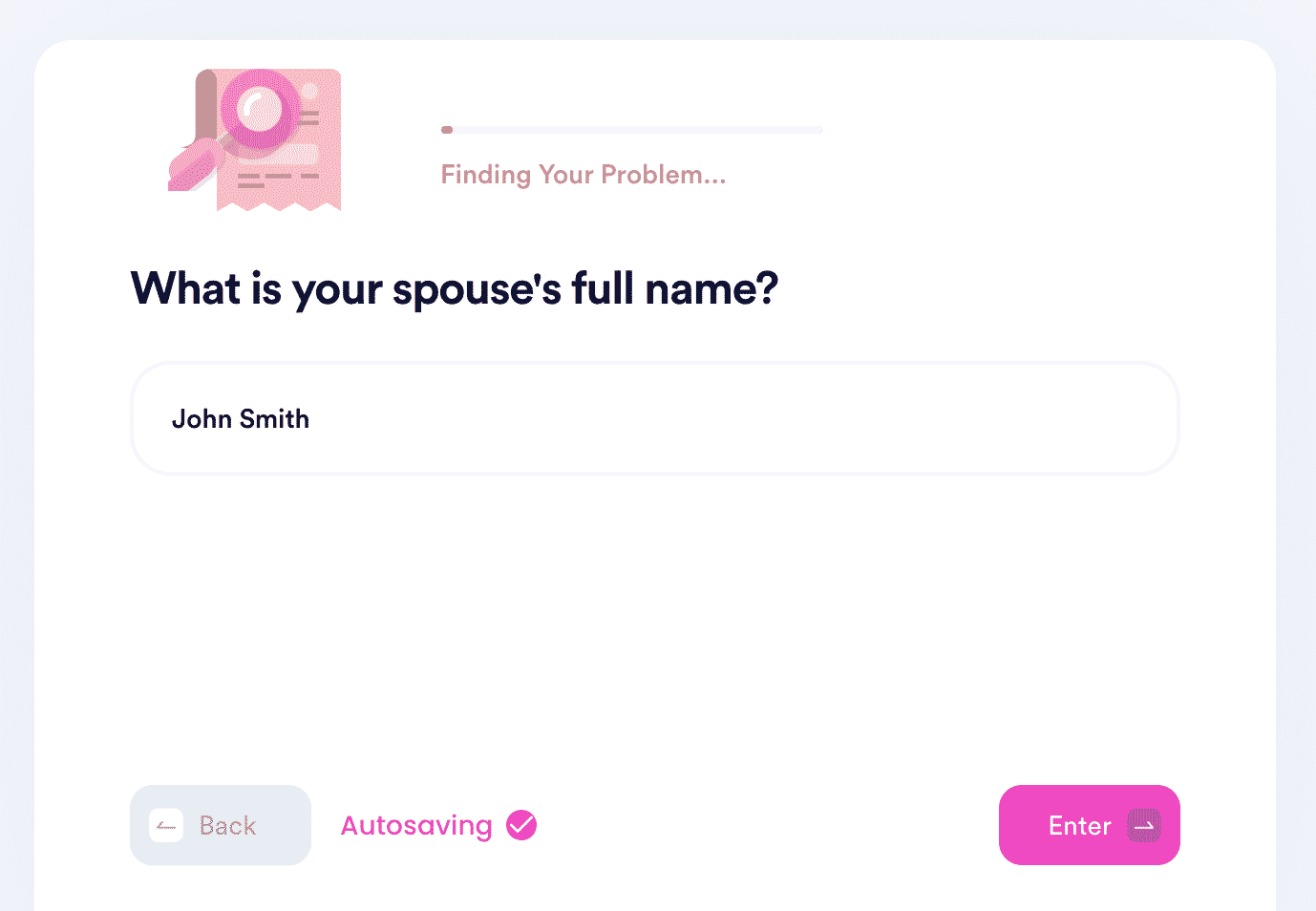 We'll process the details you give us and use them to generate a divorce settlement agreement accordingly. Do you want to get your document notarized? Do it easily with DoNotPay! Follow the link we send you via email and schedule an appointment with an online notary fast and easy.
Need More Help With Divorces? Check Out DoNotPay's Learning Center
Have any unanswered questions about divorces? If so, read DoNotPay's articles on divorces in general and in Missouri counties, such as:
DoNotPay Is Committed to Solving All Kinds of Problems for You
Are you lost in the sea of administrative tasks? By subscribing to DoNotPay, you gain access to many products and features that can assist you in:
Check Out What Our Robot Lawyer Can Do for You
Not too skilled at drafting contracts and agreements? Keep calm and let DoNotPay, your virtual assistant, do it for you! Our app can generate various legal documents, including divorce settlement agreements, child travel consent forms, and powers of attorney. All it takes is to click a few times or answer several quick questions—we do all the rest!
Besides providing personalized documents, DoNotPay takes over other tiresome legal tasks. These include having your documents notarized, filing lawsuits in small claims court, requesting crime victims' compensation, or submitting HR complaints.