Explore Average Advertising Costs for a Small Business
If you are thinking about starting a company, you need to make a precise budget to keep operations going and handle all expenses. To prepare the budget, you should consider the market and industry you are in and cover all important business components.
Since good marketing leads to sales, you should get familiar with average advertising costs for a small business.
If you realize you will not have enough resources to fund the business by yourself, you could look into available loan opportunities. DoNotPay presents effective products to secure financial assistance for your business.
Average Cost of Advertising for a Small Business
You should create your advertising budget by allocating a certain percentage of your total sales.
To get a better image of how much you should invest in marketing and advertising, you should consider these figures:
From two to three percent of the revenue—Some marketing professionals believe there is no need for startups and small businesses to earmark more than three percent of their annual revenue for marketing and advertising activities
Between seven and eight percent of your revenue—The U.S. Small Business Administration (SBA) suggests business owners should allocate from seven to eight percent in case their annual sales revenue does not exceed $5 million
From one to ten percent—Some experts are in favor of a wider range where the precise percentage depends on how:

Long you have been in business
Competitive your market and industry are
Advertising Costs for a Small Business Across Industries
There is a big difference between allocating one and ten percent for advertising or marketing in general. You could narrow this amount down by looking at the average advertising costs across industries:
| Industry | Average Advertising Budget for a Small Business |
| --- | --- |
| Furniture stores | 4.44% |
| Jewelry, leather goods, and luggage stores | 4.16% |
| Real estate and brokers | 3.84% |
| Schools and instruction | 2.87% |
| Beverage production | 2.73% |
| Amusement and recreation | 2.18% |
| Home furnishing stores | 2.16% |
| Personal care services | 1.99% |
| Restaurants | 1.93% |
| Speciality food | 1.88% |
| Brokerages and insurance-related services | 1.85% |
| Deathcare services | 1.83% |
How To Prepare the Small Business Advertising Budget
While you should be aware of the industry and sector averages, you should not stick to that number firmly when drawing up your small business advertising budget.
You should also consider the factors important for your specific business, including the following:
Experience—If you have an established small business, you should rely on your experience and implement the tactics that have proven to be successful in the past
Marketing goals—To plan the advertising budget for your small business, you need to know what forms of (social) media, activities, and events are suitable for promoting your business and achieving your marketing objectives
Size and stage of your business—If you have a startup, you might want to invest a higher percentage of your revenue in advertising since good marketing can boost your sales
The market—You should find out where your competitors advertise to calculate how much money you need to invest to stand out on the market
How To Get Funds for the Marketing Budget for Your Small Business
Starting and running a company is a challenging task, especially if you lack financial support. While you need to prepare a detailed budget to get a clear picture of ongoing and future projects, you should also be aware of the costs you must cover.
Self-financing would be the best option since there are no fees or interest rates you need to pay on top of the borrowed money. If you do not have sufficient resources and need to borrow a certain amount of money for the day-to-day and projected activities, you could explore different:
Types of small business loans—Based on your qualifications, credit history, and specific requirements, you should get familiar with how the loans work and consider applying for:

Merchant cash advances

Lenders—While traditional loan providers—i.e., banks or credit unions—might be the most logical choice, you could also get financial assistance for your business from:

Government institutions (for example, the Small Business Administration)
Private organizations or foundations
If you need help identifying loan providers that could meet your requirements, you should access DoNotPay's Find Online Business Loan Lender product. We can send you a list of recommended lenders in a matter of minutes!
How To Make Sure You Will Obtain a Loan
When going through numerous loans and lenders, you should pay attention to the following:
Eligibility criteria
Interest rates and fees
Repayment terms and other conditions
Getting the best loan for your business and personal needs could be taxing if you do not prepare well for the process. To ensure your loan request is approved, you should:
Gather the required documentation, including:

Profit and loss statements
Balance statements
Cash-flow statements
Personal and business credit scores

Prepare a loan request letter—Register with DoNotPay to get an airtight loan request letter and grab any lender's attention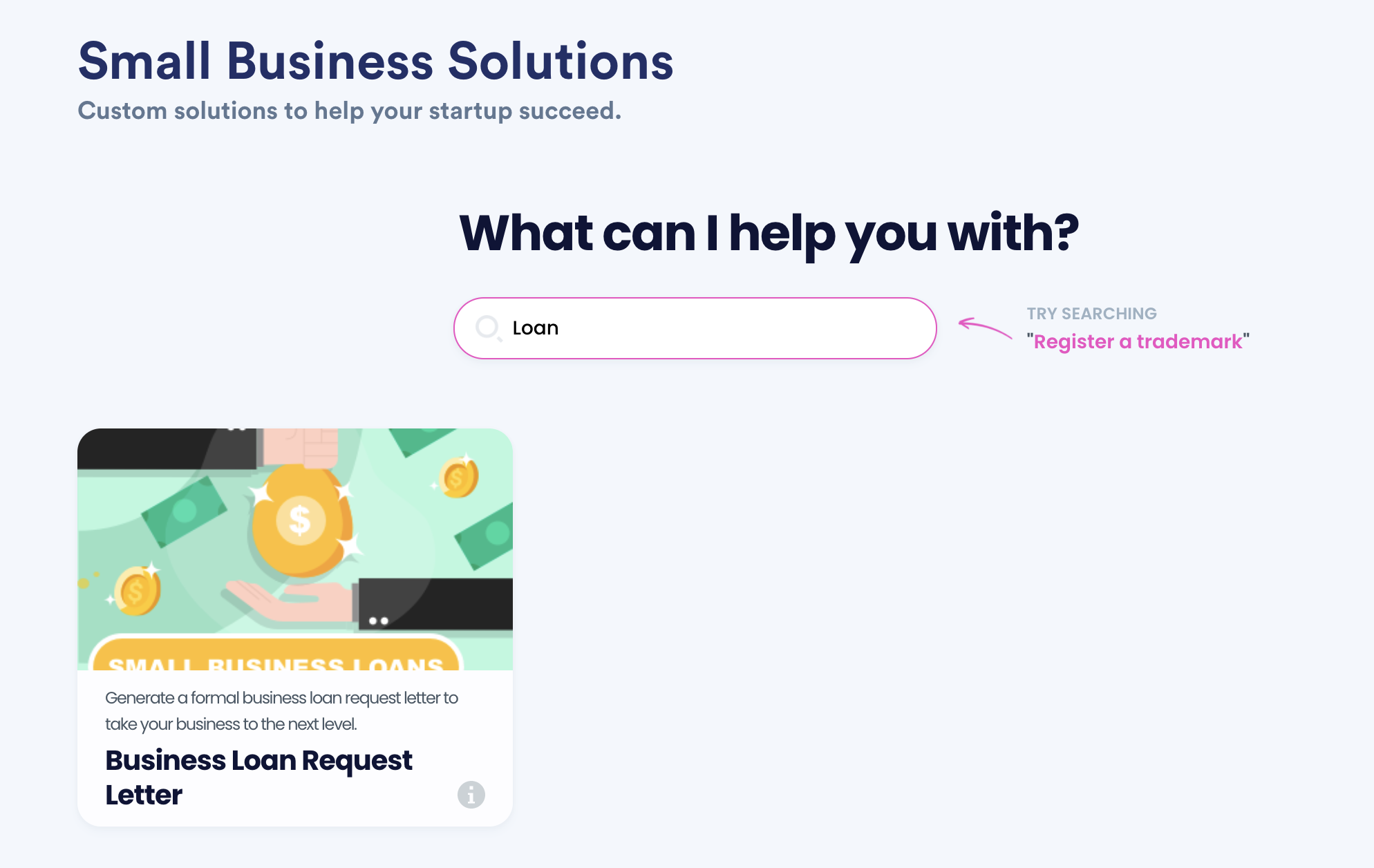 Get the Necessary Funding With DoNotPay's Help
To get a compelling loan request letter, access DoNotPay and take these steps:
Open the Business Loan Request Letter feature
Provide the information about your business
Enter the amount of money you need to borrow
Upload the previously collected documentation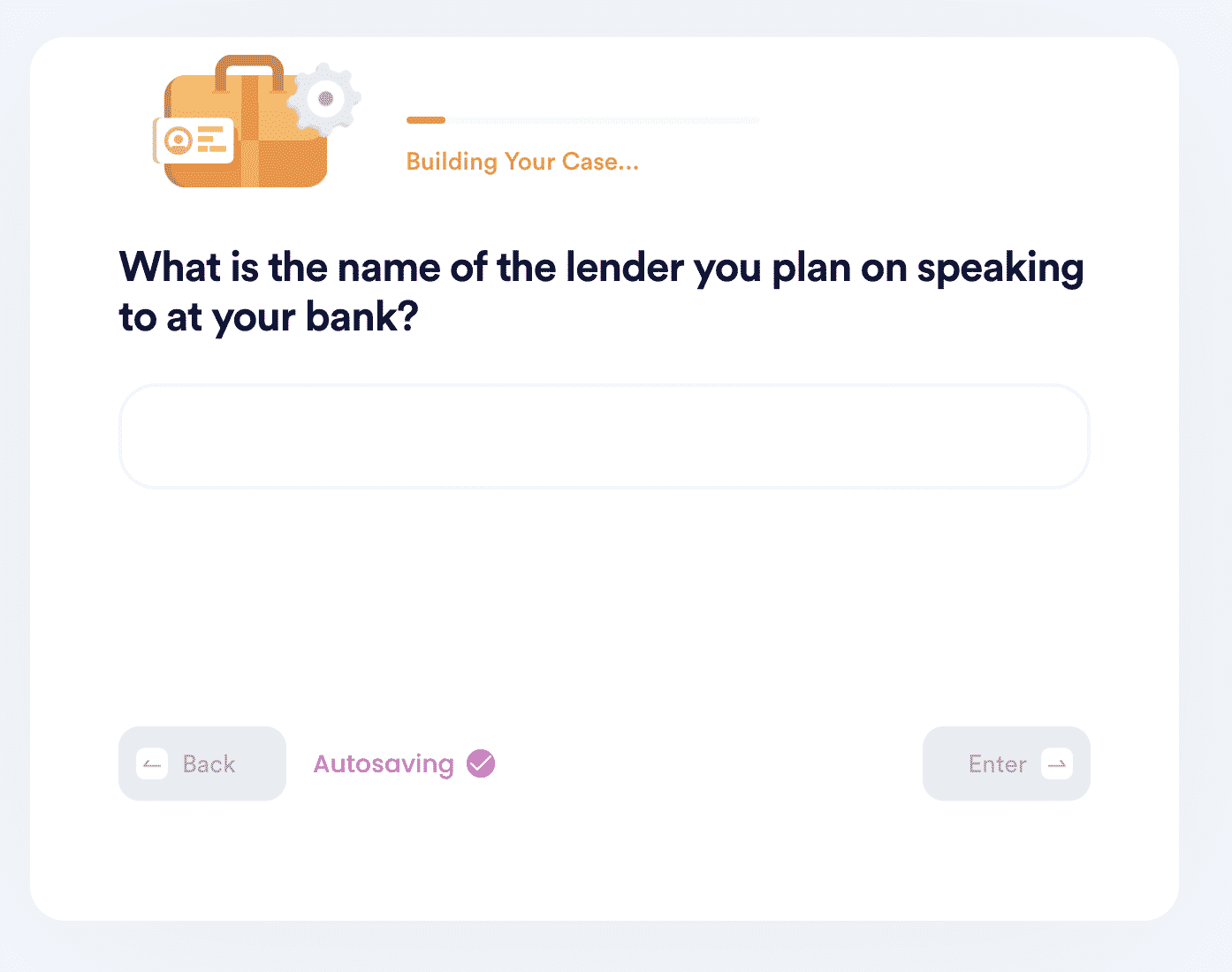 Get Down to Business With DoNotPay
If your to-do list is getting longer by the day, we offer numerous solutions. You can focus on growing your business while we handle the endless administrative tasks.
Here are some of DoNotPay's products and services that will assist your company tremendously:
DoNotPay Feature
Our App Will
Trademark Registration

Complete your company name, logo, or slogan registration application
Submit the application in your stead

Trademark Protection

Perform monthly checks
Notify you in case there is any trademark infringement
Help you file cease and desist letters

EIN Registration

Fill out and file your Employer Identification Number (EIN) application
Notify you of your new EIN

Register a DMCA Agent

Complete the DMCA agent registration process
Register the designated agent with the U.S. Copyright Office
There Is Even More We Can Do for You
Navigating the business world can be overwhelming. If your paperwork is piling up and disputes keep emerging, start using our app and declutter your workday from numerous chores.
The world's first robot lawyer can help you deal with the following:
Chargeback scams
Business loan applications
Faxing and mailing
Negative online reviews
83(b) election forms
Self-certification with the Privacy Shield program