How To File
Auto-Owners Insurance Claims
With Ease
Auto-Owners Insurance, or simply Auto-Owners, is an insurance company based in Michigan. While it's most famous for vehicle insurance, it also offers life, home, and business insurance.
The company operates through independent agents, with more than 100 offices across 26 states.
We'll walk you through the insurance claiming process with Auto-Owners and show you some of our tips and tricks to streamline it.
How To Submit
Owners Insurance Claims
Since Auto-Owners works solely through independent agents, you need to contact your agent to file an insurance claim. Follow these instructions to find an agent:
Visit the Auto-Owners website

Scroll down and click on

Report a Claim

Tap on

Find Your Agent

Enter your address or ZIP code or select

Use My Location

Navigate the map to find the closest agent

Call the number under the company's name and file your claim
Depending on your insurance type and whether it's an emergency, there are more steps you should take. Check out what to do for each of the following types:
Property Claims
Auto Claims
Workers Compensation Claims

Call emergency services if there's an emergency

Protect your property from further damage

Collect the names and addresses of individuals and witnesses in the event of personal injury

Call the police and file a report if theft was involved

Take pictures or videos of damage

Call the after-hours claim reporting service (

1-888-252-4626

) if you can't reach your agent

Contact emergency services if you were in a serious car accident

Get names and addresses of witnesses

Collect the name, address, insurance information, and license plate number of other driver(s) involved

Call the police

Take photos or videos of all vehicles involved in the accident

Call the after-hours claim reporting service

Call 911 for any emergency situations

Contact the

A-O injury hotline

at any time by dialing

1-844-334-6475

if you need urgent access to medical professionals

Reach out to the after-hours claim reporting service if you can't contact your agent
Use DoNotPay To Report
Auto-Owners Insurance Claims
Filing insurance claims doesn't need to involve digging through a website to find an agent, waiting on hold, or calling multiple times. There's a simpler way that fast-tracks the claiming process and lets you do it in the comfort of your own home—DoNotPay!
If you visit our app in any web browser and follow these instructions, you'll file your Auto-Owners insurance claim in a flash:
Search for your insurance type

Answer a few questions and provide the necessary details

Click on

Submit
It's that easy! We know what a nightmare having to claim your insurance is, so we created our user-friendly Insurance Claim feature that gets the job done!
If you're not sure whether you should call your insurance company after a minor accident or how long insurance companies have to settle a claim, we'll be happy to answer your questions.
DoNotPay also provides tips on filing accident and unemployment insurance claims, as well as those involving hail, water, flood, or hurricane damage.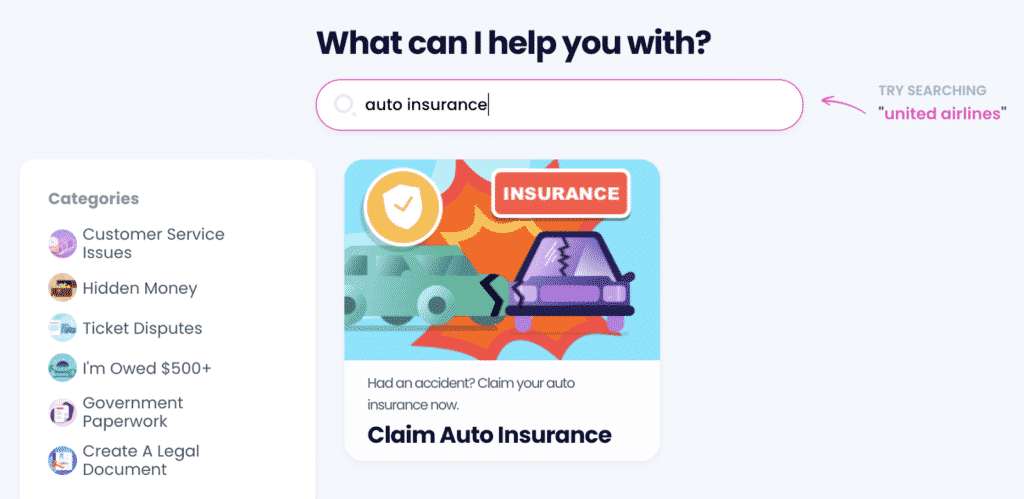 What Happens After Filing
Owners Insurance Company Claims
?
Once you submit your insurance claim with Auto-Owners, here's what happens next:
Appointment

—An adjuster will contact you to schedule an appointment to inspect your claim

Inspection

—The adjuster determines an estimate of the covered damages and the necessary repairs. If you have a contractor, they should be present during the inspection

Estimate of Damages

—The adjuster writes an estimate of the covered damages and completes your claim for filing

File Review

—The company reviews your claim

Payment

—You'll get reimbursement for repairs or replacement of your damages in two or more payments. You will also receive a copy of the estimate of damages

Repairs

—Contact any contractor who will complete the repairs
Did Auto-Owners Deny Your Claim? Appeal It With DoNotPay's Help!
Even the perfect letter to insurance companies for claim settlement could get rejected. More often than not, the reason behind the rejection is not the customer but the company trying to dodge covering bills.
If this happens to you, don't give up on your insurance claim! With our help, you can file an appeal!
Here's all you need to do:
Open DoNotPay in your

web browser

Find your insurance type

Click on

Appeal Denied Insurance Claim

Answer several questions about your claim
Auto-Owners will get an appeal letter from us right away. DoNotPay—the world's first robot lawyer—gives you the highest chances of getting what Auto-Owners owes you!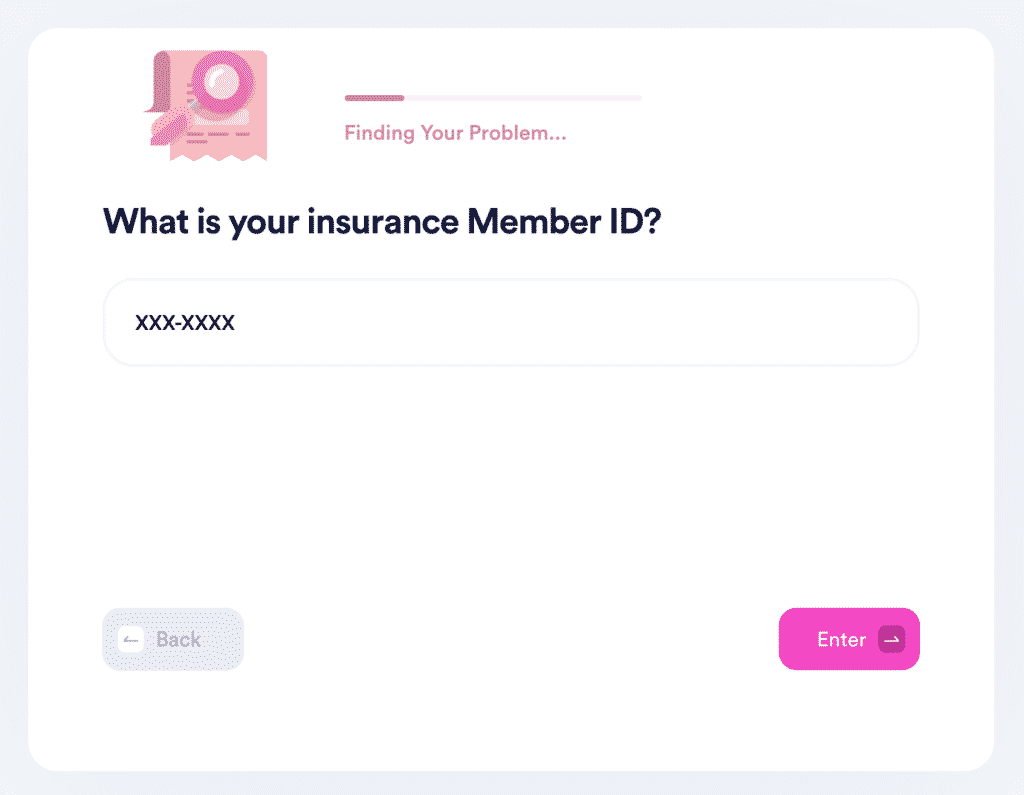 What To Do if You Suspect Insurance Fraud
Auto-Owners takes insurance fraud seriously, which is why it is a member of the National Insurance Crime Bureau (NICB). This is a non-profit organization whose mission is to detect and prevent insurance fraud.
If you catch any signs of insurance fraud or theft, you should report it. You can do so in the following ways:
Fighting Administration Is Easier With DoNotPay
Bureaucracy is a disease of the modern world, and we finally have a cure. Thanks to artificial intelligence, DoNotPay knows how to handle numerous rules and regulations and make your life so much easier. 
Our bots ask you a few questions, gather the necessary info, and off they go! Filing warranty and insurance claims, requesting property tax reductions, getting access to public records, or claiming unclaimed funds under your name—you can deal with these bothersome tasks from the comfort of your home and within minutes!
If you need to get in touch with customer service representatives to ask for refunds or contact airline companies regarding compensation, our platform will make the process painless and care-free.
Don't hesitate to put our app into service if you need to contest parking tickets or avoid long lines at your local DMV!
How Else Can We Help?
Not only does DoNotPay handle bureaucracy, but it also saves you money in the process. Whether you're looking for the best learning materials for government tests or planning to comb through and cancel streaming subscriptions you don't use, DoNotPay can give a helping hand.
Our platform grows every day and comes with user-friendly features that will help you manage unpaid bills, stop copyright violation, or solve problems with credit cards faster than ever!